Chestnut and Mushroom Stuffing With Sausage
Not too long ago, as I was researching stuffings, I learned the difference between 'stuffing' and 'dressing.' They are the same thing in terms of ingredients but 'stuffing' is when you put it in the cavity of the turkey and 'dressing' is baked in a casserole. So technically this is a dressing recipe but most people use 'stuffing' to refer to both ways of cooking it.
When it became more popular to cook the stuffing in a casserole, I tried it and found that it's less fuss and mess doing it this way and most importantly I have more control over how moist (dry vs. soggy) the stuffing comes out. If you miss the turkey flavor, instead of the chicken broth, add the juices from the turkey pan when you remove it from the oven to tent and rest.
A long time friend of mine (Thank you, Linda!) put me on to the recipe on the back of the Arrowhead Mills Stuffing package. I have made some changes to the Arrowhead Mills recipe as far as how it's put together to make it a little easier, and added my homemade turkey sausage instead of the hot Italian sausage their recipe calls for.
Arrowhead Mills Stuffing is no longer available but any herbed stuffing mix works fine.
Stuffing can be put together the day before and cooked the day of.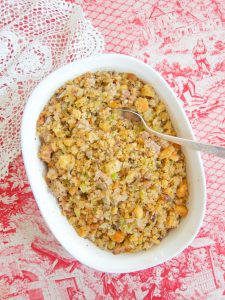 Chestnut and Mushroom Stuffing With Sausage
Ingredients
3 celery stalks, cut in small pieces (about 1 1/2 cups)
1 medium onion, cut in small pieces (about 2 cups)
5 medium (1 1/2 cups) mushrooms, chopped
1/2 cup butter plus 2 tablespoons, divided
10 ounces Homemade Apple and Sage Sausage (recipe below), cooked (optional)
one 12 ounce package of Pepperidge Farm Herb Seasoned Classic Stuffing
1/3 cup chopped flat leaf parsley
1 cup peeled and coarsely chopped jarred chestnuts (La Forestiere Whole Roasted Chestnuts from Whole Foods are good (optional)
1/4 cup chopped fresh sage, packed
1/2 teaspoon salt
1/2 teaspoon pepper
1 to 1 1/2 cups chicken stock
Instructions
Use one tablespoon of butter to butter a piece of foil that will be used as a cover while baking, and an 11″ by 7″ (2 1/2 quart) casserole.
Melt 1/2 cup butter in a large skillet. Add the celery, onions and mushrooms. Cook 10 minutes minutes. Mix the vegetable mixture with the stuffing mix, cooked sausage, parsley, sage, chestnuts, salt and pepper. Spoon into casserole.
Up to this point can be done the day before and stored in the fridge. Bring the casserole out 30 to 40 minutes before heating to bring to room temperature. Add the chicken broth or turkey juices, cover with the piece of foil and bake in a 350 degree oven for 40 minutes. Remove cover and bake 15 minutes.
*The original recipe calls for hot Italian sausage meat.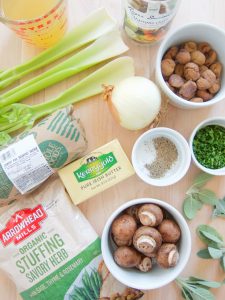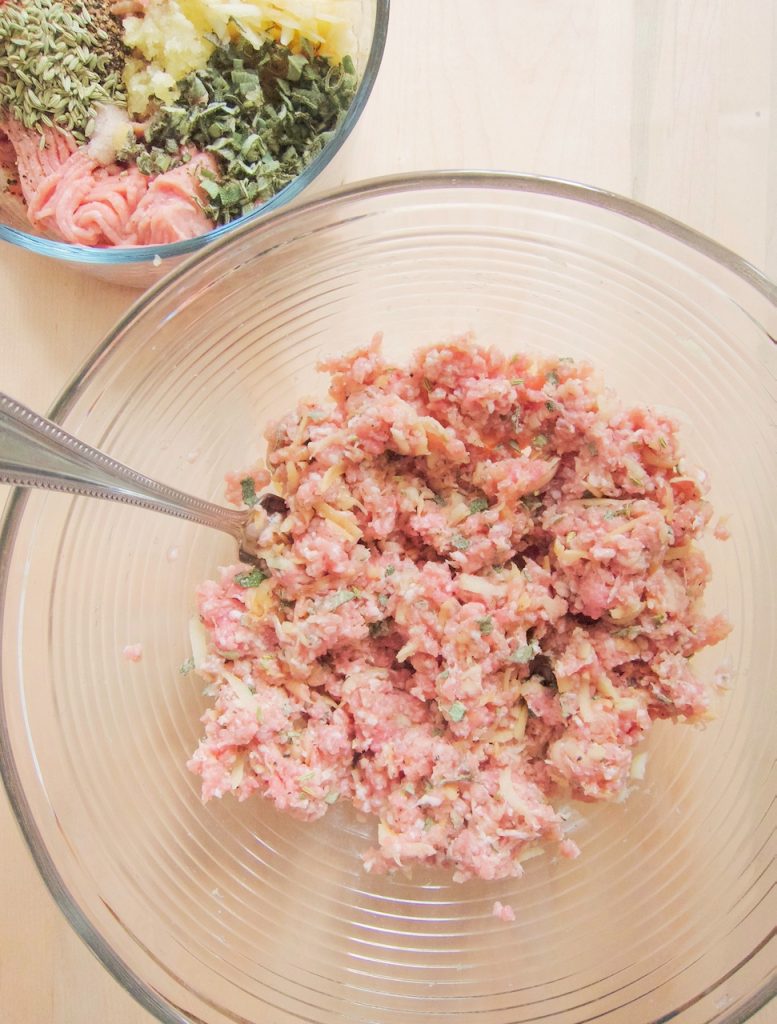 Homemade Apple and Sage Sausage
Ingredients
1 lb ground dark turkey meat or pork
1 honey crisp apple, cored, peeled and chopped small
1/4 cup chopped fresh sage
1 1/2 teaspoons fennel seeds, partially ground in a mortar and pestle
3 garlic cloves, minced using a garlic press
1 teaspoon salt
1 teaspoon ground pepper
Instructions
Mix all the ingredients together. Can be frozen for later use.