This recipe is a family favorite. It was recipe my Mom adapted from a cookbook in her culinary library written by Dorothy Bridges, Lloyd Bridges' wife, and mother of Beau and Jeff Bridges.
There are a number of recipes like this on the internet and you'll notice different ratios of cream cheese and sour cream verses the amount of potatoes. This determines the level of desired tanginess, like when you add sour cream to a baked potato. Mrs. Bridges' recipe calls for 1 pound of potatoes. My mom did the recipe using 2 pounds. Also, the original recipe had a few more steps, adding the butter to the hot potatoes, then whipping the cream cheese and sour cream in a blender before folding them in. To simplify the recipe my mom added the butter, cream cheese, sour cream, salt and pepper to the hot potatoes in the pot, and whipped them all together with a hand mixer.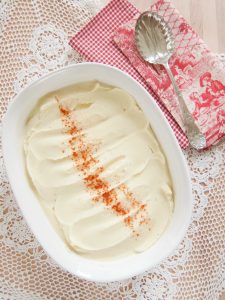 Party Potatoes
Ingredients
2 pounds (6 5″) russet potatoes (1 tablespoon of salt for the cooking water)
1/3 cup butter plus more for the top
1 8 ounce package cream cheese, softened
1/4 cup sour cream
1/2 teaspoon salt
1/4 teaspoon pepper
paprika
Instructions
Set out the butter, cream cheese and sour cream to soften. Peel potatoes and quarter lengthwise; cut crosswise 1 inch thick and put into a pot of enough cold water to cover them by 1 inch. Add 1 tablespoon salt. 

Bring to a boil, reduce heat, and cook until potatoes are just tender (not mushy), about 20 minutes.

 Pour potatoes and water through a colander, then return potatoes to the pot. Stir over medium-high heat about 30 seconds until dry. Remove from heat.
You can whip the cream cheese and butter and add the potatoes, sour cream salt and pepper like Mrs. Bridges did. Or you can add the cream cheese, sour cream, butter and salt and pepper to the pot and use a potato masher or hand mixer to blend them. It's best not to over blend them, leaving them a little chucky.
Spoon the potatoes into buttered casserole. Sprinkle lightly with paprika. Bake in a 325 degree oven for 30 minutes. Dot with butter.