Green Bean 'Casserole' With Crispy Shallots
If you are looking for the traditional holiday green bean casserole recipe with fried onion rings that has stolen the hearts of millions since its creation by Campbell's Soup in 1955, here is a winner adapted from two recipes, Fine Cooking's and Cook's, for a green bean casserole that is made from scratch (the canned cream of mushroom soup replaced with a fresh mushroom cream sauce) and is tastier!
I made Cook's recipe first and it was good but a little complicated. Then I found Fine Cooking's recipe in my recipes I want to try scrapebooks and it called for the more tender French green beans, 'hericots verts', in place of regular green beans, and thought I'd give it a try. Their recipe was simpler and better for the green beans and sauce part. But for their shallot topping they deep fry the shallots which for me was going to be more trouble, and unnecessary oil, than the crispy shallot topping from Cook's green bean casserole recipe. So I went back to Cook's recipe for the topping.
The green beans and mushroom sauce can be made the day before, refrigerate and gently reheated, but the shallot topping needs to be kept separate and reheated separately if you want to keep them a little crispy.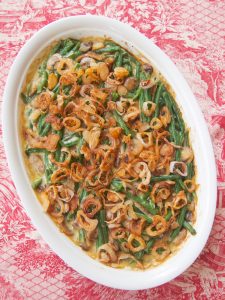 Green Bean 'Casserole' With Crispy Shallots
Green Beans in Fresh Mushroom Cream Sauce
Ingredients
2 12 ounces packages Trader Joes Hericots Verts (French green beans already trimmed), blanched
2 boxes white button mushrooms, stems removed and cut in 1/4 inch slices
4 tablespoons butter
2 tablespoons white Vermouth
3 tablespoons flour
1 14.5 can Swanson's chicken stock
1 cup heavy cream
1 teaspoon salt
1/2 teaspoon pepper
Instructions
To blanch the beans, bring a large pot of water to a boil and boil the green beans for 4 minutes and rinse under cold water to stop the cooking. Set aside.
Heat a large skillet and add the butter and when it's melted add the mushrooms and sprinkle lightly with salt. Sauté the mushrooms until they are starting to brown, about 8 minutes, add the Vermouth and cook 30 seconds. Then pour in the chicken stock and whipping cream and stir in the salt and pepper. Let gently cook down by a third until thickened and darker (it will look like mushroom soup), about 13 – 15 minutes.
Cut the green beans in half and fold into the mushroom sauce. Transfer to the baking dish. Bake uncovered at 350 degrees for 20 minutes. Top with the crispy shallots.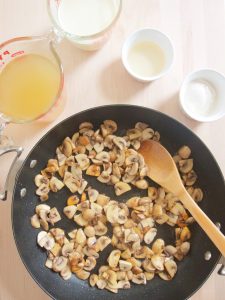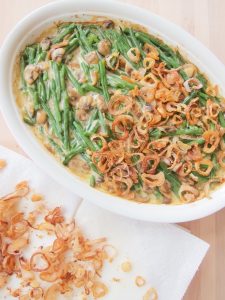 Crispy Shallots
Ingredients
5 large shallots, sliced thin (about 2 cups of rings)
1/3 cup flour
1/2 teaspoon salt
1/4 teaspoon pepper
6 tablespoons avocado oil, divided
Instructions
Put two paper towels on a large plate. Place shallots, flour, salt and pepper in a bowl and toss, separating the rings. Heat 3 tablespoons oil in a 12″ heavy skillet on medium high, add half coated shallots and sauté about 4 to 5 minutes, using tongs to turn them over, until lightly browned on both sides (don't let get too brown or they will taste burnt). Remove them one by one on to the paper towels as they reach the right color. Repeat with other half.