Green Bean 'Casserole' With Crispy Shallots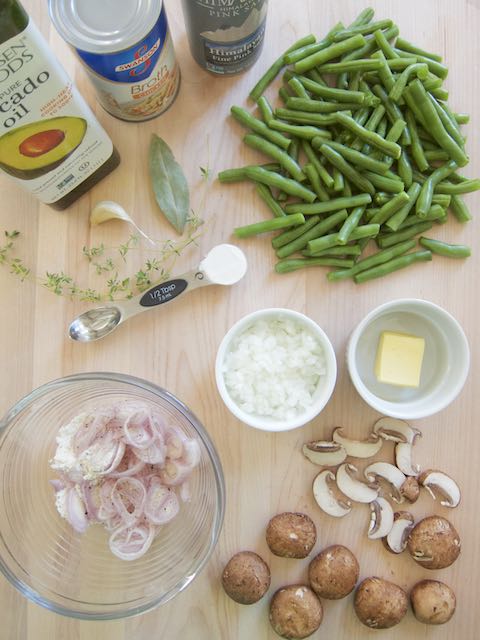 If you are looking for a traditional holiday green bean casserole with fried onion rings that has stolen the hearts of millions since its creation by Campbell's Soup in 1955, here is a winner adapted from America's Test Kitchen's "Quick Green Bean 'Casserole'" that is from scratch and even tastier!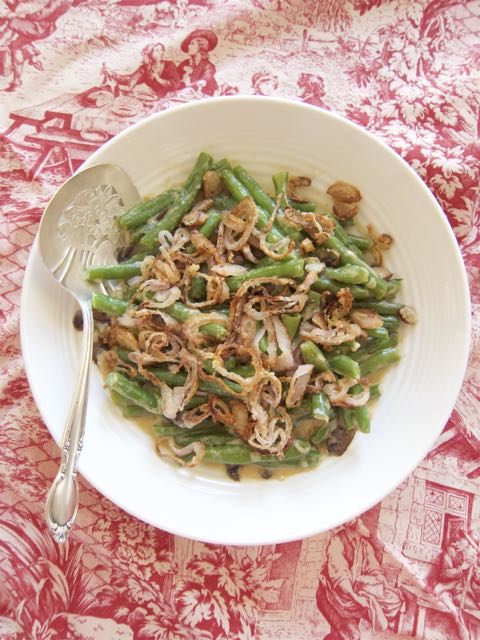 The green beans and mushroom sauce can be made the day before, refrigerate and gently reheated but the topping should be sautéed the day you are eating it so they are crispy.
This serves 4 people but can be doubled easily.
Crispy Shallots
Ingredients
 
2 medium shallots, sliced thin (about 1/2 cup)
1 1/2 tablespoons flour
1/8 teaspoon salt
a pinch of pepper
1 1/2 tablespoons avocado oil
Instructions
Place shallots, flour, salt and pepper in a small bowl and toss, separating the rings. Heat oiling a medium skillet on medium high, add coated shallots and sauté about 4 to 5 minutes, stirring often, until lightly browned and crispy (don't let get too brown or they will taste burnt). Cool on paper towels.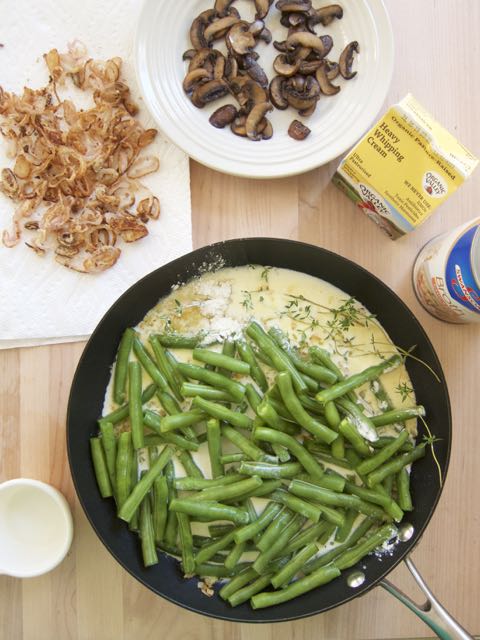 Green Beans in Creamy Mushroom Sauce
Ingredients
 
7 1 1/2 inch crimini mushrooms, stems removed and cut in 1/4 inch slices
1 tablespoon avocado oil
1 tablespoon butter
1 medium garlic clove, finely chopped
1/2 tablespoon flour
12 ounces green beans, stem ends trimmed, cut in 1 1/2″ pieces
3 sprigs of fresh thyme
1 bay leaf
1/2 cup whipping cream
1/2 cup chicken stock
Instructions
Keep stove on medium high heat. Wipe out the skillet that the topping was cooked in, return to heat and add the avocado oil. Add mushrooms and sprinkle lightly with salt. Sauté until caramel colored, about 6 to 8 minutes. Remove to a small plate and set aside. Wipe out skillet and add the butter. When it has melted add the onions and cook until starting to brown, about 2 minutes, then add the garlic, flour, green beans, thyme, bay leaf, whipping cream and chicken stock. Stir, cover and cook 4 minutes. Remove lid, stir in mushrooms and let cook another 3 to 4 minutes uncovered. Green beans should be tender but not mushy. Sprinkle lightly with salt and pepper. Transfer into serving dish and sprinkle with the topping.