Sweet Potatoes With Roasted Pear Sauce
Roasted pear flavored recipes have something in common with making banana bread. If you want banana bread to come out right, the bananas have to be overly ripe or the bread doesn't have the flavor it should. Pears need to be at the peak of ripe or when you cook them the divine flavor of roasted pears isn't there. Wait for them to be slightly soft when you squeeze them but don't wait too long or they will become mushy and difficult to work with. Not too hard and not too soft. Right in the middle.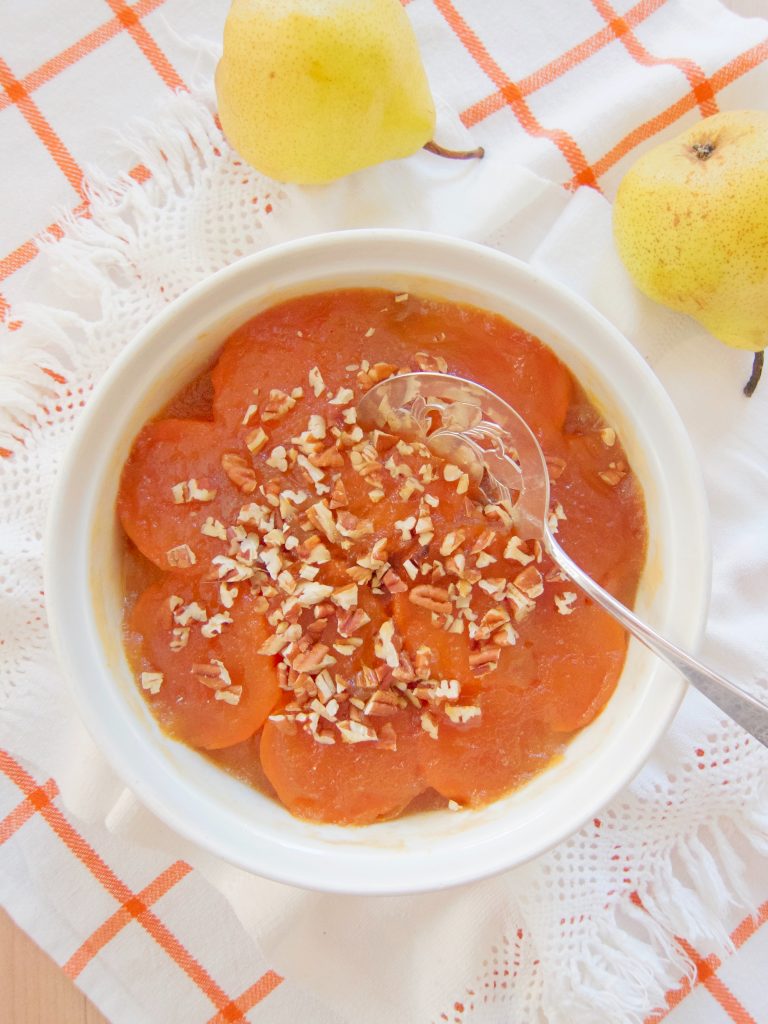 Sweet Potatoes With Roasted Pear Sauce
Ingredients
2 1/2 pounds (about 4 medium) garnet sweet potatoes
2 Bartlett pears, completely yellow and soft (but not mushy)
1/4 cup plus 1 tablespoons butter, divided
3/4 cup maple syrup
2 tablespoons lemon juice
1/2 teaspoon salt
toasted chopped pecans (optional)
Instructions
Place the sweet potatoes with skins on in a large pot and enough add water to cover them by at least 2″ so the water level doesn't get too low while they are cooking. Set over high heat and bring to a boil and lower heat but keep it boiling until the potatoes are tender and you can easily slide a fork into them. Let cool. They can be refrigerated at this point until you are ready to continue with the recipe.)
Cut the pears in half, remove the core and peel them. Set them in a glass casserole, brush them all over with 1 tablespoon melted butter and turn them core side down. Roast them in a 400 degree oven for 25 to 30 minutes (depending on their size) or until they are golden around the edges when you turn them over. Mash them really well with a fork or puree them in a small food processor or NutriBullet. Put the mashed pears, maple syrup, lemon juice, 1/4 cup butter and salt in a sauce pan. Heat to a boil and boil down to 1 1/2 cups, about 20 to 30 minutes.
Peel and cut the potatoes in 1/3″ slices and arrange half of them in a large (standard 2 quart) soufflé dish. Pour half the sauce over the potatoes. Repeat.
Bake in a 350 degree oven for 30 minutes.