Richard's Turkey and Sweet Potato Soup
A must for all turkey dinner foodies is making enough so there are leftovers. Then to end it all perfect you need to make homemade turkey soup from scratch with stock made from the turkey carcass.
For years I've been making the usual turkey soup with a lot of different vegetables but I was introduced to something very different by my son when I visited with his family for Thanksgiving this year — a wonderful yet simple, mirepoix (onion, carrot and celery) flavored, sweet potato version of turkey soup. It was pure holiday comfort food! So good!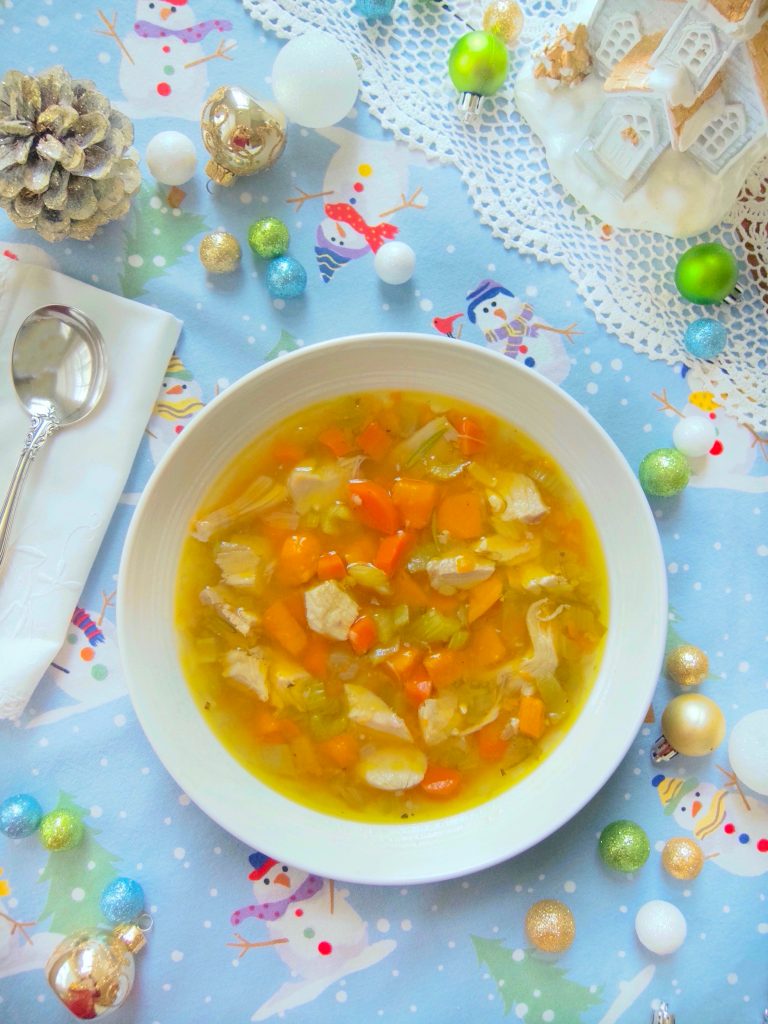 Richard's Turkey and Sweet Potato Soup
Ingredients
2 yellow onions (non-sweet onions), diced (about 3 cups)
cloves of 2 medium garlic bulbs, peeled and chopped small
2 tablespoons butter
2 tablespoons avocado oil
turkey stock (recipe below)
1 medium sized head of celery, sliced in small pieces (about 5 cups)
1 pound carrots, sliced in small pieces (about 3 cups)
2 to 3 sweet potatoes, cut off and peel blemishes and rough spots then cut in 3/4″ pieces (about 7 cups)
1 rosemary sprig
1 bay leaf
1 teaspoon salt (or to taste)
leftover roasted turkey
Instructions
Sauté the onions and garlic in the butter and oil for 10 minutes on medium high. The mixture will begin to brown. Add the celery and carrots and sauté another 10 minutes. Add the stock, sweet potatoes, rosemary, bay leaf and salt. Bring to boil and turn heat down and simmer for 40 minutes or until vegetables are tender. Remove bay leaf and rosemary stem.
Turkey Stock
Ingredients
1 turkey carcass
1 large onion, cut into 4 wedges (leave the peel on)
4 stalks celery, cut into 4″ pieces
4 carrots, cut into 4″ pieces
2 bay leaves
several springs of fresh thyme
12 peppercorn
1 teaspoon salt
Instructions
Place turkey carcass in a large stock pot and cover with water. Add vegetables, bay leaves and salt. Bring to boil, turn down heat and simmer for 4 hours. Cool, remove the bones and vegetables and strain. Refrigerate overnight to make it easier to remove the fat. The fat will have risen to the top and the stock will have a lot of gelatin from the bones and will be very jello like making it easy to skim off the fat. I like to use a thin metal cookie spatula.