This recipe was adapted from a Tasty recipe you can find on their website. After trying numerous recipes for butter chicken, I was very excited to find this one because it looked like the perfect balance of seasonings and liquids that I had felt was needed. The taste of butter chicken can be too bland or too spicy or bitter, and with with one spice being too dominant, and the texture of the sauce can be to thin or too thick and feel kind of pasty. I was at a loss as to how to find the balance and I walked away from trying for awhile.
Then along came Tasty's recipe. It was different and looked like it could have everything just right. It did! I made some substitutions and I left out their 1 teaspoon of cayenne pepper. The spice from the chili powder was the right amount for me. I know some people like really spicy Indian food so please add that back in with the spices that go into the onions if you like it really hot.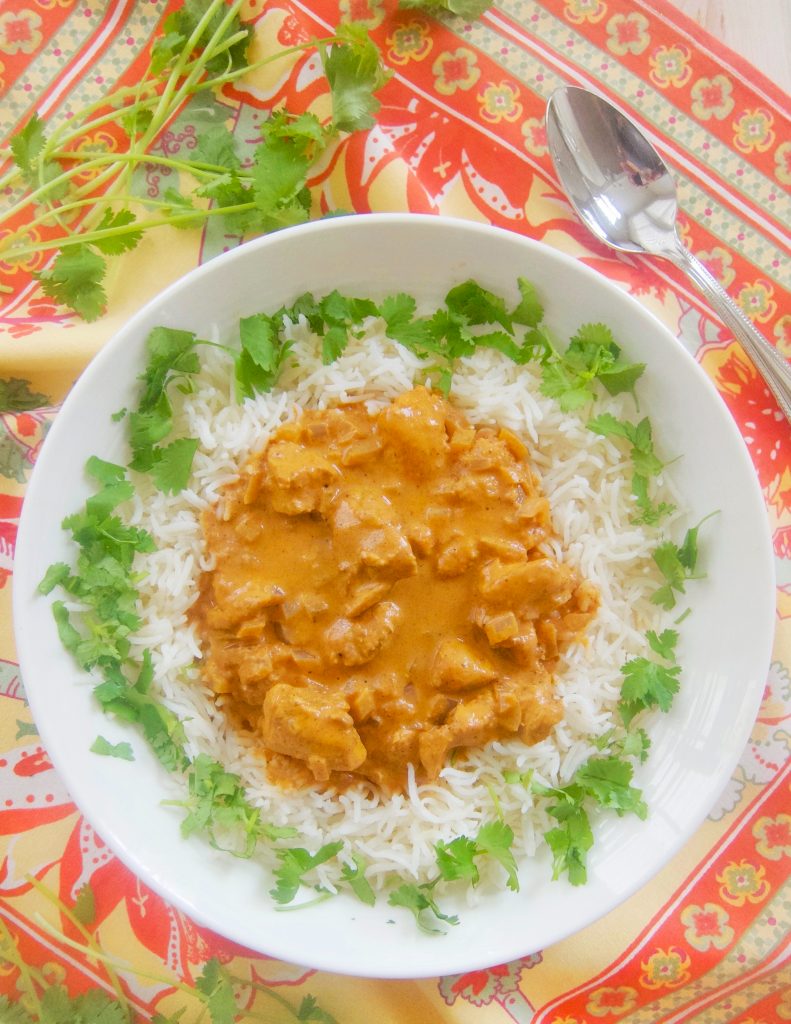 Butter Chicken
Ingredients
2 pounds chicken breasts, cut into bite-sized pieces
2 teaspoons salt, divided
1 teaspoon pepper, divided
2 teaspoons Penzey's Chili Con Carne seasoning or your favorite chili powder, divided
1 teaspoon turmeric, divided
6 tablespoons butter, divided
1 1/2 cups yellow onion, diced small
3 cloves garlic, minced
3 teaspoons garam masala
1 teaspoon cumin
1/2 teaspoon ginger (The Tasty recipe called for 1 tablespoon freshly grated ginger)
1/2 teaspoon cinnamon (The Tasty recipe called for a 3 inch cinnamon stick)
1 14 ounce can tomato sauce
1/2 cup water
1 1/2 cups heavy cream
cooked rice
chopped cilantro
Instructions
Place the chicken pieces in a medium bowl and sprinkle with 1 teaspoon salt, 1/2 teaspoon pepper, 1 teaspoon of chili powder and 1/2 teaspoon turmeric. Let rest 15 minutes. Heat a large skillet to medium high and add 2 tablespoons butter. When the butter has melted add the chicken and cook them stirring constantly (you don't want the chicken to lose juices and begin stewing) until you can't see any pink. Then transfer the pieces to a bowl and set aside.
Add 2 more tablespoons of the butter to a pot or large skillet. Add the onions and cook five minutes. Add the garlic, the other teaspoon of chili powder, the garam masala, cumin, ginger, cinnamon, 1/2 teaspoon turmeric, 1/2 teaspoon salt and 1/2 teaspoon pepper. Cook for 1 minute stirring constantly. Add the tomato sauce and bring to a simmer. Add the water and cream and bring to simmer. Add the chicken and bring to a simmer. Cover and let cook 10 minutes. Remove lid and add the remaining 2 tablespoons of butter. Taste for salt and add the remaining 1/2 teaspoon of salt if it needs more.
Serve over rice and sprinkle with the cilantro.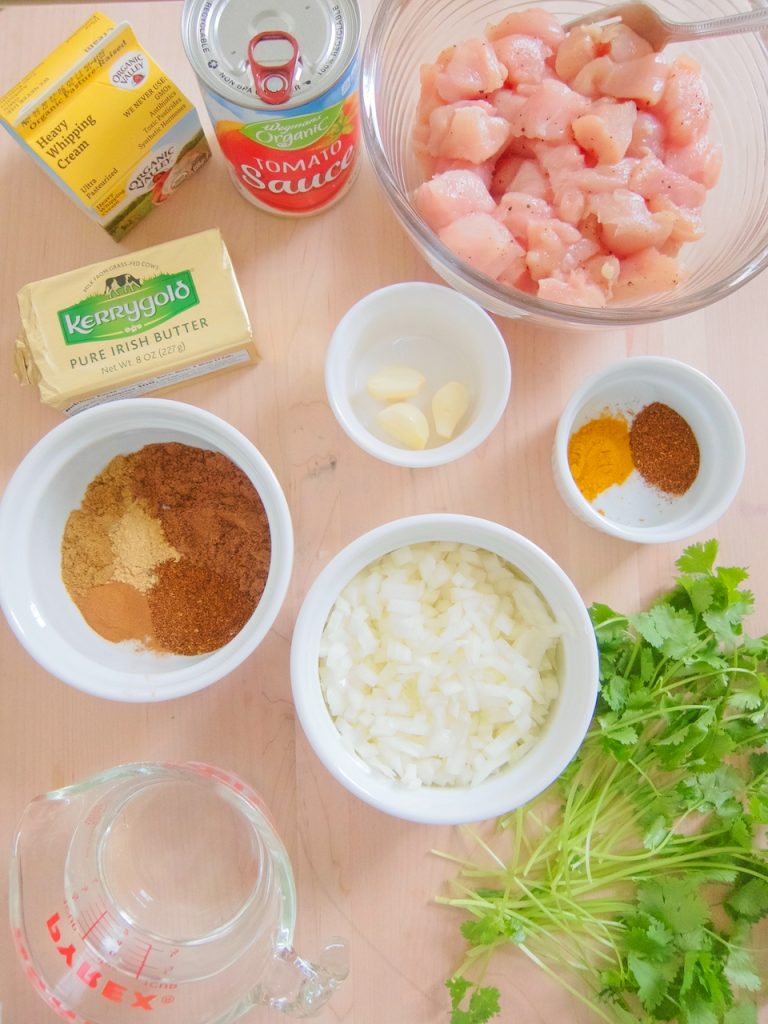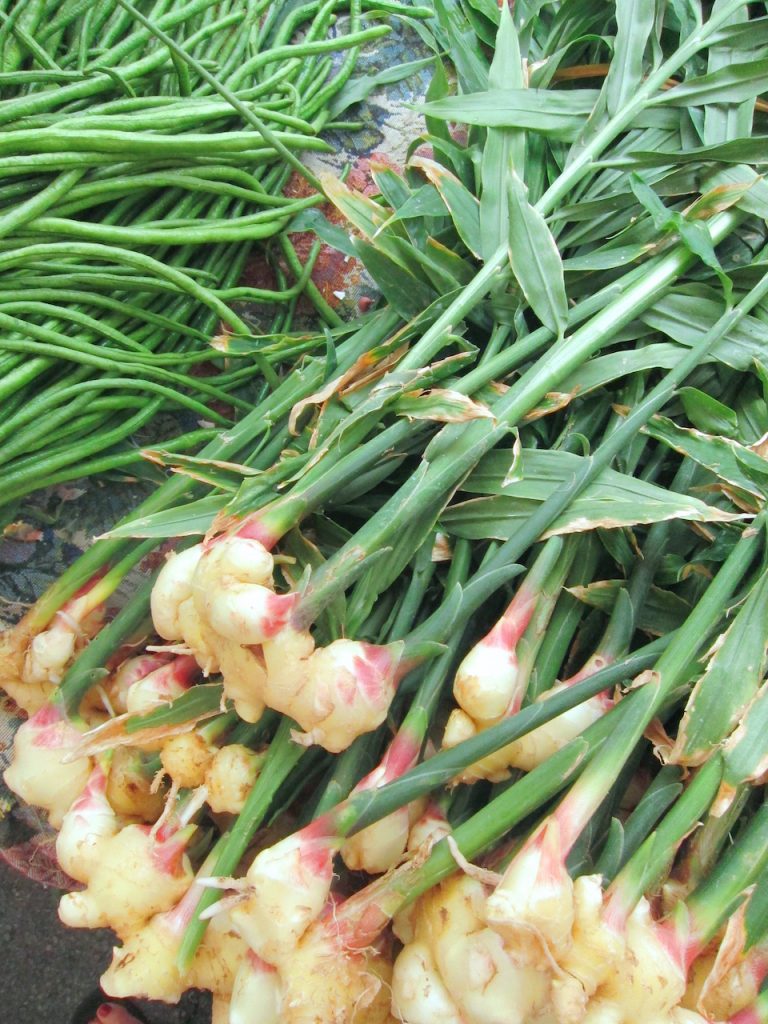 This is fresh ginger at the farmers market.