Chicken and Root Vegetable Casserole With Biscuit Topping
This is a very different version of a chicken pot pie featuring root vegetables instead of the traditional pearl onions, carrots and peas, and with a biscuit topping instead of a pastry crust topping.
Julia Child and Jacque Pepin teamed up and did a series of cooking classes that are on Amazon Prime. In one class they did a poached chicken with vegetables and served in on rice and also showed how the juices could be thicken and the meat and vegetables turned into a chicken pot pie. Poaching a chicken can also be making a chicken stock, both of which can then be used for many dishes where both cooked chicken and chicken stock are called for.
Cooking everything from scratch can mean spending the whole day in the kitchen which the French don't think anything of doing. If you have the time and would like to make your own chicken broth using Julia and Jacque's recipe, I have written the recipe below.
When you are cooking the French way, it is recommended that you use the French practice of 'mise en place' which means to have all the ingredients prepared and ready to go before you start the cooking. It allows you to concentrate on the cooking and removes a lot of stress. It avoids over cooking something or missing a step or an ingredient. I've made a habit of using 'mise en place' most of the time because it makes cooking more enjoyable for me. It's especially good to do it for more complex recipes that have a lot of steps to them. If you are making this recipe starting with poaching the chicken and making a homemade chicken broth, use 'mise en place'.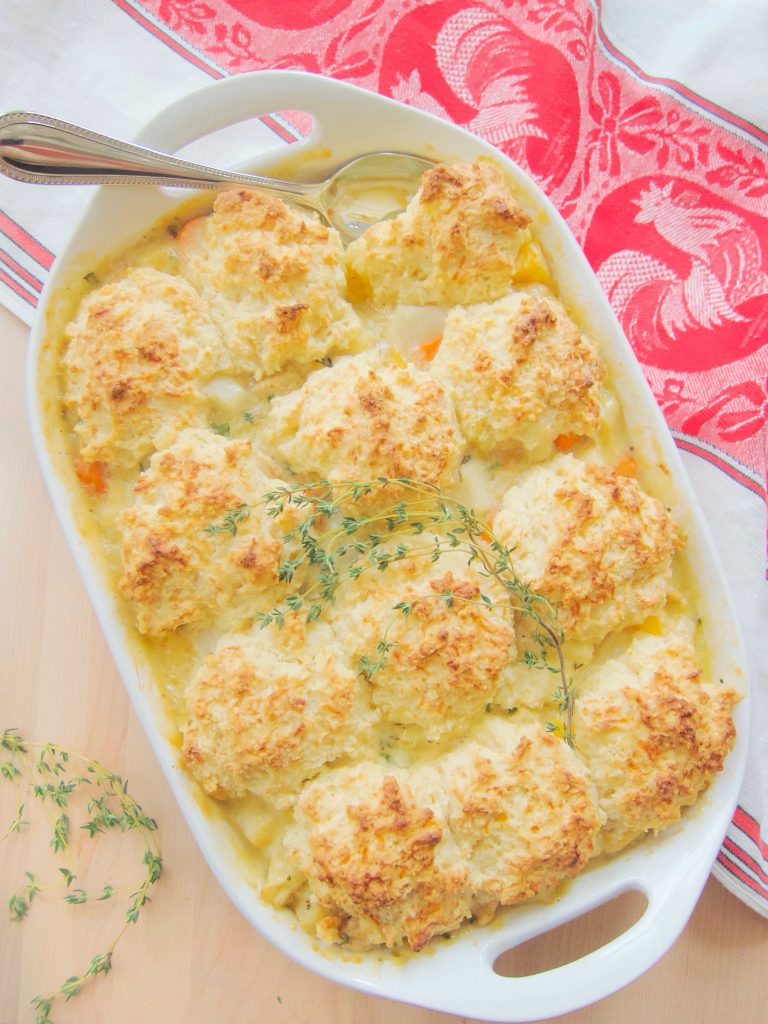 Chicken and Root Vegetable Casserole with Biscuit Topping
Making big pots chili, soups or stews and also large casseroles, like this ons, and then reheating them over the next few days makes meal planning much easier. This casserole is best made the day before. You can then reheat part of it, transferring some of it to a smaller casserole, or all of it in a 350 degree oven for 20 to 30 minutes depending on how much you are reheating, and making sure that the biscuits don't get too brown.
There are four steps to making this recipe, poaching the chicken, cooking the vegetables, making the sauce for the chicken and vegetables which becomes the filling, and then the biscuit topping. If you are making the chicken stock, that would be an additional step.
Poached Chicken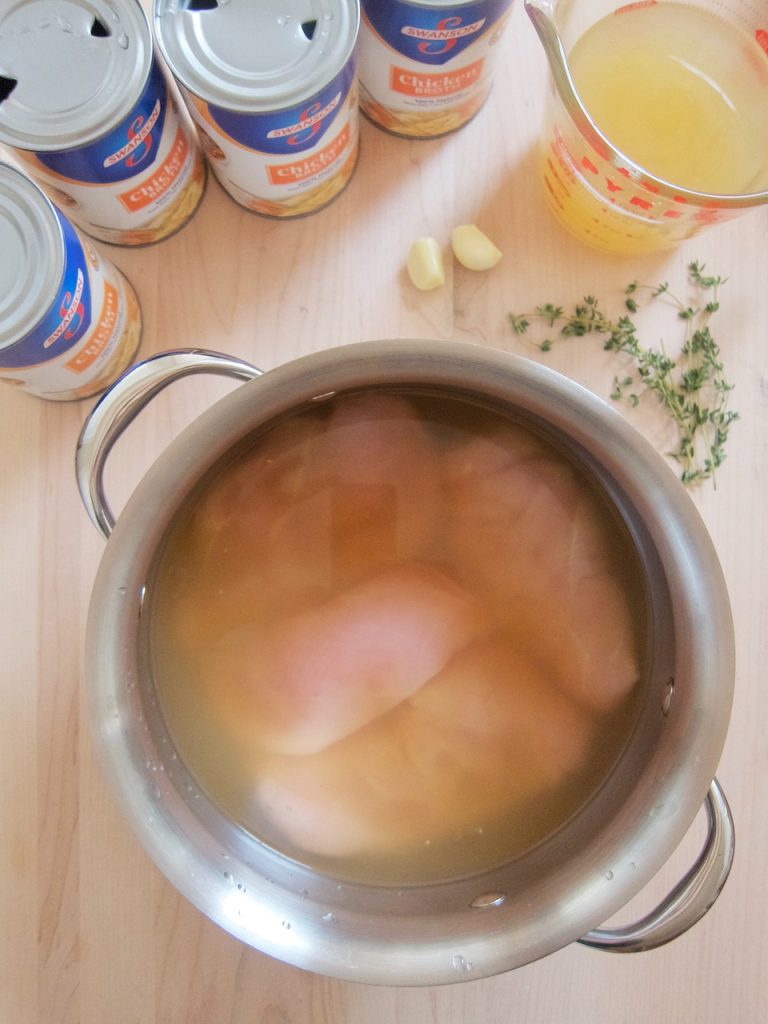 Ingredients
3 – 4 14.5 ounce cans Swanson's Chicken Broth or homemade (see Julia and Jacques' recipe below)
4 pounds chicken breasts
2 medium garlic cloves, cut in half
several sprigs of thyme
Instructions
For the poached chicken, place the chicken breasts in a large sauce pan with a lid. Add 4 cups chicken broth, garlic and thyme. Bring this to a boil, turn heat down, cover, and let simmer 8 minutes. Remove the chicken breasts from the broth and let cool, then tear them into bite-sized pieces. You'll have about 6 cups of chicken pieces. Set this aside. (I put it in the refrigerator once it's cooled down because this recipe takes awhile.) Pour the broth through a sieve into a large measuring cup and add enough additional broth to make 6 cups for cooking the root vegetables.
Cooked Vegetables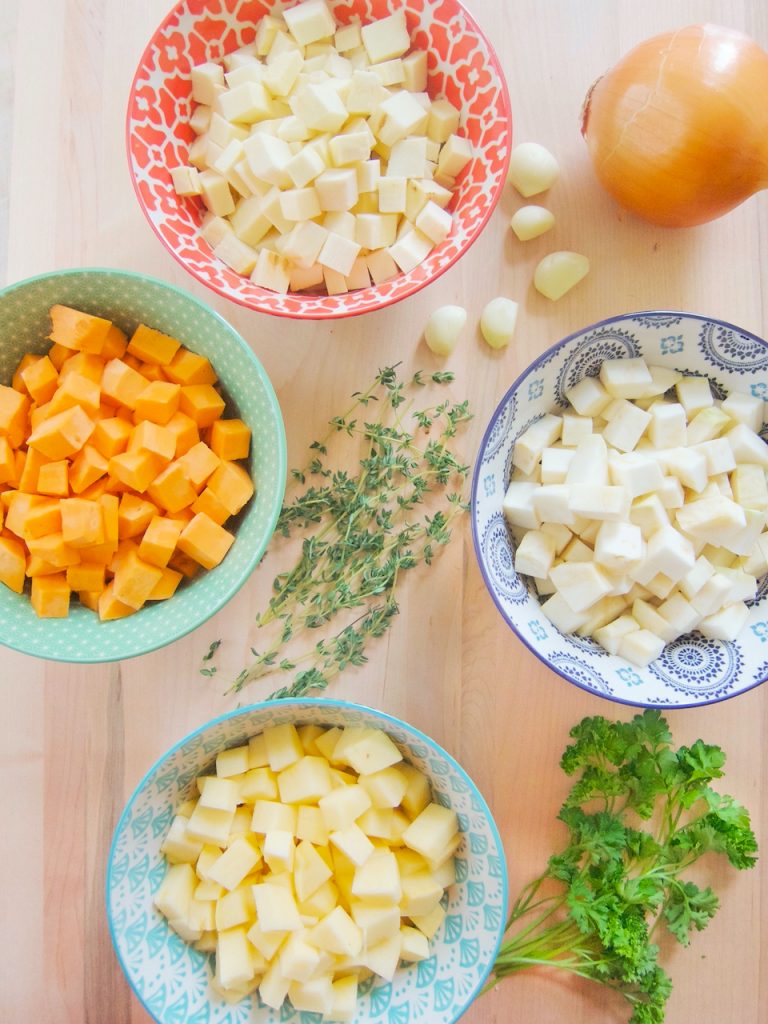 Ingredients
You want to have about 8 cups total of any of the following roots: celery root, rutabaga, turnip, white or orange sweet potato, parsnips and carrots. Make any substitutions you would like to. Make sure the turnip is very tender and all the bitterness is gone before removing from the boiling broth.
6 cups chicken broth
1 small to medium celery root(about 1 1/2 cups), peeled and cut in 1/2 inch pieces
1 small to medium rutabaga (about 1 1/2 cups), peeled and cut in 1/2 inch pieces
1 small to medium sweet potato or turnip (about 1 1/2 cups), peeled and cut in 1/2 inch pieces
1 medium parsnip (about 1 1/2 cups), cut in 1/2 inch pieces
4 – 5 small to medium carrots (about 1 1/2 cups)
1 small leek, white and light green parts only (slice down the middle, rinse in between all the layers, slice down the middle of each half and slice thinly, removing the dark green parts)
For the root vegetables, bring the 6 cups of broth to a boil in a large enough pot to accommodate the broth and all the vegetables. Add the celery root, rutabaga, parsnips, sweet potatoes, carrots and leeks. Bring it back to a boil and let cook 15 minutes. Remove the vegetables from the broth using a slotted spoon, and once they are cool enough, put them with the chicken. The broth should now measure about 4 to 4 1/2 cups for the velouté sauce. Add more broth or boil it down if necessary.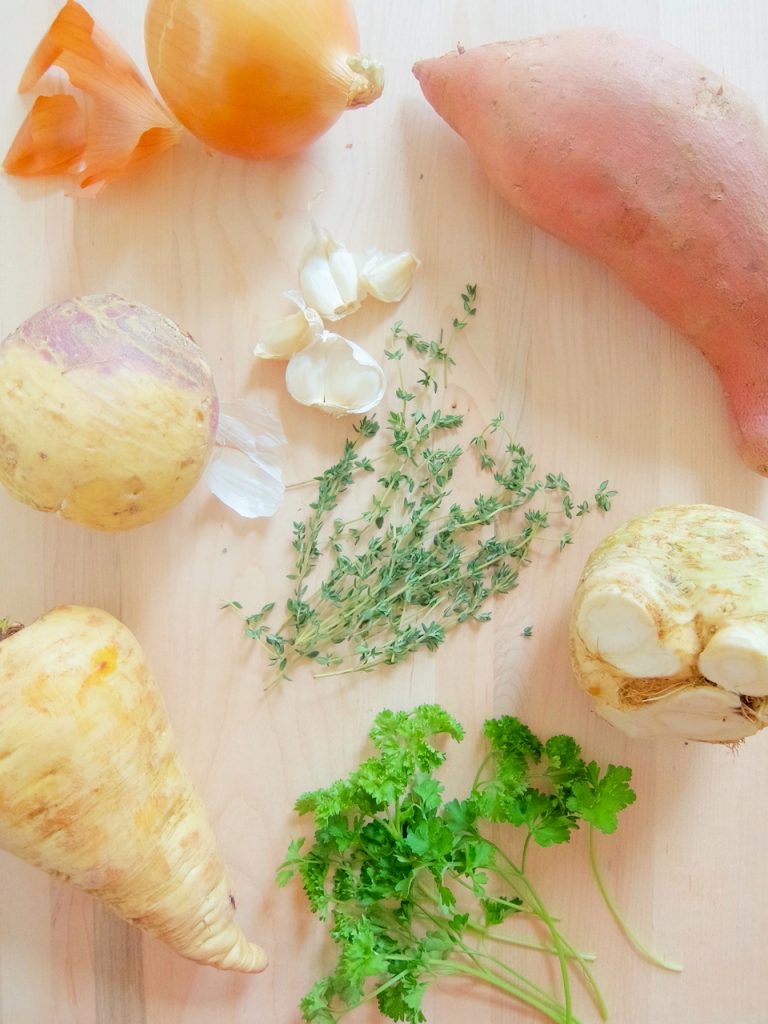 Velouté Sauce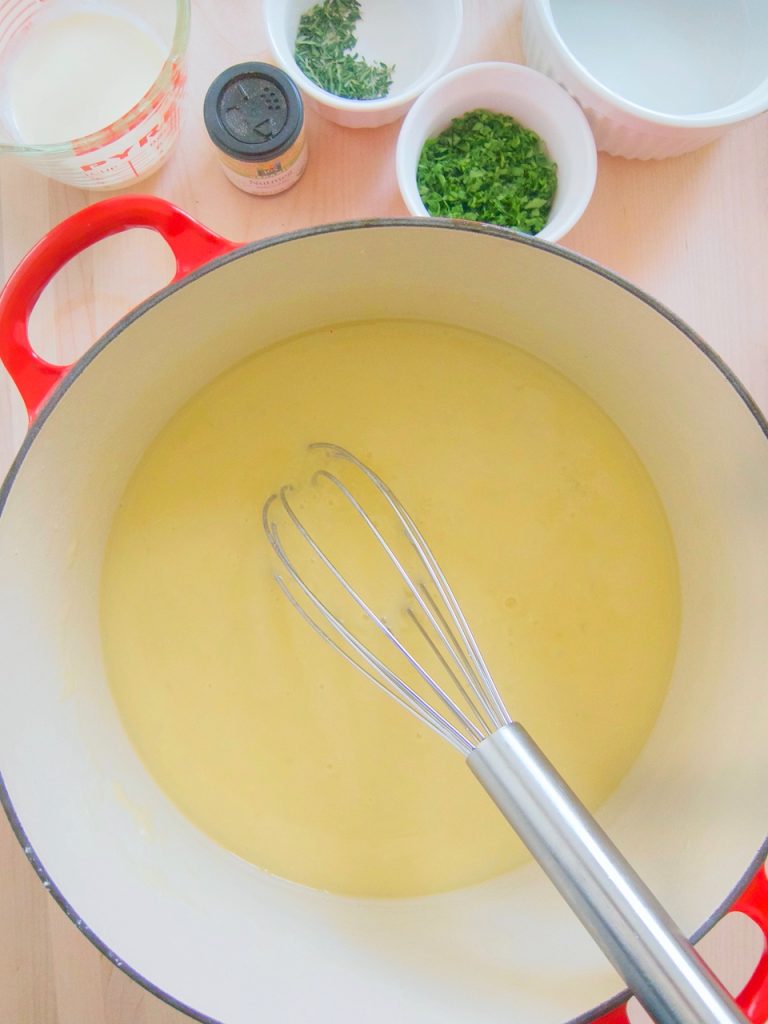 Ingredients
6 tablespoons butter
2 cups diced onion
1 leek, cut small (opt.)
3 garlic cloves, minced
1/2 cup plus 2 tablespoons flour
4 – 4 1/2 cups chicken broth
1/4 cup heavy cream
1/4 cup minced parsley
2 teaspoons fresh thyme leaves
a pinch of nutmeg
For the velouté sauce, melt the butter and sauté the onions, leeks and garlic for 10 minutes. Stir in the flour and cook for 1 minute. Begin adding the broth, slowly at first, whisking constantly. Once thickened add the cream, parsley, 2 teaspoons of thyme and a sprinkle of nutmeg. Cook the sauce for 5 minutes.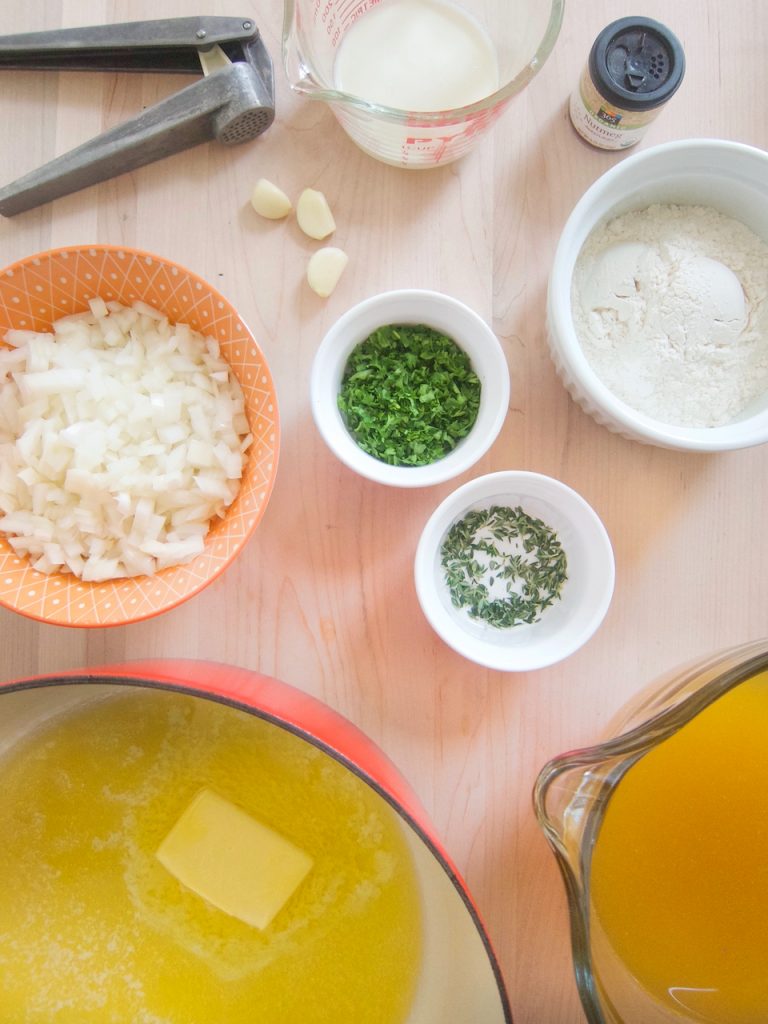 Assembly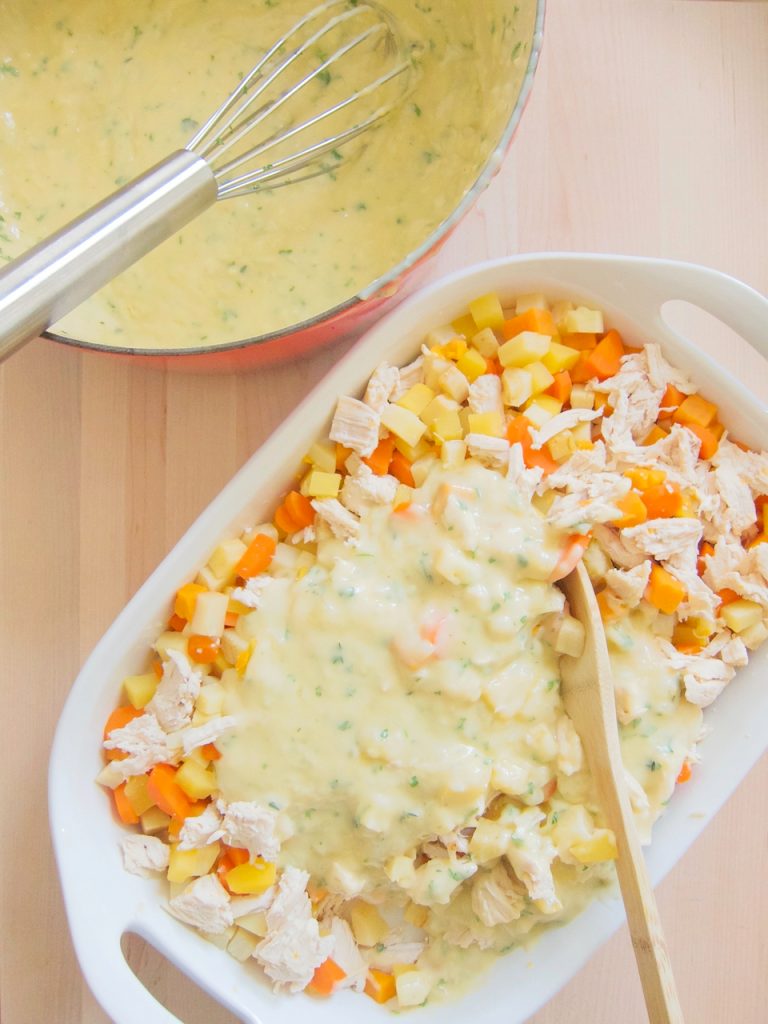 Put the chicken pieces and root vegetables into a 3 quart casserole and stir them until they are evenly mixed. Pour the velouté sauce over them and mix everything together. Bake in a 400 degree oven for 15 minutes. While it's baking make the biscuit topping (below). After the 15 minutes, remove the casserole from oven and spoon the biscuit topping in 12 mounds on top of the chicken and root vegetable filling. Bake an additional 30 minutes. Cool and refrigerate overnight. The next day reheat the casserole or transfer the amount you want to a smaller casserole, and bake in a 350 oven for 20 -30 minutes or until hot. Don't let the biscuits get too brown.
Biscuit Topping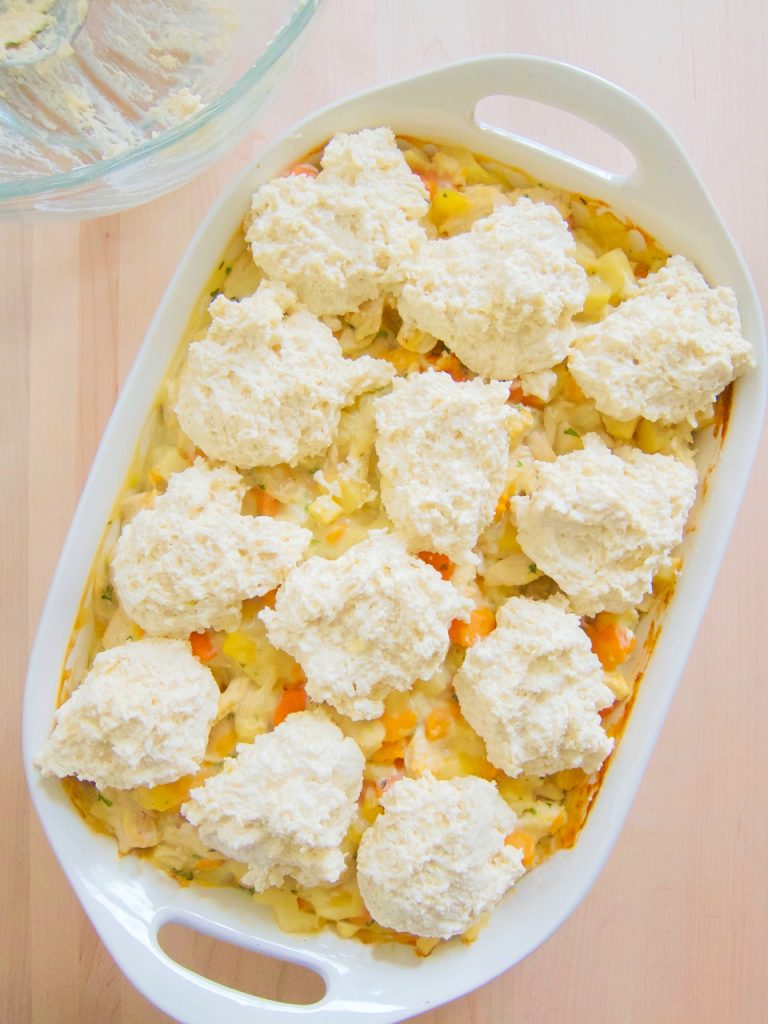 Ingredients
2 1/4 cups flour
1 tablespoon baking powder
1 teaspoon salt
6 tablespoons cold butter, cut in pieces<
1 cup grated gruyère cheese (don't substitute with asiago cheese)
1 1/2 cups buttermilk
Instructions
Mix the flour, baking powder and salt in a large bowl. Add the cold butter and using a pastry blender or your fingers work the butter in to the flour until it resembles coarse crumbs and no large pieces of butter. Add the cheese then make a well in the middle and pour in the buttermilk all at once. Mix with a fork.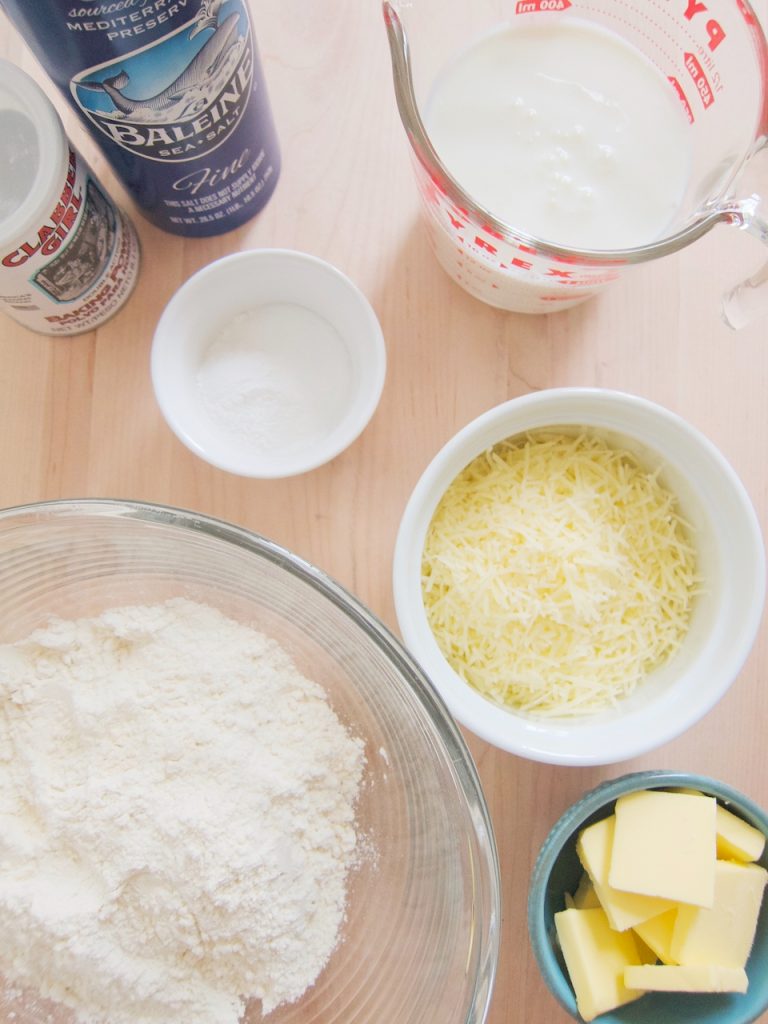 Poached Chicken and Homemade Chicken Stock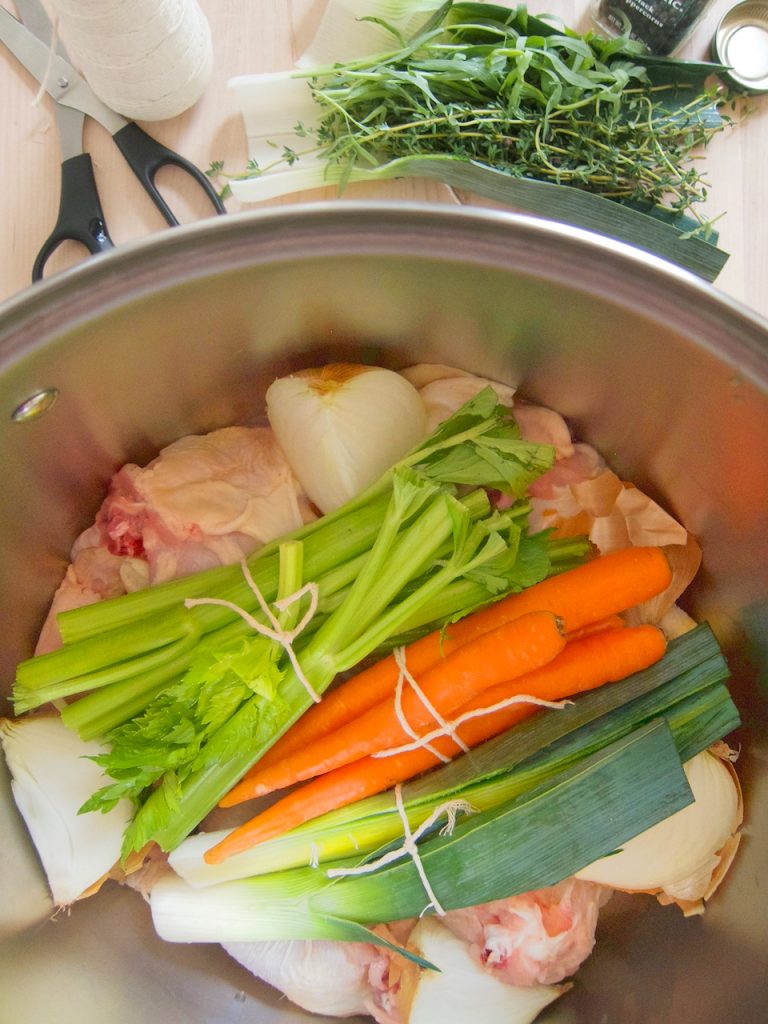 Ingredients
1 cut up a 3 to 4 pound chicken
1 small to medium leek
4 medium carrots
4 medium celery stalks, cut in 6 -7 inch pieces
1 onion
a few sprigs of thyme
a few sprigs of tarragon (or parsley and bay leaf)
12 peppercorns
10 – 12 cups water
2 teaspoons salt
Instructions
Place the chicken pieces at the bottom of a large stock pot. For easy removal, tie the celery up with string. Do the same for the carrots and then the leeks. Cut the onion in quarters. Make a bouquet garnet using the outer parts of the leek by tying the herbs and peppercorns inside of them. Lay all the vegetables and the bouquet garni on top of the chicken pieces. Pour just enough water to cover everything. Jaques used 10 cups. My pot was bigger so I used 12. Ten is better because it means less time at the end when it's time to boil the stock down. Jacque put a metal colander on top of the chicken and vegetables to weight everything down and keep them under the water. I used a heavy glass lit from another pot. Bring the water to a boil and simmer 20 minutes. Remove from the heat, cover and let sit for 1 hour. After the hour, transfer the vegetables and chicken to a large bowl. Let them set a few minutes until all the juices collect at the bottom, then pour the juices into the pot. Put the pot back on the heat and boil the broth down to 6 cups. Pour the stock through a sieve and rinse the pot out and return the stock to the pot where it's ready to have the root vegetables boiled in it (see above). Pull the chicken off the bones and tear enough chicken to have 6 cups of bite sized pieces and set this aside until ready to assemble the filling. I keep it in the refrigerator once it's cooled down.