Julia Child and Jacque Pepin teamed up and did a series of cooking classes that are on Amazon Prime. In one class they did a poached chicken with vegetables and places them over rice and also showed how the broth could be thicken and the chicken and vegetables turned into a chicken pot pie.
Poaching a chicken can also be making a chicken stock, both of which can then be used for many dishes where both cooked chicken and chicken stock are called for.
Cooking everything from scratch can mean spending the whole day in the kitchen which the French don't think anything of doing. If you have the time and would like to make your own chicken broth using Julia and Jacque's recipe, I have written the recipe below.
On the same show, for the chicken pot pie they explained out to make proper pastry dough, using part of it for the pot pie and the remainder for an apple dessert. Their pastry dough recipe is also below.
When you are cooking the French way it is recommended that you use the French practice of 'mise en place' which means to have all the ingredients prepared and ready to go before you start the cooking. It allows you to concentrate on the cooking and removes a lot of stress, you won't over cook something or miss a step or an ingredient. I've made a habit of using 'mise en place' most of the time because it makes cooking more enjoyable for me, but it's especially good to do it for more complex recipes that have a lot of steps to them.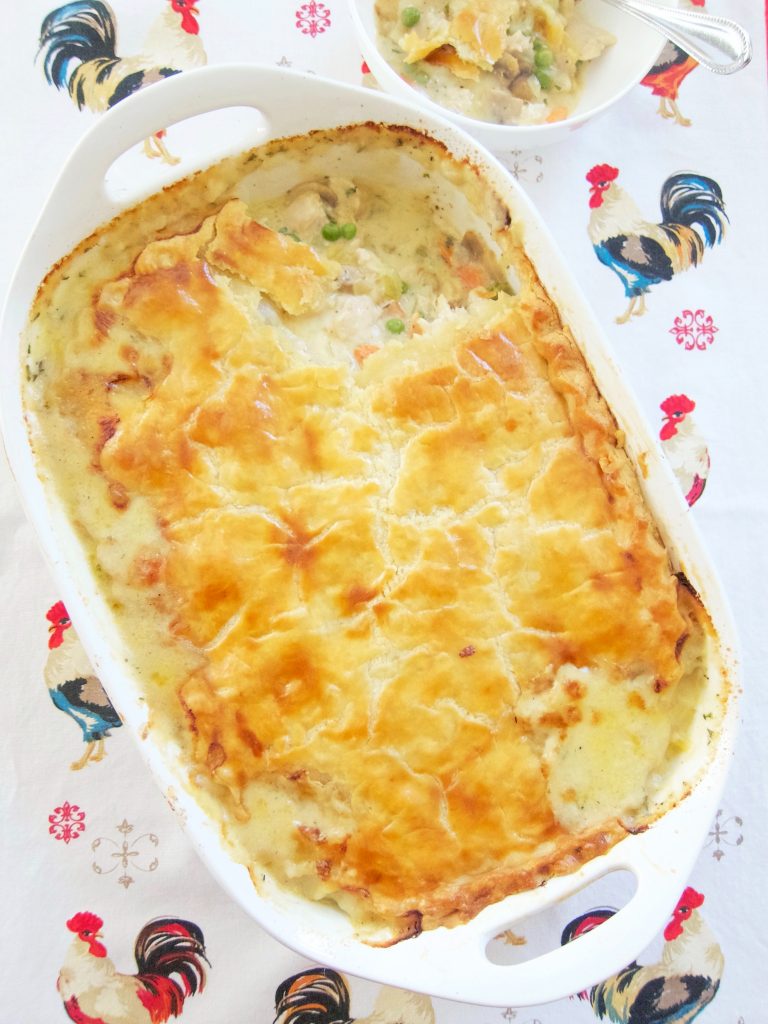 Chicken Pot Pie
There are 6 steps to making this recipe. To save on time and make it easier, you can use frozen pearl onions which don't need to be cooked and you can leave out the mushrooms.
Step 1. your favorite pastry dough, regular or gluten free, for top (or frozen puff pastry rolled out to 1/8″ thickness and cut to fit)
Step 2. 2 pounds (about 4 large) poached chicken breasts, torn in pieces
Step 3. 6 ounces cooked fresh pearl onions (or frozen pearl onions, no cooking needed)
Step 4. 8 ounces of white mushrooms, sautéed (opt.)
Step 5. cooked shallots, onions, garlic, carrots, celery and peas
Step 6. velouté sauce
Step 1. Pastry Dough for Top
Use your own pastry recipe that has about 1 1/2 cups of flour.
Crust
Ingredients
1 1/2 cups all purpose regular or all purpose gluten-free flour or grain free cassava flour
1 stick cold butter, cut into 8 pieces
1 egg yolk
3 – 4 tablespoons cold water
Instructions
Place flour, butter and egg yolk in a food processor and pulse until the butter pieces are the size of peas. With the processor still running, add the water and stop just before the dough forms a ball. Chill dough for 30 minutes. Roll out on a floured board to the shape of the casserole. Flute the edges if you like.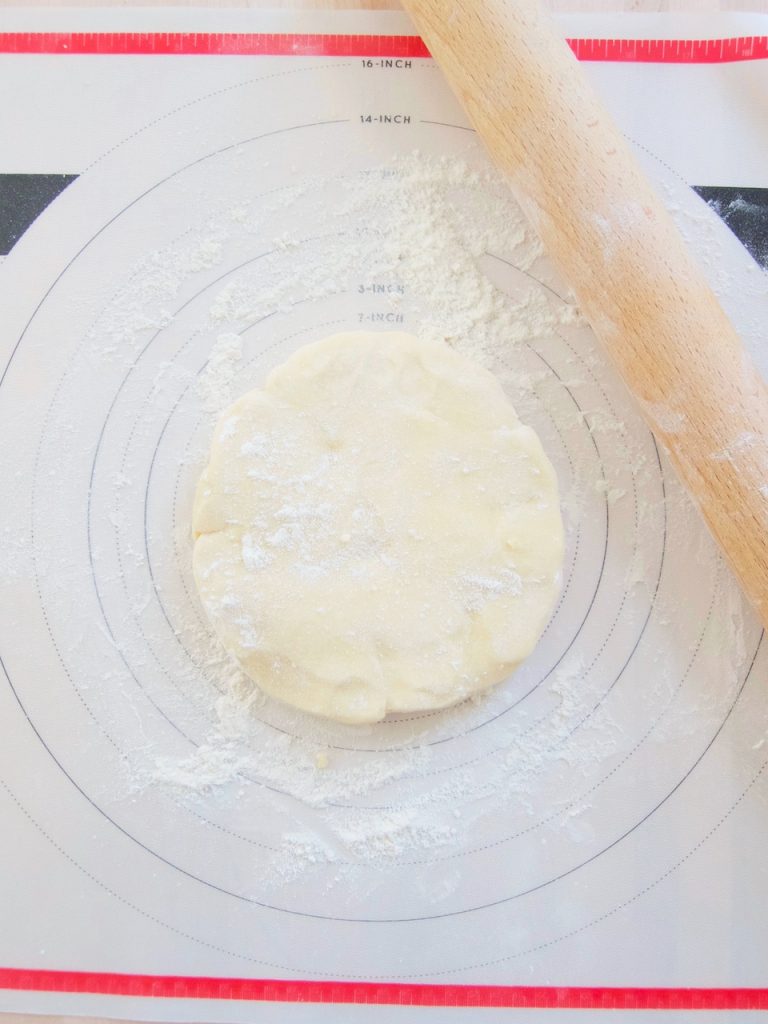 This is Julia and Jacque's recipe and I cut it in half and it was the perfect amount for a 9″ by 13″ dish. On the video, they made a whole batch and used the remainder for a fruit pastry.
Ingredients
3 cups flour
1 1/2 cups cold butter, cut in pieces
2 rounded tablespoons shortening
1/4 teaspoon salt
1/4 teaspoon sugar
1/3 cup cold water
1 egg white or whole egg, beaten, and a pastry brush
Instructions
The trick to having a light and flakey pastry is to not fully incorporate the butter. There should still be little pieces of it and these will cause there to be layers of pastry rather than one homogeneous piece of dough.
Place the flour in a food processor. Add the cold butter pieces, the shortening, salt and sugar. Pulse the processor until the mixture is crumbly and still has pieces of butter. Add the cold water and pulse until it just starts to gather. Dumb the mixture onto a piece of plastic wrap on a bread board. Gather the dough together and form into 2 1 inch thick disks. Wrap the dough in plastic wrap and let sit 2 hours or more in the refrigerator.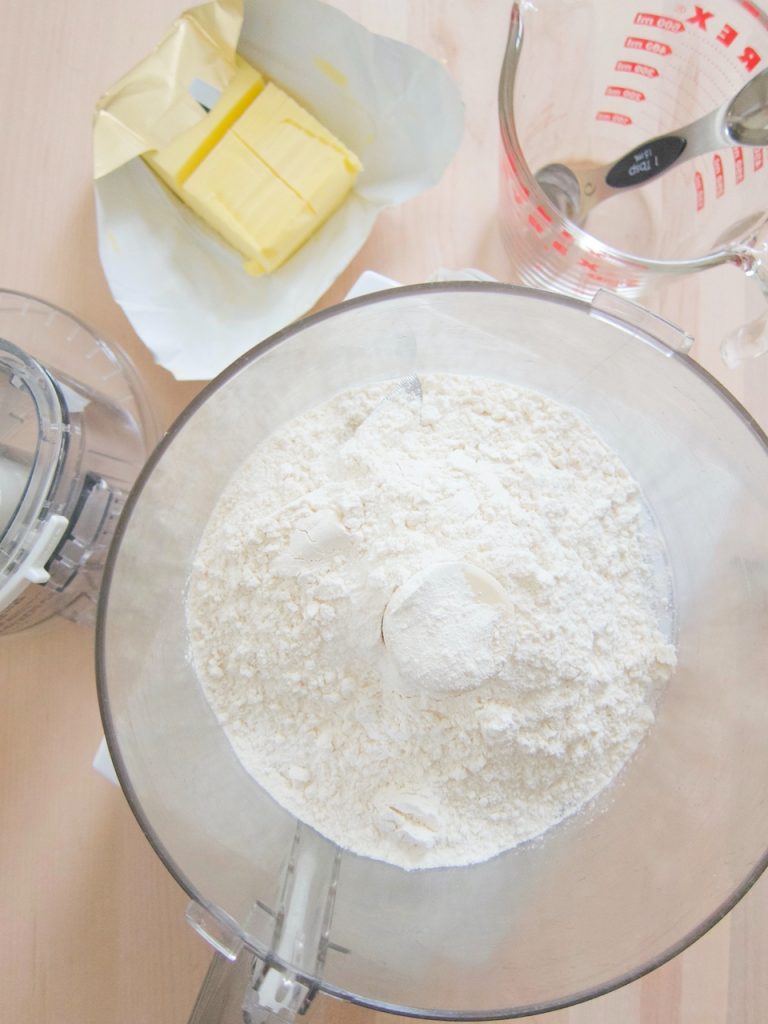 Step 2. Poached Chicken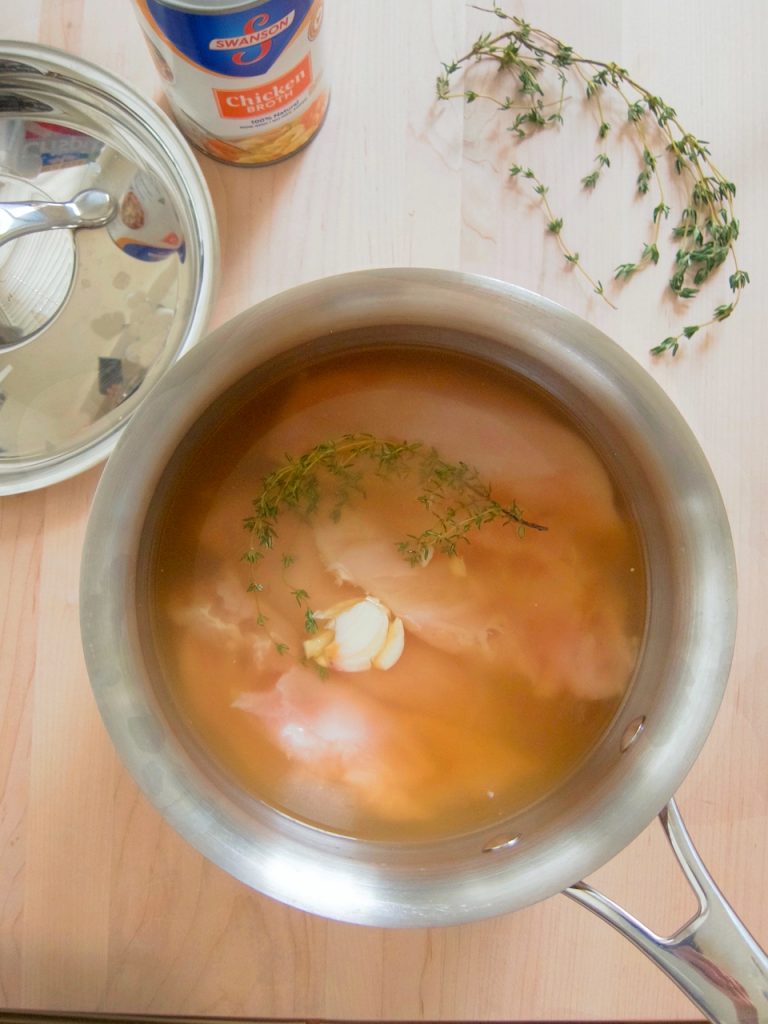 Ingredients
4 large chicken breast (2 pounds)
4 cups Swanson's Chicken Broth
2 medium garlic cloves, smashed
a few sprigs of thyme
Instructions
For the poached chicken, place the chicken in a large sauce pan with a lid. Add 4 cups chicken broth, garlic, and a few sprigs of thyme. Bring this to a boil, turn heat down, cover, and let simmer 8 minutes. Remove the chicken from the broth and let cool, then tear into bit sized pieces. Pour the broth through a sieve into a large measuring cup. Add more broth from a can to make 4 cups. You will need 1/2 cup broth for the onions and 3 1/2 cups for the velouté sauce below.
Step 3. Pearl Onions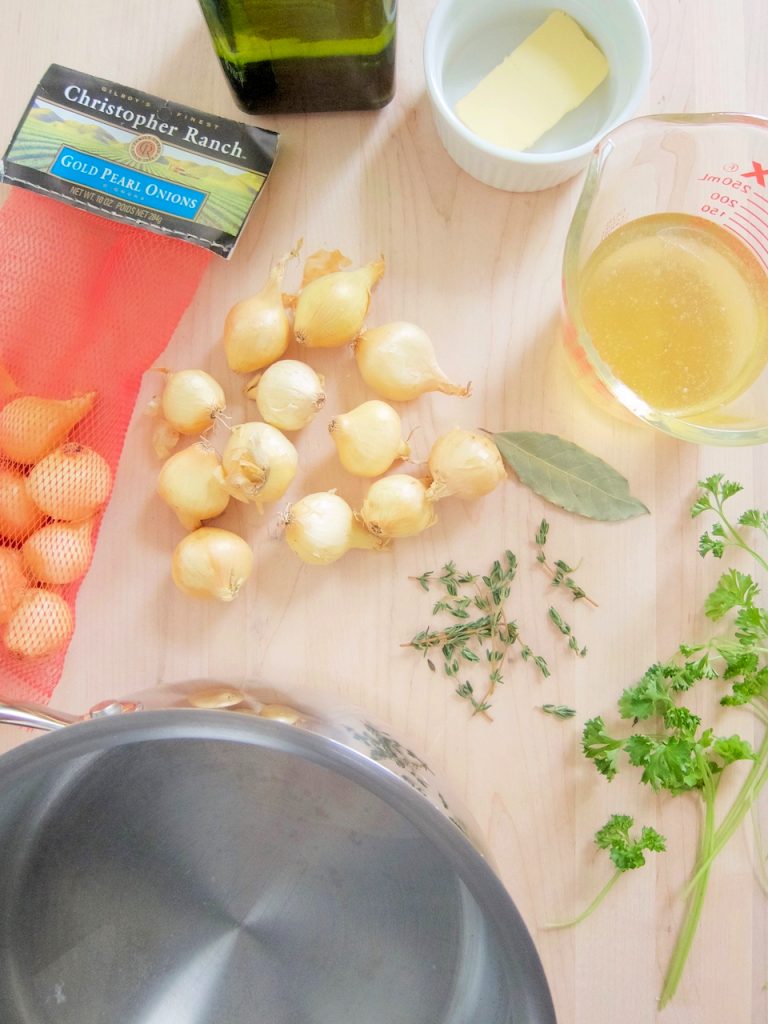 Ingredients
8 ounces pearl onions, peeled
1 tablespoon butter
2 tablespoon olive or avocado oil
1/2 cup chicken broth
3 sprigs fresh thyme
2 sprigs fresh parsley
half of a bay leaf or small bay leaf
Instructions
To peel the pearl onions, cut off each end and place them in boiling water for 30 seconds and then plunge them into ice water to completely stop the cooking. If they don't pop out of the skins when you squeeze them, if necessary, make a slit down one side with a paring knife and slip them out of the outer skin.
Heat the butter and oil in a 8″ enamel pot on medium hight. Add the onions and lightly brown. Add the 1/2 cup broth and herbs. Bring to a boil, turn heat down and simmer covered for 20 minutes and uncovered for 20 more minutes or until there is only a couple tablespoons of the juices left. Set aside with the chicken pieces.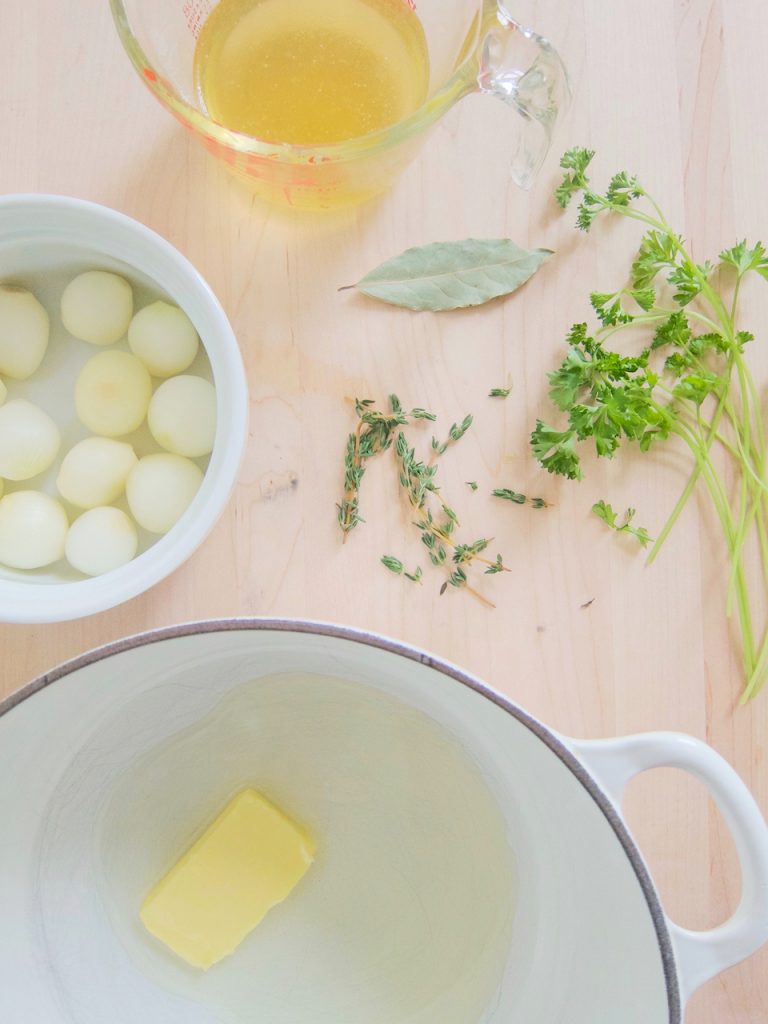 Step 4. Sautéed Mushrooms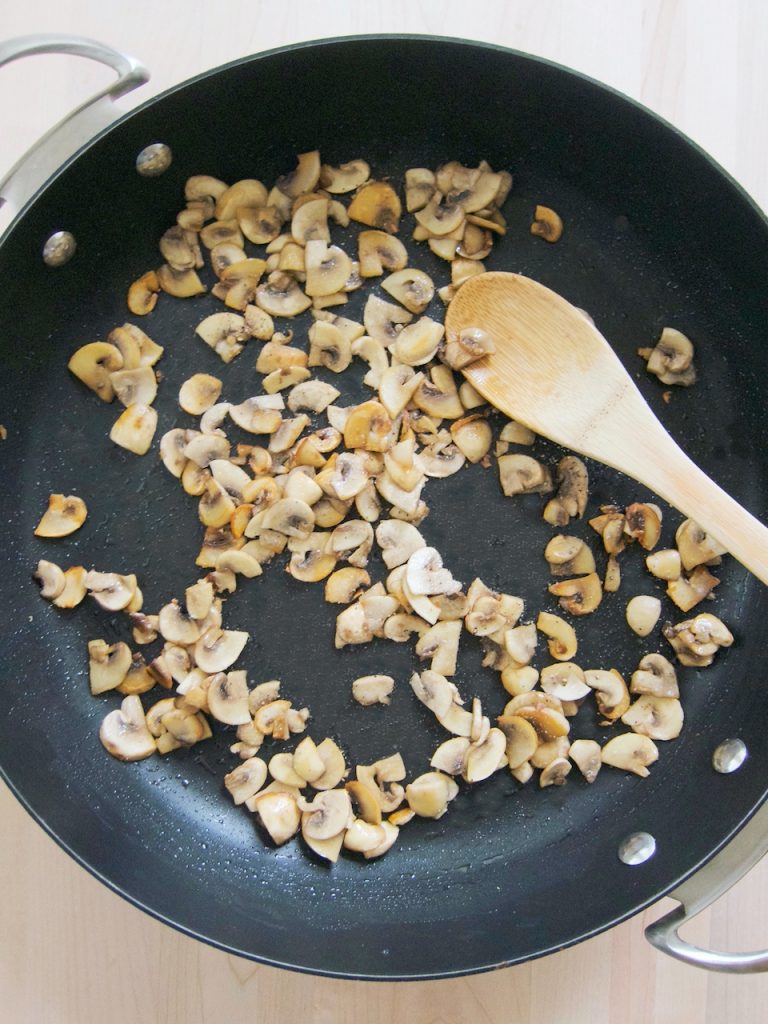 Ingredients
2 tablespoons butter
1 8 ounce box white mushrooms, whipped clean and sliced
Instructions
Melt the butter in a skillet, add the mushrooms and sauté until they are about half browned. Set aside with the chicken pieces and onions.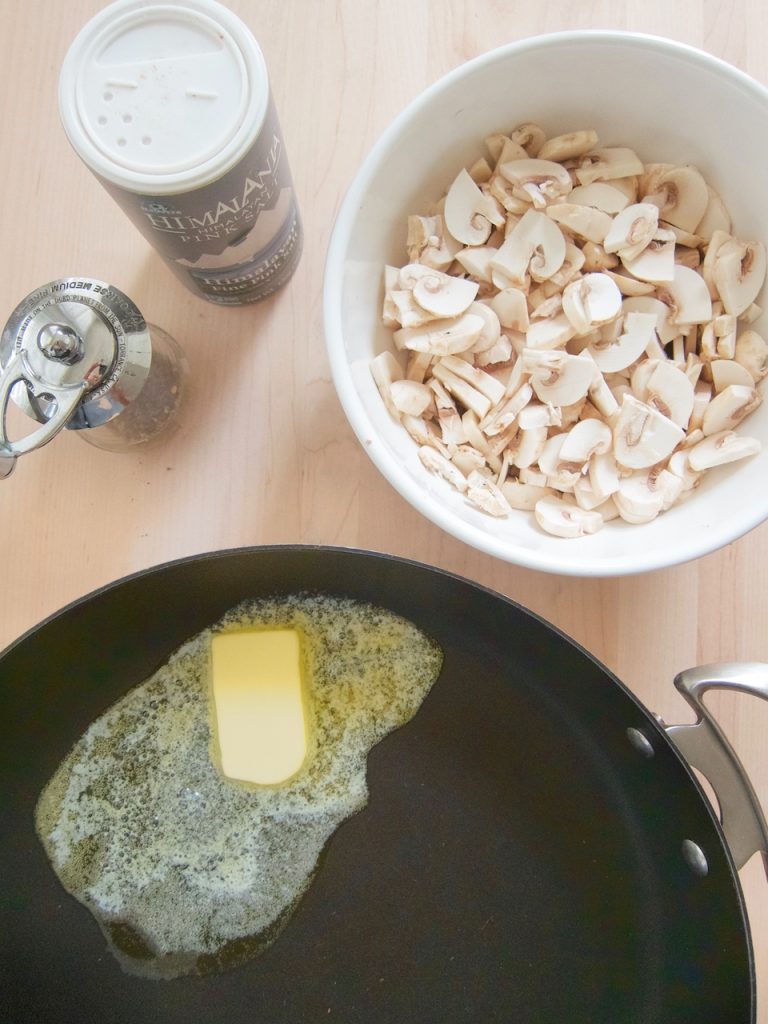 Step 5. Sautéed Vegetables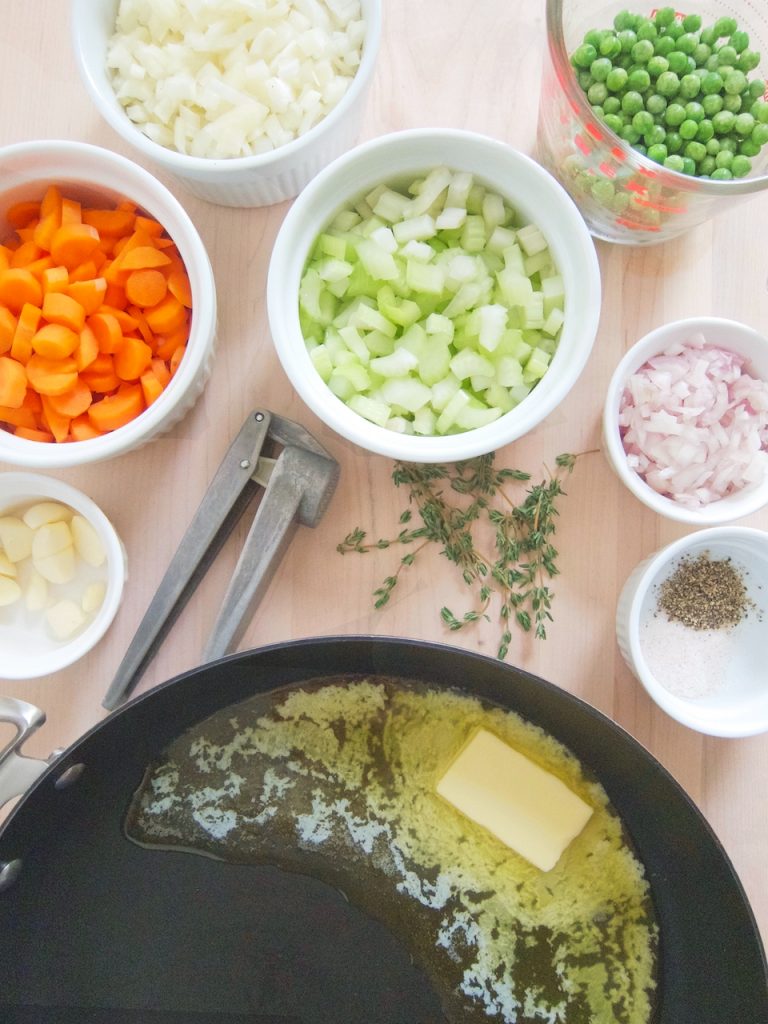 Ingredients
4 tablespoons butter
3 shallots, thinly sliced
2 cups chopped onion, or leek
4 medium garlic cloves, minced
1 1/2 cups carrots, peeled and sliced into 1/8″ slices
1 1/2 cups celery, sliced
2 teaspoons fresh thyme
1/2 teaspoon salt
1/2 teaspoon pepper
1 cup frozen peas, thawed
Instructions
Melt the butter in the skillet. Add the shallots, onions, garlic, carrots, celery and thyme. Sprinkle with the salt and pepper. Sauté stirring often until the vegetables are tender, about 15 to 20 minutes. Stir in the peas. Add this to the chicken, pearl onions and mushrooms.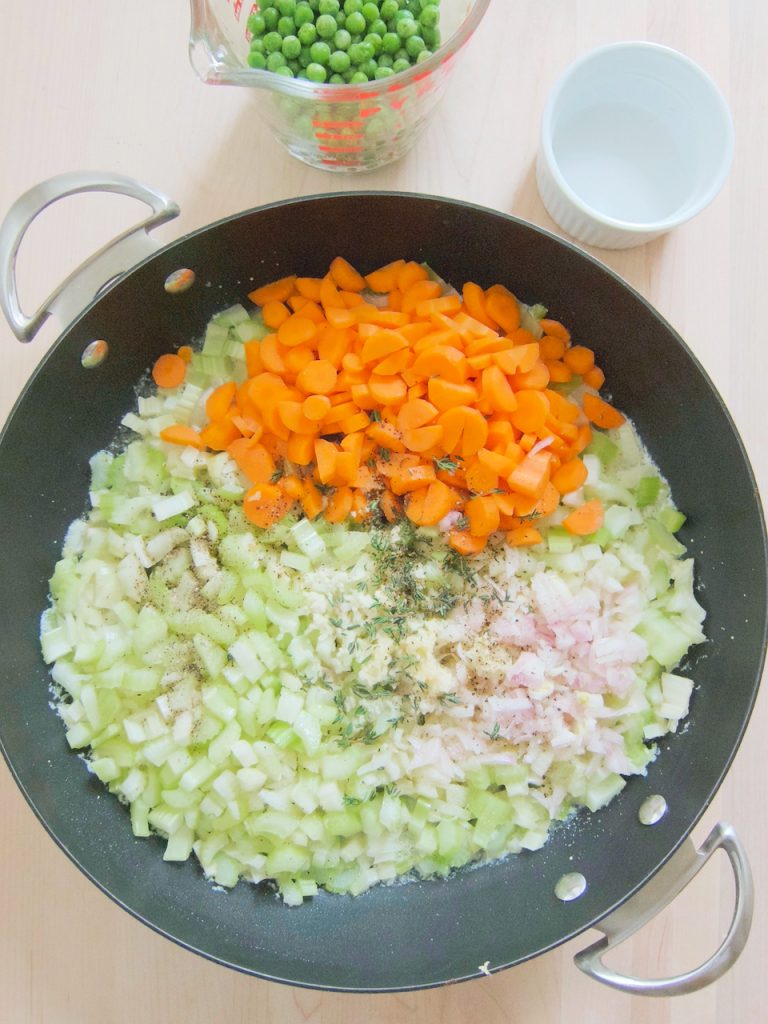 Step 6. Velouté and Cream Sauce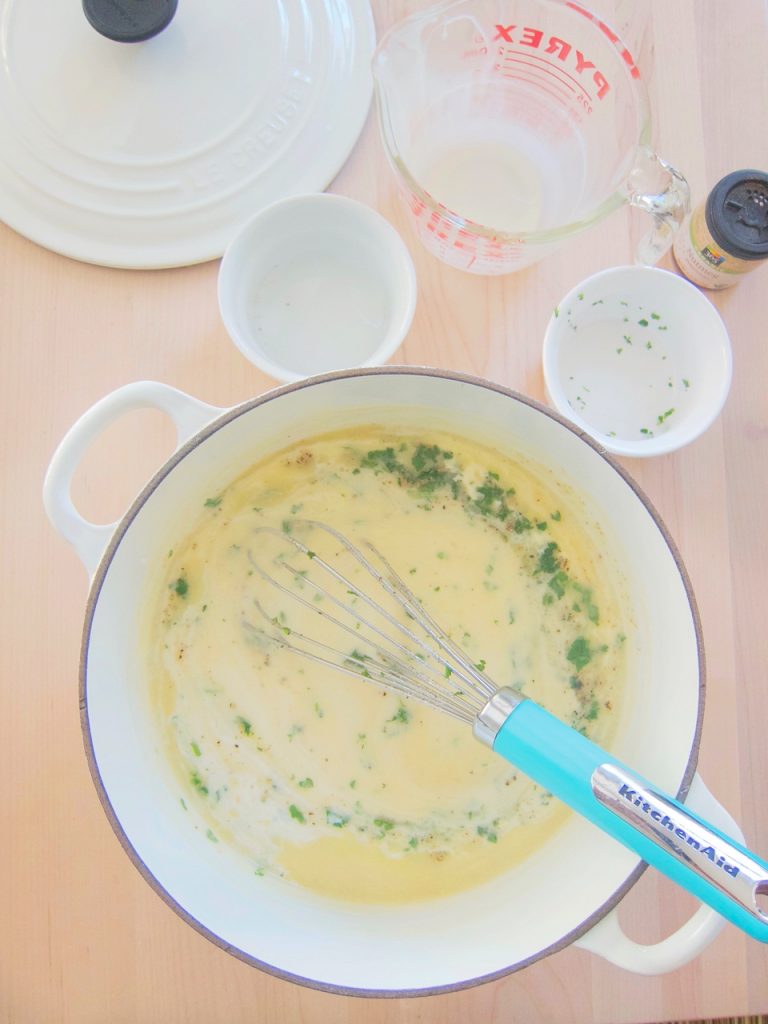 Ingredients
6 tablespoons butter
6 tablespoons all-purpose flour, gluten-free all purpose flour or for grain-free use 4 tablespoons arrowroot flour
3 1/2 cups Swanson's Chicken Broth
1/2 cup heavy cream
1/2 teaspoon salt
1/4 teaspoon pepper
a pinch of nutmeg
2 tablespoons chopped parsley
Instructions
Melt the butter preferably in a heavy bottomed sauce pan and whisk in the flour and cook for 1 minute. Add the stock, slowly at first, whisking constantly. When the velouté sauce is thickened, add the cream, salt, pepper, nutmeg and parsley.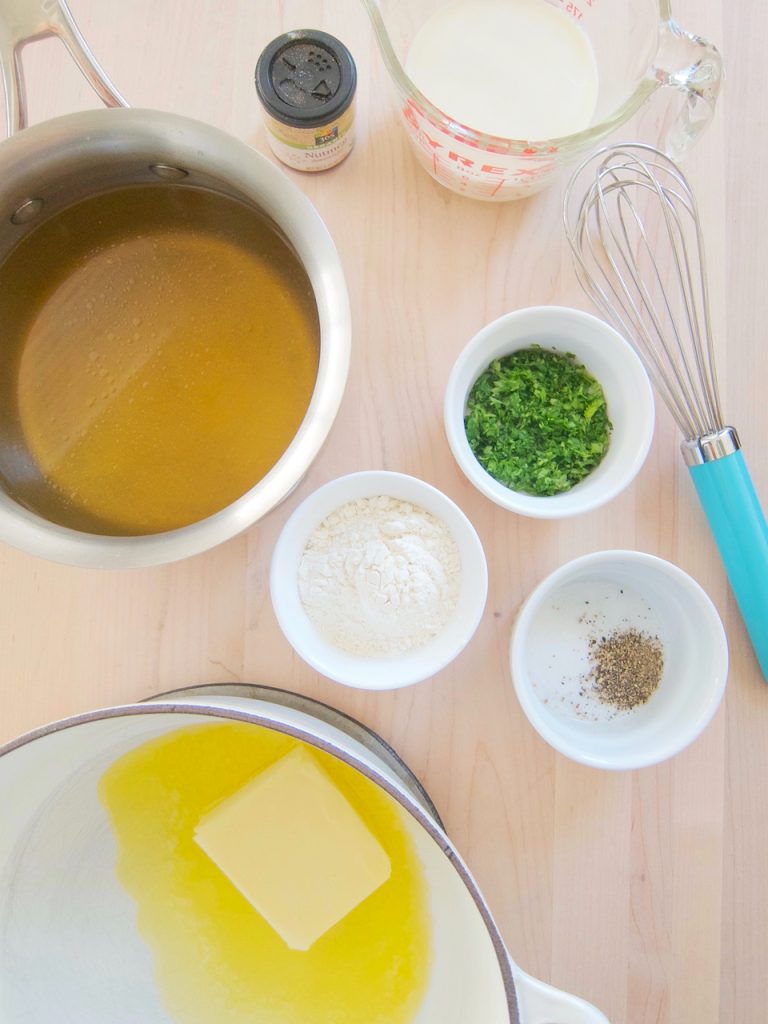 Assembly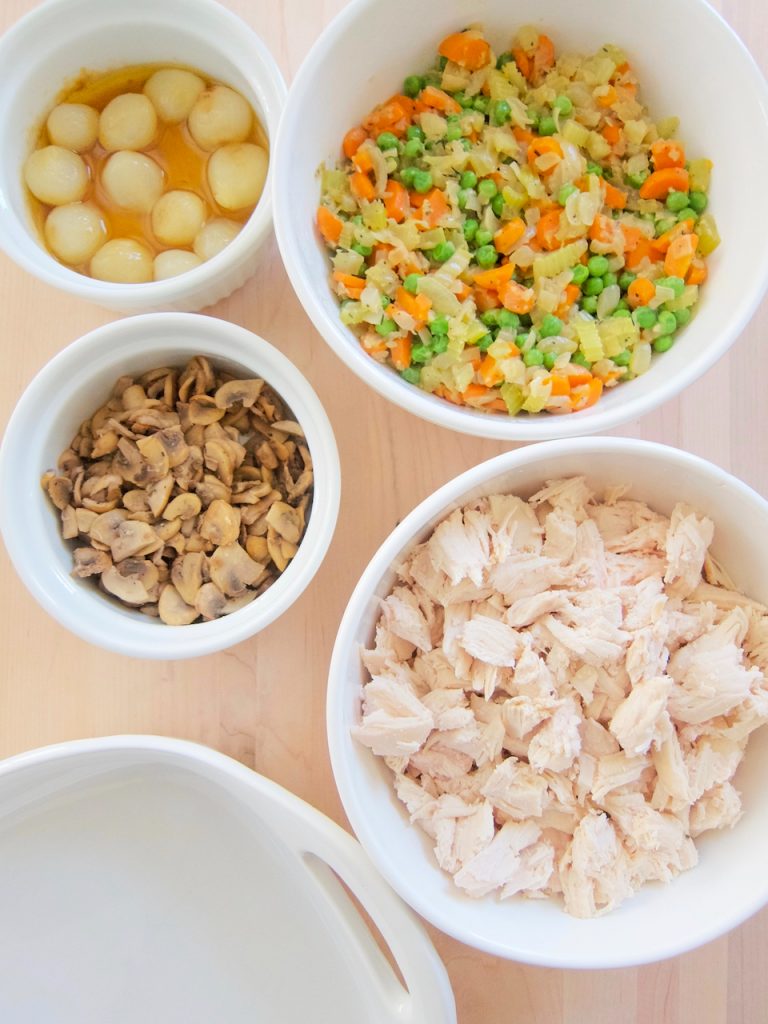 Place the chicken, pearl onions, mushrooms and vegetables in a 3 quart casserole and pour the sauce over everything. Stir to mix. Remove one of the disks of pastry dough from the refrigerator and set on a lightly floured pastry mat. Allow it to warm up a little to where it's pliable. Roll it out starting at the middle and moving the rolling pin up, then back to the middle and down. Make a quarter turn of the dough and repeat, then move out from the middle to make the right size and shape to fit the casserole. It doesn't need to be perfect. Crimp the edges if you wish. Transfer the dough to the casserole. Brush with the beaten egg. Bake in a 400 degree oven for 35 minutes for the cassava flour pastry top and 45 minutes for the white flour pastry top.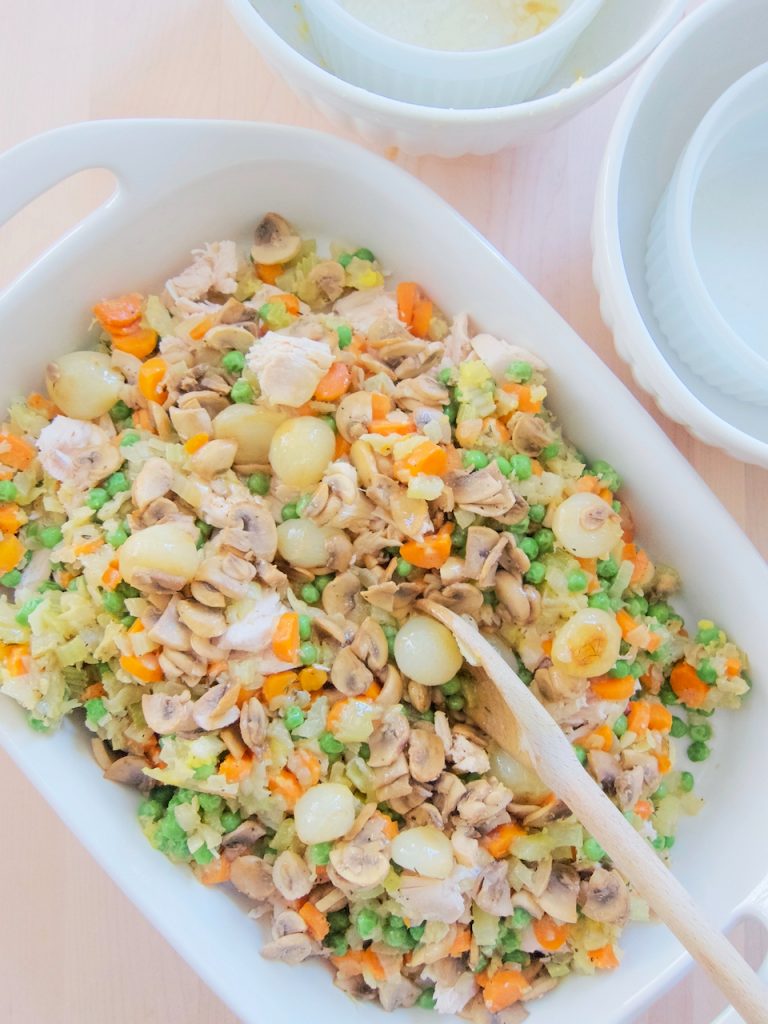 To make the chicken broth from scratch:
Julia and Jacque's Poached Chicken and Homemade Chicken Stock
Ingredients
1 cut up a 3 to 4 pound chicken
1 small to medium leek
4 medium carrots
4 – 5 medium celery stalks, cut in 7 inch pieces
1 onion
a few sprigs of thyme
a few sprigs of tarragon or parsley
12 peppercorns
10 – 12 cups water
2 teaspoons salt
Instructions
Place the chicken pieces at the bottom of a large stock pot. For easy removal, tie the celery up with string. Do the same for the carrots and then the leeks. Cut the onion in quarters. Make a bouquet garnet using the outer parts of the leek by tying the herbs and peppercorns inside of them. Lay all the vegetables and the bouquet garni on top of the chicken pieces. Pour just enough water to cover everything. Jaques used 10 cups. My pot was bigger so I used 12. 10 is better because it means less time at the end when it's time to boil the stock down. Jacque put a metal colander on top of the chicken and vegetables to weight everything down and keep them under the water. I used a heavy glass lit from another pot. Bring the water to a boil and simmer 20 minutes. Remove from the heat, cover and let sit for 1 hour. After the hour, transfer the vegetables and chicken to a large bowl. Let them set a few minutes until all the juices collect at the bottom, then pour the juices into the pot. Put the pot back on the heat and boil the broth down to 6 cups. Pour the stock through a sieve and rinse the pot out and return the stock to the pot where it's ready to have the root vegetables boiled in it (see above). Pull the chicken off the bones and tear into small pieces and set aside until ready to assemble the filling.