Blueberry Cobbler With Lemon and Poppyseed Scones
My oldest son remembers me making a lot of blueberry cobbler when he was little. I was doing this because there was a family in our church with a very large blueberry patch on their property. The recipe I used then was lost somewhere along the way, unfortunately, or maybe it was a good thing because I wouldn't have been on the lookout for this one when I thought about making it again.
Inspiration came from a recipe in a magazine for "Blueberry Cobbler With Lemon Poppy Seed Scones." I made it and it was wonderful.
Pastry, biscuits and scones can be done in a food processor, mixer or done by hand. The idea is to blend in the cold butter to the point where there are still little pieces of the butter that are about the size of peas. This makes for a flakier pastry. To make it easier, the first time I made this cobbler, instead of messing up a mixer, I combined the butter and flour using my fingers and it worked fine. To my surprise, the scones turned out to have a lovely moist cake texture instead of the denser texture of a scone that I was expecting. But you have to be sure not to overcook them and dry them out.
I did a few things differently. The recipe had you mold the dough into an 8″ square and cut it diagonally starting at the two top corners and then cut those in half. I decided to go with round. And I also tried dropping the dough in mounds like cobbler is normally done which cuts down on time and mess. I also used lemon rind instead of lemon zest.
The original recipe gave the option of using an orange flavor liqueur like Cointreau in place of the orange juice. But it's perfect with the orange juice. The lemon flavor becomes the feature. I'm guessing with the liqueur, another layer of flavor is added.
Anyway you make it, this may be 'the best' blueberry cobbler recipe for real!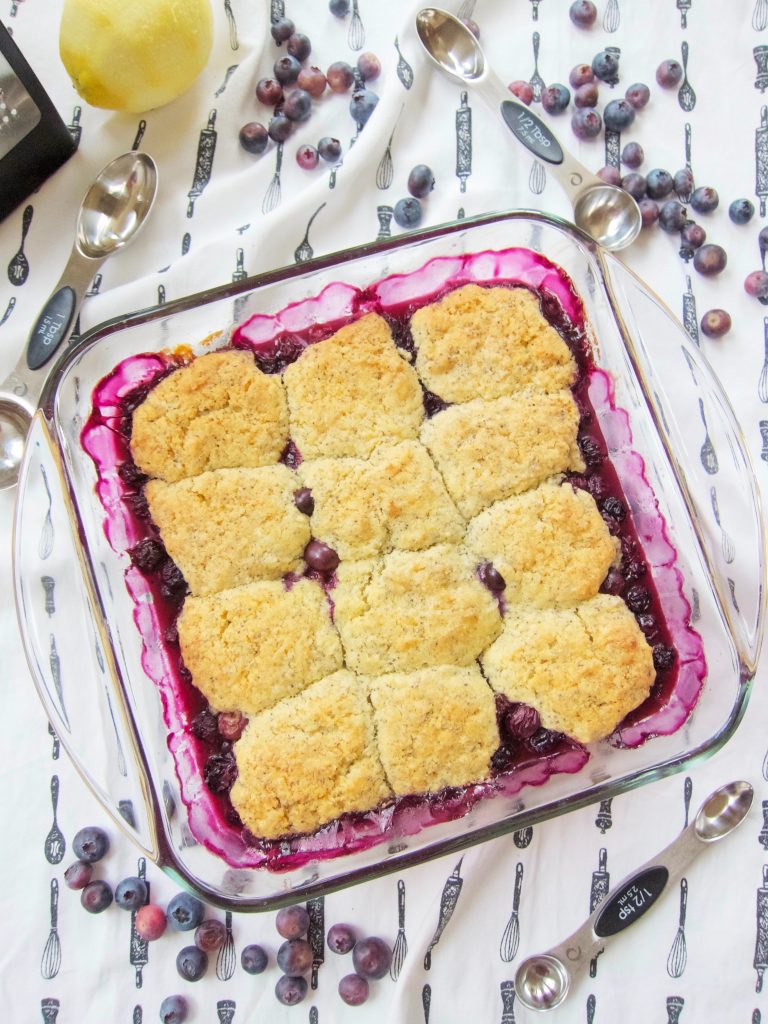 Blueberry Cobbler With Lemon and Poppyseed Scones
Blueberry Filling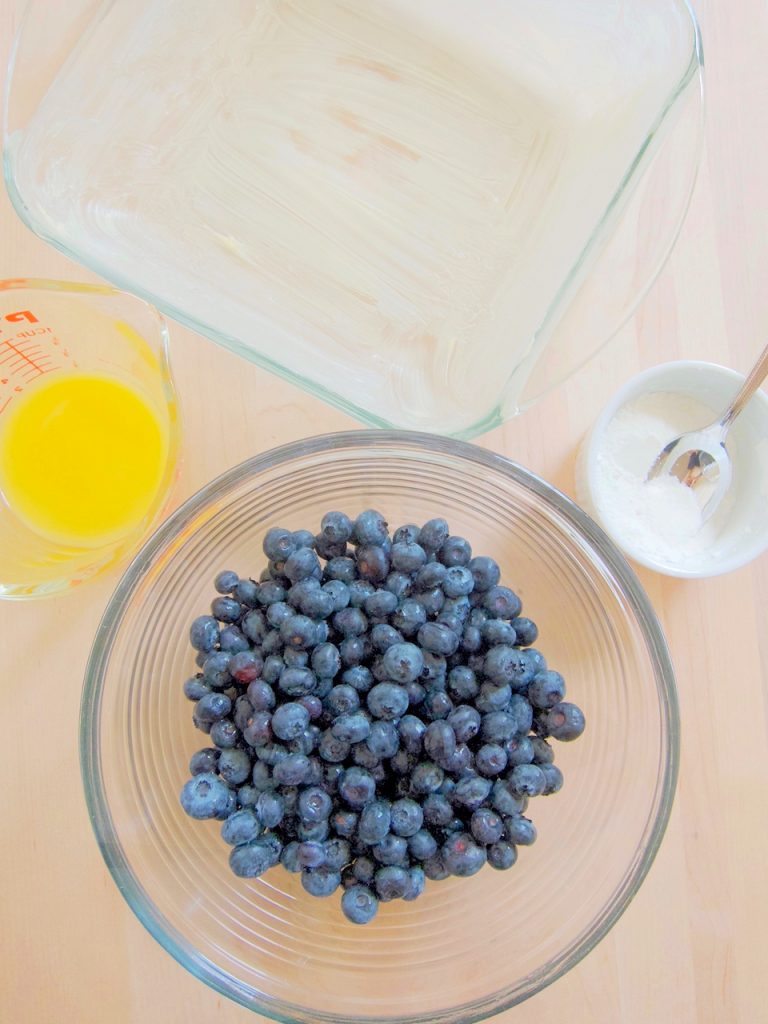 Ingredients
3 tablespoons sugar
1 teaspoon cornstarch
3 cups blueberries
1/4 cup orange juice
Instructions
Set the rack in the oven at one third from the bottom rather than the middle of the oven so the heat hits the bottom of the casserole cooking the berries properly.
Butter a 9″ by 9″ glass pyrex baking dish. Place the berries in a bowl. Mix the sugar and cornstarch in a small dish. Add the orange juice and sugar mixture to the berries. Gently mix and then pour into the buttered dish. Place the triangles or mounds of dough on the berries. Bake in a 375 degree oven for 40 minutes.
Poppyseed Scones
To save time, you can drop the dough in mounds on to the berries rather than rolling out the pastry and cutting it.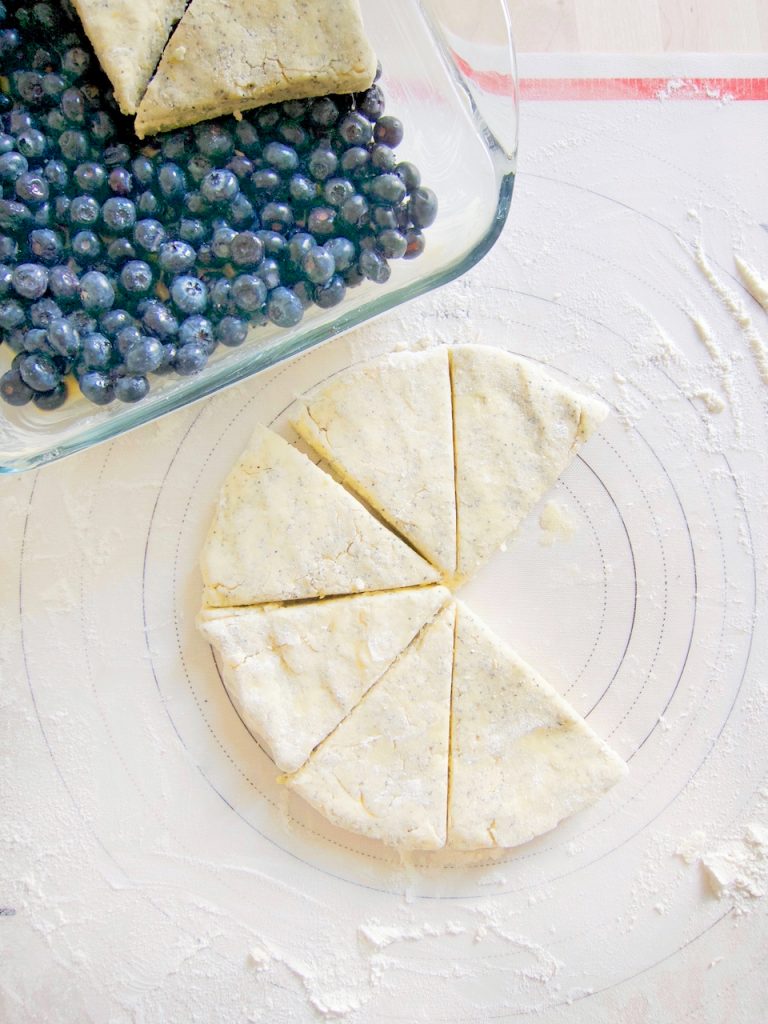 Ingredients
1 cup flour, plus more for rolling out
1/4 cup sugar
1 1/2 teaspoons baking powder
1 1/2 teaspoons grated lemon rind
1 1/2 tablespoons poppy seeds
1/4 teaspoon salt
1/2 cup cold butter, cut into cubes
1/3 cup heavy cream
Instructions
Measure first six ingredients into a mixer bowl, add the butter and mix until crumbly. Add the cream and blend until just mixed. (Or I prefer to save dishes and mix the flour mixture and butter by hand and make a well in the middle to add the cream and stir with a fork until just mixed.)
Spoon mounds of dough onto berry mixture, or dump the mixture onto a lightly floured pastry mat, if you have one, and mold into an 8″ round disk. Cut in half both directions and then make diagonal cuts so you have 8 scones. Sprinkle them with sugar (opt.) Place the scones on the berries. Bake in a 375 degree oven for 35 – 40 minutes. Let cool slightly and serve warm.
You can serve it with vanilla ice cream if you want.