Christmas Gingerbread Cake With Eggnog Whipped Cream
This beautiful cake recipe is from Whitney at SaltandBaker.com. She has a maple glaze that you can drizzle over the cake once it's on the cake stand and it's cool. I chose powdered sugar 'snow' for Christmas along with eggnog whipped cream or eggnog ice cream which are both so great with gingerbread.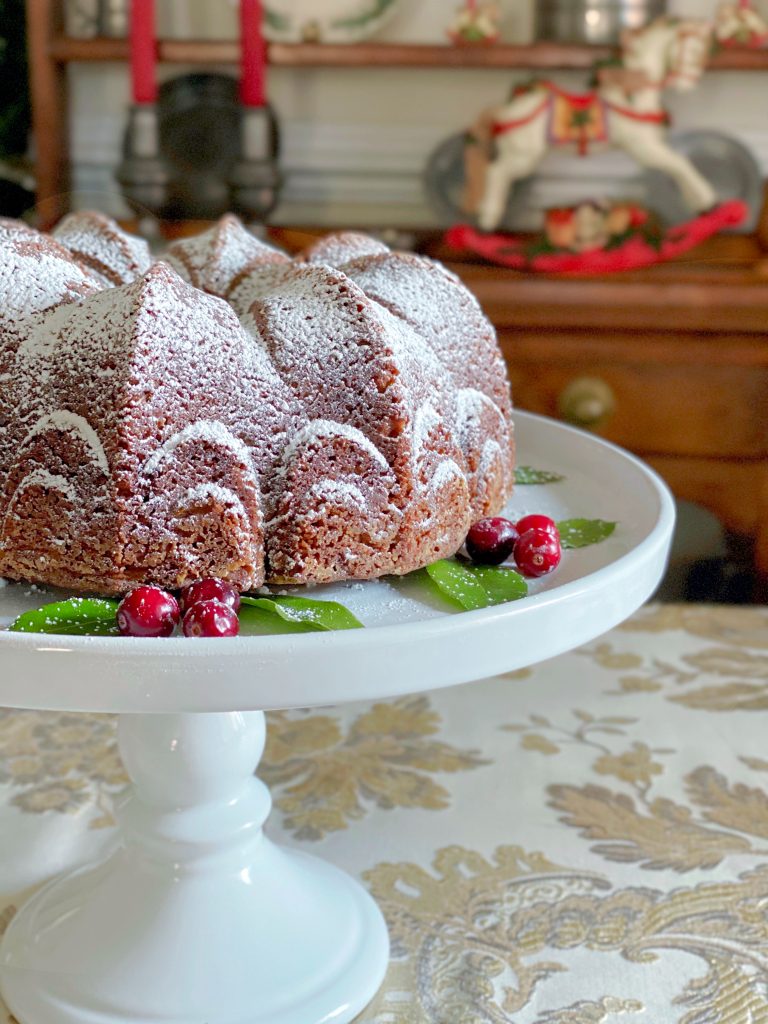 Christmas Gingerbread Cake
Ingredients
12 ounces (2 3/4 cups) flour
1/2 teaspoons baking powder
1/2 teaspoon baking soda
3/4 teaspoon salt
1 1/2 teaspoons ginger
1 1/2 teaspoon cinnamon
1/2 teaspoon allspice
1 1/2 cups dark brown sugar
4 large eggs, room temperature
1 cup butter, melted and cooled
1/2 cup unsulphured molasses like Grandma's
1 cup buttermilk, room temperature
powdered sugar for dusting
fresh bay leaves and cranberries or other fresh herbs and fruit for decorating
Instructions
Generously butter and flour a 10 cup bundt pan and set aside.
Whisk together the flour, baking powder, baking soda, salt, ginger, cinnamon, and allspice in a bowl and set aside.
In your standing mixer bowl put the sugar, eggs, melted butter, molasses and buttermilk. Using the paddle attachment, mix slowly for 30 seconds. Add the dry ingredients and mix on slow just until combined. Use a large rubber spatula to go under the batter folding the mixture a couple times to finish the mixing. Pour the mixture into the prepare pan.
Bake in a 350 degree oven for 45 to 50 minutes. Let cool for 15 minutes and invert on to your cake stand or serving plate.
Serve with eggnog whipped cream or eggnog ice cream or if you don't care for eggnog, serve with vanilla ice cream and leave the eggnog out of the Eggnog Whipped Cream recipe.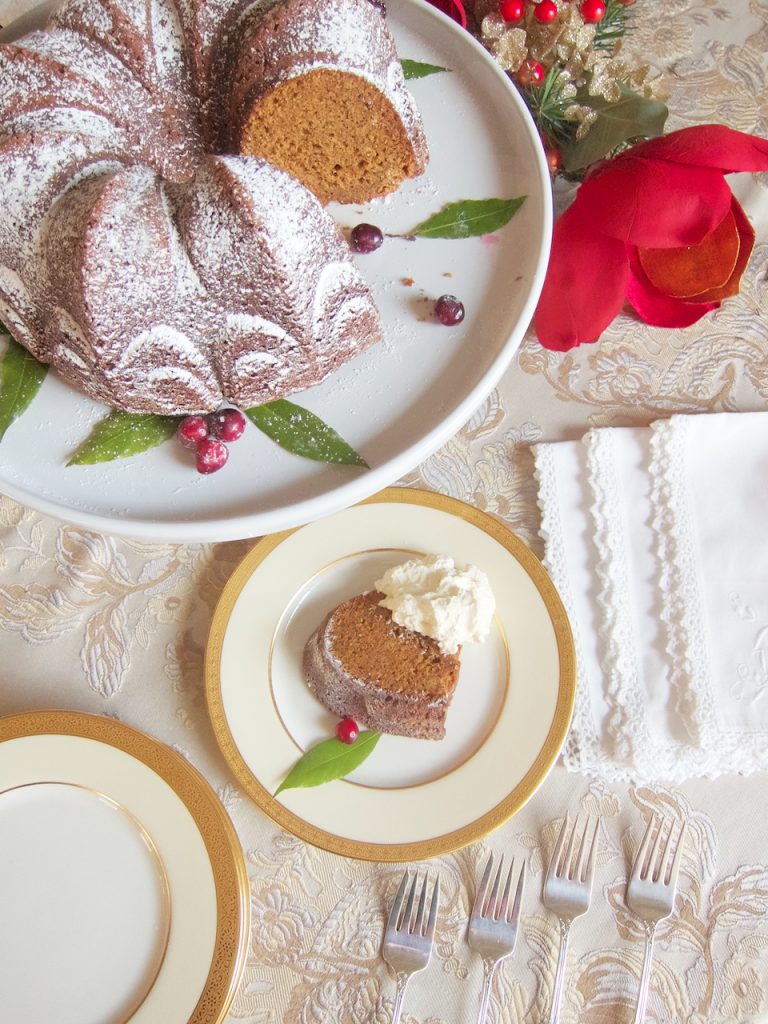 Eggnog Whipped Cream
Ingredients
1 cup heavy cream
1/4 cup eggnog
1/4 cup powdered sugar
1/2 teaspoon vanilla
Instructions
Pour the cream and eggnog into the mixer bowl. Whip for several minutes until peaks are starting to form. Add the sugar and vanilla and continue beating until the cream changes from very soft looking to stiff, before it starts to become butter. At this perfect point the whipping cream will have a very buttery taste and it will hold for more than a day before it starts to separate.