Cranberry Bread With Apricots and Almond
Part of today's learning curve for quick breads had to do with the pan. My bread were getting muffin tops and they had never done this before. Then I made a discovery.
Some 9″ by 5″ loaf pans hold 6 cups and others hold 8 cups. The difference is the measurement at the bottom of the pan. If you use one of the 6 cups and there is too much batter for it, you will end up with a muffin top that can burn around the edges.
For this recipe, you want a 9″ by 5″ metal loaf pan that measures 9″ by 5″ both at the bottom and the top. Professional pans are this way. Safeway carries an inexpensive one by Goodcook.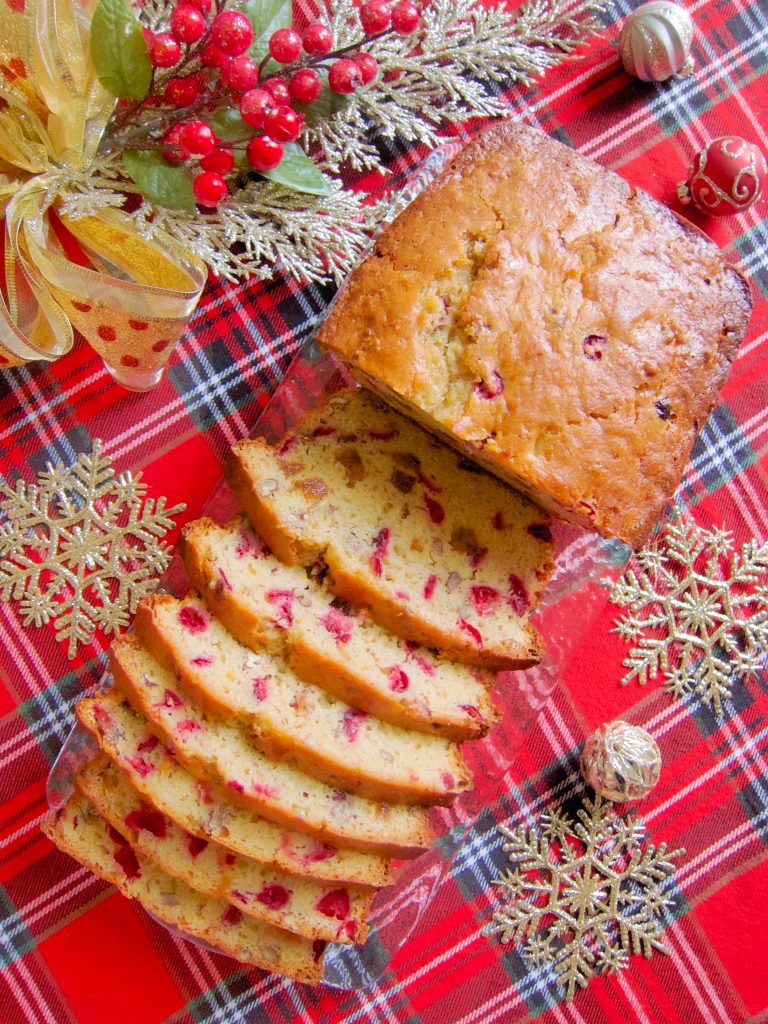 Cranberry Bread With Apricots and Almond
Ingredients
12.5 ounces (2 3/4 cups) flour
1/2 cup sugar
2/3 cups light brown sugar, packed
1 tablespoon baking powder
1/2 teaspoon salt
1/2 teaspoon cinnamon
1/4 teaspoon nutmeg
1 large egg
1 cup milk
zest of one orange
1/3 cup orange juice
3 tablespoons butter, melted
1 teaspoon vanilla extract
1 teaspoon almond extract
1/2 cup dried apricots, cut in small pieces (If you are using unsulfured dried apricots, sometimes they are very tough and you will need to cook them in 1/3 cup for 15 to 30 minutes until they are softened and the liquid has cooked away. I like to add 1 tablespoon of honey to the water.)
1 1/2 cups fresh cranberries cut in small pieces
1/3 cup chopped pecans
Instructions
Cut out a piece of parchment paper to fit the bottom of a 9″ by 5″ loaf pan (see note at the top of the post about the right pan for quick breads). Butter the pan, lay the parchment on the bottom, and butter the parchment.
In a large bowl combine the flour, sugars, baking powder, salt, cinnamon and nutmeg. In another bowl mix the egg, milk, orange zest, orange juice, butter and extracts. Add the wet ingredients to the dry and fold in the apricots, cranberries and nuts. Spoon the batter into the prepared pan, and bake in a 350 degree oven for one hour. Cool 10 minutes and invert onto a baking rack, remove the parchment from the bottom, turn back over and set down and let cool completely.
This bread can be made ahead of time and frozen. It also keeps for a week in the refrigerator.