After comparing the results of a couple gingerbread cookie recipes, I understood what the judges on the Great British Baking Show were looking for as they tasted the gingerbread of the contestants. There is a combination of spices like cinnamon, nutmeg, ginger, allspice and cloves that is perfect for Christmas quick breads, one that's perfect for pumpkin pie, and there is a perfect combination of spices that is just right for gingerbread cookies.
One of the recipes I chose to try was John's at Preppykitchen.com. His desserts are decorated better than what you'd see in a pastry shop and he would win if he got on the Great British Baking Show. When it came to the spices, he nailed it and not only the spice blend but also how long to cook the cookies. If it's a minute too long, they can be very hard and you'll be turning them into gingerbread ornaments for your tree. John didn't give a range like 10 to 12 minutes and didn't tell you to watch for the edges to start to brown, which doesn't work that well for gingerbread cookies. He just said 10 minutes. There was no guesswork. And the cookies were the perfect balance of both crunchy and chewy.
My grandson wanted to decorate a cookie and I made a special batch of frosting in blue (his favorite color) for him. I had made both large gingerbread nutcrackers and smaller gingerbread people. After decorating his cookie then licking the frosting off, my grandson ate a whole gingerbread nutcracker and then had another one the next day. He's a picky eater so that says a lot about these cookies.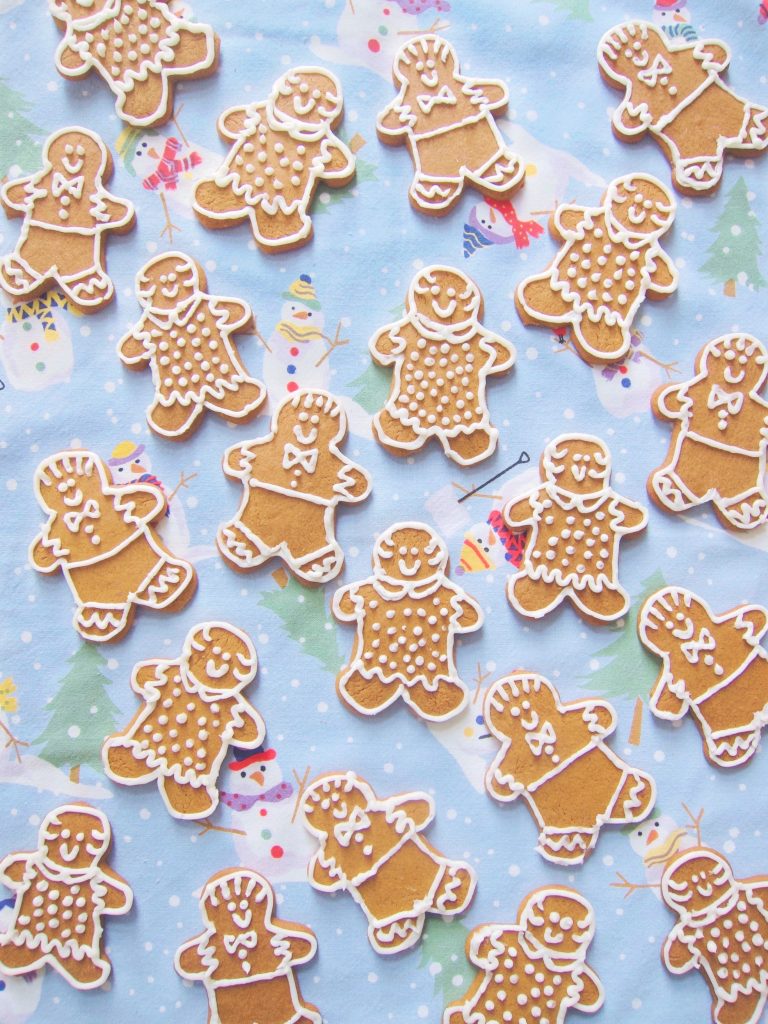 Gingerbread Cookies
Ingredients
3 cups flour
1 teaspoon baking soda
1 teaspoon cinnamon
2 teaspoons ginger
1/4 teaspoon nutmeg
1/4 teaspoon salt
3/4 cup butter
3/4 cup brown sugar
1/2 cup molasses
1 large egg
1 teaspoon vanilla
Instructions
Mix the flour, baking soda, cinnamon, ginger, nutmeg and salt in a bowl and set aside. Cream the butter and brown sugar in a standing mixer using the paddle attachment. Add the molasses and mix. Add the egg and vanilla and mix. Add the flour mixture and mix. Gather the dough, wrap in seran and refrigerate for 4 hours or overnight.
Line baking sheets with parchment paper.
Roll out dough on a floured surface until it's between 1/8″ and 1/4″ thick. Cut with cookie cutter and place on the prepared pans. Bake in a 350 degree oven for 10 minutes. Don't overcook the or they could get too hard. Let cool a few minutes and transfer to cookie racks to cool completely. Decorate with icing (there are a lot of fun decorating ideas on the internet).
Icing
Ingredients
3 cups powdered sugar
2 – 4 tablespoons whole milk
2 tablespoons light corn syrup
1/2 teaspoon vanilla
Instructions
Put a sieve on a bowl and add the sugar and shake the sieve until all the sugar is in the bowl. Add 2 tablespoons of milk, the corn syrup and the vanilla and mix together, adding more milk as needed for the right consistency. Place the ingredients in a piping bag with the small round tip.