Salmon Wellington, or Salmon en Croûte, 'salmon in a crust', is a beautiful dish and perfect for an intimate Christmas dinner.
As you look at the recipes online, there are a lot of options to play with to make the recipe your own. You can brush the salmon with mustard and some lemon zest. You can throw in some fresh tarragon, dill or basil and forget the spinach filling to make it easier. You can use onions or shallots. I added mushrooms to the spinach filling and opted to pulse the filling in a food processor rather than having whole spinach leaves.
Some of the suggestions to serve with salmon Wellington are a salad, or roasted, mashed or scalloped potatoes. It's pictured here with Roasted Sweet Potatoes and Pears.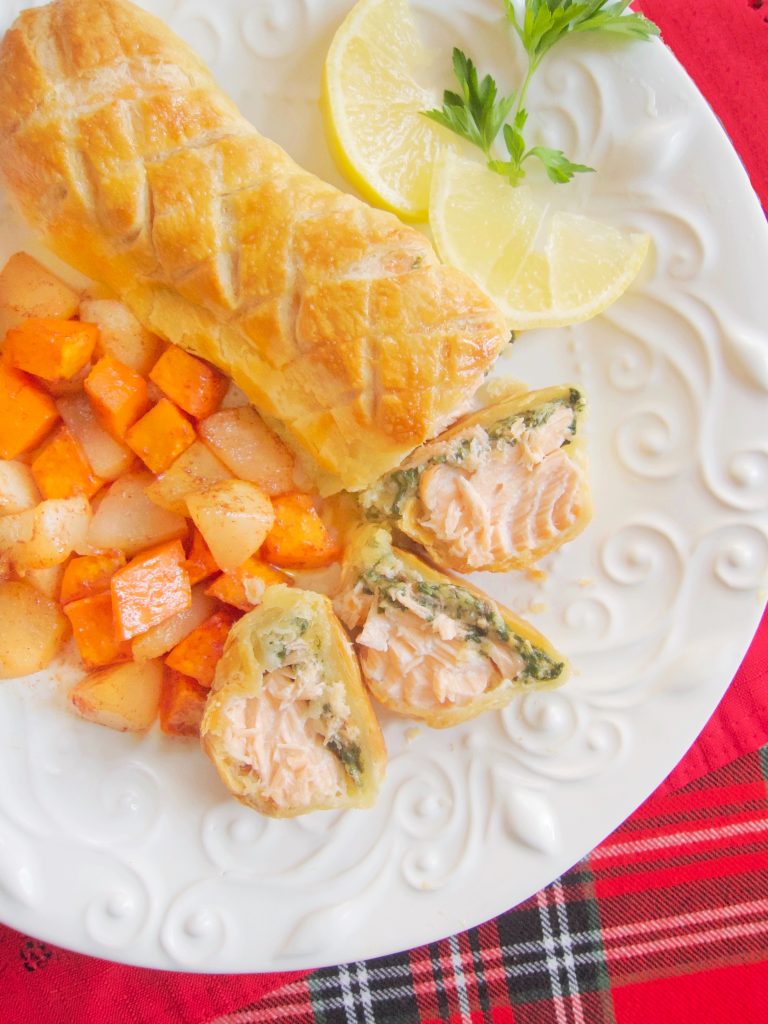 Salmon Wellington
Ingredients
4 6 to 7 ounce skinless salmon filets
2 tablespoons butter, divided
1 cup mushrooms, diced small
1 medium (1/4 cup) shallot, diced small
1/4 cup white Vermouth
5 ounces fresh spinach
2 garlic cloves, minced
3 ounces cream cheese
2 tablespoons plain bread crumbs
1/4 cup shedded parmesan cheese
1 1 lb package Pepperidge Farm frozen puff pastry or homemade (see below)
1 egg (you'll need a pastry brush)
Instructions
The puff pastry takes 40 minutes to thaw and be ready to roll out. Time taking it out of the freezer according to how quickly you will be able to get the fish and filling ready.
Cut a piece of parchment to fit a baking sheet.
On medium high heat, melt 2 teaspoons of the butter in a large skillet. Add the mushrooms and sauté about 2 minutes until lightly browned. Add the remaining butter and the shallots and garlic and cook another 2 minutes until shallots are translucent. Add the Vermouth and cook until dry, about a minute. (The timing on these depends on the size of your pan and how high you have the heat. It can take a little longer.) Stir in the cream cheese, then add the spinach, bread crumbs and parmesan. Sprinkle with a little salt and pepper. Sauté until the spinach has wilted completely. Transfer mixture into a food processor and do 7 quick pulses. Set the filling aside.
Salt and pepper both sides of the salmon.
Break the egg open in a small bowl and beat the egg with a fork.
Pepperidge Farm puff pastry has two pieces of puff pastry. When you unfold one, set it on the rolling surface so the two fold lines are running vertically. The width of the piece will be 10″. You are only going to roll up and down until it's 14″ long horizontally. Then cut the 14″ in half so that you have 2 7″ by 10″ pieces. Place a filet on each piece the direction of the 10″ length, top with a fourth of the filling, brush the two shorter sides and one of the longer side with the beaten egg. Fold the unbrushed side over the filling and then bring up the other side over it. Turn the Wellington over and press the ends down with your fingers, trim off some of the pastry so there is only 3/4″ and tuck that under the Wellington. Do this for all 4 filets and then set them on the prepared baking sheet.
Make slits going both directions so steam can be release as the Wellingtons cook and you end up with a nice crispy bottom crust.
Bake in a 400 degree oven for 30 minutes.
(Note: You can reheat refrigerated leftover cooked Wellingtons on parchment lined baking sheet in a 300 degree oven for 20 minutes.)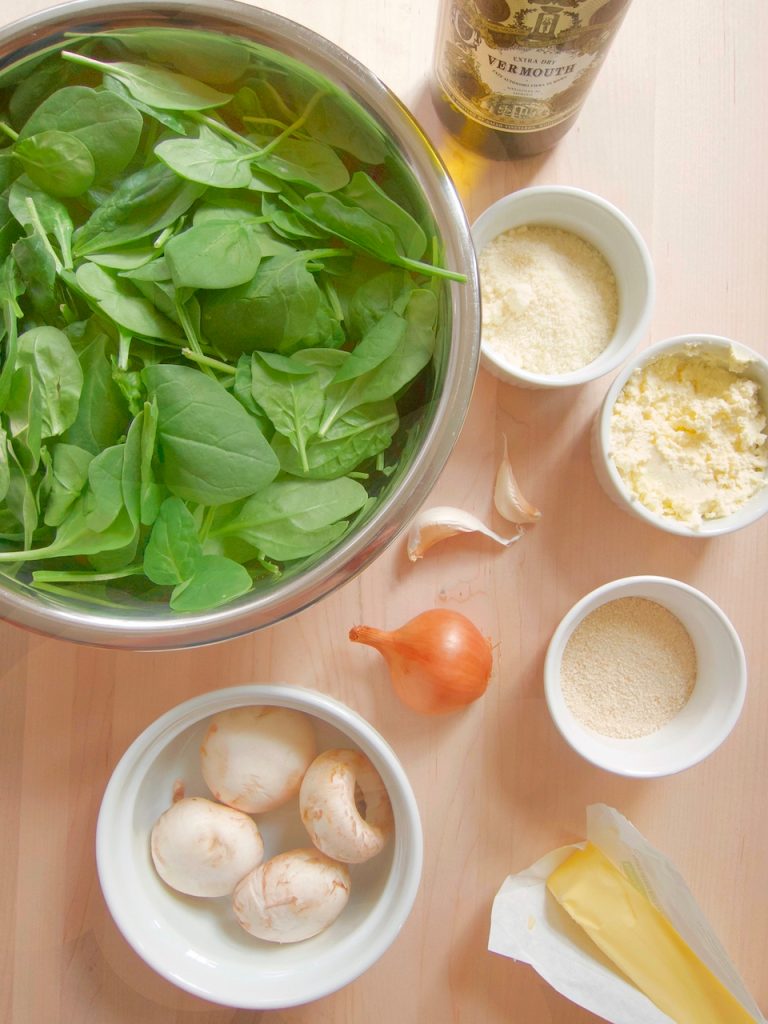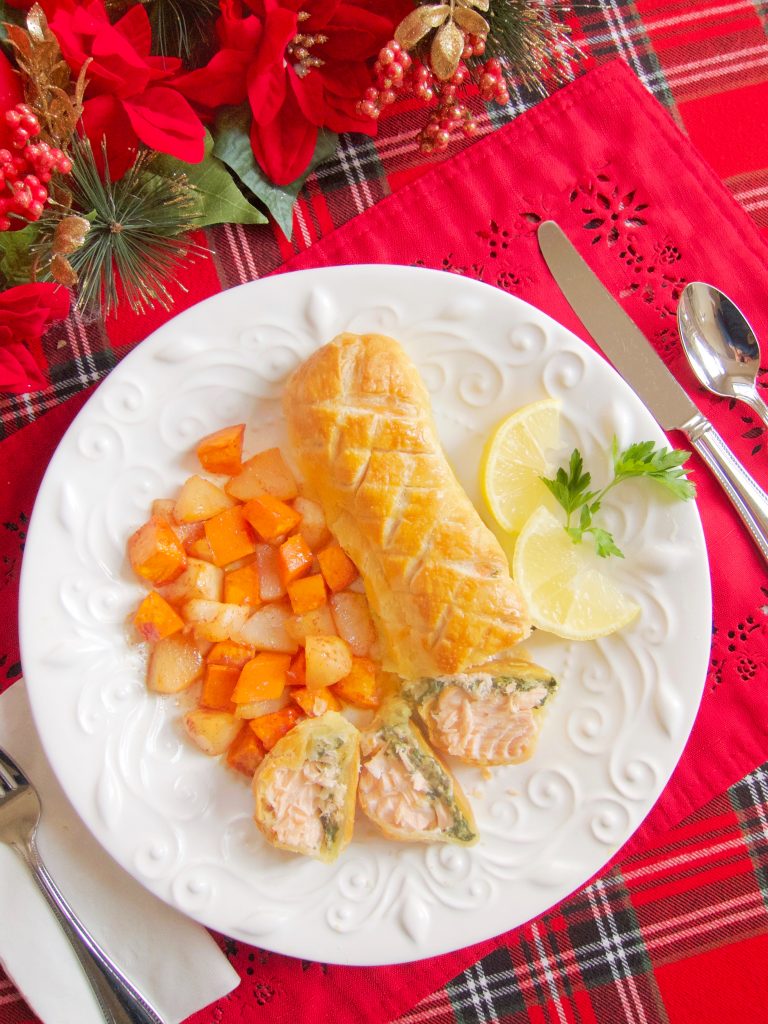 This great recipe from Rosemary at An Italian in My Kitchen for a quick and easy homemade puff pastry.
10 Minute Homemade Puff Pastry
Ingredients
260 gr (about 2 cups) flour
1 1/4 cups cold unsalted butter, cut into small pieces
3/4 teaspoon salt
1/2 cup cold water
Instructions
Place the flour and salt in the bowl of a food processor and pulse two times to mix. Add 3/4 cups of the butter and pulse 12 times. Add the remaining butter and pulse 3 times. Add the water and pulse 5 times. Dump out on to a lighly floured work surface and knead 5 or 6 times until the dough is all gathered together. Roll out to a 12″ by 18″ rectangle and fold into thirds, wrap in plastic wrap and refrigerate.