Sausage and Spinach Pie With Sweet Potato Crust
Every recipe has a journey as we make them our own. In March of 2019, I posted a recipe for Quiche with Sweet Potato Crust that was really beautiful and a lot of fun, but the 'crust' was a bit of work in a quiche pan. Then my daughter Grayce posted a recipe on Facebook doing a spinach pie with sweet potato crust in a pie pan that looked much easier, and it's been something I wanted to try. Last week I ran into my inspiration for a filling from simplysohealthy.com's Sausage and Caramelized Onion Pie. Their's is crustless. I tried it with caramelized the onions but thought it was too sweet with the sweet potatoes so change that to just cooking them for 8 minutes. I also added spinach and Parmigiano-Reggiano cheese.
You can make this pie the day before and reheat it. After chilling the pie overnight, then slicing it to reheat the next day, I discovered that the inside was beautifully layered. It's a brightly colored, lovely, and delicious pie.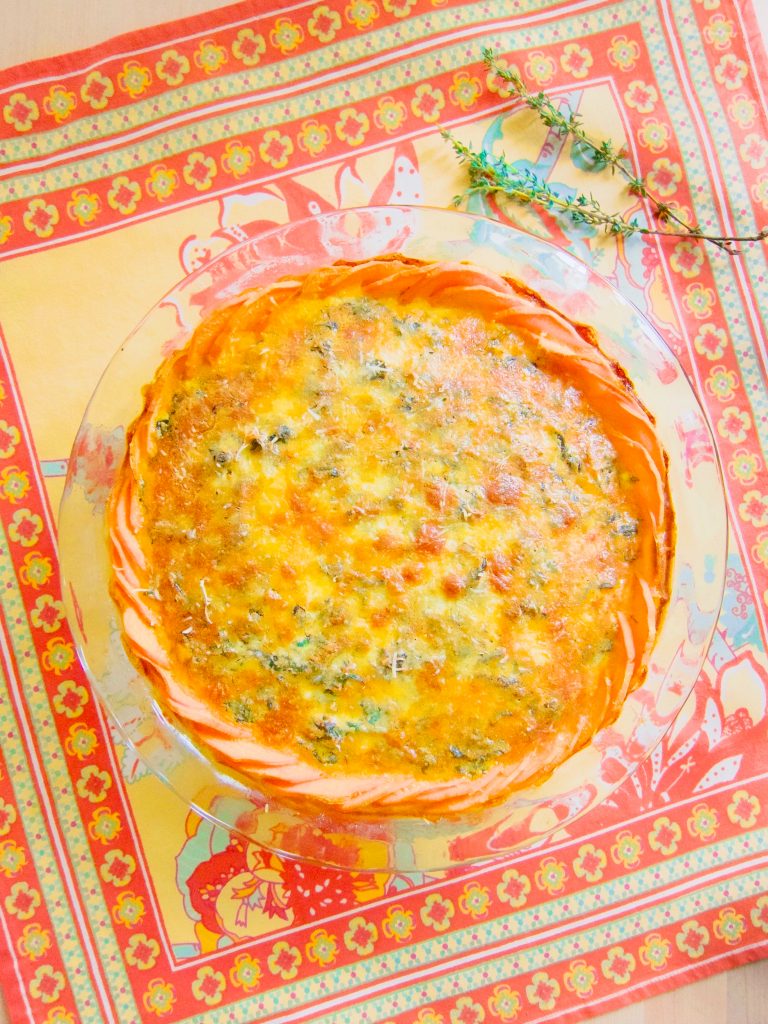 Sausage and Spinach Pie With Sweet Potato Crust
Ingredients
2 medium (about 1 1/4 pounds) sweet potatoes, peeled and sliced thin (Select potatoes that are as evenly cylindrical as possible.
2 tablespoons butter, divided
1 small (about 1 cup) yellow onion, diced small
5 ounces fresh spinach
10 ounces breakfast sausage (see recipe for homemade below)
about 1/4 teaspoon salt
about 1/8 teaspoon freshly ground pepper
7 large eggs
1 1/4 cups heavy cream
1 1/4 cups freshly grated gruyère cheese
1 tablespoon fresh thyme leaves
1/3 cup freshly grated Parmigiano-Reggiano cheese (This is parmesan that has been aged 24 months and has the best flavor.)
Instructions
Melt one tablespoon of butter in a large skillet and toss the sweet potatoes in the butter to coat. Lay the potatoes on the bottom and around the sides of a large 9 1/2″ glass pie plate and set aside.
Put the remaining tablespoon of butter in the skillet and cook the onion until translucent, about 8 minutes. Transfer to a plate.
Steam the spinach and squeeze dry inside a few layers of paper towels. Chop small and set aside.
Put the sausage in the skillet and cook until all the pink is gone, then transfer it to the potato lined pie plate. Top with the onions and spinach. Sprinkle lightly with salt and pepper.
Whisk the eggs and cream in a bowl and stir in the gruyère cheese and thyme. Pour over the onions and spinach. Top with the Parmigiano-Reggiano cheese.
Bake in a 350 degree oven for 50 to 60 minutes or until cooked and set in the middle. Check the center by poking it with a knife.
Let cool 10 minutes.
You can use up any leftover potato in smoothies or salads by cutting the slices into julienne pieces.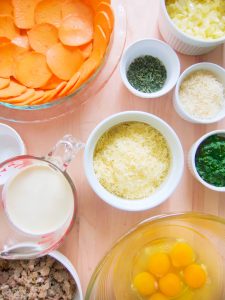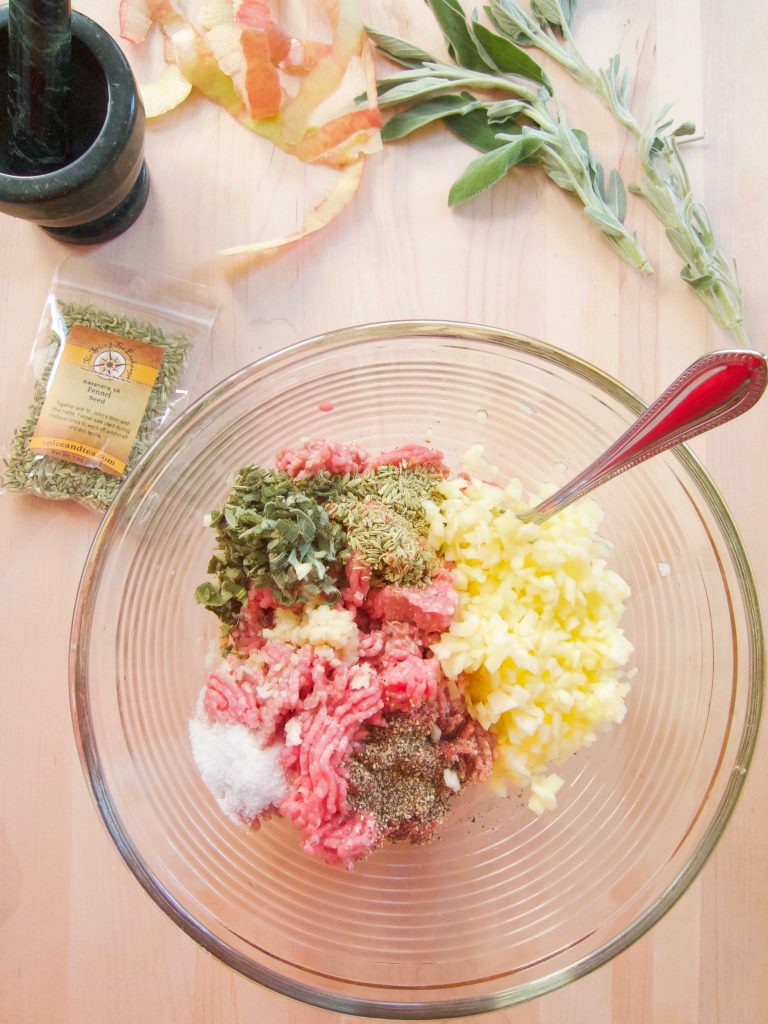 Homemade Apple and Sage Sausage
Ingredients
1 lb ground dark turkey meat, lamb or pork
1 honey crisp apple, cored, peeled, chopped very small
1/4 cup chopped fresh sage
1 1/2 teaspoons fennel seeds, partially ground with a mortar and pestle
3 garlic cloves, minced using a garlic press
1 teaspoon salt
1 teaspoon ground pepper
Instructions
Mix all the ingredients together. Can be frozen for later use.