Chocolate Hazelnut Hot Fudge Pudding Cake
This old fashioned dessert is also called "chocolate cobbler." I was looking up the history behind the word cobbler and Wiki said "the term may be due to the topping having the visual appearance of a 'cobbled' stone pathway" which it really does look like. What's different about chocolate cobbler is unlike fruit cobblers, what ends up the 'cobbled' looking top starts as the cake base that changes places with what you spread on top of it during the cooking process.
"History says said that the first hot fudge cake recipe was created by Emelyn Battersby Hartridge when she was a student at Vassar College in New York in the early 1920s. She learned from an acquaintance that a new confection–fudge–was becoming increasingly popular in Baltimore, Maryland. She began working on a recipe that would blend fudge with cake. When Hartridge presented her new fudge cake at the Vassar Senior Auction she sold 40 pounds of the dessert."
vahrehvah.com
The original recipe I followed is from cookingclassy.com. Jaclyn has a very pretty fruit and nut topping that she adds a sprig of mint to. Raspberries, bananas and strawberries are great with chocolate.
I added the ground hazelnuts inside. You can skip this and instead sprinkle chopped peanuts, pecans or walnuts on top of the cooled cake or leave it plain with only vanilla ice cream.
This is a great party dessert for adults and kids. The cake serves wonderfully as a chocolate base like a warm brownie for an ice cream party where your guests add whatever topping they want. Whipping cream would be a great topping in addition to a selection of ice cream flavors, fruits and nuts.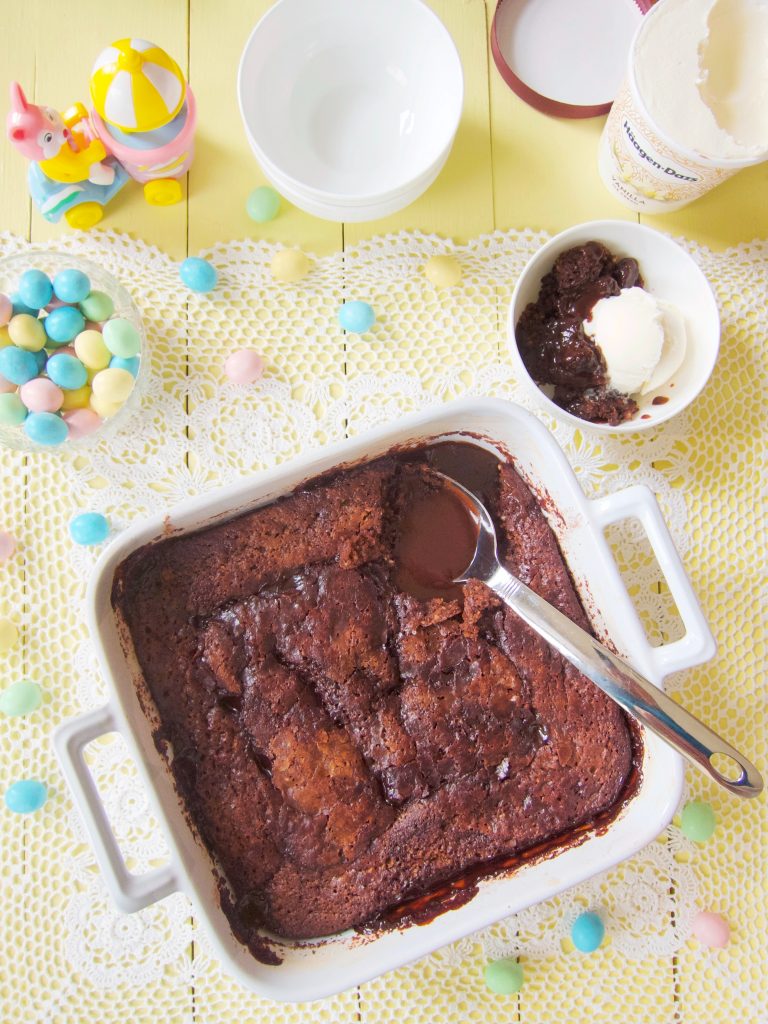 Chocolate Hazelnut Hot Fudge Pudding Cake
Cake Base
Ingredients
3/4 cups sugar
1 cup flour
1/2 cup ground toasted hazelnuts (opt.)
1/4 cup unsweetened cocoa powder
1/4 teaspoon salt
2 teaspoons baking powder
1/2 cup milk
1/3 cup melted unsalted butter
1 1/2 teaspoons vanilla
Cake Topping
Ingredients
1/2 cup sugar
1/2 cup packed light brown sugar
1/4 cup unsweetened cocoa powder
1/4 teaspoon salt
1 1/4 cups boiling water
Instructions
For the toasted hazelnuts, select a little over 1/2 cup of hazelnuts that have the least amount of the dark skin on them. Place them on a baking sheet and toast in a 350 degree oven for 8 minutes. Rub off as much of the remaining dark skin as you can. Shaking them in a jar or rubbing with a dish cloth helps. It doesn't have to be perfect. Place them in a food processor and process until they are ground into very small pieces.
Butter a 9″ by 9″ casserole.
Place the 3/4 cups sugar, 1 cup flour, 1/2 cup ground hazelnuts, 1/4 cup cocoa powder, baking powder and 1/4 teaspoon salt in a bowl and whisk until well mixed. Pour in the milk, melted butter and vanilla. Pour into the prepared pan and spread evenly.
For the topping, mix the sugar, brown sugar, cocoa powder and salt and spoon over the base and spread evenly.
Pour the hot water carefully over the topping. Do not stir. Bake in a 350 degree oven for 40 minutes or a crust has formed. It will still be jiggly. The cake base is now on the top and the cake topping ingredients has formed a fudge sauce that is on the bottom.
Let cool 10 minutes. Scoop down under the sauce and flip over into a small bowl so the fudge sauce flows over the cake. Serve warm with ice cream.