Cheese and (Gluten-Free and Grain-Free) Crackers
To go with a fruit and cheese platter for appetizers and snacks, below are a grain-free cracker recipe posted in an earlier post and a link to a ritz cracker recipe and how to turn it into gluten-free.
When you are moving into eating more anti-inflammatory, your doctor will start you on gluten-free where for your everyday recipes you switch out wheat flour with flours that don't have gluten in them. When you go on a keto or paleo diet, in addition to removing the more anti-inflammatory flours, you are are removing all grains and using nut, coconut and cassava flours. Grains are a starch that convert into sugar which means making this change in your diet, along with greatly reducing your sugar intake, and watching calories, should result in losing weight.
Pictured above are Nut Crackers from a May, 2017 post.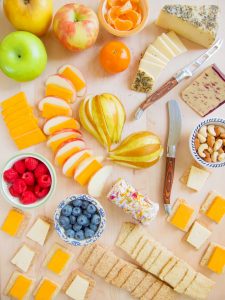 Grain-Free Nut Crackers
Ingredients
1 1/2 cups almond flour or cashew meal
1/2 teaspoon salt
1/4 to 1/2 teaspoon pepper
1/4 teaspoon garlic powder
1/4 teaspoon onion powder
2 egg whites
avocado oil
Instructions
Tear off two pieces of parchment paper and cut to fit a cookie sheet. Place them on the counter and spread the oil in the middle of each piece, leaving a 3″ border without any oil on it.
Mix all ingredients together using a fork.
Lay mixture on one of the parchment papers and spread it into a rectangle using greased fingers. Lay the other parchment over the mixture and use a rolling pin to smooth the top. You want it to be around 1/8″ thick. Remove paper, and using a knife trim and refit mixture to make straight sides and replace paper and smooth out with rolling pin. Place on the cookie sheet and remove the top paper. Using a pizza cutter or dinner knife, make five scores going each direction.
Bake in a 325 degree oven for 15 minutes. Turn the oven off and with the door closed let them dry out for 10 minutes until lightly browned. Keep an eye on them so they don't get too dark. If using cashew meal, they can be a little dark. The almond flour crackers are nicer with just a little browning.
Break apart and cool on cookie racks.
Store in an air tight container.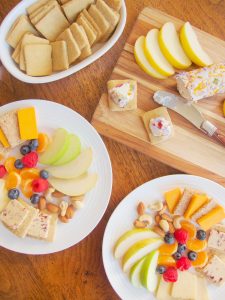 For the gluten-free crackers shown here in the dish I switched out the 2 cups of wheat flour with 1/2 cup each rice flour, sorghum flour, oat flour and almond meal in cupcakeproject.com's homemade ritz cracker recipe. Leave out the tablespoon of sugar and add 1/4 teaspoon pepper and 1/8 teaspoon each garlic powder and onion powder. They are very delicate and crumbly.