Salmon and Leek Pie With Sweet Potato Crust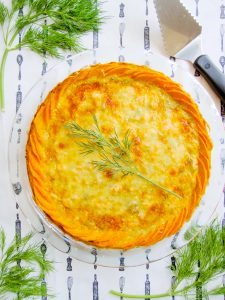 Salmon Pans Leek Pie With Sweet Potato Crust
Ingredients
2 medium sweet potatoes (as cylinder in shape as you can find)
2 tablespoons butter, divided
1 pound salmon, skinned and cut in small pieces
1 medium (1 1/2 cups) leeks, white and light green parts only (slice down the middle, rinse in between all the layers, slice down the middle of each half and slice thinly, removing the dark green parts)
1 1/2 teaspoon salt, divided
1/4 teaspoon pepper
7 large eggs
1 1/2 cup heavy cream
2 tablespoons dill, minced
1 1/4 cup grated gruyère
1/3 cup grated Parmesano Reggiano (24 month aged parmesan)
Instructions
Melt 1 tablespoon of butter pan in a large skillet. Peel the sweet potatoes and slice thin with a mandoline slicer. Place the slices in the pan and rub each side with the melted butter and line a 9 1/2″ pie plate with the slices, overlapping them on the bottom and around the sides.
Melt the remaining tablespoon of butter and add the leeks and cook them one medium heat about 5 until soft (don't let brown). Add the salmon, sprinkle it with 1 teaspoon salt, and cook about 3 minutes until almost cooked, stirring often. Spoon the salmon and leek mixture into the potato lined pie plate.
Whisk the cream and eggs, and add the remaining 1/2 teaspoon salt, pepper, dill and gruyère. Pour over the salmon and leeks. Sprinkle the parmesan on top.
Bake in a 350 degree oven for 50 minutes or until the center is set. Lay a piece of foil over the pie at 40 minutes to keep it from getting too brown. At 50 minutes check the center by poking it with a knife.
Let cool 10 minutes.
You can use up any leftover potato in smoothies or salads by cutting the slices into julienne pieces.