Chicken à la King is a creamy chicken and mushroom dish with green peas (or peppers) and red pimientos. Its origin in culinary history is not known for certain. According to What's Cooking America, "there are several stories/legends as to who created this dish" one being "Chef George Greenwald of the Brighton Beach Hotel, Brighton Beach, New York, created it in 1890s. He was an excellent cook and liked to prepare new dishes for his favorite customers. One summer afternoon, he prepared a special chicken dish for Mr. and Mrs. E. Clarke King and served it for supper. Mr. King thought it was wonderful and told Greenwald to put it on the menu. Chef Greenwald added to the menu and called it Chicken à la King after Mr. King."
Chicken à la King has evolved over the decades and when you research the recipes for it on the internet, there are more authentic ones with sherry which Chef Greenwald probably used, and at the other end of the spectrum are the Betty Crocker-like versions with canned soups. If you are making it from scratch, you can take your pick between a white sauce, most often made with milk, or a velouté sauce with some added cream or crème fraîche, and some additional choices are onions or no onions, and peas or green peppers, and pimentos or fresh sweet red peppers, and I also ran across a recipe with herbs and a spice.
After reviewing the options, I first tried the authentic sherry version and used fresh green and red peppers. Then for the next try I moved more towards the all-American Betty Crocker side, making the sauce from scratch but leaving out the sherry, and switching from green peppers to peas and red peppers to pimentos. I liked this version that features the flavor of pimentos with no completing other flavors much better. It was also prettier with the peas.
After making those decisions, then there is the choice of what to serve it over. You can spoon it into a phylo shell, or over rice, or noodles, biscuits or toasted bread. I'm guessing they are all delicious.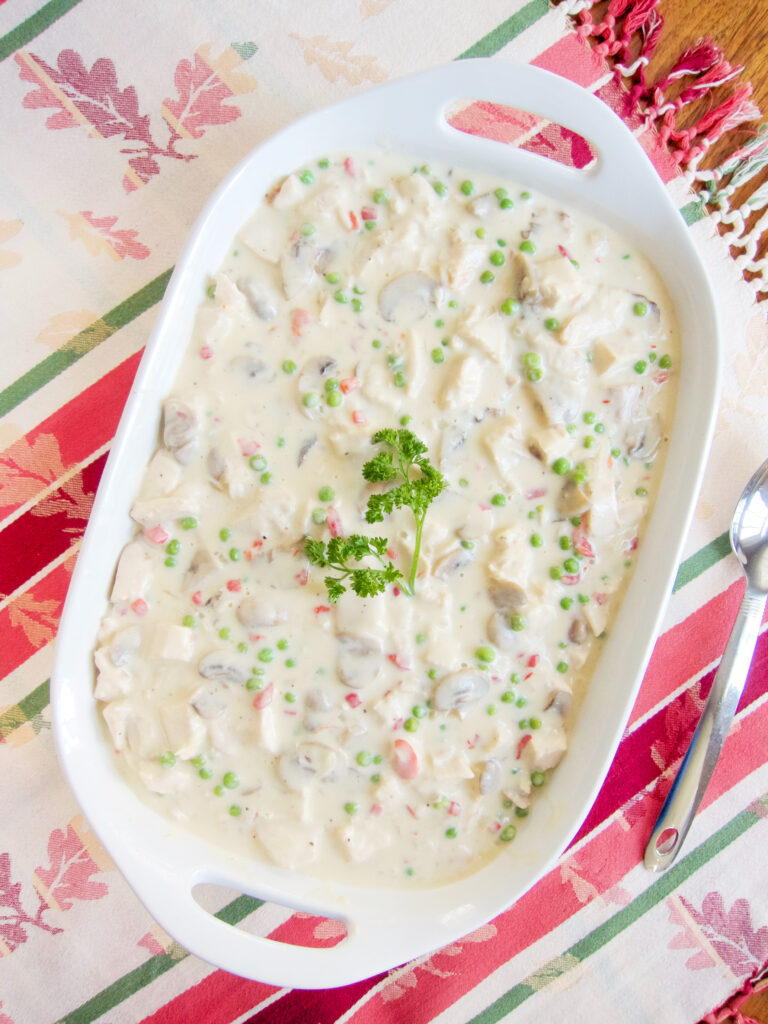 Chicken à la King
You can start with a whole chicken, roasted, breast and thigh meat removed, and use the carcass with the remaining meat on it to make a rich and flavorful chicken broth (recipe below), or use cooked chicken breasts and canned chicken broth.
Ingredients
3 6 ounce chicken breasts
6 tablespoons salted butter
8 ounces white mushrooms, sliced
1/2 cup shallots, cut small
1/3 cup all purpose gluten free flour (I use Trader Joes) or 3 tablespoons arrowroot flour (grain-free)
3 cups chicken broth (recipe below)
1 cup heavy cream (Natural by Nature Organic Heavy Cream at Whole Foods is just cream and nothing else)
1 cup frozen peas
4 ounces jarred chopped pimentos, drained
1 teaspoon salt (or to taste)
1/2 teaspoon pepper (or to taste)
Instructions
Cut chicken breasts into 1/2″ strips. Sprinkle lightly with salt (about 1/2 teaspoon per pound). Heat a large skillet and add 1 tablespoon butter. Add the strips. They will begin to release juices. Gently poach in the liquid until the pink is gone. This will only take a few minutes. Don't overcook them or they could become tough. You can test for doneness by cutting a piece open. Let rest in the juices and cut into cubes.
Melt the butter over medium-high heat and add the mushrooms and sprinkle with a little salt. Cook them for about 8 minutes. (The mushrooms will release juices and most of them will evaporate and the remaining juices will become clear.) The mushrooms do not get browned for this recipe. Add the shallots and sauté 3 minutes, stirring often. Add the flour and stir until there is no more white flour showing. Stir in the chicken broth and bring to a boil and let it simmer about 3 minutes, turning down the heat if necessary, and stirring often. Stir in the cream and add the chicken, peas, pimentos, salt and pepper and cook 5 minutes more to heat all the way through. Taste for seasoning, sprinkling with more salt and pepper if needed.
You can serve Chicken à la King in a phylo shell, over rice, or over wheat, gluten-free or grain-free noodles, biscuits or toasted bread.
For a rice casserole:
1 1/4 cups long grain white rice
2 1/2 cups water
1/2 teaspoon salt
1 1/2 tablespoons butter
Follow the directions for the rice on the back of the package adding more or less water than I have listed if the package instructions calls for it. Spread the cooked rice evenly on the bottom of a 9″ by 13″ casserole. Spoon the Chicken à la King over the rice, distributing it evenly. Heat in a 350 degree oven for 15 minutes or until hot.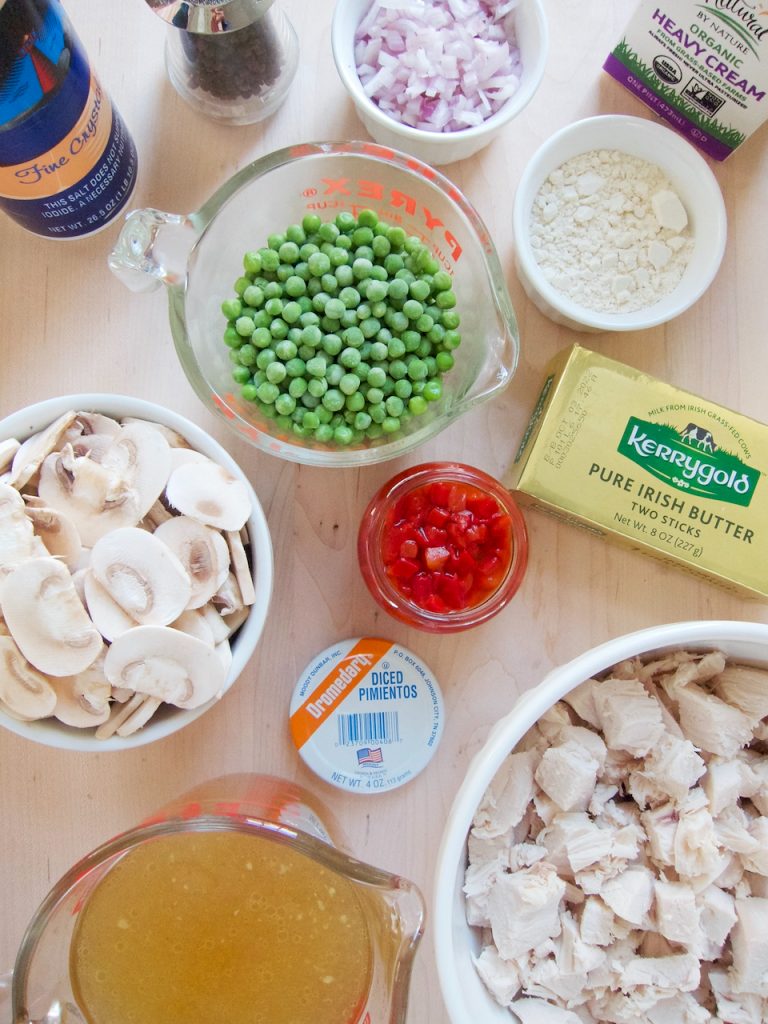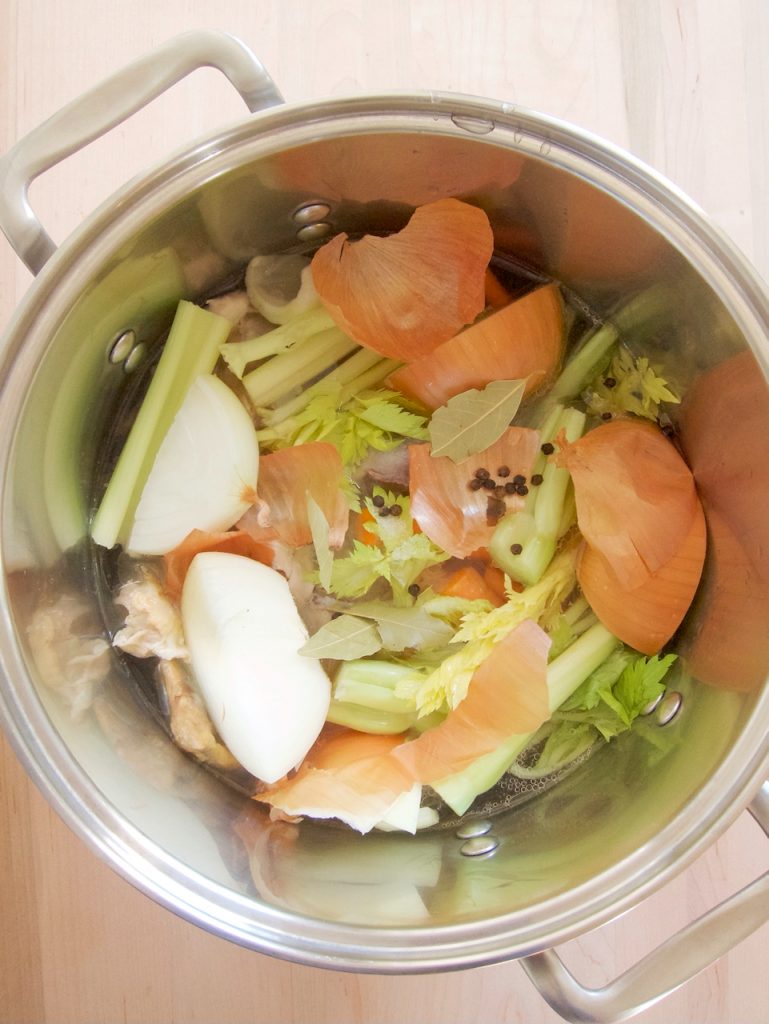 Chicken Broth
The difference between chicken stock and chicken broth is that stock is made from a carcass that is just bones and broth has the added flavor from a lot of meat being left on the bones.
Ingredients
3 – 4 pound chicken
avocado oil
salt for rubbing over chicken
1 lemon
4 carrots, cut in 3″ pieces
2 stalks of celery, cut in 3″ pieces
1 onion, cuts in 4 pieces (leave onion skins on for color)
2 small or 1 large bay leaf
1 teaspoon salt
10 peppercorns
Instructions
Rise and dry a 3 to 4 pound chicken, removing any chicken parts that are in the cavities, rub with avocado oil and sprinkle salt all over it, put a sliced lemon in the main cavity and to keep the legs from getting too dry you can use kitchen twine to tie them together. Roast the chicken for 1 hour and 45 minutes, or until it reaches in internal temperature of 170 degrees, remove from oven and let rest. Then remove the 4 cups of chicken and place the carcass with the remained meat on it in a medium stock pot. Add carrots celery onion, bay leaf, 1 teaspoon salt and about 10 peppercorns. Fill the pat with water to just under the top of the vegetables (they will settle down into the water as they soften). Bring to a boil, turn down heat and let simmer 1 1/2 to 2 hours. Dump everything in the pot into a large colander that is set over a pot. Measure the 3 cups stock that you need for the recipe and save the rest of the both to drink or for another recipe. It can be frozen.