Delicious Loaded Twice Baked Potatoes
Twice baked potatoes are half mashed potatoes and half baked potatoes that are a great side for making dinner just a little bit special without a whole lot of trouble.
The first time I saw twice baked potatoes was when I was around 10 years old and was at the neighbor's house and my friend's mom was getting ready for a dinner party. I saw them all lined up, probably a dozen or more of them, in the baking dish and they were so pretty that they had caught my attention as I walked by the table. I'd never forgotten about them. Her's were an elegant version of the recipe, something Martha Stewart would do, probably made with cream, gruyere cheese and chives.
The first time I made them was in my 20's and I mixed the mashed cooked potato with chopped onions sautéed in butter and some crumbled bacon and then put that back in the potato skins. There is no end to the experiments with this recipe to find what you like best.
This recipe was adapted from Allrecipes' Ultimate Twice Baked Potato recipe. I used less of both the sour cream and the scallions.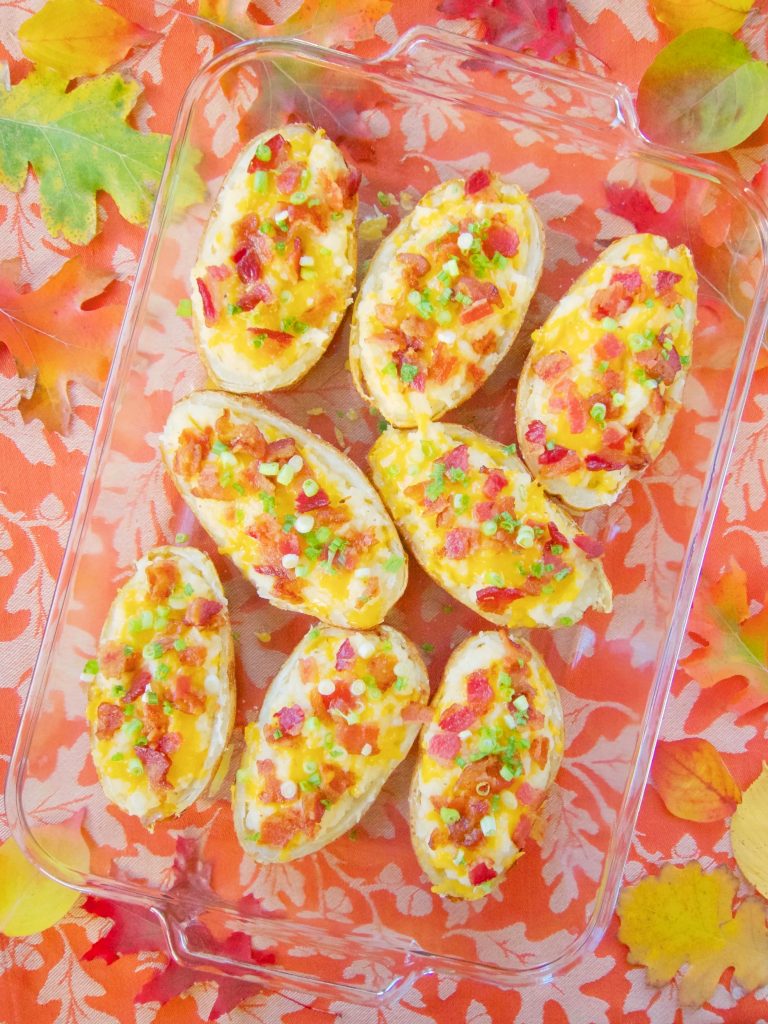 Delicious Loaded Twice Baked Potatoes
Ingredients
4 12 ounce russet potatoes
8 strips of thin or 6 strips of thick bacon (Trader Joe's Uncured Apple Smoked Bacon, rated at the top by Fine Cooking, is excellent.)
1 cup grated cheddar cheese, divided (Cabot Creamery's Vermont Seriously Sharp (yellow) Cheddar Cheese is excellent.)
1/2 cup crème fraîche or sour cream
1/2 cup milk or part cream
1/4 cup butter, softened
1/2 teaspoon salt
1/2 teaspoon pepper
1/4 cup scallions (green onions), sliced
Instructions
Cook the russets according to Perfectly Baked Potatoes instructions. While they are cooking, cook the bacon, drain it on paper towels and break it into small pieces.
When the potatoes are done hold them with a clean potholder and slice them through the middle to create 8 halves, placing them in a large casserole or on a foil lined baking sheet. Scoop out the flesh leaving between an 1/8 and a 1/4 inch of the flesh on the skin. Put the potato flesh through a potato ricer. Stir in 1/2 cup of the cheddar cheese, the crème fraîche, milk, butter, salt and pepper. Divide the mixture among the potatoes skins. Top with the remaining 1/2 cup cheese, the bacon and the scallions.
Bake in a 350 degree oven for 20 to 25 minutes or until hot.