Baking a potato right is like making hard boiled eggs right. It should be a no brainer but turns out it took some time, practice makes perfect, for someone to figure out what method was best. Baked potatoes can explode if you don't prick them with a fork. That was one of the first things that someone figured out to do. The old way to cook them was to stick them directly on the oven rack and bake them in a 375 degree oven. Then someone figured out that you could wrap them in foil and get a softer skin. That was a while ago. Then a very lucky cook figured out all the nuances that result in the perfect baked potato and you'll find it on a lot of websites at the top of a Google search. Here it is.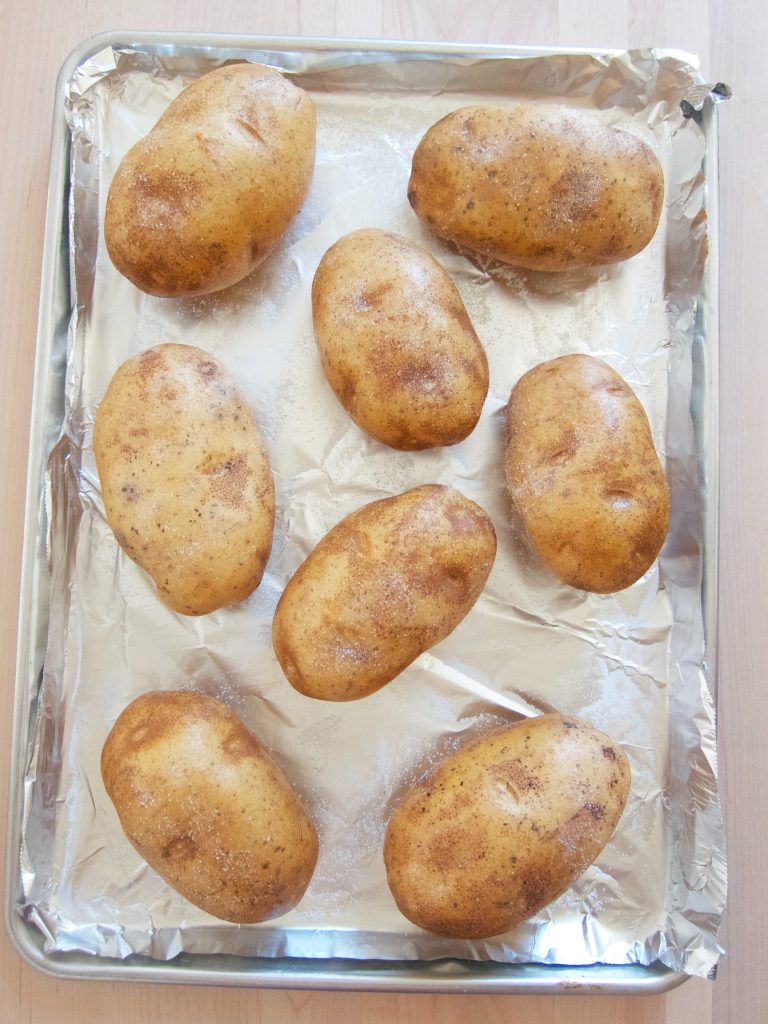 Perfectly Baked Potatoes
Ingredients
medium sized russet potatoes (or sweet potatoes)
avocado oil
salt
Instructions
Preheat oven to 425 degrees. Place a piece of foil on a baking sheet.
Rinse and scrub potatoes with a vegetable brush. Let them dry. Rub them with avocado oil and sprinkle them all over with salt. Prick in three places with a fork, going in about 1/8″ to 1/4″ (this keeps the steam from building up and the potato possibly exploding). Set the potatoes on the foil lined pan. You will be setting your timer to go off every 20 minutes so you can flip the potatoes over with tongs and move them around for even baking. Bake them in a 425 degree oven for 1 hour or until they can be pressed in easily because they are soft inside.
If you have different sizes, pull out the smaller ones and let the larger ones cook longer. If the potatoes are extra large in size, bake an additional 15 to 20 minutes, then start checking for softness.
Sprinkle with salt and pepper. Place a piece of butter inside. Serve with sour cream and chives if you like.
(If you would like soft potato skins, after washing, drying, oiling and salting the potatoes, wrap them individually in foil and bake until you can squeeze them because they are soft inside.)