Copycat Jason's Deli Barbecue Spud
The first time I had a potato spud was at Jason's Deli in the Sanger Harris Plaza in Tyler, Texas. It was so good, I kept going back and never ordered anything else for as long as I lived in Tyler.
The deli started with removing a jumbo sized russet potato from a warming oven and cutting it in half. It was ten smothered with a butter mixture, then the barbecued beef and topped with cheddar cheese. Lastly, they would run it under a broiler to melt the cheese.
There are bottled sauces that are really good and many don't have any chemicals in them so if you want to save on time just used bottled. Wegman's Organic BBQ Sauce Original tastes very much like Jason's Deli's sauce.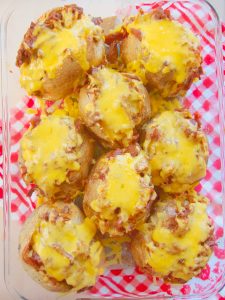 Jason's Deli Barbecue Spud
Ingredients
homemade (see below) or store bought barbecue sauce (Wegman's Organic BBQ Sauce Original is good.)
perfectly baked potatoes (see below)
salt and pepper
butter
grated cheddar cheese
Instructions
Follow the directions for Easy Pot Roast (link above). While roast is cooking, prepare the potatoes using the recipe below.
When roast is done, remove from the juices and shred the meat. Mix with desired amount of barbecue sauce. When ready to serve, cut the cooked potatoes down the middle and squeeze open. Sprinkle the with a lot of salt and pepper and add large pieces of butter. Spoon 3/4 cup of the meat mixture over the potatoes and sprinkle with cheese. Place in a hot oven or under a broiler until the everything is hot and the cheese is melted.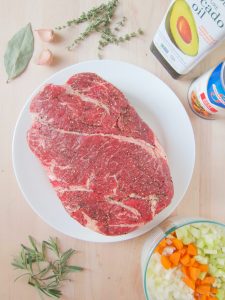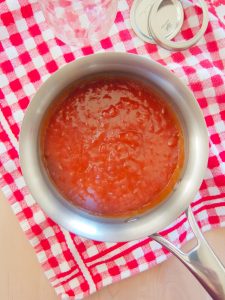 Barbecue Sauce
Ingredients
2 tablespoons butter
1 small onion, finely minced
2 garlic cloves, minced
2 tablespoons paprika
1 teaspoon chili powder or seasoning
1 teaspoon salt
1 1/2 cups catsup
2 tablespoons vinegar
2 tablespoons Worcestershire sauce
1/4 cup dark brown sugar
1/2 cup water
Instructions
Sauté the onion and garlic in the butter for 10 minutes. Add all other ingredients and simmer for 5 minutes.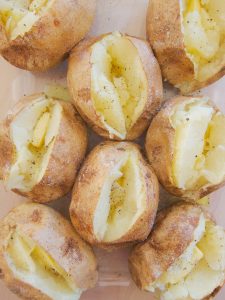 Perfectly Baked Russet Potatoes
Ingredients
medium sized russet potatoes
avocado oil
salt
Instructions
Preheat oven to 425 degrees. Place a piece of foil on a baking sheet.
Rinse and scrub potatoes with a vegetable brush. Let them dry. Rub them with avocado oil and sprinkle them all over with salt. Prick in three places with a fork, going in about 1/8 inch (this keeps the steam from building up and the potato possibly exploding). Set the potatoes on the foil lined pan. You will be setting your timer to go off every 20 minutes so you can flip the potatoes over and move them around for even baking. Bake them in a 425 degree oven for 1 hour or until they can be pressed in easily because they are soft inside. If the potatoes are large, bake an additional 15 -20 minutes, then start checking for softness.