Penne Pasta Casserole With Homemade Turkey Sausage
This is basically Chef John's "The Best Baked Ziti" recipe, using penne pasta instead of ziti pasta because I couldn't find a gluten-free penne, and adding less of it, using homemade turkey sausage instead of half pork sausage and half spicy pork sausage, more mozzarella and more ricotta, jazzing up the ricotta a bit, with spinach added to it if you want, Parmigiana Reggiano cheese instead of Pecorino Romano cheese, and arranging the casserole a little differently. Check out his recipe with a video and take your pick how you want to make it.
Penne Pasta Casserole With Homemade Turkey Sausage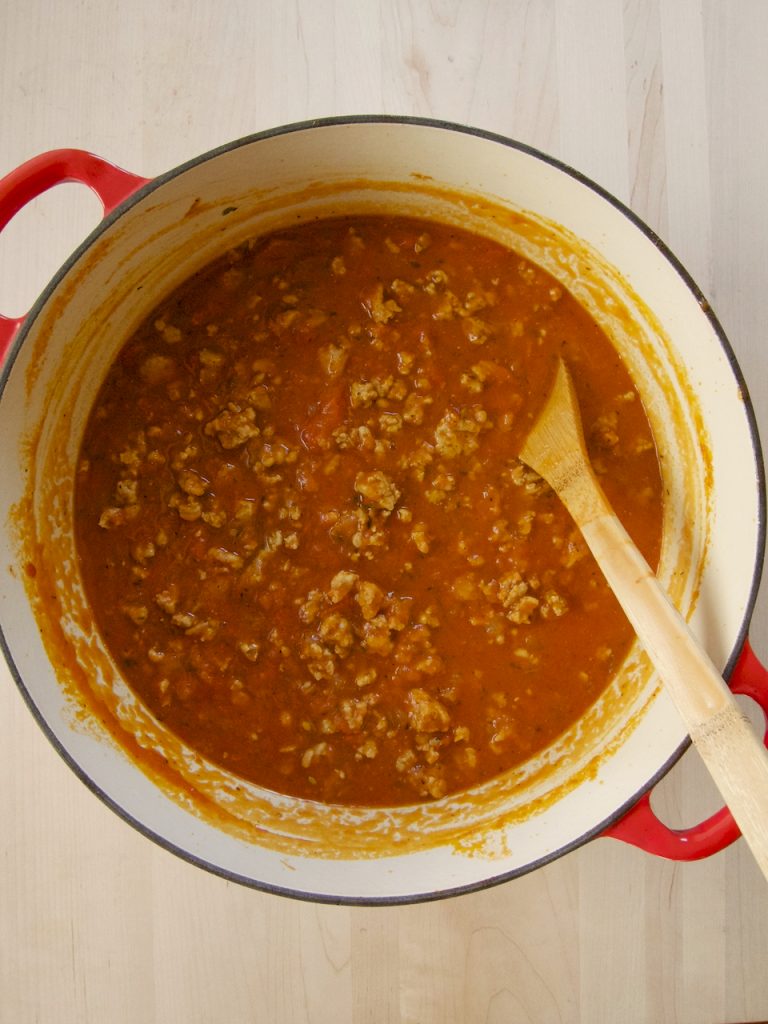 Meat Sauce
Italian Turkey Sausage
You can add some cayenne to taste if you like your sausage spicy.
Ingredients
2 pounds ground dark turkey meat
2 teaspoons salt
1/2 teaspoons pepper
2 tablespoons fresh parsley, minced
2 teaspoons onion powder
2 garlic cloves, minced
1/2 teaspoon paprika
1 1/2 teaspoons fennel seeds, crushed in a mortar and pestle
1 1/2 teaspoons Italian seasoning
1/4 cup Parmigiana Reggiano cheese
1 tablespoon avocado oil
Instructions
Mix the seasonings together and then gently mix them into the meat. Heat a large dutch oven on medium high. Add the oil then the sausage and break it up into small pieces as it cooks. When there is no more pink in the sausage, transfer it to a bowl and let cool.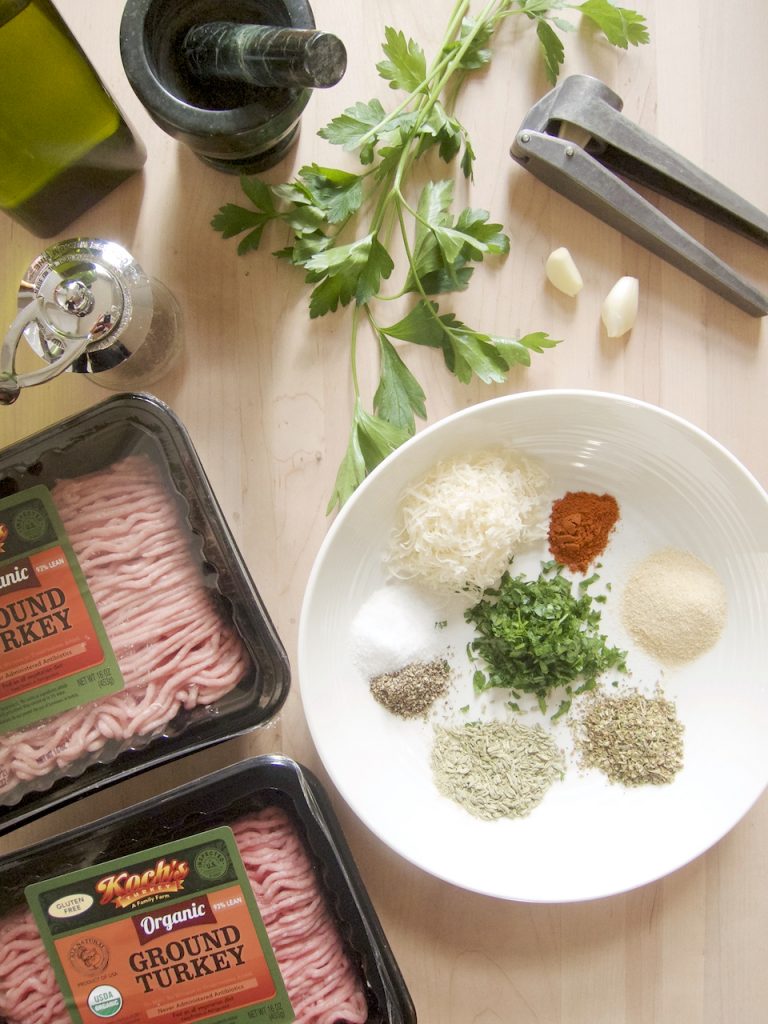 Pasta Sauce
Ingredients
2 tablespoons avocado oil
1 large onion, diced small
1/2 teaspoon dried oregano
1/2 teaspoon dried thyme
1/2 teaspoon dried rosemary
2 (24 ounce) jars marinara sauce
4 small or 2 large cloves garlic, minced
2 cups water
12 ounces regular or gluten-free penne pasta (or other tubular pasta)
Instructions
Wipe out the dutch oven. Add the avocado oil then the onions and saute them until they are translucent, about 5 minutes. Add the herbs, marinara, water and the sausage. Bring to boil, reduce heat, and simmer uncovered for 1 hour.
Thirty minutes before the sauce is done, heat the water and boil the pasta al dente. It will finish cooking in the final baking. When the sauce is done mix the partially cooked pasta into it.
Note: You don't want to overcooked gluten-free pasta or it will become mushy. The instructions on the Barilla Gluten-Free Penne says to cook it 10 minutes for al dente. Make it 9 minutes.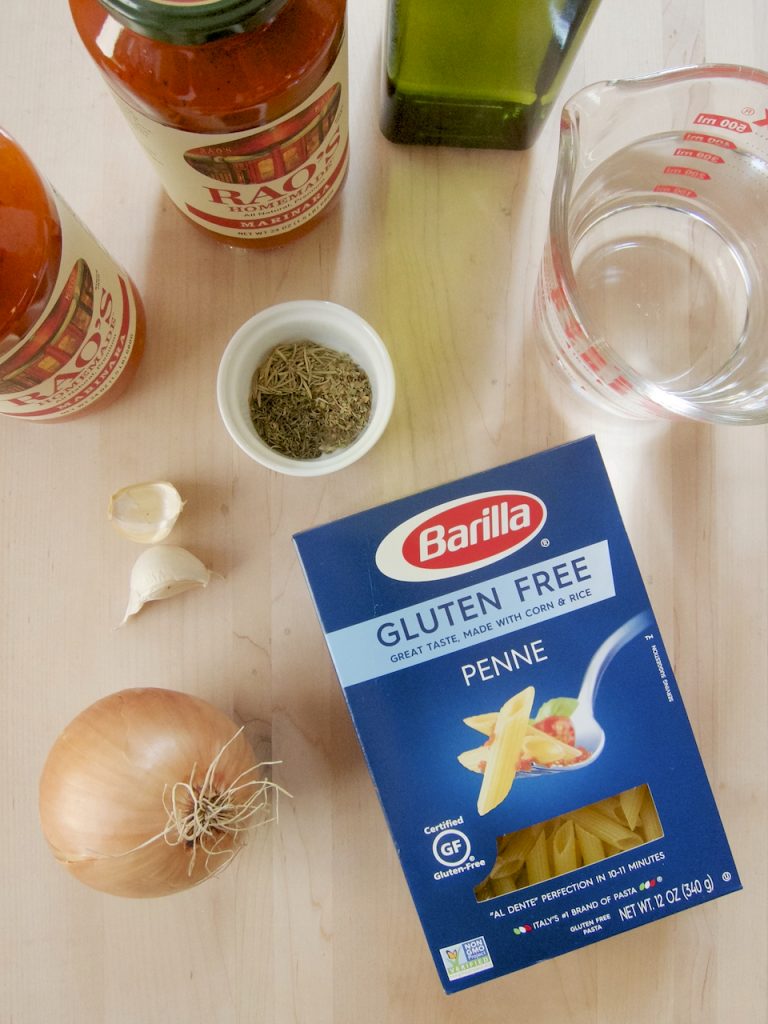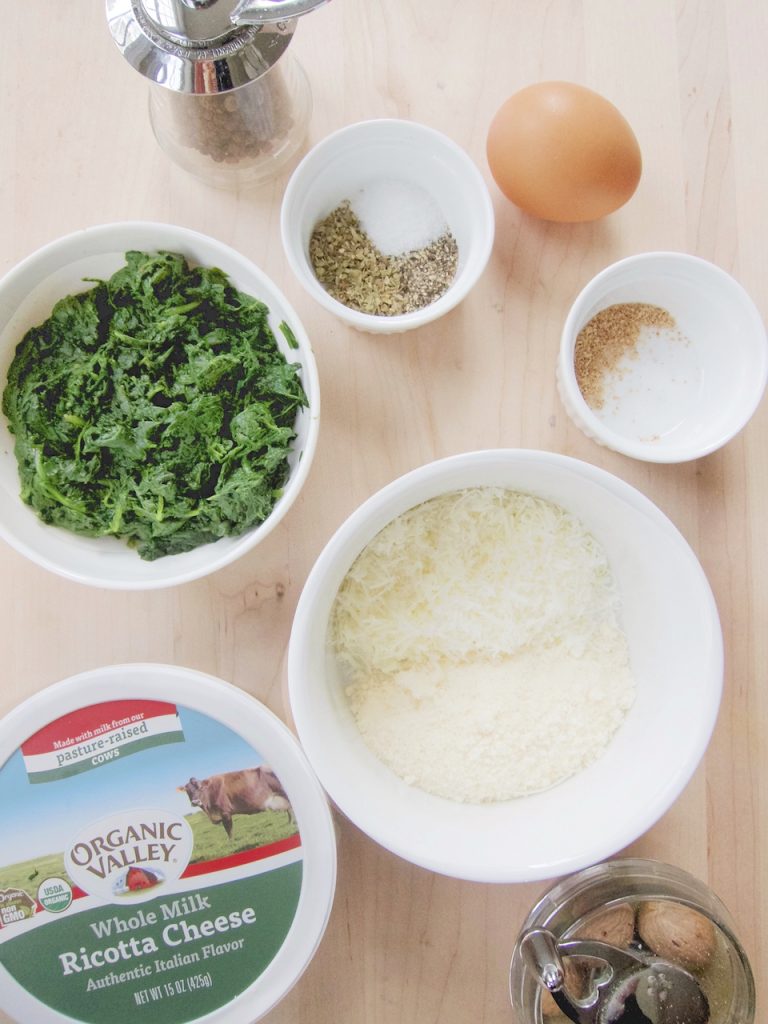 Ricotta Layer
Ingredients
16 ounces ricotta cheese
12 ounces spinach, steamed, squeezed dry and chopped*, (optional)
1 egg
1/2 cup Parmigiana Reggiano cheese
1/2 teaspoon oregano
1/2 teaspoon salt
1/4 teaspoon pepper
1/8 teaspoon nutmeg
Instructions
While the sauce is simmering, mix all the ricotta layer ingredients together and put in the refrigerator.
*I used to squeeze cooked spinach dry by putting it in a bowl and pressing it with a large spoon as I tilted the bowl so the water would run out, and then putting it in a clean towel or paper towels to squeeze out the rest of the water. This was very messy. I have tried pressing it between two dinner plates which worked very well but I was concerned the plates might break. Then I tried light weight metal bowls and it was super easy, nothing to worry about, and no mess. To do it this way, you need to find two light weight metal bowls that fit inside each other fairly snuggly, with about a 1/2″ gap between the two bowls. Place the spinach in the larger bowl, lay the smaller one on top and squeeze them together, tilt to drain the water, lift the top bowl and fold the spinach over itself using a fork, place the bowl back over it and tilt and press again, repeating this until the water is all out. It takes 5 to 6 times total.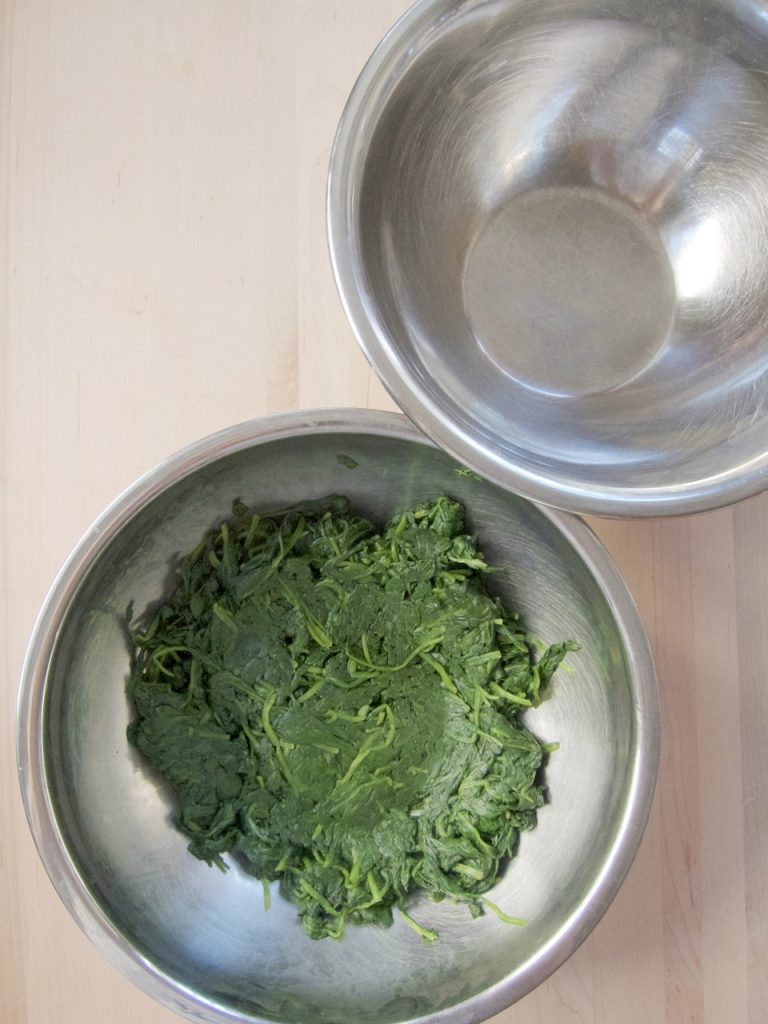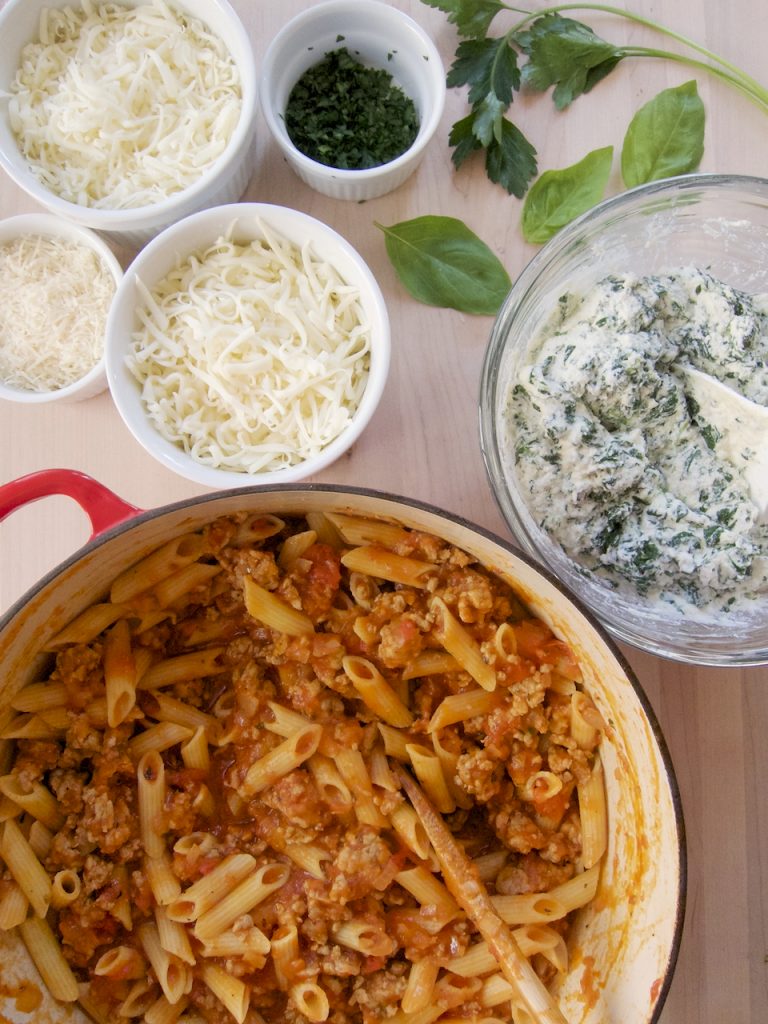 Assembly
meat and pasta mixture
ricotta cheese mixture
16 ounces (4 – 4 1/2 cups) grated mozzarella cheese
1/2 cup Parmigiana Reggiano cheese
chopped parsley or fresh basil
Instructions
Layer the ingredients in a 9″ by 13″ casserole:
1/2 of the meat and pasta mixture
all of the ricotta cheese mixture
1/2 of the mozzarella cheese
the other 1/2 of the meat and pasta mixture
the other 1/2 of the mozzarella cheese
1/2 cup Parmigiana Reggiano cheese
Before adding the two cheeses on top, press the noodles down using a spatula to make the to of the casserole flat. Bake the casserole, uncovered, in a 375 degree oven for 30 – 40 minutes or until it's very hot and browning around the edges. Remove from the oven and sprinkle with the chopped parsley and/or basil. Let rest 10 minutes before serving.