Turkey, Broccoli, Leeks and Rice Casserole
This recipe is a Thanksgiving turkey leftovers version of Chicken and Leeks Rice Casserole with some broccoli added to it.
If you don't have leftovers, you can buy some turkey parts – 2 wings, two thighs and two drumsticks – and poach them at the same time that you are making turkey stock. There is also a simpler and quick way to poach chicken or turkey in the Sour Cream Tortilla Casserole post.
For homemade turkey stock use:
4 carrots, cut in 3″ pieces
2 stalks of celery, cut in 3″ pieces
1 onion, cuts in 4 pieces (leave onion skins on for color)
2 small or 1 large bay leaf
1 teaspoon salt (or to taste)
10 peppercorns
Place the turkey parts in a stock pot. Add the vegetables and enough water to cover everything. Add the bay leaf, salt and peppercorns. Bring to a boil and cook for 10 minutes skimming off any brown stuff that comes to the surface. Turn the heat down and simmer for 1 1/2 hours. Lift the turkey parts out with tongs, remove the meat from the bones, put the bones back in the pot and tear the meat into bite-sized pieces and put in the refrigerator. Continue cooking the stock for another hour. Pour the broth through a sieve. Measure out the amount of broth that you need for the rice. You can make soup with the rest of the broth, or you can drink it like tea. It can be put in a mason jar and frozen to use later.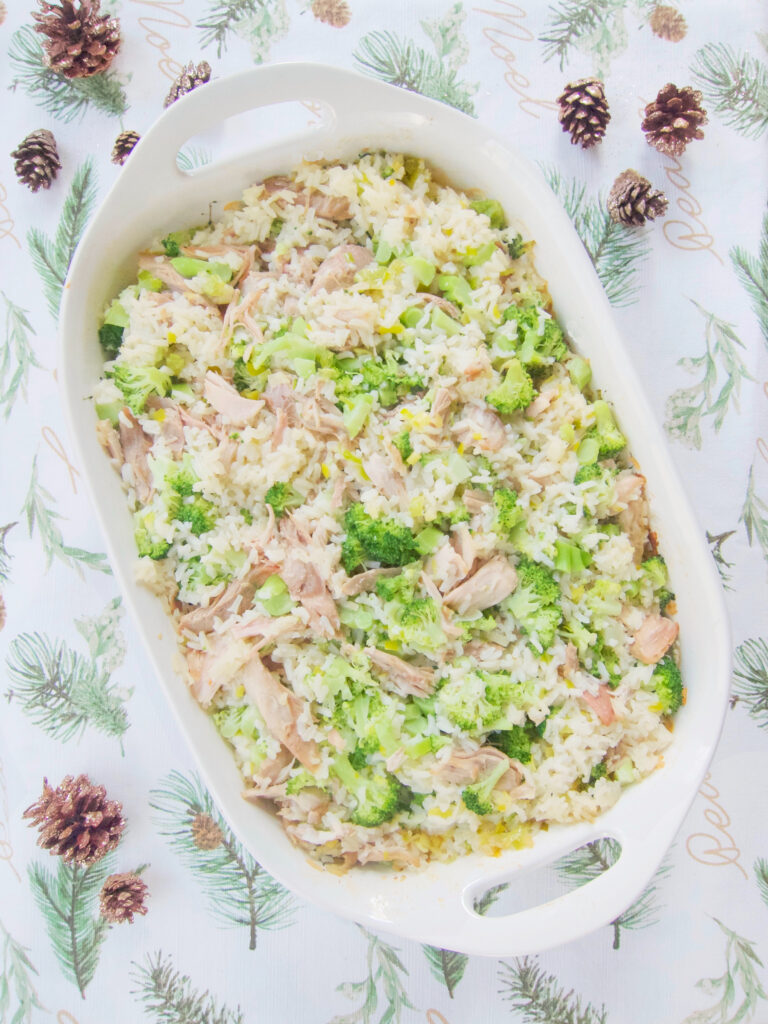 Turkey, Broccoli, Leeks and Rice Casserole
Ingredients
4 to 5 cups cooked turkey (or chicken)
1 1/2 cups long grain white rice
about 3 cups turkey or chicken broth (use the directions of the rice package for how much liquid)
1 large head of broccoli, cut into florets
2 cups half and half
1 medium leek, light green and white parts only (slice down the middle, rinse in between all the layers, slice down the middle of each half and slice thinly, removing the dark green parts)
1/2 cup butter
1 teaspoon salt
white pepper
Instructions
If your turkey or chicken is raw and you need to pre-cook it, cut the chicken or turkey breasts into 1/2″ strips. Sprinkle lightly with salt (about 1 teaspoon per pound). Heat a large skillet and add 1 tablespoon butter. Add the strips. They will begin to release juices. Gently poach in the liquid until the pink is gone. This will only take a few minutes. Don't overcook them or they could become tough. You can test for doneness by cutting a piece open. Cool and tear into bite sized pieces.
Cook the rice in the broth.
Bring a large pot of water with 2 teaspoons of salt to a boil and blanche the broccoli for 3 1/2 minutes, rinse to stop the cooking and then cut the florets into small pieces.
Sauté the leeks in the butter for 8 minutes.
Place the rice, turkey or chicken, broccoli, leek mixture and half and half in a large casserole. Sprinkle with the salt and a little white pepper. Mix all the ingredients.
Cover with foil and bake in a 350 degree oven for 40 minutes.