Sour Cream Tortilla Casserole
Sour cream enchiladas or tortilla casseroles are creamy deliciousness! They've been popular for a long time and are made in many ways, some using canned soups. For an enchiladas version you can roll up the meat mixture inside corn or flour tortillas and pour a sour cream sauce over top, or to make it simpler, do the tortilla version which is layering the tortillas, meat and cream like you do for a lasagne. Add some chopped tomatoes and you will have a King Ranch Chicken Casserole without the canned soups. Any way you do it, it comes out great.
I found a recipe years ago in a magazine with green chili salsa instead chopped green chilis, and with this colorful corn and peppers topping. I had thought it was a little dry and added chicken velouté sauce to the original sour cream layer.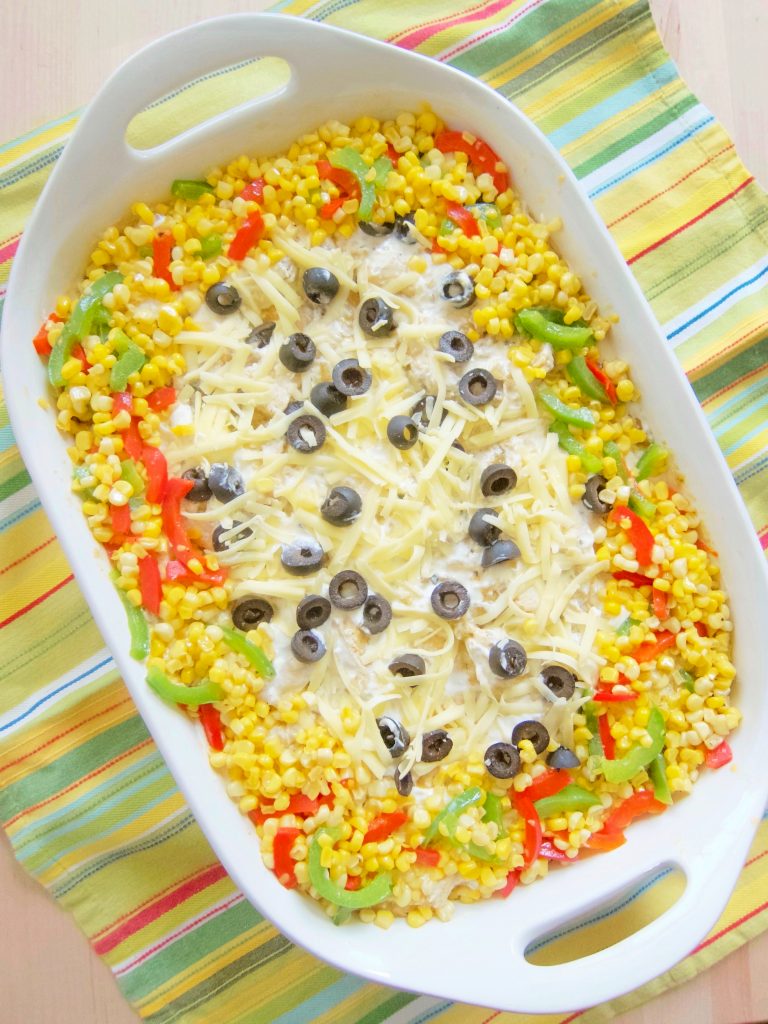 Sour Cream Tortilla Casserole
Ingredients
3 tablespoons butter
3 tablespoons flour
1 14.5 ounce can Swanson's Chicken Broth
2 cups sour cream
1/2 cup grated Monterey Jack cheese
2 large chicken breasts or enough to make 3 cups cooked chicken pieces
1 tablespoon butter
1 onion, chopped
2 garlic cloves, minced
1 tablespoon each oil and butter
1 1/2 teaspoons oregano
1 1/2 teaspoons cumin
1 teaspoon mild chili powder or spice (optional, this will make it spicy)
2 4 ounce cans Ortega mild green chilies, drained, seeds removed and diced, or for more heat use 1 cup mild green chili salsa
2 cups fresh corn
1/4 cup julienned red pepper
1/4 cup julienned green pepper
2 tablespoons butter
2 cups grated Monterey Jack cheese
1/4 cup sliced black olives
9 corn tortillas

Instructions

Make the sour cream sauce beginning with a chicken velouté sauce. Melt the butter in a heavy, light colored saucepan if you have one. Add the flour and stir the roux for 1 minute to get rid of the raw flour taste. Slowly whisk in half of the broth and once it's smooth you can add all the rest more quickly. When the chicken velouté sauce has thickened, stir in the sour cream and a 1/2 cup jack cheese.




For the meat mixture, rinse and pat dry the chicken breasts and cut into 1/2″ strips. Heat skillet and add 1 tablespoon butter. Cook the strips of chicken until pink is gone. Cool and tear into bite sized pieces. Heat the skilled and add the one tablespoon each of oil and butter. Sauté the onions for 5 minutes. Add the garlic and cook 1 minute. Add the oregano, cumins and chili powder and stir 30 seconds. Stir in the chicken coating all the pieces. Stir in the salsa.






For the vegetable topping. Heat the skillet. Add the 2 tablespoons butter. Add the corn and peppers. Sauté for 5 minutes.
To assemble the casserole. Spread 1 cup of the sauce on the bottom of a 3 quart 9″ by 13″ casserole. Place two tortillas diagonally in casserole and cut a third one and place in the uncovered places. Top with 1/3 of the chicken mixture, 1/3 of the sour cream sauce, then 1/3 of the 2 cups grated jack cheese. Repeat two more times, adding the olives to the final 1/3 cheese and sprinkling it only in the middle. Spoon the corn mixture around the edges.
Bake in a 375 degree oven for 20 minutes.