Copy Cat Izzie's Chocolate Cupcakes
This recipe has options for you to play with if you want to; Izzie's version of chocolate cupcakes that are flavored with coconut extract, or you can try them with vanilla extract, then if you want to be a real foodie, professionals say that coffee enhances the flavor of chocolate, and the goal is to add just enough so it's doing this but it's still chocolate flavored without becoming mocha flavored. Also, I tried buttercream and ganache frosting. I liked them both. Ganache was my favorite, but my two taste testers like the buttercream better. You will find these recipes below and you can add the coffee flavoring to them as well. Whichever flavorings and frostings you pick, they are all yummy!
There was a journey to doing this post that started years ago. In the 8th episode of the first season of the TV series Grey's Anatomy, Izzie, one of the new surgical interns at the hospital, is in Meredith's (another surgical intern) kitchen making chocolate cupcakes and she takes a bite into one of them and says, "8 hours, 16 ounces of chocolate, and 32 cupcakes and they still don't taste right." The kitchen was a mess making it look like she had made several batches to make sure she had followed the recipe card right. "There's something missing… some specific ingredient… why can't I remember?" Then, skipping to the end of the episode (I won't spoil the story for you), she's told that it's "one tablespoon coconut extract".
Coconut and chocolate is like peanut butter and chocolate, and hazelnut and chocolate. It's got to be yummy, right? I wanted to make them right away. But after searching the internet I was only able to find imitation coconut extract which would be chemical tasting. I went back to the show and looked at the bottle of coconut extract on the kitchen counter, and saw that the prop people had some fun with it. It had the usual no manufacture's name done for TV, but also the ingredients include "blood, sweat and tears". I figured real coconut extract didn't exist and the recipe was probably not real. So that was the end of that.
It had been years but I hadn't forgot about them when a few weeks ago I was walking through Walmart and looked up and saw McCormick's (not imitation) Coconut Extract. Right away I knew I wanted to make chocolate cupcakes for a Valentine's Day post. I went home and pulled up google and saw that there were now a whole bunch of real coconut extracts. Next I checked to see if the recipe from the show had been published somewhere. Bakespace.com had three recipes by Grey's Anatomy, "Izzie's Chocolate Cupcakes And Coffee Cream Cheese Frosting", "Izzie's Pumpkin Cheese-Filled Pecan Muffins" and "Izzie's Awesome Pumpkin Bars". No chocolate cupcakes with coconut extract which led me back to my original thought that it wasn't a real recipe. The recipes I found on other sites that were being called "Izzy's Chocolate Cupcakes" didn't have the same credentials and there was only 1 teaspoon not "one tablespoon of coconut extract" in the ingredients list, and they had white frosting, not the chocolate frosting with the white curls decorating them that Izzie made. I was going to need to settle for creating a copy cat recipe. It ended up being a lot of fun.
Years ago I learned that the best recipes for chocolate cake is made with cocoa powder, oil and hot water, rather than melted Baker's chocolate, butter and milk. The recipe below for delicious, moist and chocolatey cupcakes is adapted from twosisterscrafting.com. I switched the Wesson oil to avocado oil, switched the milk to sour cream, cut the salt in half and changed the flavoring. I also put the recipe together a little differently which I found to be a lot easier with very satisfactory results.
Cooks often include "the best" in the name of their recipe. But clearly it's personal and you have to figure it out for yourself which makes the journey creative and exciting… good for the soul… especially when it comes to chocolate.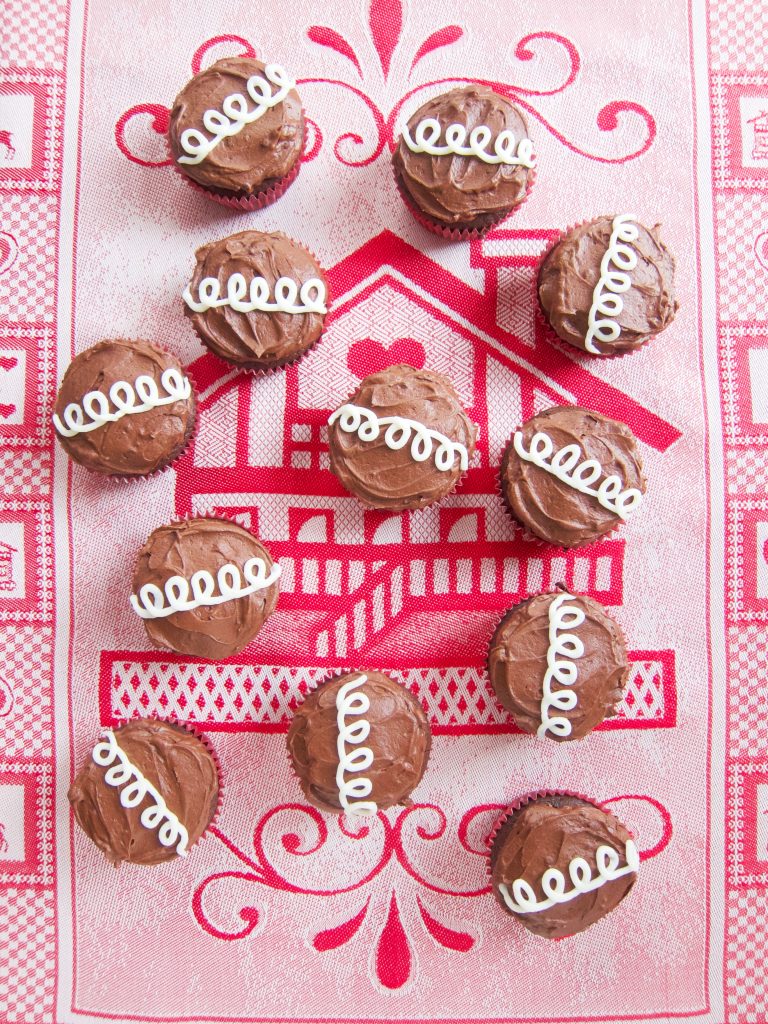 Copy Cat Izzie's Chocolate Cupcakes
Chocolate Cupcakes
Ingredients
1 cup flour
1 cup sugar
1/2 cup Hershey's unsweetened cocoa powder (NOT Hershey's Special Dark Cocoa)
1 teaspoon baking powder
1/2 teaspoon baking soda
1/2 teaspoon salt
1 large egg
1/3 cup avocado oil
1/2 cup sour cream
1 tablespoon (not imitation) coconut extract or 1 1/2 teaspoons vanilla extract, or 1 teaspoon vanilla extract and 1/2 teaspoon instant coffee
1/2 cup hot water
Instructions
Preheat oven to 350°. Line a muffin pan with 12 cupcake liners.
Before beginning, measure all the dry ingredients into the mixer bowl and whisk them together. Put the egg, oil, sour cream, and extract into a small bowl and gently whisk them together. Have the water in a pan ready to boil. (If you are adding the coffee flavoring, add the 1/2 teaspoon of instant coffee to the water before boiling.)
Turn the stove on to start the water boiling. Using the paddle attachment, add the egg mixture to the flour mixture and turn on the mixer at a low setting for a few seconds, then pour in the hot water as the mixer is running. Mix on medium for about a minute. Scrap down the sides and mix 15 seconds more.
Either spoon the batter into the 12 liners or I like to transfer the batter to a large glass measuring cup and pour it into the liners. The liners will be about 3/4's full. Bake for 18 minutes or until the middle of the cupcake bounces back when you press it with your finger.
Let cool a few minutes then remove the cupcakes from the pan to a cookie rack. Cool completely before frosting.
You can do chocolate buttercream frosting or ganache frosting (recipes below). If you use ganache, the cupcakes will need to be kept refrigerated. The decorating icing recipe is also below.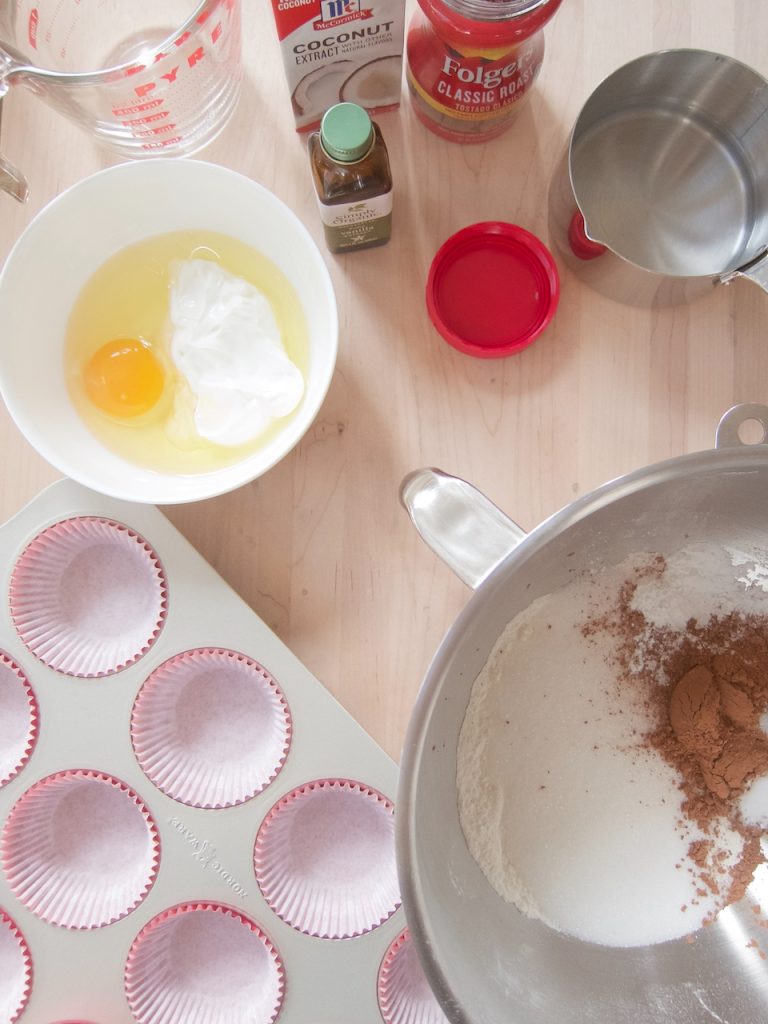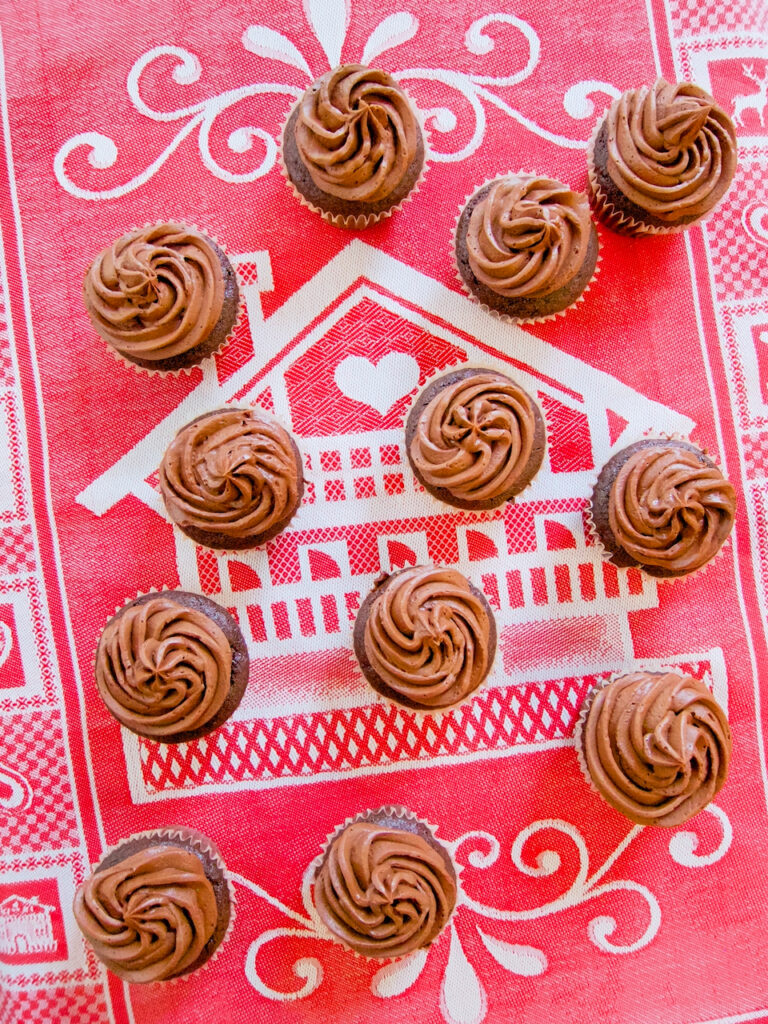 Chocolate Buttercream Frosting
This makes enough frosting for 24 cupcakes if you are icing them with a knife. If you are piping the frosting on, it will be the right amount for 12 cupcakes.
Ingredients
1/2 cup butter, softened
2 cups powdered sugar
1/2 cup Hershey's unsweetened cocoa powder (NOT Hershey's Special Dark Cocoa)
1/8 teaspoon salt
1 teaspoon vanilla
3 to 4 tablespoons milk
Instructions
Cream the butter in a mixer. Add the sugar, cocoa powder, salt, vanilla and start with 3 tablespoons of milk. Beat the frosting, scraping down the sides of the bowl a few times and checking to see if it needs more milk, until it's the right consistency.(If you are adding the coffee flavoring, mix the 1/8 teaspoon of instant coffee with 1 tablespoon of milk until the crystals have all blended into the milk and add that tablespoon of milk first. It you want to taste the coffee, add 1/4 teaspoon.)
Chocolate Ganache Frosting
(This recipe is from Martha Stewart's website)
Ingredients
6 ounces semi-sweet chocolate chips, or a bar chopped into little pieces
1 cup heavy cream
1/16 teaspoon instant coffee (optional)
Instructions
Place chocolate in a medium bowl. Heat cream until scalded which means it's about to boil up. Pour the hot cream over chocolate. (Add the coffee at this point if you want to.) Let stand 5 minutes, then stir until smooth. Refrigerate until it's the right consistency, checking on it several times to catch it before it gets too solid.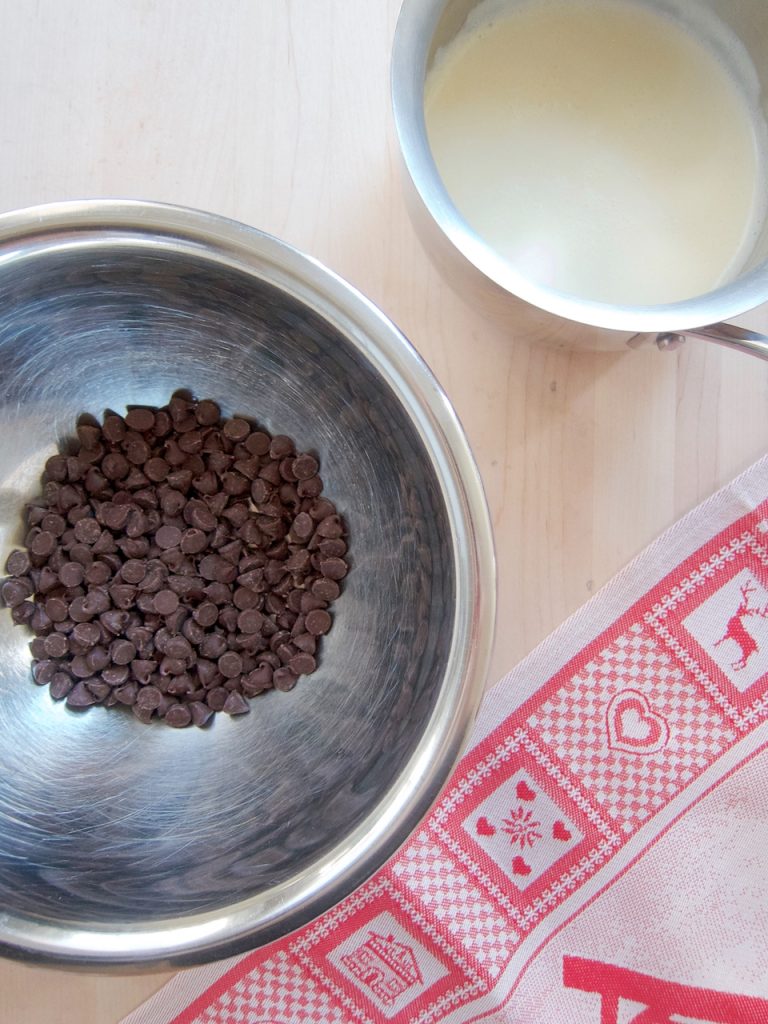 At first it will be very light. Keep stirring and it will become darker. Place in the refrigerator and come back and check on it, stirring it until it becomes a rick looking fudge-like spread.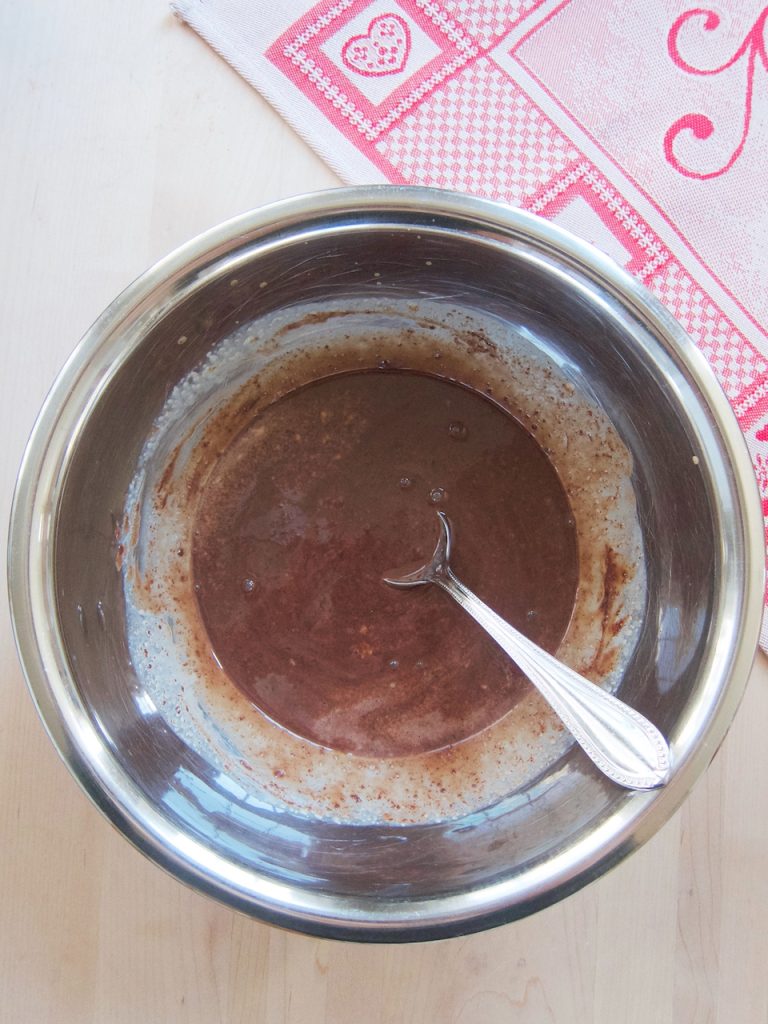 Decorating Icing
(I used a butter icing instead of a royal icing because royal icing, made with just powdered sugar and water, can be too stiff and also not do well in the refrigerator.)
1 cup powdered sugar
1/4 cup unsalted butter, softened (find as lightly yellow colored butter as you can)
about 1 tablespoon of milk
Instructions
Whisk all the ingredients together adding the amount of milk needed for desired consistency. Place in a decorating bag or zip lock bag fitted with a small round decorating tip.