Slow-Cooked White Fish With Charred Cabbage
My son Craig found this fun recipe from Bon Appetit. I have done a larger amount and I cut up the grapefruit differently. Bon Appetit has you cook the cabbage in a sauté pan. If you use the outer leaves, they will come out a brighter green this way. For a larger amount you can do it in the oven on a baking sheet. Follow the link above for the original recipe.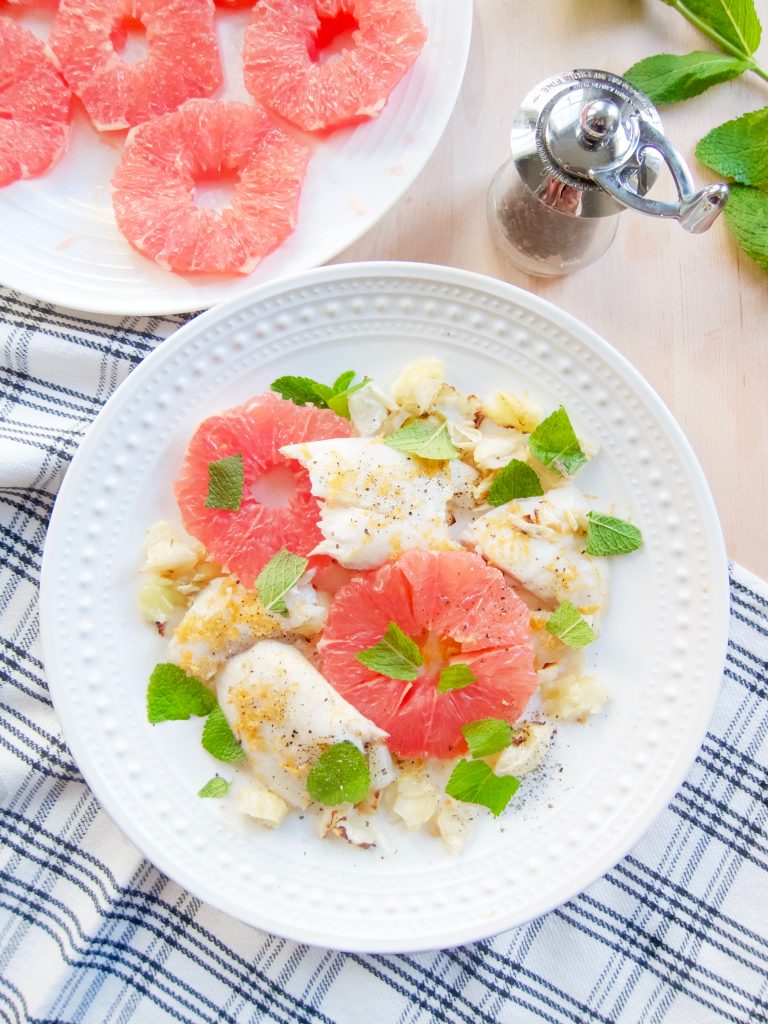 Slow-Cooked White Fish With Charred Cabbage
Ingredients
1 1/2 pounds cod or tilapia
1 5″ green cabbage
4 1/2 tablespoons avocado oil, divided
2 pink grapefruits
salt
torn mint leaves
freshly grated pepper
Instructions
Cabbage:
Cut or tear the cabbage into 2″ pieces. It's fine to leave some of them thicker. Place the pieces in a bowl and drizzle with 3 tablespoons avocado oil and toss to coat the pieces. Then spread them out on a baking sheet. Bake in a 400 degree oven for 20 to 25 minutes, or until some edges are lightly browned. Don't overcook it. You want it only partially cooked so it's still crunchy. (For smaller amounts follow Bon Appetit's recipe for cooking it in a skillet.)
Fish:
Rinse and pat dry the fish. Place in the same bowl and drizzle with 1 1/2 tablespoons of avocado oil. Rub the oil all over the pieces of fish. Place the fish on a baking sheet. Sprinkle both side of the fish with salt, then using a microplane, grate the peel of the grapefruits over the fish so they all have a sprinkling of zest. Bake in a 325 degree oven until just cooked through, about 12 to 15 minutes depending on the thickness of the fish.
Grapefruit:
Slice the grapefruit into 1/3″ to 1/2″ slices and cut out the centers using kitchen sheers. Then lay the slices back down on the cutting board and trim the outside of each slice so there is no pith or peel.
To serve, transfer some of the cabbage on to the plate, then break the fish into 2″ to 3″ pieces. Add some slices of grapefruit and torn mint leaves, and sprinkle with fresh pepper.