Kate and Gaby's Roasted Beets and Labneh
This is Gaby's Roasted Beets and Labneh that came into my inbox from Cookie and Kate's website. Kate is a vegetarian and does some very different and really fun recipes. She likes her food spicy and will warn you that if you don't, you can leave out the red pepper flakes. I also preferred it without the final addition of flakey salt. Follow the link to get the original spicy recipe.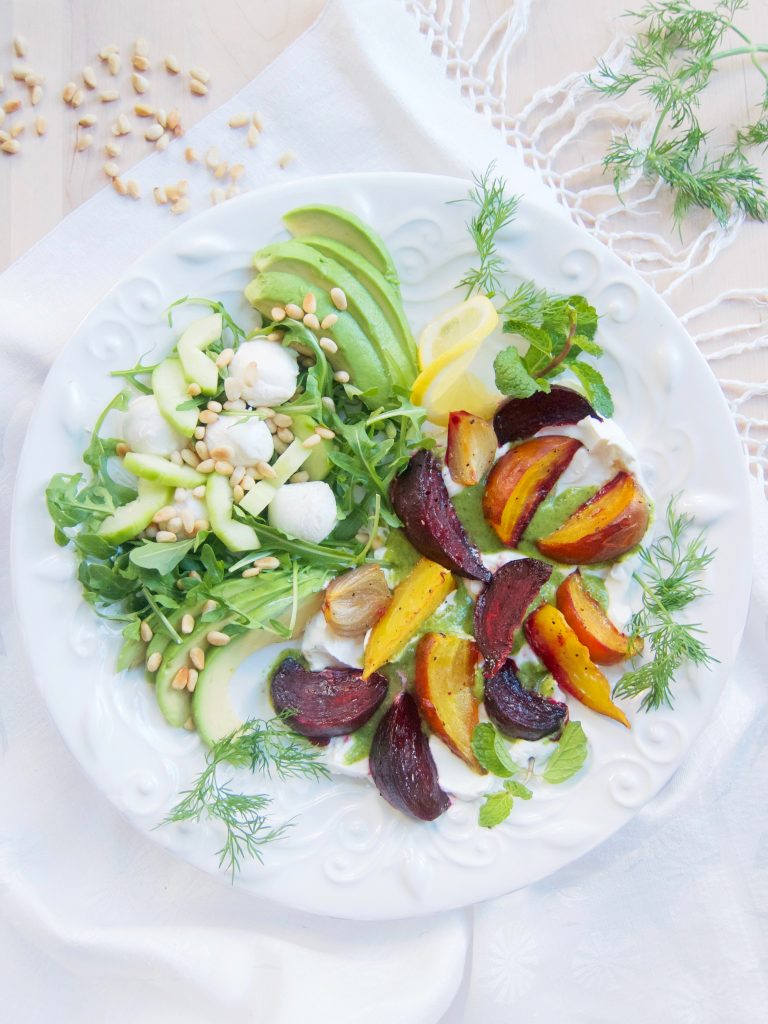 Kate and Gaby's Roasted Beets and Labneh
Ingredients
roasted beets (recipe below)
basil puree (recipe below)
labneh (this is drained Greek yogurt that you can make by putting Greek yogurt in cheesecloth in a strainer over and bowl in the refrigerator and letting the water drain out until desired thickness. You can find it in the cheese section of Whole Foods or any Middle Eastern market.)
avocado, sliced
fresh mint
fresh dill
Instructions
Spread the labneh on the serving dish. Drizzle with some of the puree. Place the beet wedges on the labneh and puree. Decorate or sprinkle with the fresh mint and dill. Sprinkle everything with some flakey salt or Kosher salt to taste.
Roasted Beets
Ingredients
2 – 3 pounds beets, half red beets and half golden beets
2 large (about 1 1/2 cups) shallots, cut in small wedges
1/4 cup olive oil (I used avocado)
1 1/2 teaspoons salt
1/2 teaspoon pepper
Instructions
Wash and trim the beets and slice them into 1/2″ to 3/4″ wedges. Place them in the large bowl with the shallots. Drizzle the oil over the vegetables and sprinkle with the salt and pepper. Toss until everything is coated. Transfer to a parchment lined baking pan. It's okay if the pieces overlap. Bake in a 425 degree oven for 45 minutes or until tender. Remove from oven and let come to room temperature.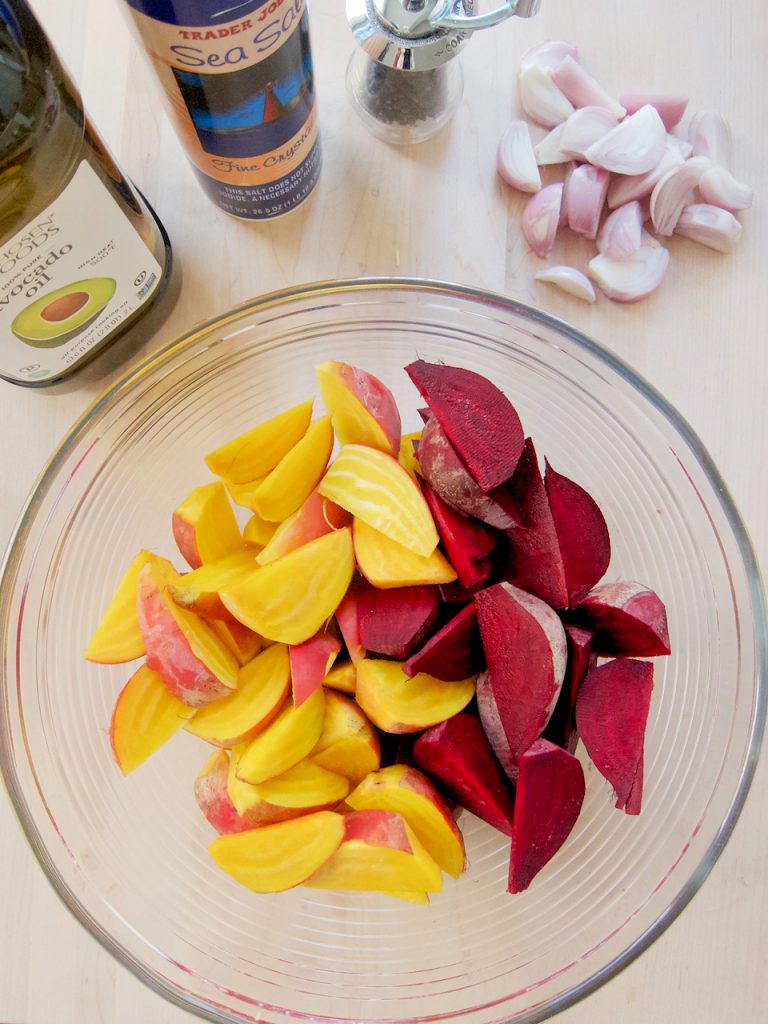 Basil Puree
Ingredients
1 shallot, roughly chopped
1 garlic clove
2 cups packed fresh basil leaves
1/2 cup olive oil
2 tablespoons red wine vinegar
3/4 teaspoon salt
1/3 teaspoon pepper
Instructions
Place all ingredients in a food processor and process for 1 minute until very smooth.