Chicken, Brussels Sprouts and Rice Casserole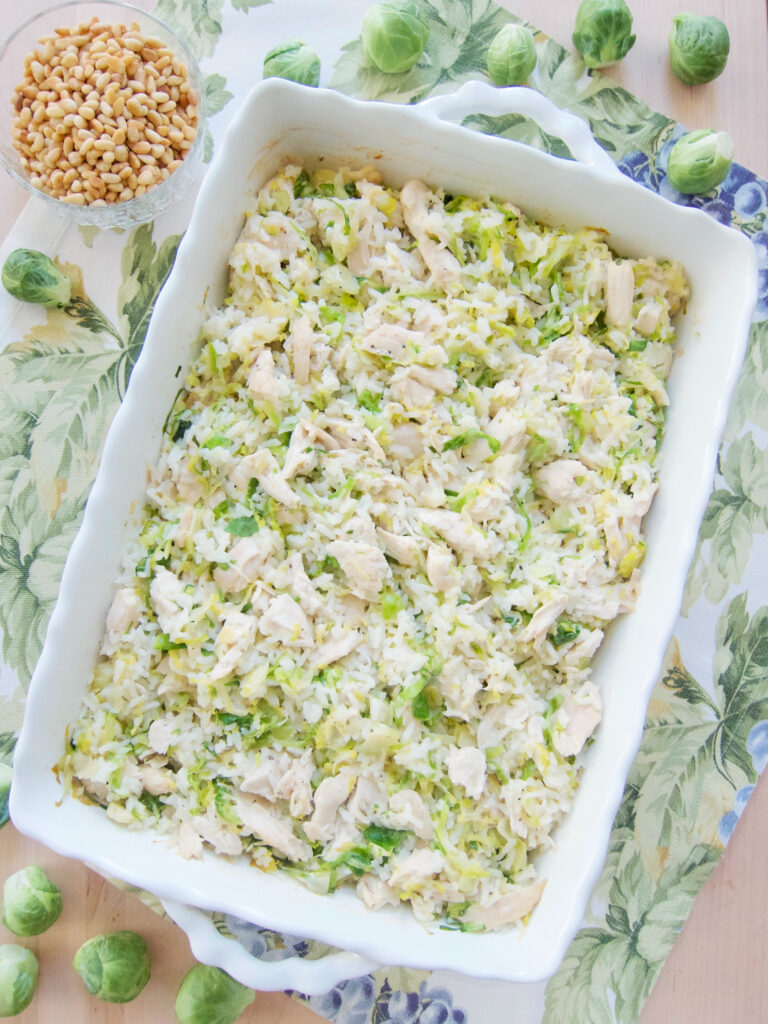 Chicken, Brussels Sprouts and Rice Casserole
Ingredients
1 1/2 cups long white rice
2 1/4 cups chicken broth (or according to rice instructions)
6 cups cooked chicken that has been seasoned with salt and pepper, torn into bite-sized pieces (See Perfectly Baked Chicken Breasts and follow the instructions for the basic recipe.)
1/2 cup butter
16 ounces Brussels sprouts, thinly sliced
4 cloves of garlic, minced
2 shallots, cut small
2 cups half and half
1 cup Parmigiana Reggiano cheese
1 cup pine nuts, toasted in a dry hot skillet (Keep and eye on them because once they release their oils nuts burn very quickly.)
Instructions
Cook the rice in the chicken broth.
Melt the butter in a large skillet. Add the Brussels sprouts, garlic and shallots, and sprinkle lightly with salt. Cook 4 minutes, stirring often.
Spread the rice in the bottom of a 9″ by 13″ casserole. Spread the Brussels sprout mixture over the rice. Spread the chicken pieces over the Brussel sprout mixture. Mix everything together. Stir in the cheese, then stir in the half and half. Cover with foil and bake in a 350° oven for 40 minutes.
Serve with the toasted pine nuts.