"Le Cordon Bleu is an international network of hospitality and culinary schools teaching French haute cuisine. Its educational focuses are hospitality management, culinary arts, and gastronomy. The institution consists of 35 institutes in 20 countries and has over 20,000 students of many different nationalities."
Wikipedia
To graduate from Le Cordon Bleu is to be an "exceptional cook." 'Cordon bleu' was borrowed from French, where the words literally mean "blue ribbon," referring to the blue ribbon or sash worn by the Chevaliers du Saint-Esprit, the highest order of knighthood under the French Bourbon kings.
On a menu "cordon bleu" means stuffed with ham and Swiss cheese.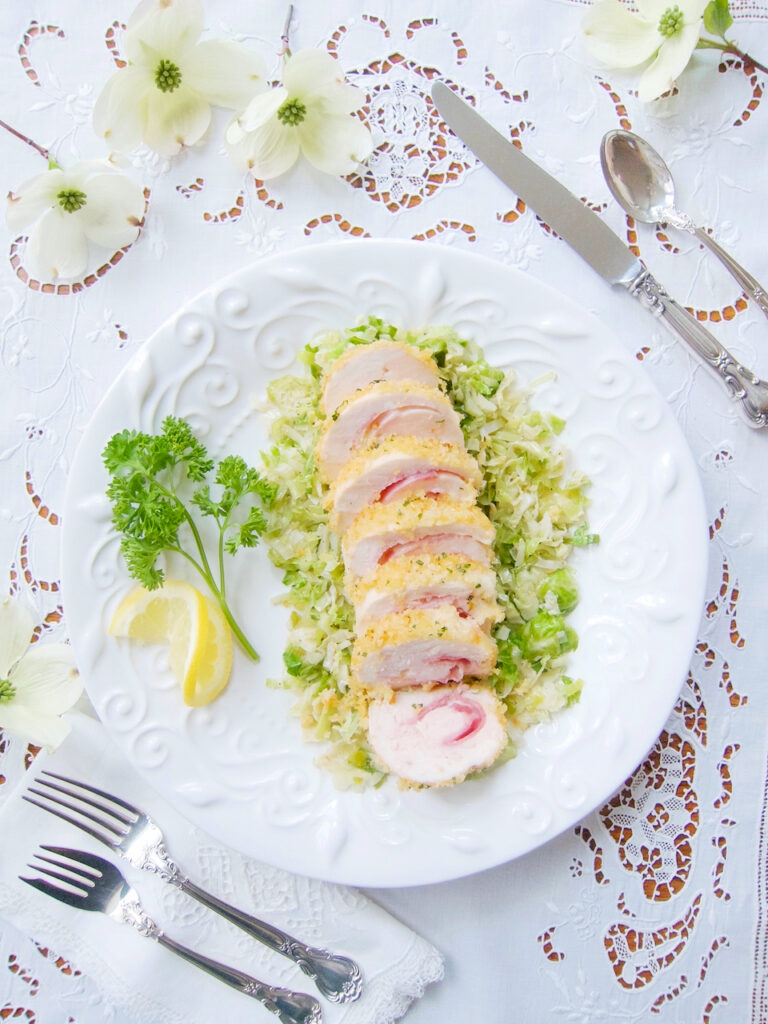 Chicken Cordon Blue
Ingredients
6 (7 ounce) chicken breasts
1 6 ounce package Northern Country Smokehouse Organic Black Forest Ham (1 slice cut in half for each breast)
1 7 ounce package Sergento Natural Cheese Swiss (1 1/2 slices per breast)
1/2 cup flour
1/2 teaspoons salt
1/3 teaspoon pepper
2 eggs
2 cups homemade breadcrumbs or panko crumbs
1 garlic clove, minced
3 tablespoons butter
2 tablespoons chopped parsley
Instructions
To make breadcrumbs, preheat the oven to 350°, place slices of crustless bread in a food processor and process until they are small crumbs. Lay the crumbs on a baking sheet and spread them evenly. Bake for 6 minutes. Remove from the oven, stir and spread back out. Bake for another 4 to 6 minutes. They should still be white, not brown.
Place each chicken breast in a large zip lock bag and pound until about 1/3″ thick. Sprinkle the pounded breast lightly with salt and place the ham and cheese in the middle and roll the chicken up tucking in the sides. Wrap the stuffed chicken in plastic wrap and twist the ends to tighten the chicken together. Chill for 2 hours for easier handling.
You will need three wide bowls for the breading. Mix the flour with the salt and pepper in one bowl. Beat the two eggs in the next bowl. Melt the butter in a large skillet, add the garlic and cook for a minute. Add the breadcrumbs and toss to coat. Lightly brown the breadcrumbs. Transfer to the third bowl.
Remove the chicken from the refrigerator and gently unwrap. Roll all sides and the ends in the flour mixture, then in the egg mixture, then in the breadcrumb mixture. Set in a casserole. Sprinkle with chopped parsley. You can keep these in the refrigerator but you need to take them out 45 minutes ahead of baking time to bring them close to room temperature for even cooking.
Bake in a 350° oven for 40 minutes or until it registers 165°. Let rest 10 minutes.
Serve on a bed of Brussels sprouts and Leeks with Dijon Mustard Cheese Sauce (recipes below). Or slice and place the 'shingles' on a platter and surround with the Brussels sprouts.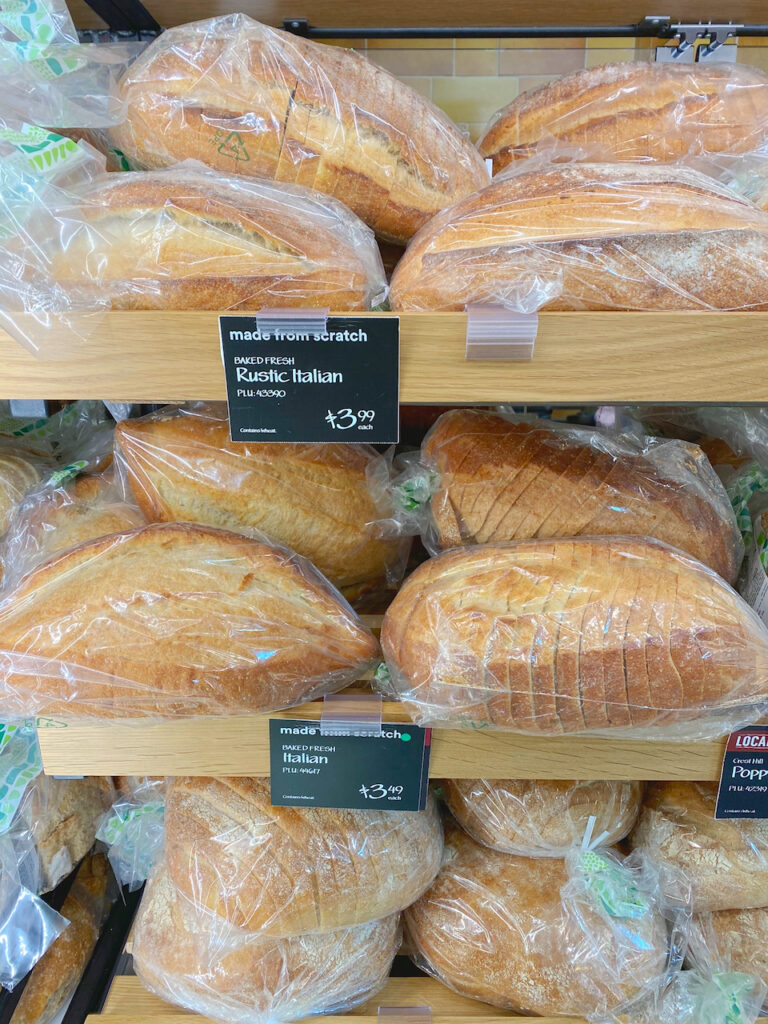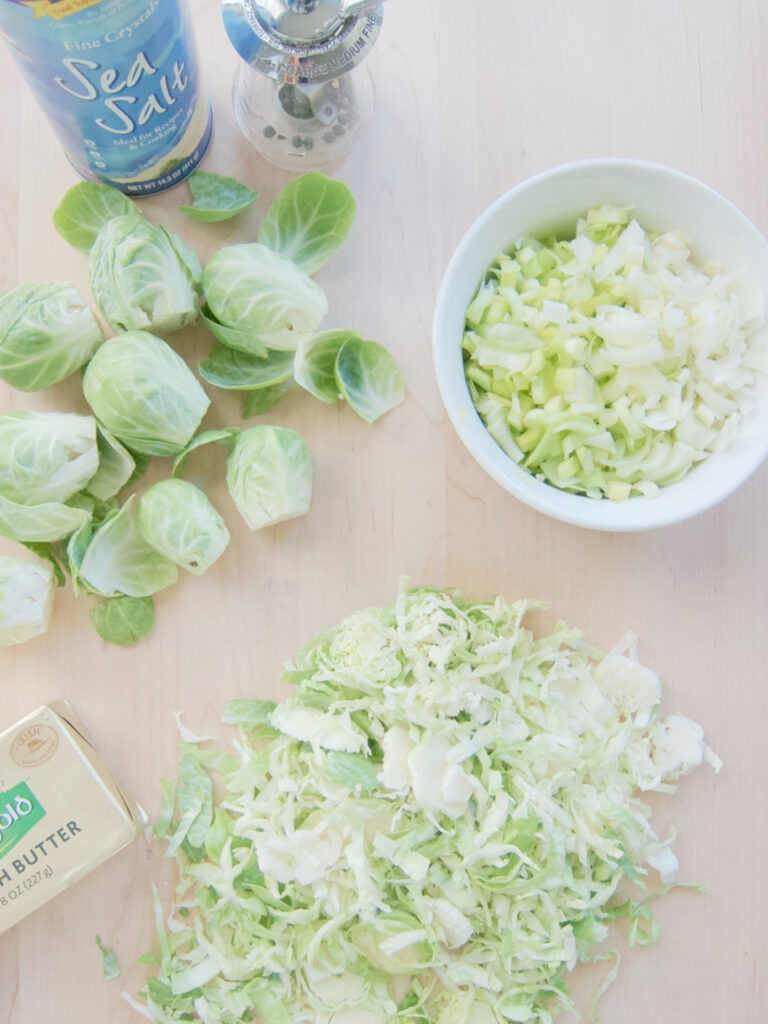 Brussels Sprouts and Leeks
Ingredients
1 1/2 pounds (6 cups) Brussels sprouts, thinly sliced
1 large leek (2 1/4 cups), white and light green parts only (slice down the middle, rinse in between all the layers, slice down the middle of each half and slice thinly, removing the dark green parts)
3 tablespoons butter
salt and pepper
Instructions
Melt the butter in a large skillet over medium heat and add the leeks and cook 5 minutes, stirring often. Don't brown. Add the sliced Brussels sprouts and season lightly with salt and pepper. Continue cooking over medium heat for 15 minutes, stirring often and not letting it brown.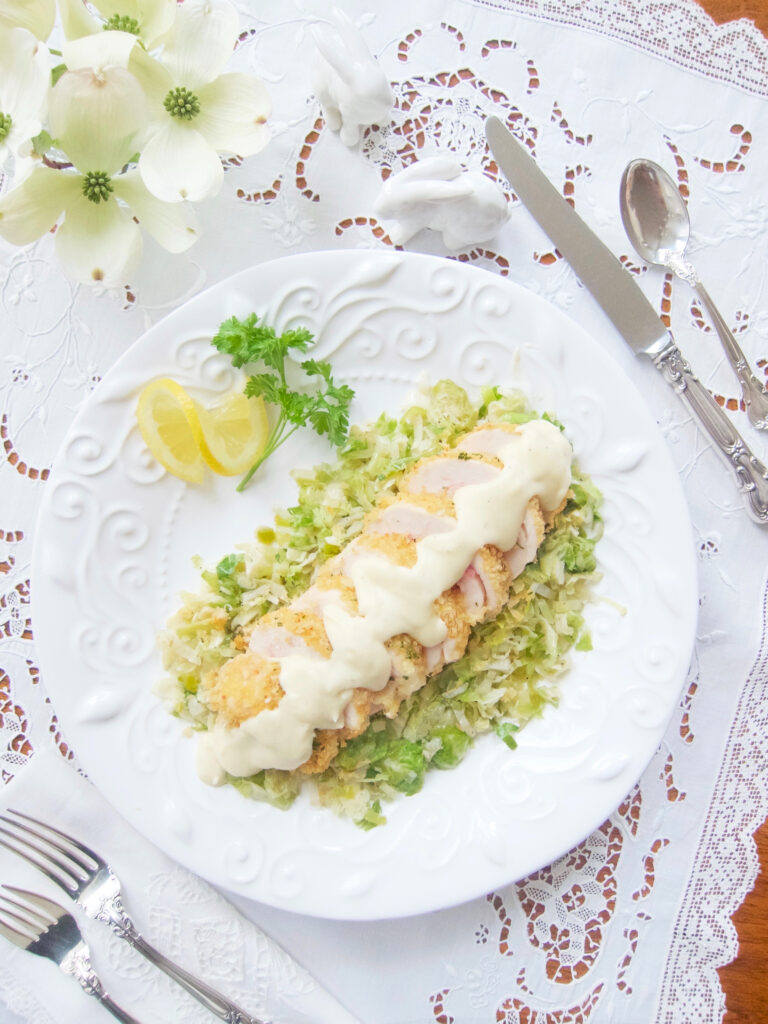 Dijon Mustard Cheese Sauce
Ingredients
1/4 cup butter
1/4 cup flour
2 cups milk
2 tablespoons Dijon mustard
1/2 teaspoon salt
1 pinch of pepper
1/2 cup Parmigiano Reggiano (parmesan cheese aged 24 months)
Instructions
Melt the butter in a saucepan. Add the flour and stir one minute. Whisk in the milk gradually. Cook until thickened. Stir in the mustard, salt, pepper and cheese.