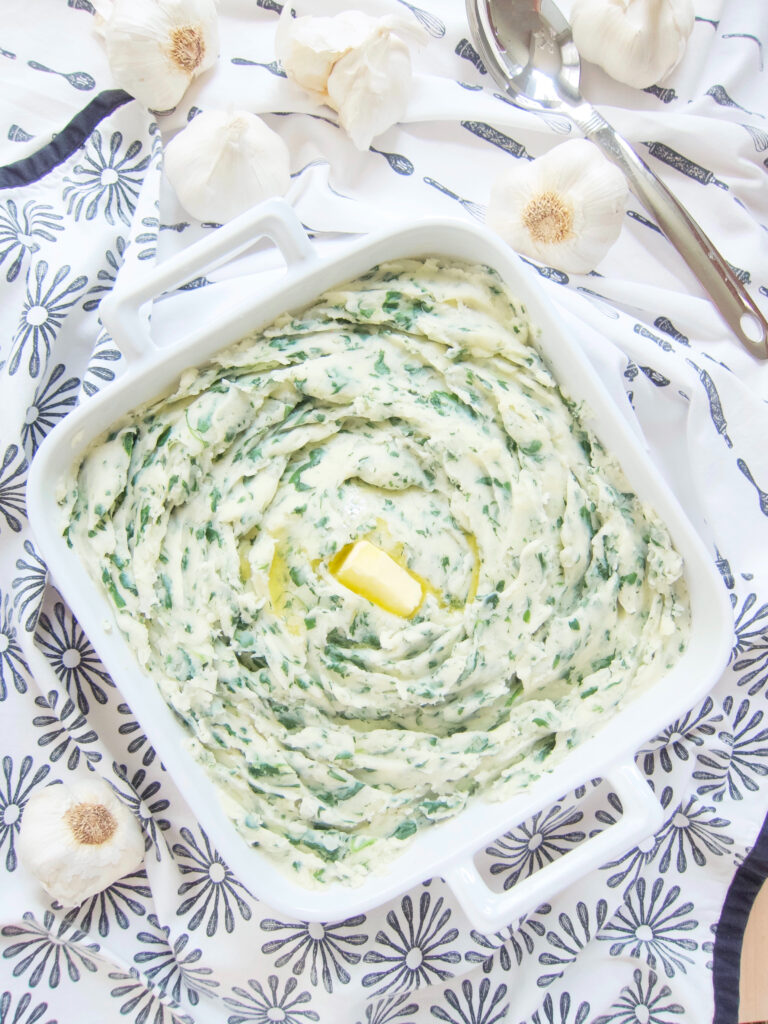 Potatoes Florentine
Ingredients
3 pounds russet potatoes
1/2 cup butter
1 (1 1/2 cups) onion, cut small
2 teaspoons minced garlic
10 ounces spinach
1 teaspoon salt
3 ounces (about 1 1/3 cups) white cheddar cheese (or part gruyère cheese or parmesan), grated
1/2 cup (or more) milk
Instructions
Fill a large pot with 1/3″ water and bring to a boil. Add the spinach and stir constantly for 3 minutes or until all the spinach has wilted. Transfer the spinach to a colander to drain, then squeeze dry.* Put the dried spinach on a cutting board and make about 6 slices 1/2″ apart through the spinach going both directions. Set aside.
Fill a pot with 6″ of water. Peel the potatoes and cut into 1 1/2″ to 2″ chunks and put into the water. Bring the water to a boil and boil the potatoes until tender, about 15 to 20 minutes. Pour into a colander then transfer back into the pot over the heat about 10 seconds to dry the potatoes out.
Melt the butter in a skillet. Add the onions and cook 7 minutes. Add the garlic during the last minute.
Whip the potatoes with a mixer or mash with a potato masher. Stir in the onion mixture, salt, cheese and spinach. Then add milk beginning with 1/2 cup and adding more if needed until it's the desired creaminess. Transfer to a 2 1/2 quart casserole.
Bake in a 350 degree oven for 20 minutes or until hot.
* Squeezing out the water is usually done by using paper towels or a clean kitchen towel. Both of these methods are very messy. I press the spinach between two metal bowls. To do this, place the spinach in the larger of two nesting metal bowls. Then place the smaller bowl on top of the spinach and press down. Holding both the bowls together and leaving a small opening between them at the bottom, you tilt it over the sink until all the water is released. Then remove the top bowl, take a fork and fold the spinach over itself making a mound, place the top bowl on the spinach again and press down to release more of the water. If you do this about 5 or 6 times, most of the water will be gone.