Chicken Divan "was named after the place of its invention, the Divan Parisien Restaurant in the New York City Chatham Hotel where it was served as the signature dish in the early twentieth century. Its creator was a chef named Anthony Lagasi. In French, the word divan refers to a meeting place or great hall."
Wikipedia
Chicken divan, made of cooked chicken, broccoli and mornay sauce became a classic American recipe in the 1950's. Cooked broccoli and pieces of cooked chicken in a cheese sauce means the key to a good chicken divan starts with a cheese flavor that you like. It is believed that the original recipe was done with parmesan or gruyère cheese.
It was during the 50's that using Campbell's soups in dishes became very popular and recipes for chicken divan were made with cheddar cheese. This video by America's Test Kitchen will teach you some things about cheddar cheese like the more aged cheeses may not melt as well. They have a display of extra sharp cheddar cheeses, most of which have a strong and tangy taste and are great for snacking and tacos and grilled cheese sandwiches. But for mac and cheese and for this recipe which have a mornay sauce, if you use one of these strong, tangy cheeses, the sauce will taste tangy. Their overall top pick, Cracker Barrel's Extra Sharp, has a lot of flavor but is a mellow cheese. Their white and yellow sharp cheese have a different taste in a sauce. If you do your own taste testing, you will be surprised how very different all the cheddar cheeses taste.
On the internet you will find many of the 50's quick-version recipes made with canned cream of chicken, cream of mushroom, cream of celery or cream of broccoli soup and mayonnaise. Some versions are topped with cracker crumbs or crushed potato chips. Other alternate ingredients include both béchamel and hollandaise sauce, white sauce flavored with sherry and no cheese, other cheeses, mushrooms, water chestnuts, half and half or cream, dry white wine, lemon juice, dry mustard and curry powder.
Craig told me about this post on Fine Cooking's website that explains why we move the pot from the heat before stirring in cheese. You can't overcook a dish with these sauces, and when reheating you have to be careful not to boil the sauce for too long or it may separate.
Fine Cooking's Science of Melting Cheese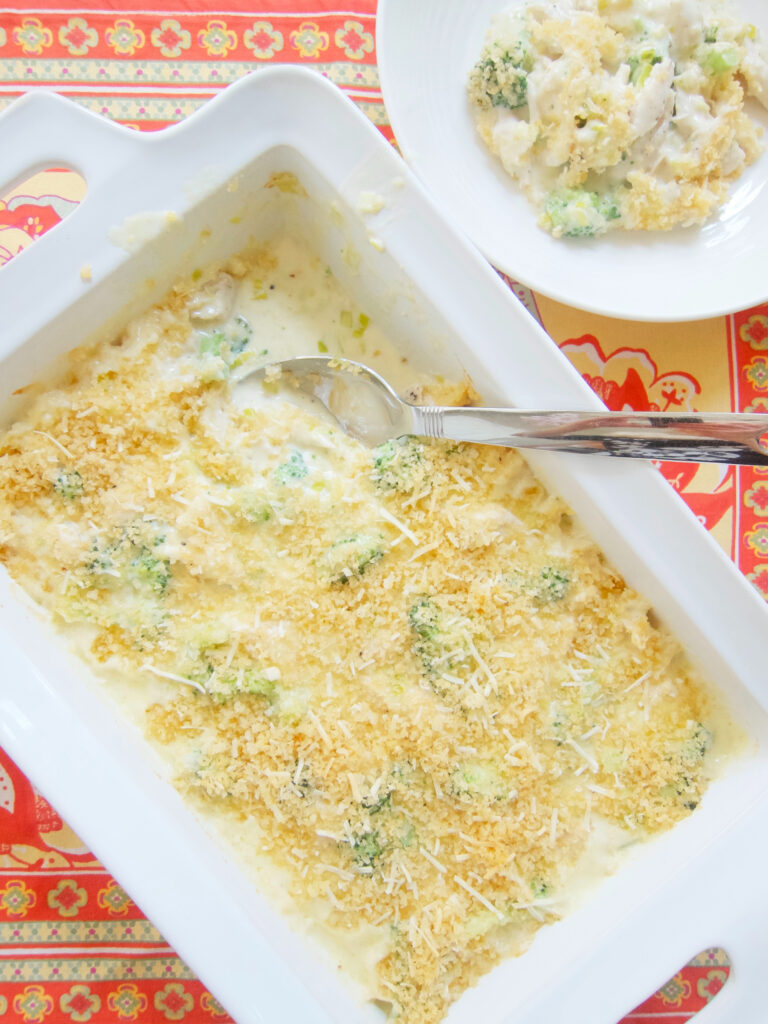 Chicken Divan
Ingredients

10 ounces broccoli florets
2 pounds chicken breasts
1 teaspoon salt
1/2 teaspoons pepper
1 (1 1/2 cups) leek, white and light green parts only (slice down the middle, rinse in between all the layers, slice down the middle of each half and slice thinly, removing the dark green parts)
1 teaspoon minced garlic
6 tablespoons butter, divided
4 1/2 tablespoons flour
3 cups whole milk (or part cream)
3 ounces gruyère cheese, grated
4 ounces mellow tasting cheddar cheese like Cracker Barrel's (White or Yellow) Extra Sharp Cheese, grated (If the cheese has a tangy taste, which a lot of cheeses have, whether they are medium or sharp or extra sharp, the sauce could taste too tangy.)
Topping Ingredients
1 1/2 cups fresh bread crumbs
1/4 cup grated Parmigiano-Reggiano, gruyère or Pecorino Romano cheese
Instructions
In a large skillet melt 2 tablespoons of butter and add the bread crumbs and cook until lightly golden, about 3 minutes, stirring often. Don't let it get too crunchy. Remove the crumbs and set aside and wipe out the skillet.
Bring a large pot of water to a boil and add the broccoli. Boil for 3 1/2 minutes or until crisp tender (You don't want it overcooked and mushy). Drain and set aside.
Cut the chicken breasts into 1/2″ strips. Sprinkle lightly with salt (about 1/2 teaspoon per pound). Heat a large skillet and add 1 tablespoon butter. Add the strips. They will begin to release juices. Gently poach in the liquid until the pink is gone. This will only take a few minutes. Don't overcook them or they could become tough. You can test for doneness by cutting a piece open. Let rest in the juices and tear into bite-sized pieces.
Heat a dutch oven (Le Creuset #29) or other heavy pot and add 3 tablespoons of butter. When the butter is bubbling hot add the leeks and garlic and cook until translucent. Sprinkle with the flour and stir. Whisk in the milk and heat until thickened. Remove from heat and stir in the two cheeses.
Transfer the broccoli and chicken to the pot with the sauce. Sprinkle with the Parmigiano-Reggiano or Pecorino Romano cheese and the bread crumbs. Bake in a 350° oven for 20 to 25 minutes or just until hot. Don't over bake.
Serve over rice or wide egg noodles if desired.