Classic Cobb Salad With Lemon and Dijon Vinaigrette
"The Cobb salad was born in the wee hours of a Hollywood, California, morning in 1937 at the Brown Derby restaurant. The owner, Bob Cobb, was ruffling through the kitchen's refrigerator, pulling out various remnants including lettuce, hard-boiled eggs, cheese, tomatoes, chives and avocado. Smelling bacon being cooked nearby, he grabbed a few slices to add to his dish. Bob tossed the ingredients together and shared the outcome with his friend Sid Grauman (of Grauman's Chinese Theatre fame). Mr. Grauman was so impressed that he asked for a 'Cobb salad' at the restaurant the very next day, and a classic was born."
Institute of Culinary Education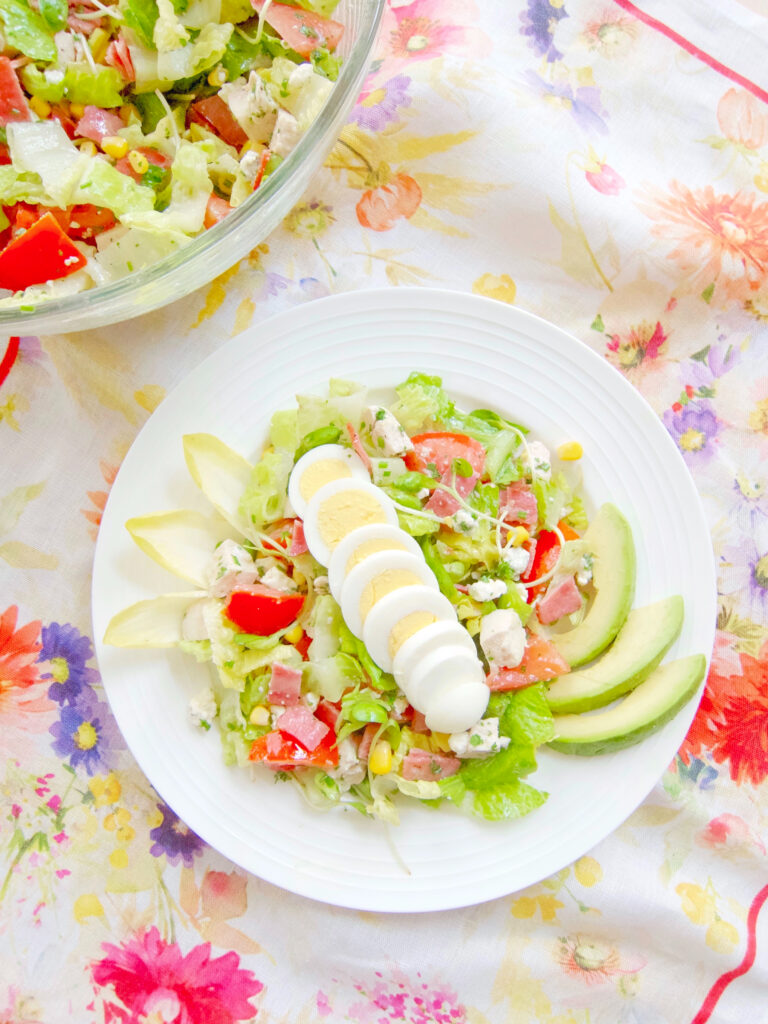 Classic Cobb Salad
Ingredients
2 8 ounce chicken breasts or 1 pound of chicken tenders, poached
8 cups water
2 garlic cloves, peeled
1 lemon, cut in wedges
6 strips cooked bacon or 4 strips cooked turkey bacon, broken or cut into small pieces
1 head romaine lettuce
butter lettuce
2 tomatoes, seeded and cut up
1 fresh ear of corn, kernels removed, or 1 cup canned corn
microgreen sprouts
1/4 cup chopped parsley
1/4 cup chopped chives
1/3 cup (or to taste) crumbled blue cheese or Roquefort cheese
4 hard boiled eggs, sliced
1 avocado, cut into slices
salt and pepper
Instructions
To poach the chicken, bring the chicken breasts out of the refrigerator and set out on the counter to come to room temperature for 20 minutes. Pour the water into a 3 to 4 quart pot (the water needs to cover the chicken by at least 2″), add 2 teaspoons of salt and bring to a boil. Cut the chicken breasts in half down the middle. Place the chicken breast pieces or tenders in the boiling water using tongs. Add the lemon and garlic cloves. The water may stay boiling, if not, wait for it to boil again and place a lid on the pot and remove it from the heat. Let sit undisturbed for 25 minutes (if using tenders, only 18 minutes). Check for doneness by cutting into a piece. Remove the chicken from water, dry and cut or tear into bite-sized pieces. Chill.
Remove any dark, tough outer leaves from the romaine. Cut off the bottom to separate leaves. Wash the leaves and dry well (If they are wet, the salad may be watery). Gather the leaves together and slice them crossways into 3/4″ wide slices.
Place the romaine, chicken, cooked bacon, tomatoes, corn, sprouts, parsley, chives and blue cheese in a large bowl. Drizzle with the vinaigrette and toss to coat. Transfer to plates and add the sliced eggs and avocados. Depending on how much cheese you use and how salty the bacon is, you may want more salt. And if you like pepper, you may want more pepper.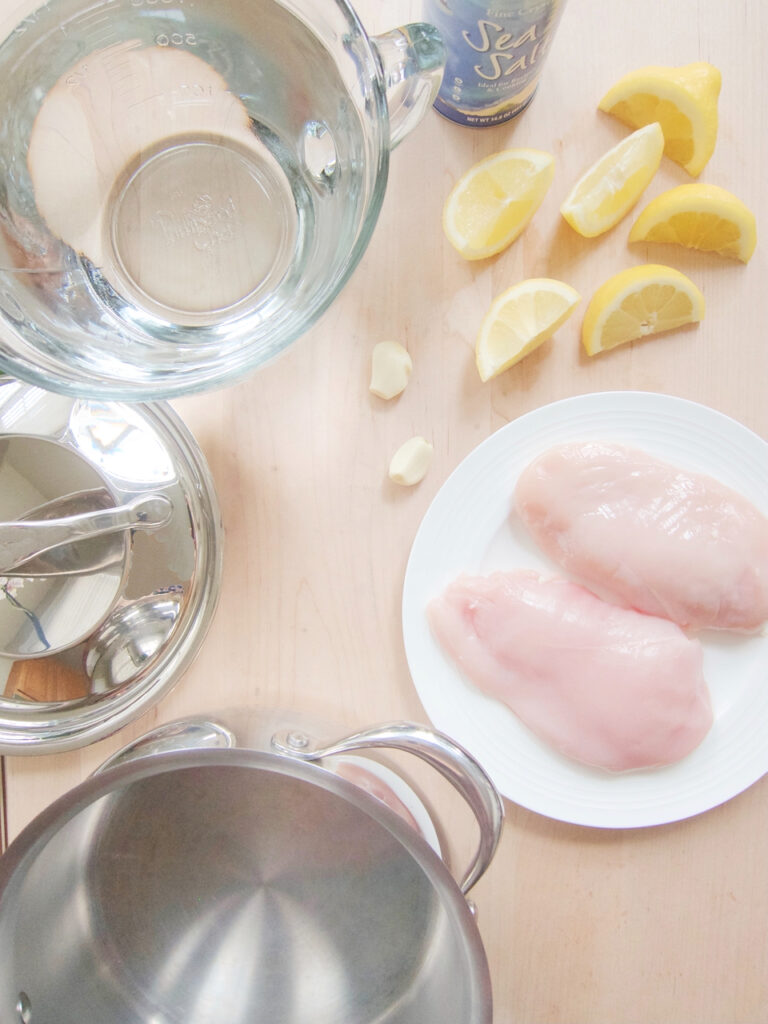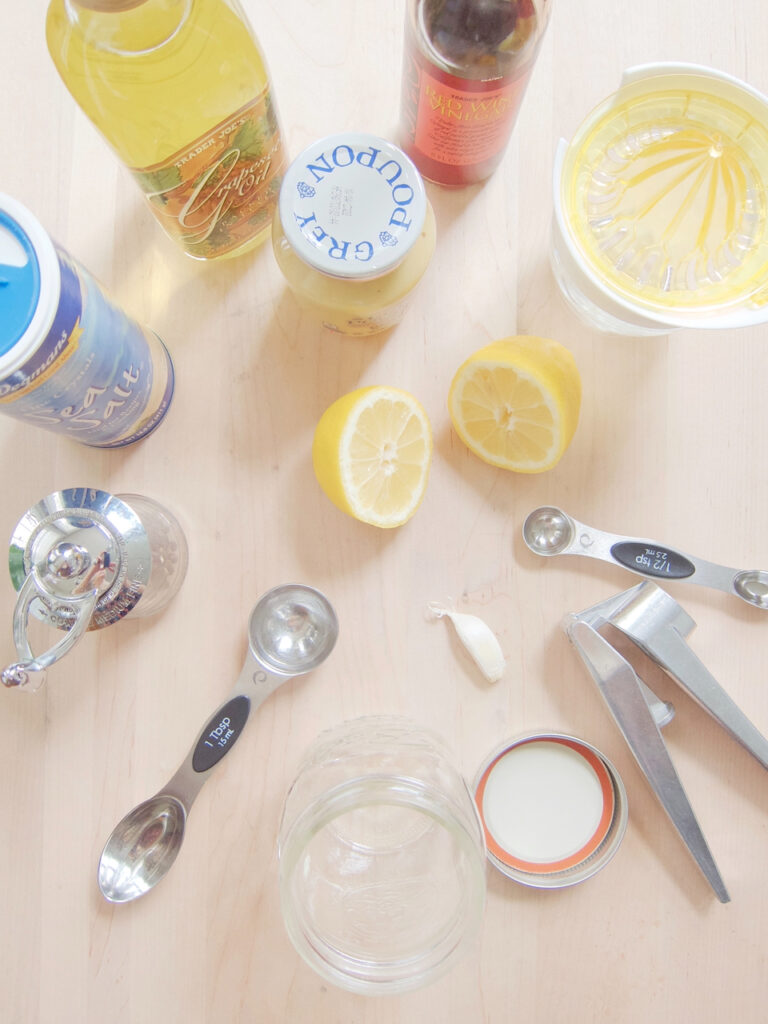 Lemon and Dijon Vinaigrette
Ingredients
3/4 cup olive oil or grape seed oil (If you use olive oil, the dressing will be yellow. If you use grape seed oil, it's light pink)
3 tablespoons red wine vinegar
3 tablespoons lemon juice
1 medium clove of garlic, minced
2 teaspoons Dijon mustard
3/4 teaspoon salt
1/3 teaspoon pepper
Instructions
Place all ingredients in a jar that has a lid and shake until well blended.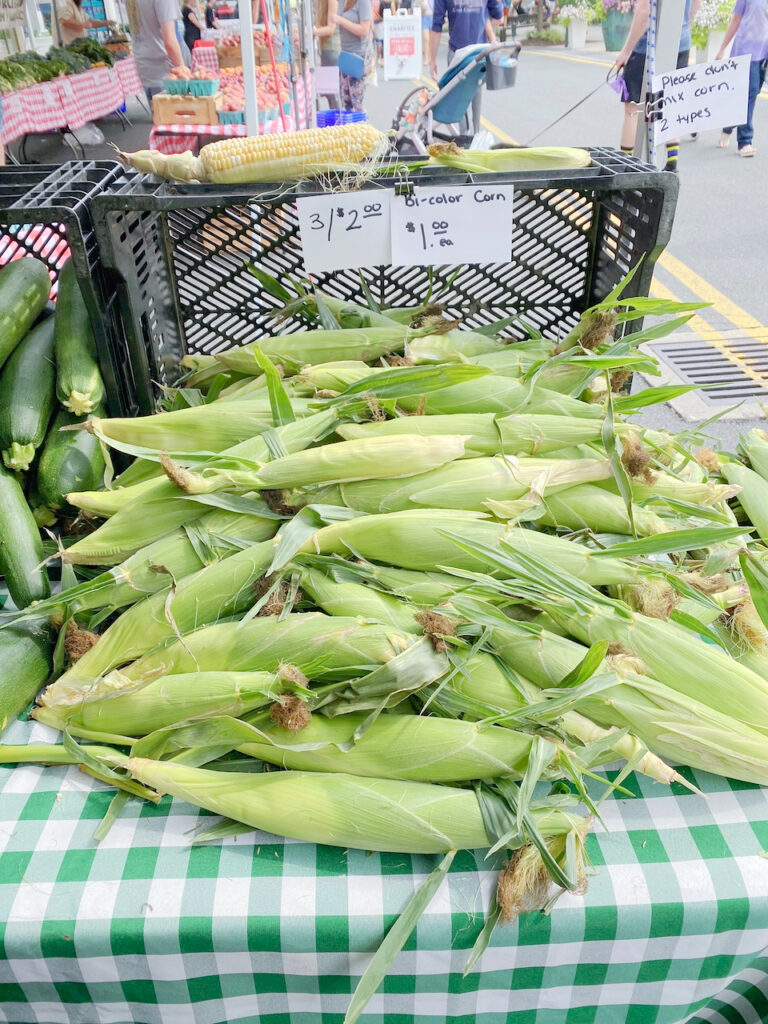 Photo of chives by teaforJudy