Chicken, Fennel and Apple Salad With Sherry Vinaigrette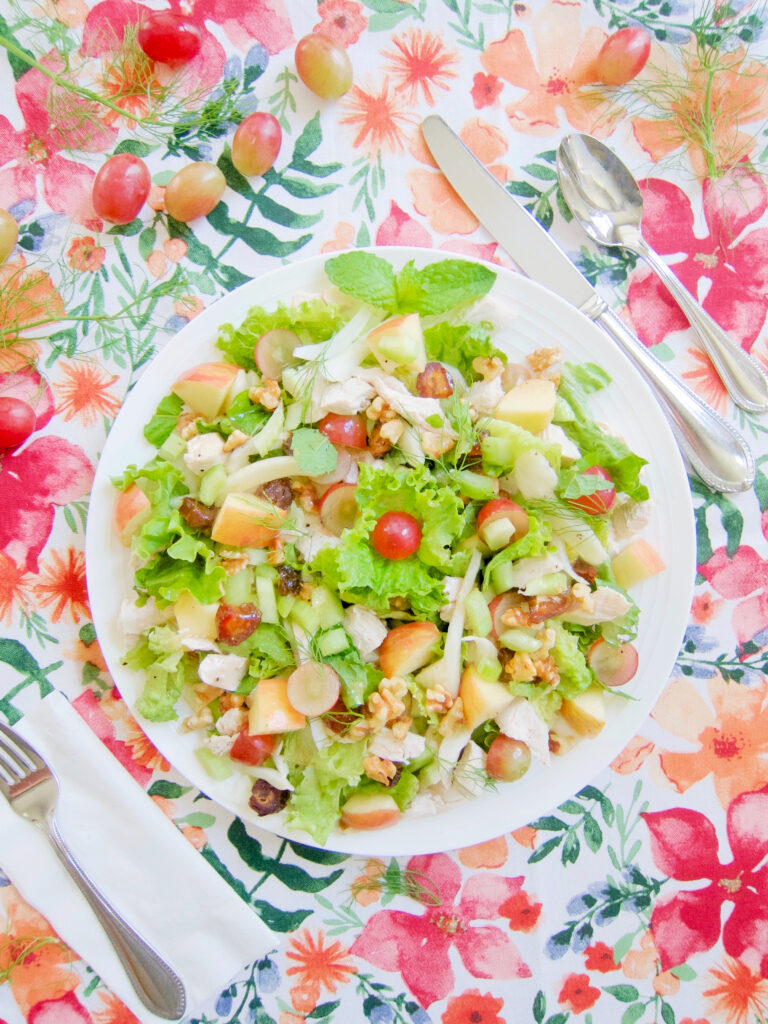 Chicken, Fennel and Apple Salad With Sherry Vinaigrette
Ingredients
8 cups green leaf lettuce, torn into pieces
1 cup thinly sliced fennel bulb (cut out the core so the pieces separate)
1 cup sliced celery pieces
1 large apple, cut in bite-sized pieces
1 1/2 cups grapes, sliced in half
1/2 cup oven toasted (350° 8 minutes) or maple candied walnut pieces
1/2 cup Madjool dates, cut in small pieces
fennel fronds pieces
mint leaves
1 1/2 pounds Perfectly Poached Chicken (recipe below)
Sherry Vinaigrette (recipe below) or Sweet Vinaigrette
Instructions
Place all salad ingredients except the vinaigrette in a large bowl, pour the vinaigrette over everything and toss to coat. Or place the salad ingredients on a plate and drizzle the vinaigrette over everything. Sprinkle with the nuts, fennel frond pieces and torn mint leaves.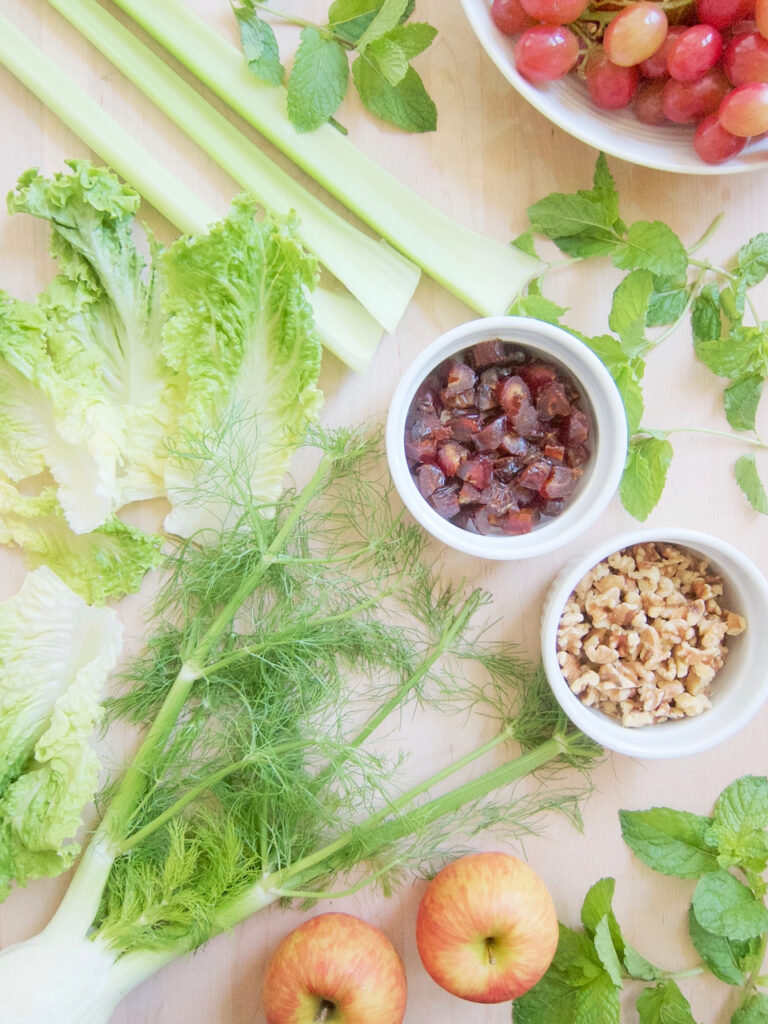 Perfectly Poached Chicken
Ingredients
1 1/2 pounds chicken breasts
8 cups water
2 garlic cloves, peeled
1 lemon, quartered
about 2 dozen peppercorns
1 1/2 teaspoons salt
a few sprigs of parsley
1 bay leaf
Instructions
Wash the chicken breasts and pat dry with paper towels and remove any white connective tissues that will be tough and cut off any pieces of fat. Place the chicken breasts in a zip lock bag and pound the thicker parts until the breast is even and about 1/2″ thick (a little more is okay). If the breasts are large, you can cut them in half before pounding. If you have put them back in the fridge, you'll want to bring them out to come to room temperature for 20 minutes. After about 10 minutes, pour the water into an 8 quart pot, cover and bring to a boil. Place the chicken breasts in the pot using tongs. Add the garlic, lemon, peppercorns, salt, parsley and bay leaf. Place the lid on and stay near the pot to catch it when is starts to boil again. Once the water is boiling, remove the pot from the heat keeping the lid on. Let sit undisturbed for 30 minutes. Take off the lid and transfer the chicken breasts from the pot to a plate to cool. When they are cool enough to handle, slice them lengthwise into four strips, turn and cut into bite-sized pieces (or you can tear them). Chill.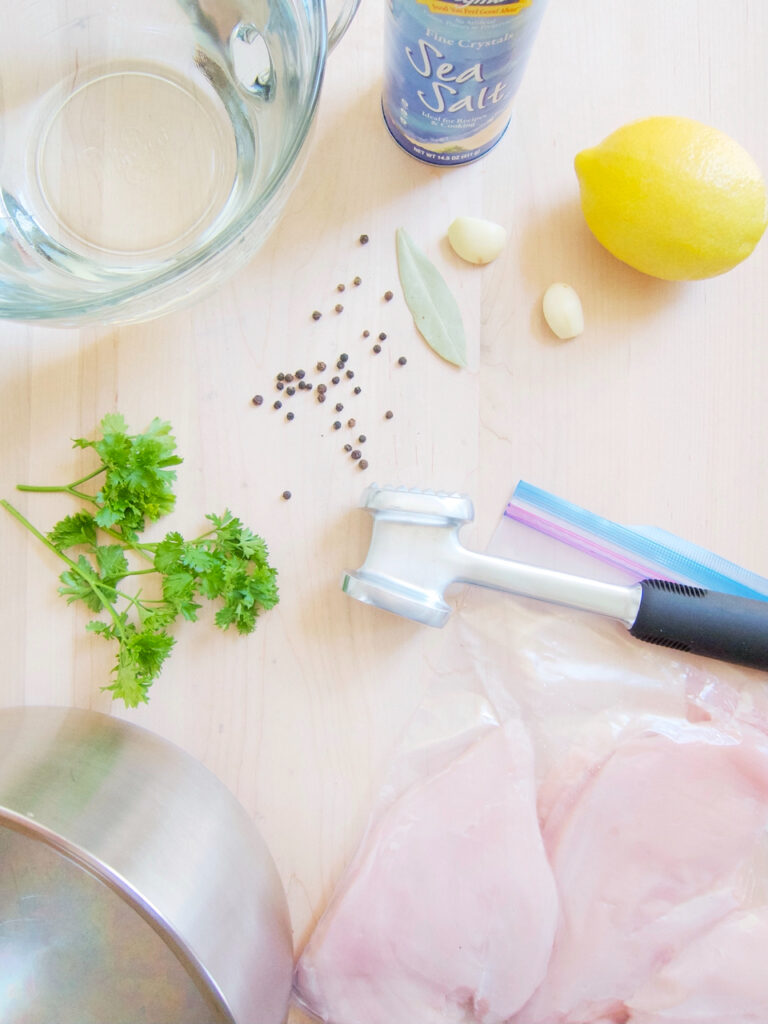 Sherry Vinaigrette
Ingredients
1/2 cup olive oil
1/2 cup plus 2 tablespoons Sherry vinegar
1 1/2 teaspoons maple syrup or honey
1 small minced garlic clove
1/2 teaspoon salt
1/4 teaspoon pepper
Instructions
Place all ingredients in a jar with a lid and shake until well blended.