GF Breakfast With Homemade Maple and Cinnamon Apple Sauce
"The origin of applesauce is often associated with Central Europe, but the first written mention is found in an English cookbook Compleat Housewife, written by Eliza Smith in 1739."
tasteatlas.com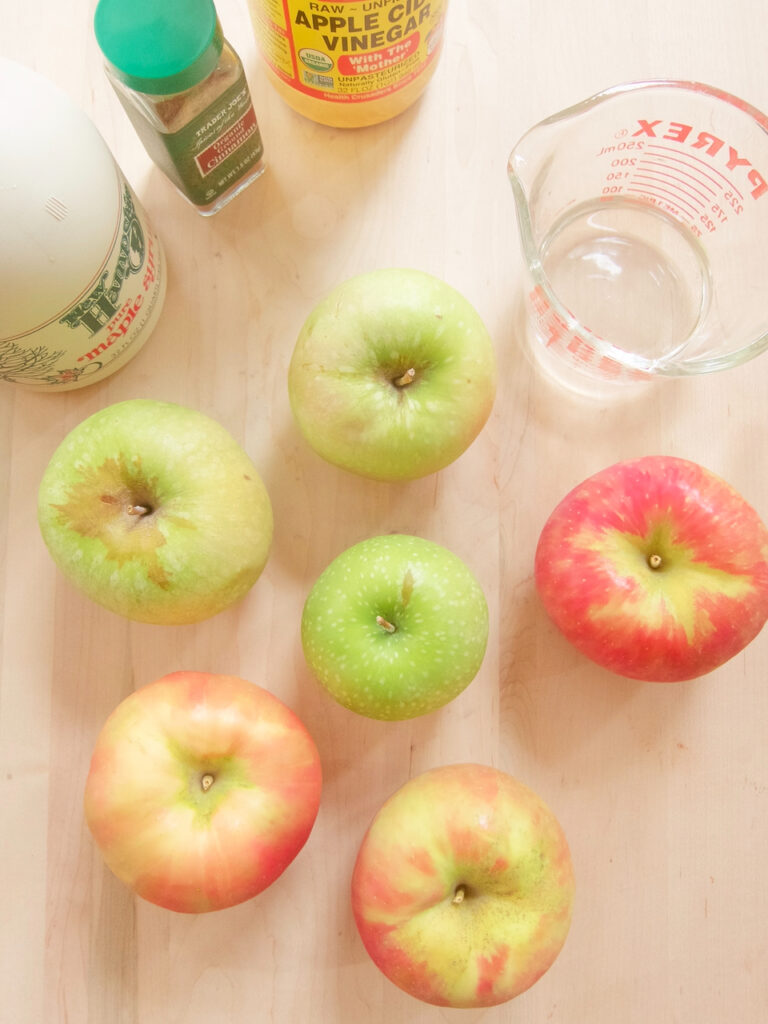 Homemade Maple and Cinnamon Apple Sauce
From cookieandkate.com
Ingredients
1 1/2 pounds tart granny smith apples, peeled and cut in 2″ chunks
1 1/2 pounds sweet apples of choice (I use honey crisp apples), peeled and cut in 2″ chunks
1/3 cup water
2 teaspoons cinnamon
2 tablespoons maple syrup
1 tablespoons apple cider vinegar or 2 teaspoons lemon juice
Instructions
Combine the apples, water, cinnamon and maple syrup in a heavy pot with a lid. Bring water to a boil, then cover the pot and turn the heat down. Cook until tender. If you use a large pot, the cooking time will be about 15 to 20 minutes. If your pot is smaller, it will take 30 to 35 minutes and you will need to stir the apples after 20 minutes so the top ones are down in the juices getting cooked.
Mash the apples with a potato masher and stir in the vinegar or lemon juice.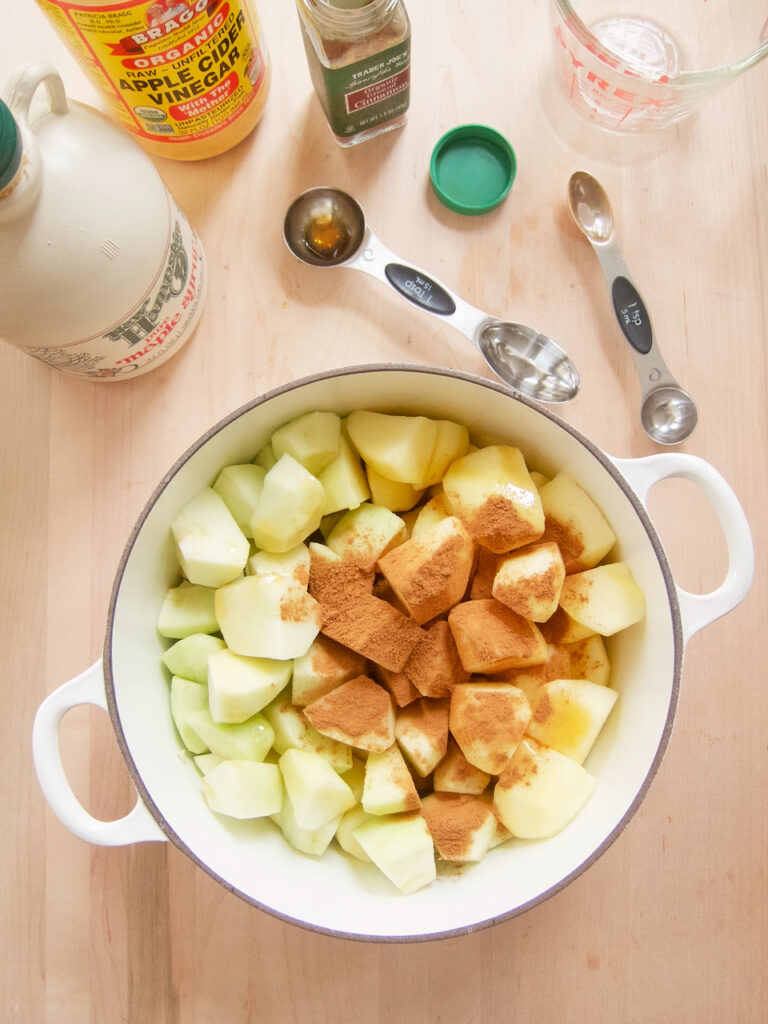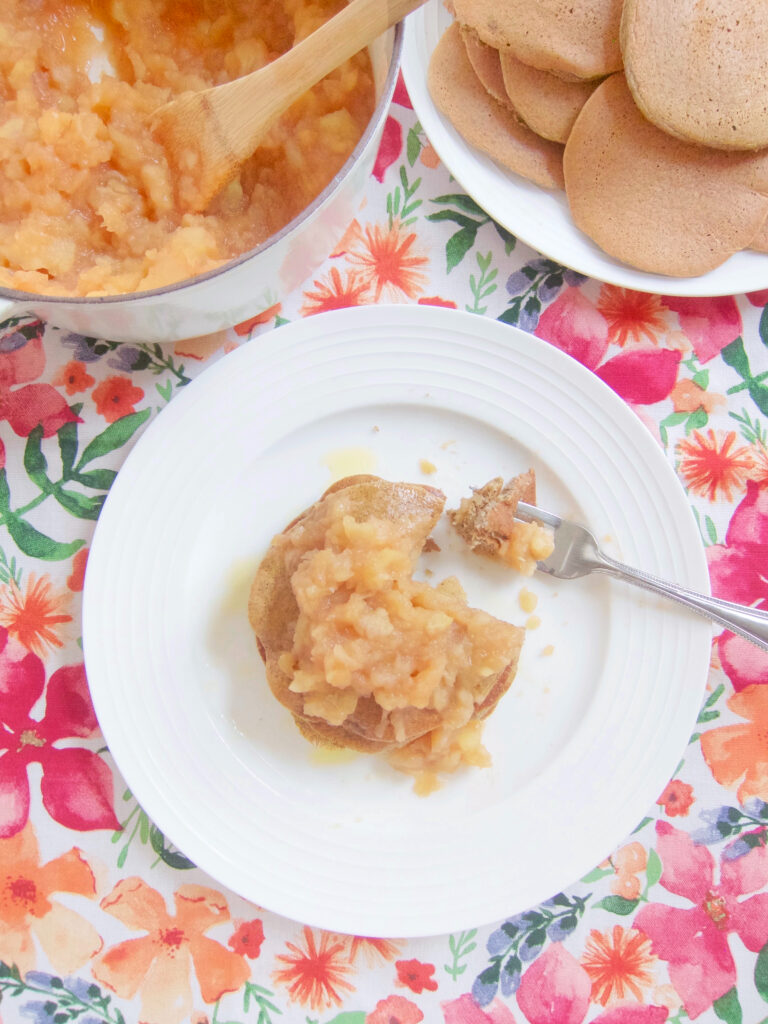 Grain-Free Pancakes
Adapted from cookieandkate.com. Kate uses all buckwheat flour in her recipe. She has come up with in just the right amount of eggs, and dry and wet ingredients to have a batter that is not too thin or thick but spreads out perfectly, rises perfectly and cooks inside perfectly.
Ingredients
1/2 cup buckwheat flour
1/2 cup almond flour
1 teaspoon baking powder
1 teaspoon baking soda
1/4 teaspoon salt
2 large eggs
1 1/4 cup buttermilk
1 tablespoon maple syrup
1/2 teaspoon vanilla
Instructions
Mix all dry ingredients together in a large bowl. Place the eggs, buttermilk, maple syrup and vanilla in another bowl and beat together with a fork or whisk. Pour the liquid ingredients over the dry and mix together with a fork or whisk. Let sit while you heat a large heavy skillet or a pancake griddle to medium high (you may need to do some experimenting to find the right temperature setting).
When the pan is hot, grease the surface with a little butter or avocado oil. Measure about 3 tablespoons of the batter into something small you can use for pouring the batter onto the pan. Kate has a great way to tell when the pancakes are ready to be turned over. Watch for the outside 1″ of the pancakes to turn from shinny to matte. "You'll know it's ready to flip when about 1 inch of the perimeter is matte instead of glossy." Then they are ready to flip. They take about 2 to 3 minutes on each side depending on how hot your griddle is.
Serve with melted butter and warm Homemade Maple and Cinnamon Applesauce.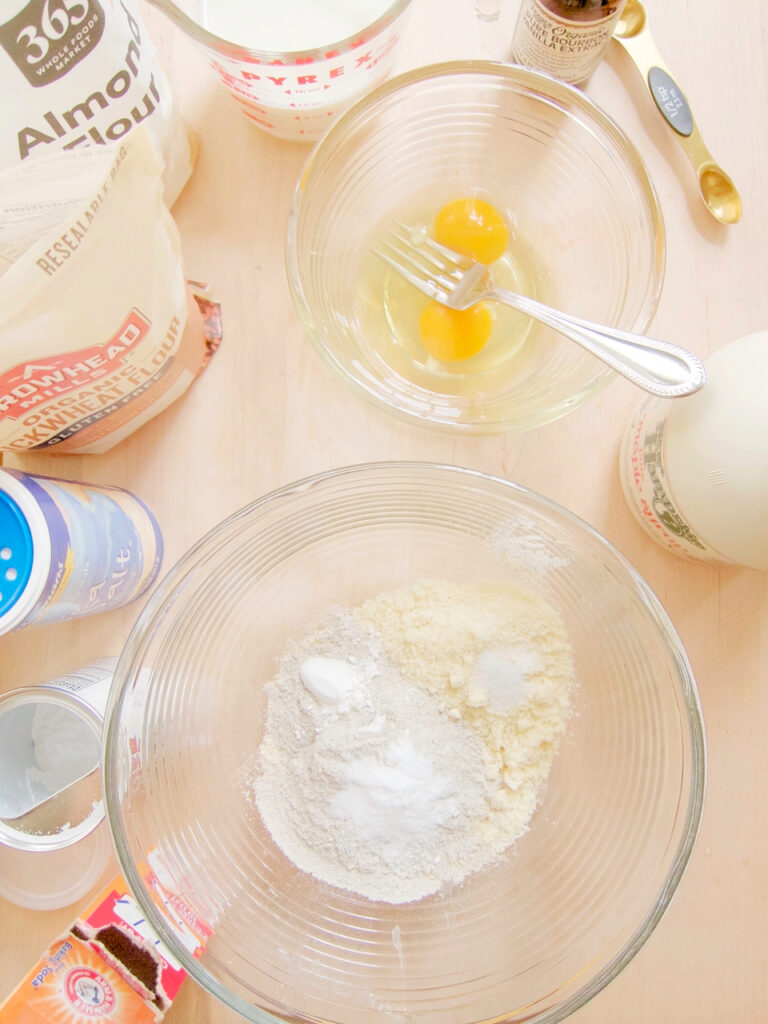 (See also in Kate's post her list of four gluten-free oat pancake recipes for Banana Oat Pancakes, Blender Oatmeal Pancakes, Caramelized Peach and Oat Pancakes and Pumpkin Oat Pancakes.)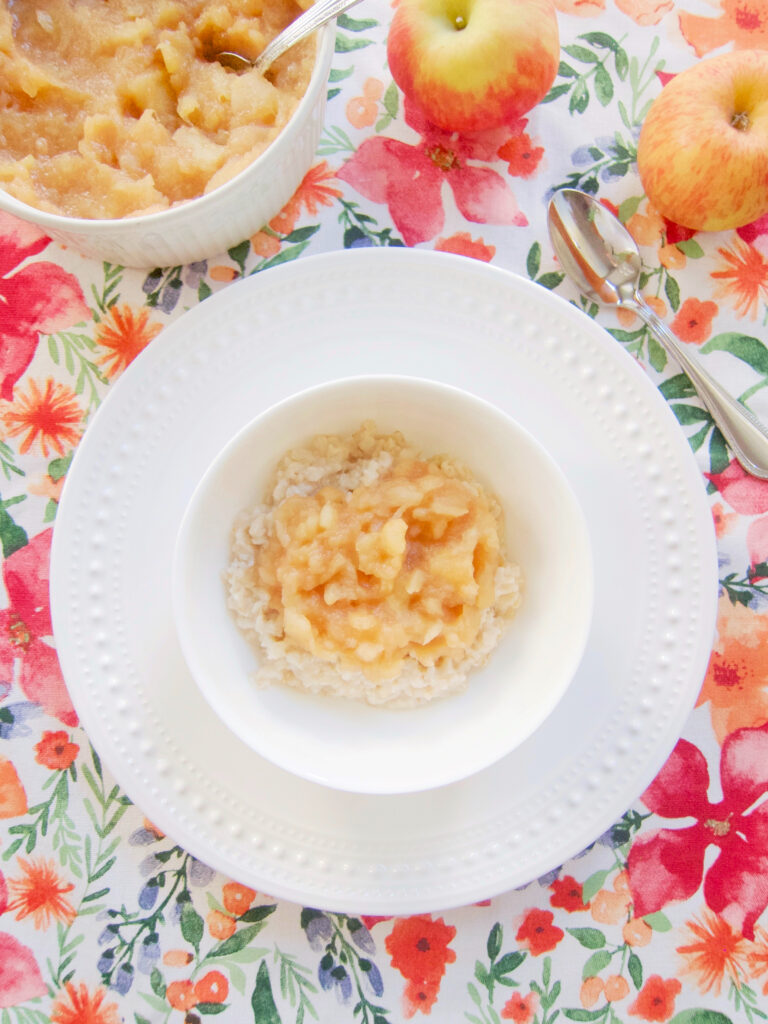 Oatmeal
Ingredients
1/2 cup rolled oats
1 cup water
Instructions
Put oats and water in pan. Cook on low heat, stirring occasionally, for 10 minutes. If your oats are thick, use a little more water and cook 20 minutes. Remove from heat, cover and let stand 5 minutes.
Serve with warm Homemade Maple and Cinnamon Applesauce.