Brown Butter and Bourbon Pecan Pie
There are basically two kinds of pie crusts that you can use for pies. There's a flakey crust uses vegetable shortening that is great for fruit pies with lattice tops. And there is pâte sablée, rich pie crust with an egg yolk, and when you add sugar to it it's like a shortbread cookie. I think this crust is great for pecan and pumpkin pies.
This recipe was adapted from onceuponachef.com. I used the pâte sablée crust and replaced the light corn syrup with more golden syrup.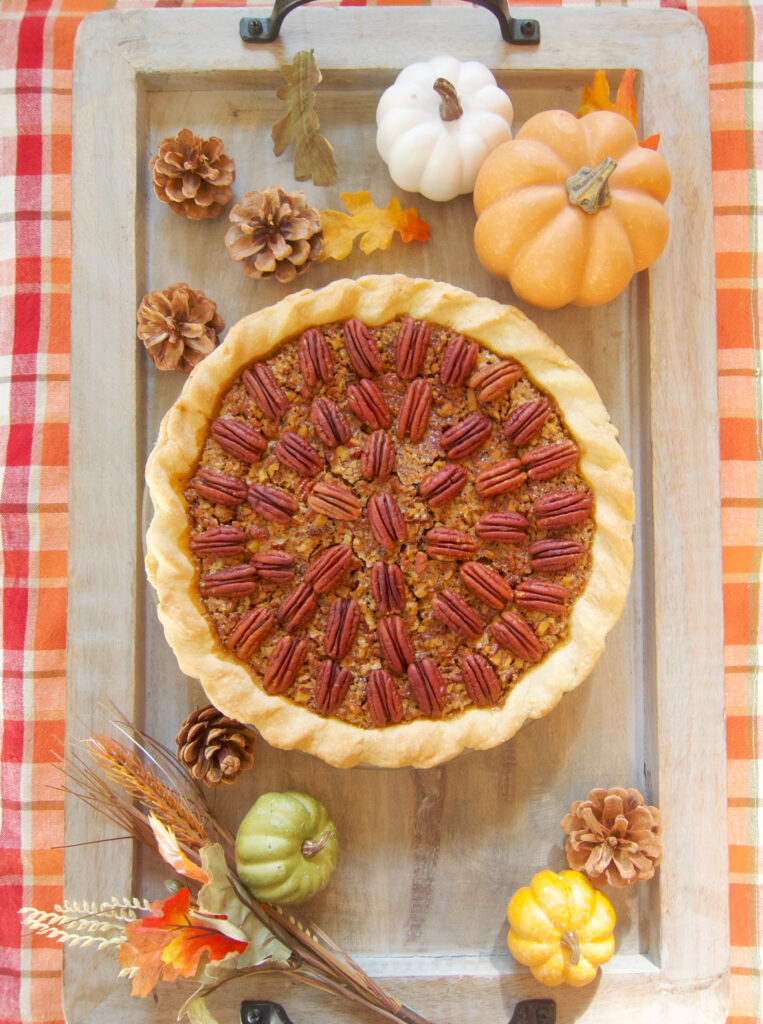 Brown Butter and Bourbon Pecan Pie
Pâte Sablée (rich pie crust with sugar)
(for a standard 9″ pie plate)
Ingredients
7 ounces (about 1 1/2 cups) flour
2 tablespoons powdered sugar
1 stick cold butter, cut in to 8 pieces
1 large egg yolk
4 tablespoons cold water
Instructions
Note: If you weigh the flour, you will use the full 4 tablespoons of water and save yourself the trouble of having to think about whether or not you have the right amount of flour to water ratio. If you measure the flour you will need to add 2 tablespoons of water and then 1 tablespoon at a time add more as needed to get the right consistency. It should look crumbly (not smooth) and be moist (the 'crumbs' stuck together). If there is too little flour or too much water, the dough will be gummy. If the dough is very stiff, you have too much flour or too little water.
You can mix the crust by hand, placing the flour and sugar in a large heavy bowl, cutting the cold butter into 8 pieces dropping them over the flour mixture, then pressing the pieces of butter with the flour mixture together until there are only crumbs are about the size of oats, then make a well and pour in the egg beaten with the water. Or you can use a food processor but you need to be careful that you don't over process the flour and build up its gluten making the crust tough. Place flour, sugar, pieces of butter and egg yolk in a food processor and pulse a few times until the butter is small crumbs about the size of oats. Add the egg yolk and turn the processor on and quickly add the water and turn the processor off just before the dough forms a ball. This takes just seconds.
Pour the dough out on to a piece of plastic wrap. Mold it into a 6″ disk, wrap and chill in the refrigerator for 1 hour.
Roll out on a lightly floured surface to halfway between 1/8″ and 1/4″ in thickness and place into a 9″ pie plate molding it to the sides without stretching the dough so it won't shrink when it's baked. Trim 1/2 inch from the edge of the pie plate, fold the pastry under to make a thicker edge, then flute the edges.
Note: To keep the crust from getting too brown, make a foil collar (see pumpkin pie) and wrap it around the edges. Doing it this way works better than the store-bought pie protectors. To make a collar, you will need 4 3″ pieces of foil. Attach them together in to a long strip by folding the ends together. Then shape the strip in a C shape to enclose the crust. Wrap the collar around the crust, fold the two ends (you may have to tear off 3 inches to make it the right size) and mold into place. If you normally brush milk on your crust, don't as the wet crust can stick to the foil.
Note: To avoid the crust shrinking, one option is to freeze the pie crust for 30 minutes. Another is to blind bake it. Prick the bottom of the crust with a fork about 15 times, line the crust with parchment paper and fill it 2/3's with dried beans. Bake for 15 minutes in a 375° oven. Then remove the parchment and beans and add the filling and continue with the recipe.
MasterClass.com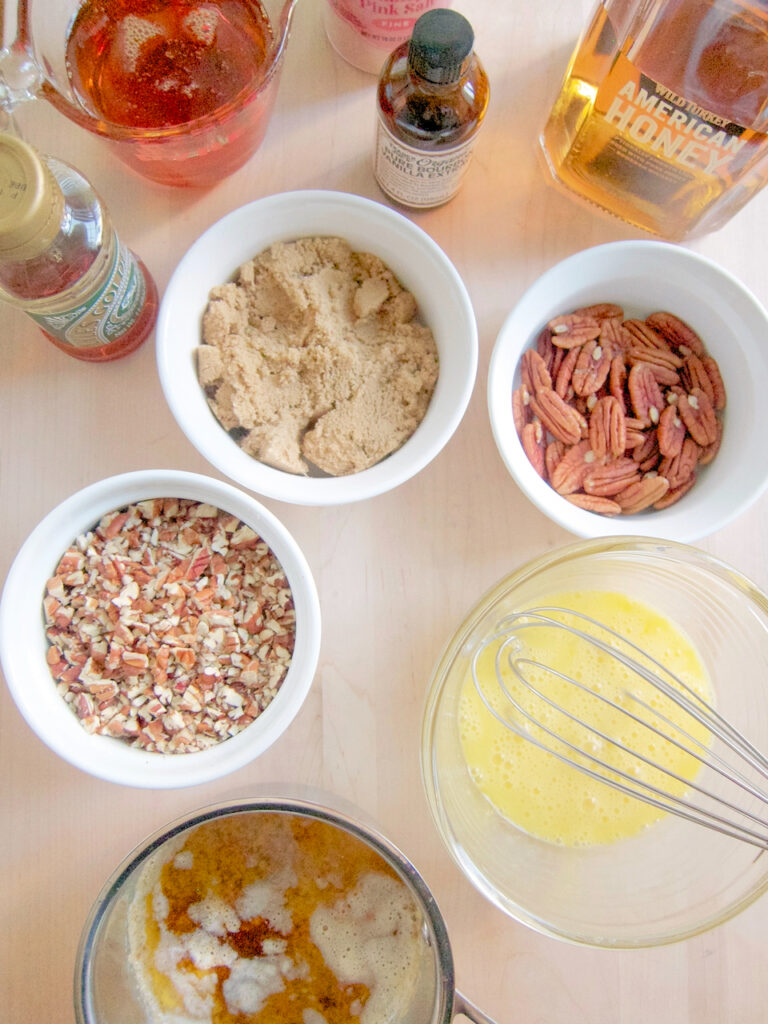 Filling
Ingredients
5 tablespoons unsalted butter
2/3 cup dark brown sugar
1 cup Lyle's Golden Syrup (this is a product from the UK that you can find at World Imports)
3 large eggs, room temperature
1 teaspoons vanilla
2 tablespoons bourbon (Wild Turkey American Honey bourbon is exceptionally delicious.)
1/4 teaspoon salt
1 1/2 cup chopped pecans
whole pecans
Instructions
Melt the butter in a small pan over medium heat. Cook for 5 minutes or until it is light brown and has a nutty small. Let cool. Place all ingredients except the whole pecans in a bowl and whisk together until well blended. Pour into the crust and bake in a preheated 450 degree oven for 10 minutes. Remove from oven and place the whole pecans on the top. Return to oven, turn the heat down to 325 degrees and bake another 50 minutes or until puffy and center isn't jiggling a a lot.
Cool. Serve at room temperature with whipped cream.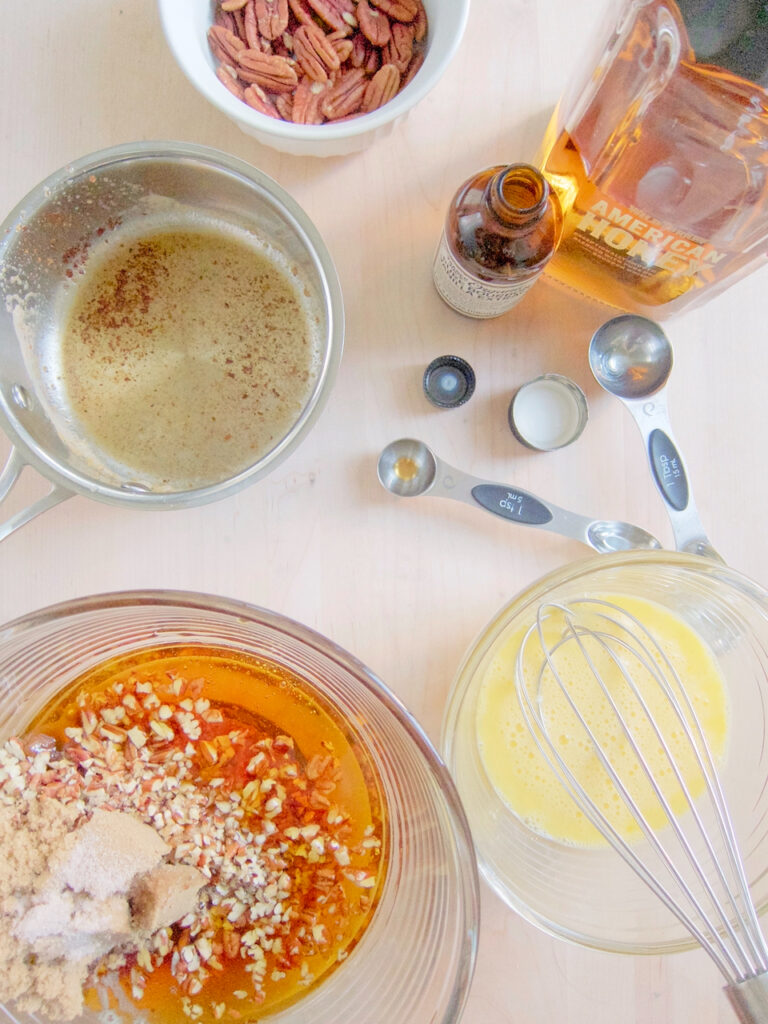 Whipped Cream
Ingredients
1 cup heavy cream
1/4 cup powdered sugar
1/2 teaspoon vanilla
Instructions
Pour the cream into the mixer bowl. Whip for several minutes until peaks are starting to form. Add the sugar and vanilla and continue beating until the cream changes from very soft looking to stiff, before it starts to become butter. At this perfect point the whipping cream will have a very buttery taste and it will hold for more than a day before it starts to separate.