Christmas Breakfast Casserole
My son Richard was just out for a visit and we made Cafe Delight's delicious Sweet Potato Hash Brown Breakfast Casserole together for brunch one morning. We added the whole box spinach and mushrooms and I used my homemade sausage which is made with turkey and has less fat so we needed to add some.
The recipe below was adapted from her recipe. I've put it together a little differently.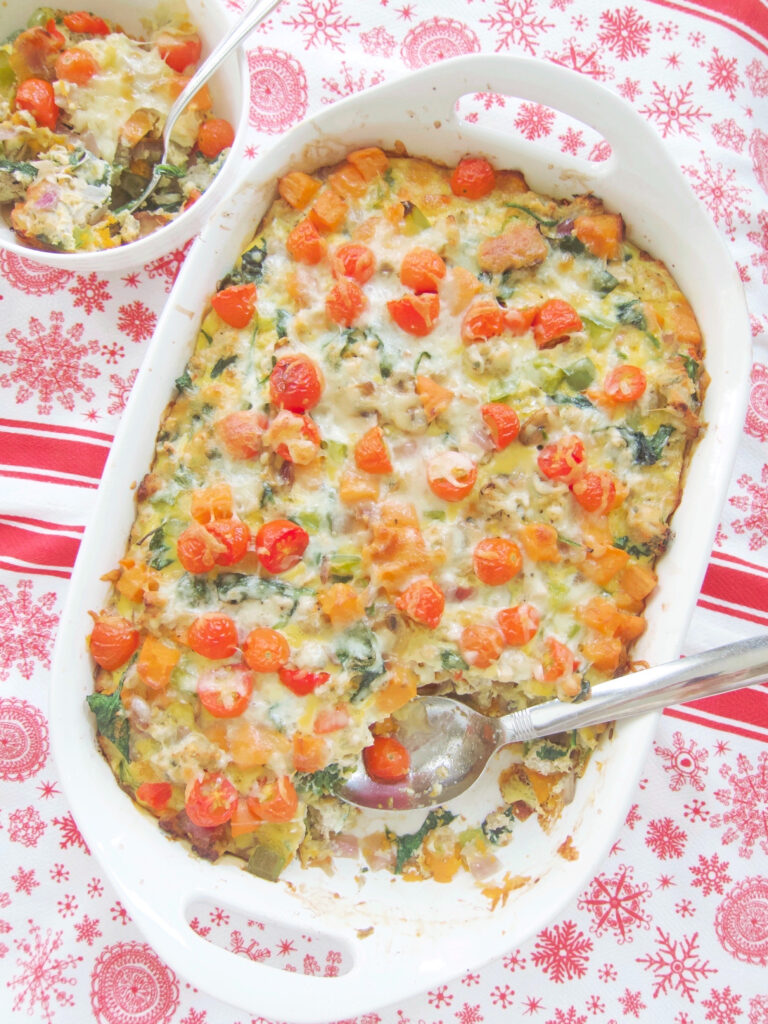 Christmas Breakfast Casserole
Ingredients
1 1/2 pounds (2 medium large) sweet potatoes, in 1/2″ cubes
about 3 tablespoons butter, divided
about 2 tablespoons avocado or olive oil, divided
1 medium red onion, cut in 1/2″ pieces
1 8 ounce box white mushrooms, sliced
2 cloves garlic, minced
1 red bell pepper, cut in 1/2″ pieces
1 green bell pepper, cut in 1/2″ pieces
1 8 ounce box spinach
1 cup grape or cherry tomatoes
1 pound Homemade Apple and Sage Sausage (recipe below)

(You can make this a vegetarian dish by omitting the sausage and adding 2 tablespoons hot sauce.)

1 dozen large eggs
1/3 cup milk or cream (optional)
1 teaspoon salt
1/4 teaspoon pepper
4 ounces (about a cup) mozzarella cheese, grated
Instructions
Butter and 9 by 12 casserole. Heat a large skillet on medium high. Melt 1 tablespoon of butter and 2 teaspoons oil. Add the sweet potatoes and sauté until golden and starting to caramelize. Cover with a lid and cook 5 minutes or until tender. Spoon into the casserole.
Add another tablespoon of butter and 2 teaspoons of oil to the skillet. Add the onions and mushrooms and sauté until starting to caramelize. Add the minced garlic and cook 1 minute. Spoon into the casserole over the potatoes.
Add 1/2 tablespoon butter and a little oil to the skillet. Add the peppers and cook 2 minutes, then add to the casserole.
Break up the sausage in the skillet and cook until there is no pink. Add the spinach and stir with the sausage until the leaves have all wilted. Add to the casserole. Gently stir all the layers together (I used a wide spatula and lifted from the bottom over the top).
Beat the eggs in a bowl. You can add 1/2 cup milk if you wish. Add the salt and pepper. Pour this mixture over the mixture in the casserole. Top with the tomatoes then sprinkle the cheese over everything.
Bake in a 375° oven for 45 minutes. Let rest a few minutes. This dish is best eaten right away.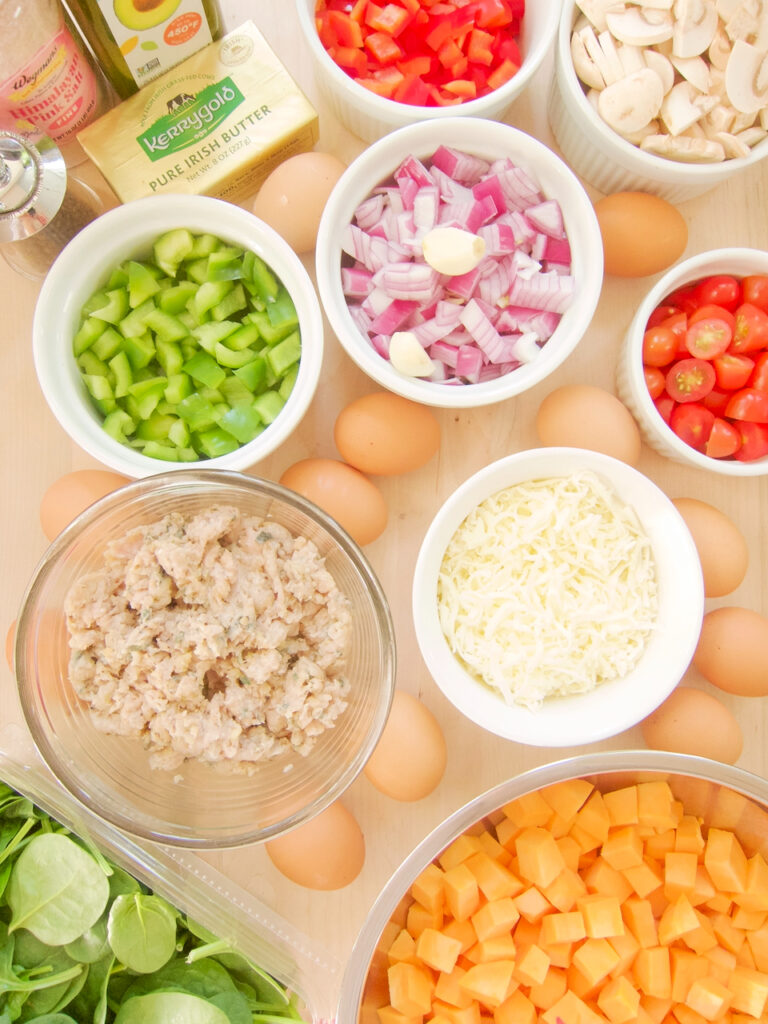 Homemade Apple and Sage Sausage
Ingredients
1 lb ground dark turkey meat
1 honey crisp apple, cored, peeled and chopped small
1/4 cup chopped fresh sage
1 1/2 teaspoons fennel seeds, partially ground in a mortar and pestle
3 garlic cloves, minced using a garlic press
1 teaspoon salt
1 teaspoon ground pepper
Instructions
Mix all the ingredients together. Can be frozen for later use.