Holiday Twice-Baked Hasselback Potatoes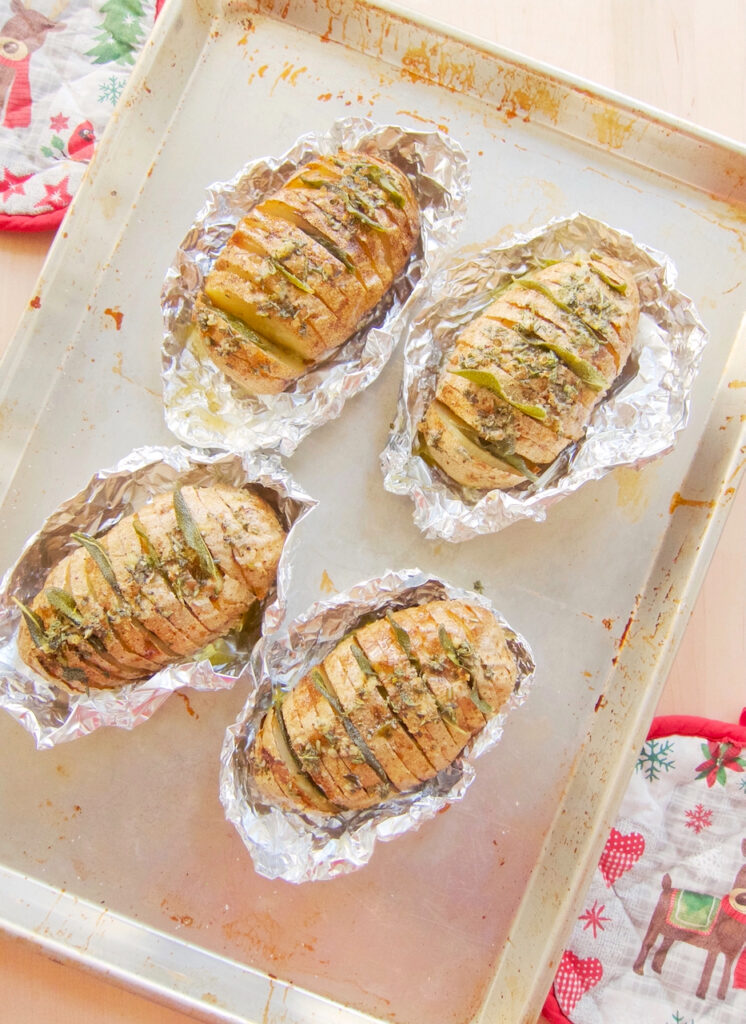 "Hasselbackspotatis is the Swedish way of roasting potatoes. Its name comes from the Hasselbacken Restaurant, now attached to a hotel in central Stockholm.
Hasselbacken was first established in the 1700s as a tavern and was originally just a traditional red hut in the middle of thicket of hassel (hazel) on quite a steep backe (slope), which is how it got its name."
https://www.swedishfood.com/swedish-food-recipes-side-dishes/129-hasselback-potatoes
Normally hasselback potatoes are sliced raw, seasoned, drizzled with oil and butter and baked. I tried this, twice, and the top skin comes out tough and the potatoes have little flavor. As I was reading the comments under the recipes online, others were experiencing the same thing and most were complaining about the butter and oil smoking up their kitchens. Someone said just plain baked potatoes were better and I agreed. But hasselback potatoes are really beautiful. One person mentioned they'd tried to solve the toughness problem by microwaving them first so they wouldn't need to bake as long. Microwaving is like boiling. The skins would not end up the right golden brown color and texture without the full hour of baking at the high temperature.
My son Craig and his wife Carrie are my taste testers helping me with recipes and we sat around the table analyzing these beautiful potatoes. Carrie cared more about the taste and Craig the texture. As we were talking about the two problems, Craig asked if they could be baked first as a baked potato and then sliced. I knew hot potatoes wouldn't hold a shape when they were sliced. But if you baked them, then chilled them, they could be sliced. I tried this and to avoid the smoking, placed the potatoes in foil boats and added the herbed butter after they were baked a second time. The potatoes absorbed the butter and other flavors and the skin didn't get dried out and tough. Problems solved.
It is more difficult to cut the potatoes thin after they are cooked but if you get them very cold, you can do pretty well. Also to get all the flavor at its best, make sure the garlic is browned.
Twice Baked Hasselback Potatoes
Ingredients
4 russet potatoes
avocado oil
1/3 cup plus 2 tablespoons unsalted butter, divided
2 teaspoons rosemary, cut small
2 teaspoons fresh thyme, cut small
1 teaspoon minced fresh sage leaves
2 cloves of garlic, minced
1 teaspoon salt
1/2 teaspoon pepper
20 fresh sage leaves
Instructions
Preheat oven to 425 degrees. Place a piece of foil on a baking sheet.
Rinse and scrub potatoes with a vegetable brush. Let them dry. Rub them with avocado oil and sprinkle them all over with salt. Prick in three places with a fork, going in about 1/8″ to 1/4″ (this keeps the steam from building up and the potato possibly exploding). Set the potatoes on the foil lined pan. You will be setting your timer to go off every 20 minutes so you can flip the potatoes over with tongs and move them around for even baking. Bake them in a 425 degree oven for 1 hour or until they can be pressed in easily because they are soft inside.
If you have different sizes, pull out the smaller ones and let the larger ones cook longer. If the potatoes are extra large in size, bake an additional 15 to 20 minutes, then start checking for softness. Cool and refrigerate at least 5 hours or overnight (The colder they are, the easier to handle).
Using a small serrated knife (steak knife), make 1/8″ to 1/4″ slices in the potatoes leaving a 1/4″ not cut on the bottom. You can place chop sticks on either side of the potato to keep from cutting all the way through.
Place the potatoes in foil boats and set them on a baking sheet. Using a pastry brush and, brush them with avocado oil, brushing in between the slices (you can open the slices with a dinner knife). Bake in a 400° oven until hot and starting to get crispy, about 30 minutes.
Melt the 2 tablespoon butter in a skillet and lay about 20 sage leaves in the butter. Let cook briefly until they crisp up, turning them over one or two times with tongs.
Melt the 1/3 cup butter with the herbs, garlic, 1 teaspoon salt and 1/2 teaspoon pepper in a small saucepan. Keep the temperature on medium. When the garlic is golden brown, the herbed butter sauce is ready.
Spoon the butter sauce over the potatoes. Place 5 crispy sage leaves between slices of each potato. If there's butter in the sage skillet, pour it over the potatoes.
Keep hot in the oven until ready to serve.