Holiday French Toast (Pan Dulcis)
For last year's Christmas Panettone French Toast I used only bread, eggs, butter and maple syrup, a simple recipe from my childhood.
After reading Bon Appétit's The 7 Most Common French Toast Mistakes I was inspired to do another French toast post because I'd learned that what I had been making for years wasn't authentic French toast. Real French toast has a custard base. When I finished that article I went over to Bon Appétit's recipe for French toast and and then to the Food Network's recipe, which are both the basics for a custard based French toast, one that is more like bread pudding. And it's more like a dessert than breakfast.
A basic custard recipe has several variations, plain or with spices and flavorings, and after you've figured out how you want to do it, there are dozens of delicious toppings to choose from. This week my kitchen felt like a French toast version of International House of Pancakes as I tried all different breads and toppings.
There are some important nuances I discovered like the ratio of milk/cream to eggs and also the amount of sugar. Also the thickness of the bread and the soaking time make a big difference in the results. Bon Appétit's article says, "The ideal thickness for a slice of French toast is 3/4″ to 1″ thick." Using thick bread and soaking it causes it to become fluffy inside which is what makes the dish like bread pudding. You may not like it this way. You may prefer the thinner version. Some cooks are saying sour dough is the best bread to use. This probably has to do with preferring the denseness of it. Others think brioche, which is very light, is the "ideal" bread to use.
Another set of nuances that made big differences had to do with the age, or dryness, of the bread. The French call this dish "lost bread" because they use day old bread. You can also toast the bread lightly to dry it out.
As I played with the soaking, I learned that you completely miss out on the fluffy bread pudding texture if you don't soak the bread and some breads will soak up the custard faster than others. Also the temperature of the pan and the cooking time changes the inside from being fluffy, but maybe too mushy, to being fluffy with more texture. To avoid dealing with a possibly mushy center where the eggs didn't have enough time to set well, I added the step of baking them in a 350° oven for 10 minutes and this made them fully puff up and they were perfect inside.
I'm guessing there are a lot of great ways to make great French toast and it may be difficult to choose a favorite. The three I chose for this post are all delicious and then you will find a copycat from a local French restaurant at the end of the post.
I wish I could make French toast a different way every day for a month.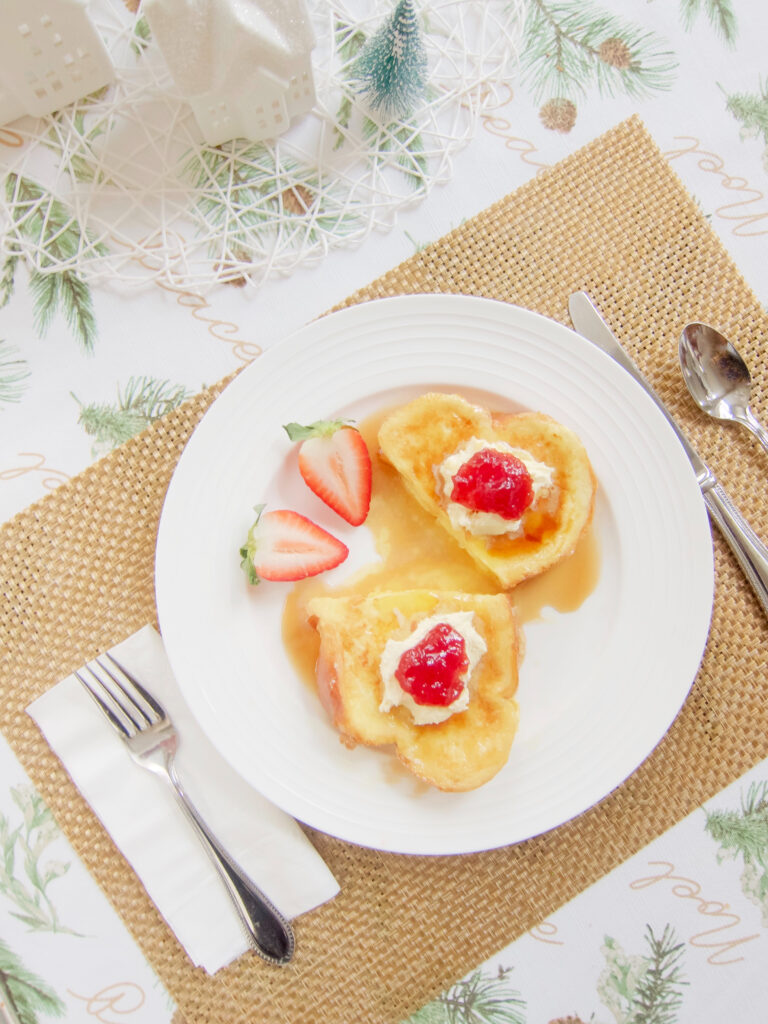 (Pictured: French toast made with challah bread and served with clotted cream, strawberry jam and warmed maple syrup)
Helpful links:
Bon Appétit's Best French Toast
Food Network's Panettone French Toast
Add vanilla, cinnamon and nutmeg to the custard. (She calls for 2 tablespoons of vanilla. There are Vanilla French Toast recipes that call for this much. Normal recipes are about 1 teaspoon per 1/2 cup milk or cream.)
Martha Stewart's Classic French Toast
Flavor the custard with pumpkin pie spices or gingerbread spices.
Add a Pinch's French Toast Recipe
Make the custard with eggnog, vanilla, nutmeg and cinnamon. "Serve with melted butter, a dusting of powdered sugar and a drizzle of maple syrup.
The Girl Who Ate Everything's Eggnog French Toast
Make an "Easy Spiced Syrup: Add 1 teaspoon McCormick® Pure Vanilla Extract and 1/4 teaspoon McCormick® Ground Cinnamon to 1 cup pancake syrup; stir well to mix.
McCormick's Quick and Easy French Toast
Serve with caramelized bananas, blueberry sauce, raspberry sauce, strawberry sauce.
A Couple Cooks' Best French Toast Recipe.
How does French toast with caramelized peaches or pears or apples sound? Yum!
Day old bread works well but this website says oven toasting the bread first will create a crispier outside. "Set a wire rack on a rimmed baking sheet in the oven and preheat to 200°F. If using very fresh, moist bread, arrange slices in a single layer on the rack and cook in oven, turning once, until lightly toasted, about 10 minutes."
Serious Eats' Perfect Quick and Easy French Toast.
"Serve the French toast warm from the skillet with maple syrup, agave nectar, or your favorite topping for breakfast. (Blueberry compote or sauteed apples are also nice.) A little pat of butter could also go on top as well. It can be served for dessert, as the French do, which is called pain perdu (lost bread), along with a scoop of ice cream and some caramel sauce."
David Lebovitz' Panettone French Toast
The Daring Gourmet's Candied Orange Peel is a nice garnish for French toast. You can also use a julienne tool for more slender garnish and skip the initial boiling that removes the bitterness and just do the simple syrup boiling that turns them translucent and candy-like where they are both sweet and bitter.
Want to make a French toast casserole? You might like crème brûlée French toast.
New York Time's Creme Brulee French Toast
Allrecipe.com's Creme Brulee French Toast
Another French toast soaked overnight then baked in the oven is William Sonoma's Meyer Lemon French Toast.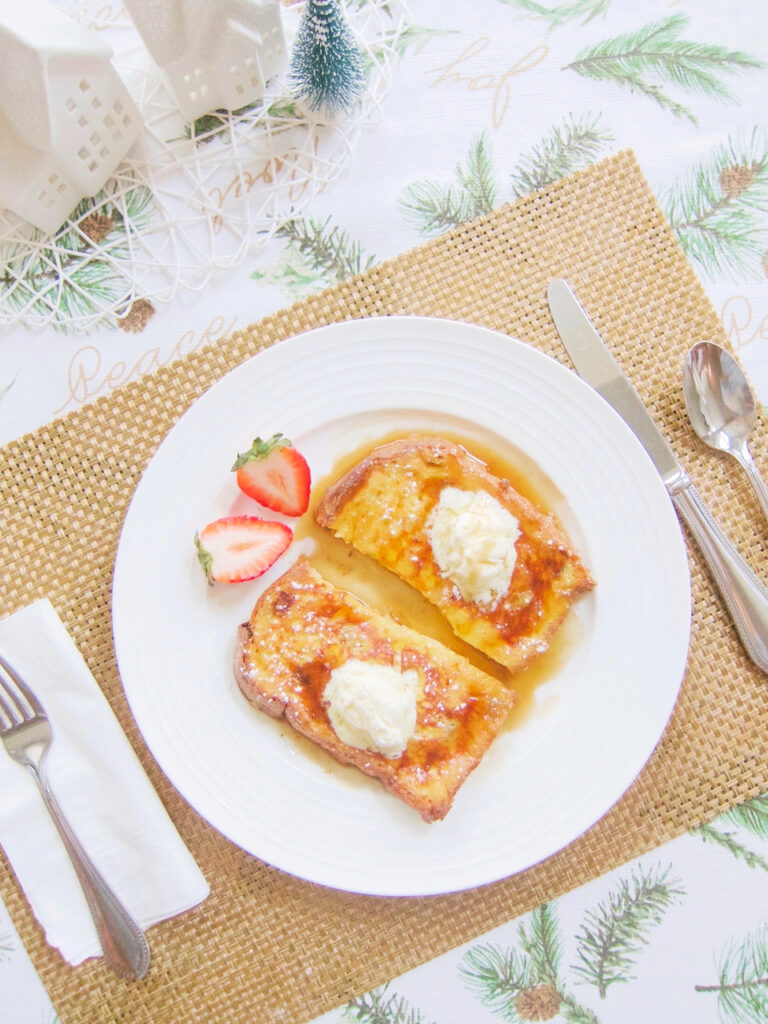 (Pictured: French toast made with panettone bread and served with marscapone and Cinnamon Syrup)
Holiday French Toast
Adapted from Bon Appétit's Best French Toast and Food Network's Panettone French Toast
Ingredients
a loaf of panettone bread, or day old challah or brioche or chocolate brioche, in 3/4″ to 1″ slices
6 large eggs (if your 'large' eggs are on the small side, add one more)
3/4 cup whipping cream
3/4 cup milk
1/4 cup sugar (or less if using sweetened breads)
2 tablespoons of vanilla
Instructions
Preheat the oven to 350°. Place a wire rack on a baking sheet in the oven. Whisk the eggs, cream, milk and sugar together (and spices if using). Pour this mixture into a lasagna type casserole. Heat the griddle or large skillet and add a tablespoon each of butter and avocado oil. Lay the bread in the custard and let it soak for 10 minutes on each side, then place in the skillet and cook for about 4 minutes on each side, or until golden brown. Transfer to the rack in the oven and bake 10 minutes to set the custard in the middle. Don't leave in the oven or they will overcook.
Toppings
maple syrup, warmed
Cinnamon Syrup (below), warmed
Butter With Honey and Orange Zest Sauce (recipe below)
whipped butter
clotted cream and strawberry jam
candied orange peel
blueberries
powdered sugar
Instructions
For the blueberries, warm the maple syrup and drop in the blueberries to warm up and soften. Don't let boil or the skins of the blueberries will separate from the flesh of the blueberries and will be chewy.
Cinnamon Syrup
From Food Network's Panettone French Toast recipe
Ingredients
1 cup water
1 cup packed dark brown sugar
2 tablespoons whipping cream
1/2 teaspoon cinnamon
Instructions
Combine the water and sugar in a small saucepan. Bring to a boil stirring a few times to get well mixed. Let boil down to 1 cup. Remove from heat and whisk in the cream and cinnamon. This can be made ahead of time and refrigerated and rewarmed before serving.
Butter With Honey and Orange Zest Sauce
Ingredients
1/2 cup butter
3 tablespoons clover honey
1 tablespoon orange zest
Instructions
Place all ingredients in a small saucepan and bring to a boil. Skim any foam off the top. Then keep warm. These ingredients separate so you need to spoon this sauce over the toast.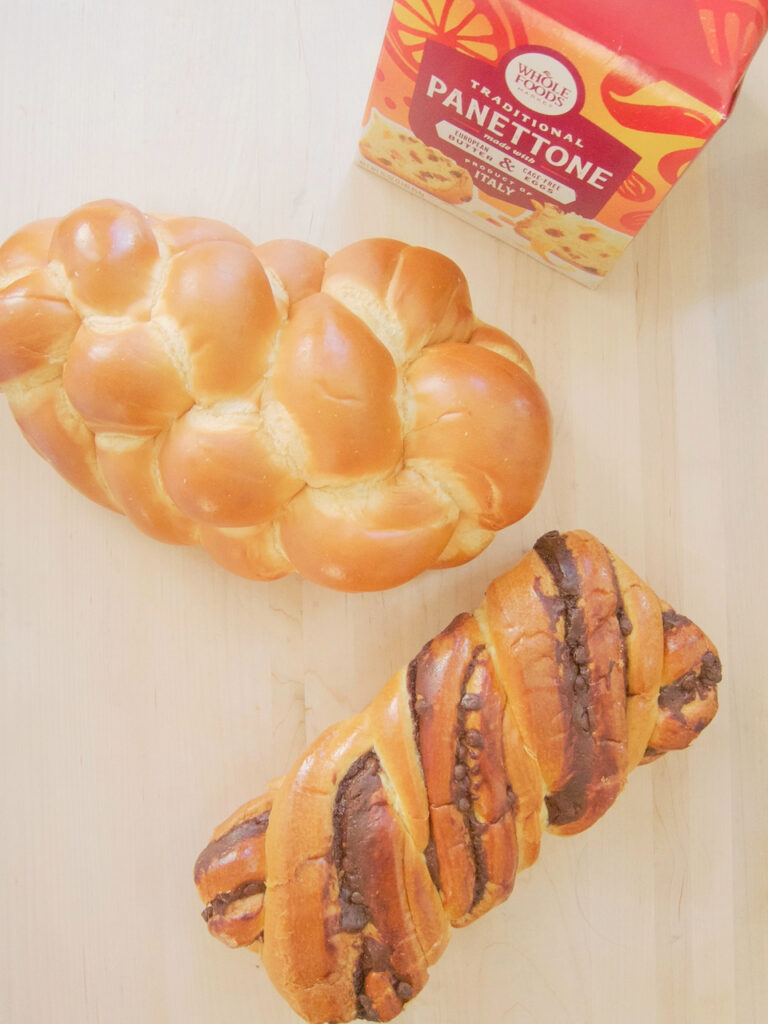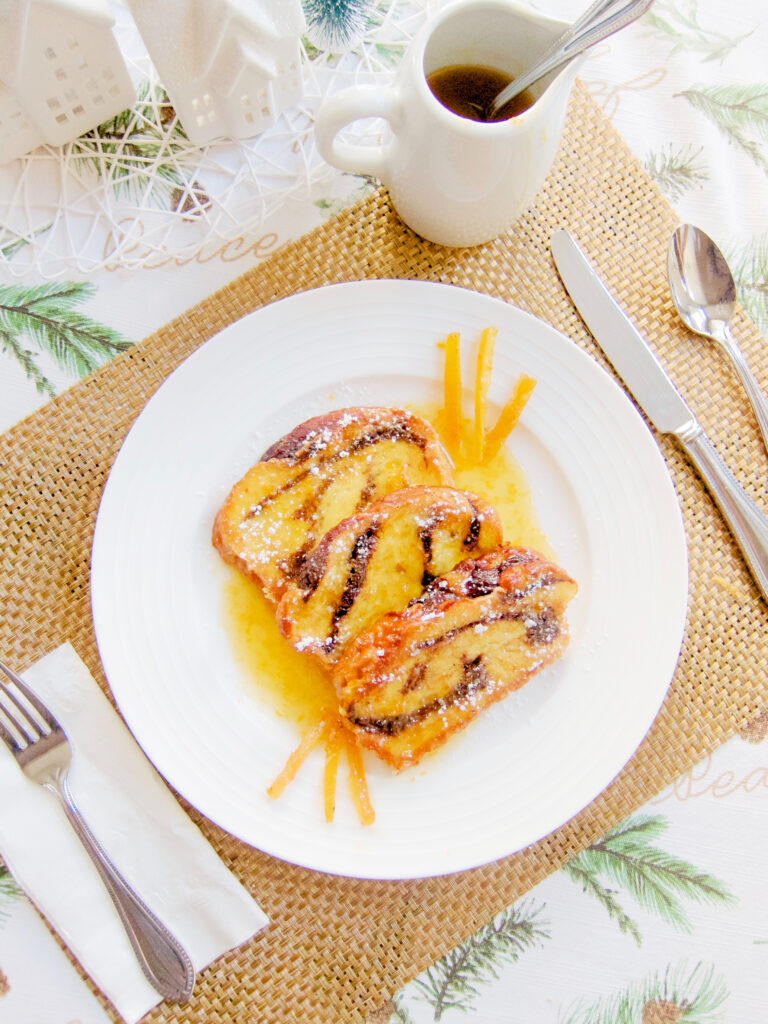 (Pictured: French toast made with chocolate brioche topped with melted butter with honey and orange zest spooned over the toast and served with candied orange peel)
Follow the link to make your own candied orange peel. You have the option of coating them in sugar or leaving them glazed.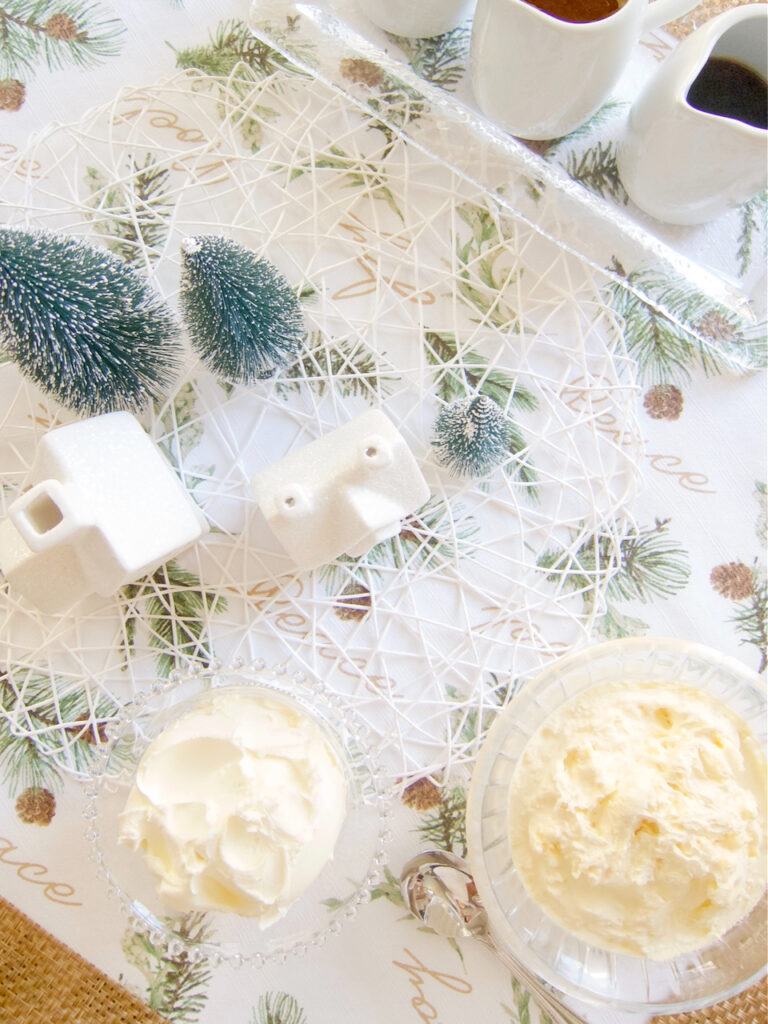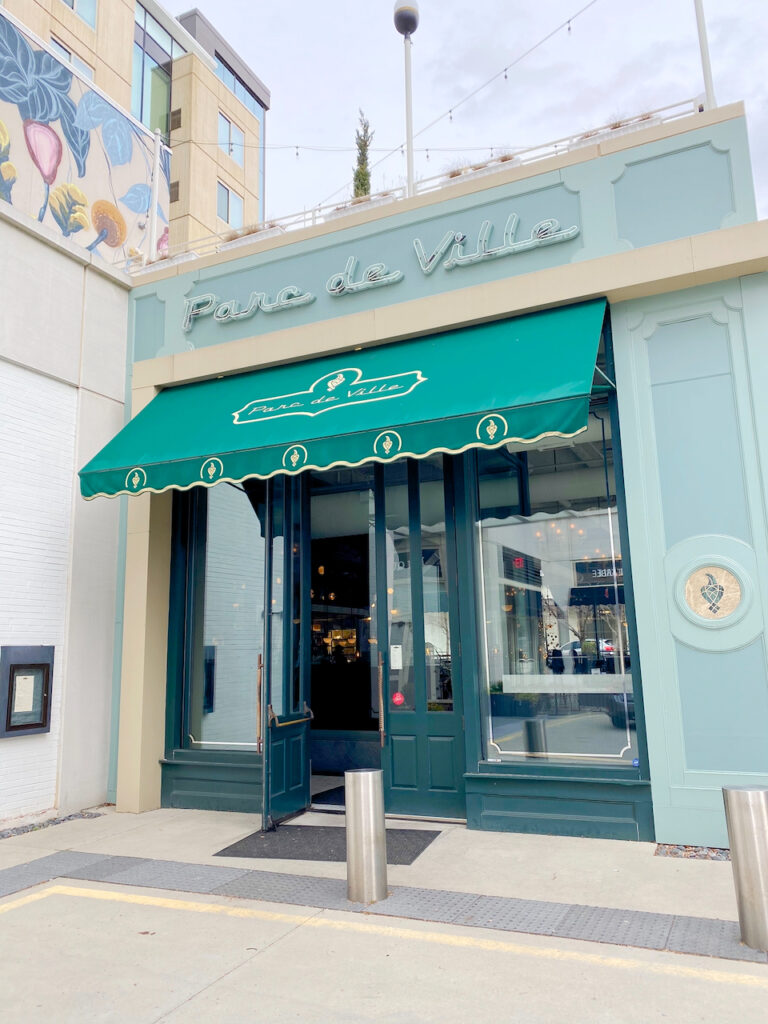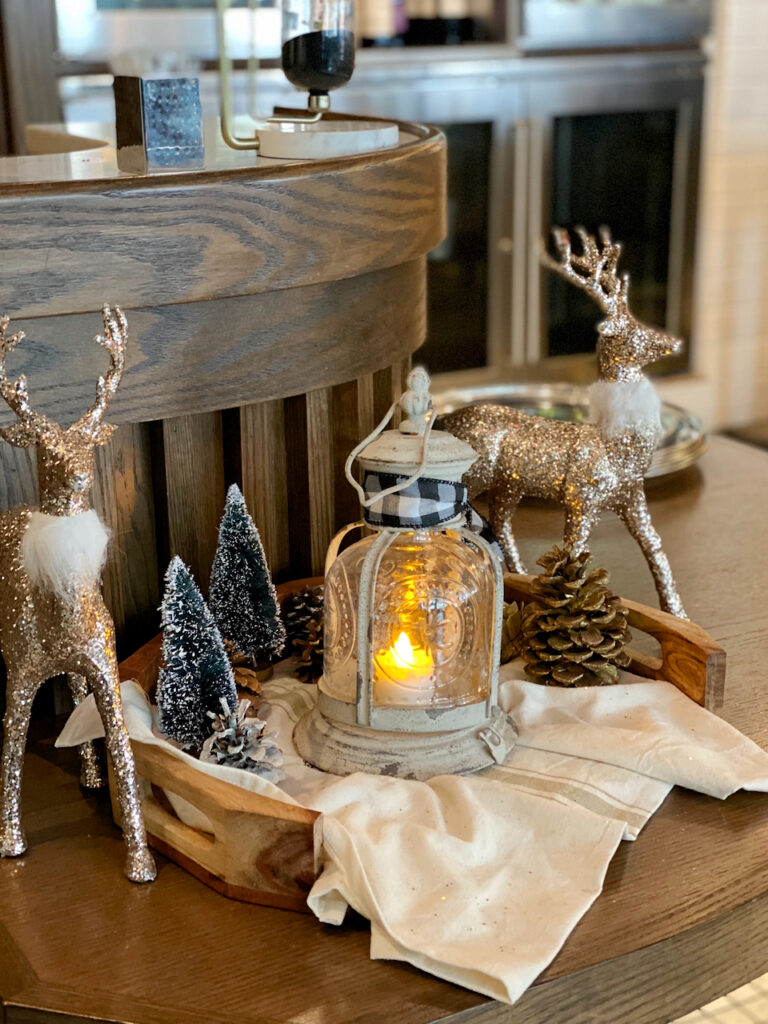 Parc de Ville's "PAIN PERDU brûléed french toast with maple, orange and blueberries"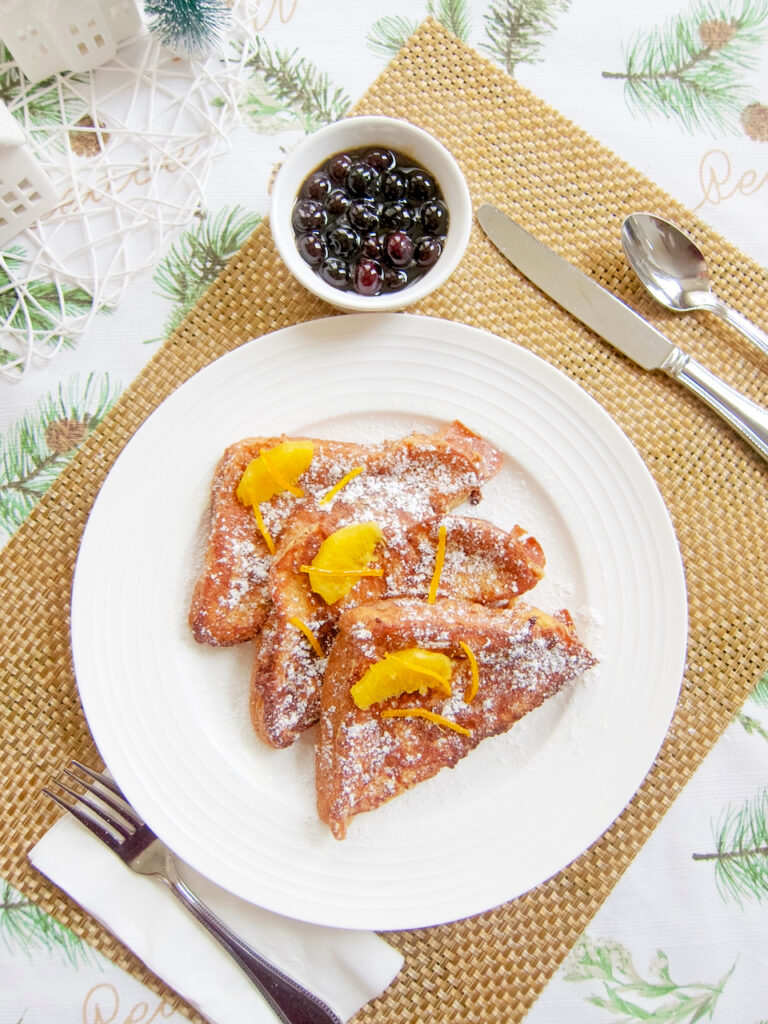 Copycat Parc de Ville's Pain Perdu