Grain-Free Chicken Parmesan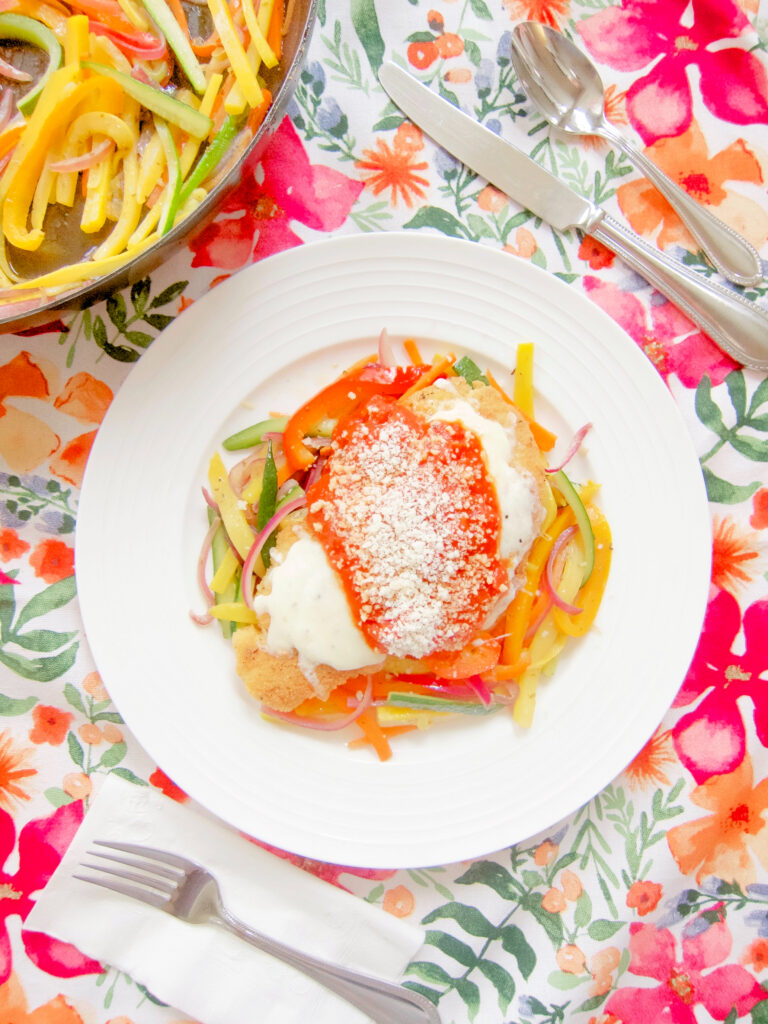 Grain-Free Chicken Parmesan
You will need:
Grain-Free Breaded Chicken Breasts (recipe below)
grated mozzarella cheese
Vegetable 'Noodles' (recipe below)
Trader Joes' Organic Marinara Sauce, warmed
grated parmesan and or Romano cheese
To assemble, sprinkle the cooked breaded chicken breasts with the cheese. Run under the broiler until melted. Place on the sautéed Vegetable 'Noodles'. Top with a large spoonful of the marinara sauce. Sprinkle with the parmesan or Romano.
Grain-Free Breaded Chicken Breasts
Ingredients
4 6 ounce or 3 8 ounce chicken breasts
salt and pepper
1/3 cup tapioca flour
2 large eggs, lightly beaten
3 Grain-Free Rolls, turned into crumbs in a food processor
2 tablespoons butter
2 tablespoons avocado oil
Instructions
You will need 2 to 3 casseroles or baking sheets and 3 dinner plates.
Preheat the oven to 250°. Put a casserole in the oven to warm up.
Place the chicken breasts in a zip lock bag and pound to an even 1/2″ thick using the flat side of a mallet. If they are large breasts and you would like them smaller, you can cut them in half first before pounding them. Lay them in a casserole or on a baking sheet and Lightly sprinkle with salt and pepper.
Line up the 3 dinner plates and a casserole or baking sheet. Place the tapioca flour on one plate, the eggs on the second, and the bread crumbs on the third. Coat both sides of the breasts with the flour, then the eggs, then the breadcrumbs, and set in the casserole or baking sheet. Heat a large skillet on medium high. Add the butter and oil. Cook the breasts for 4 minutes, flip over and cook another 4 minutes. Transfer to the warm casserole or baking sheet in the oven.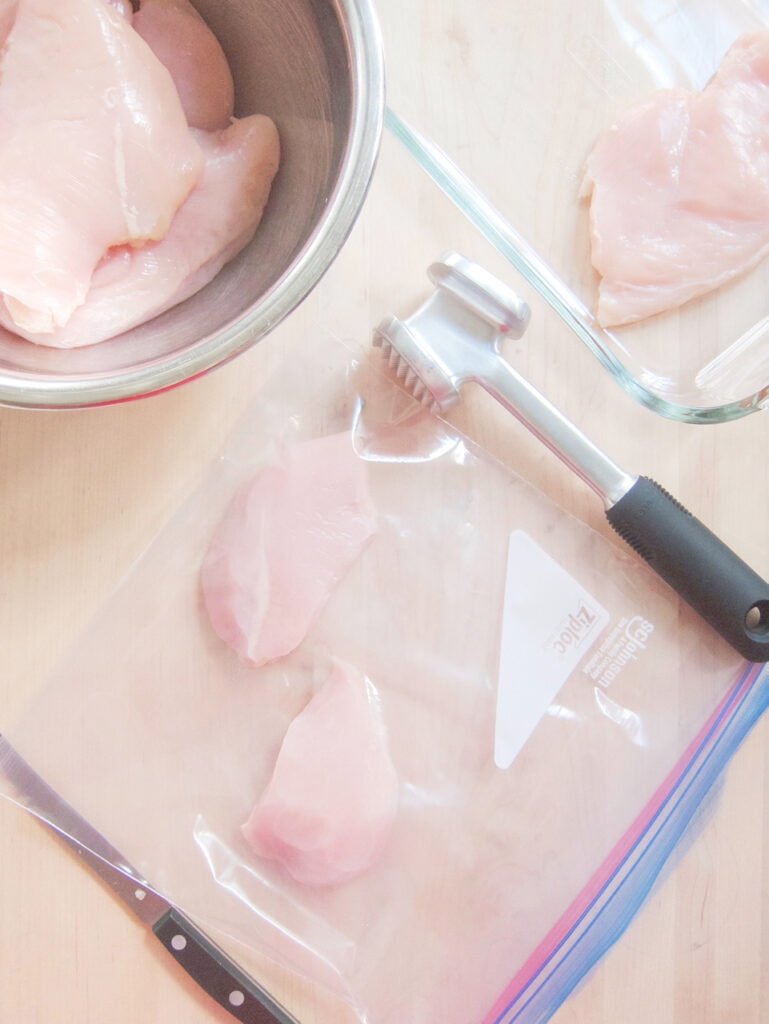 Vegetable 'Noodles'
Ingredients
1 sweet red pepper, julienned
1 sweet orange pepper, julienned
1 large orange carrot, julienned
1 large yellow carrot, julienned
2 small zucchini, julienned
2 small summer yellow squash, seeds removed, julienned (see photo)
1 medium red onion, sliced in thin wedges
2 tablespoons butter
2 tablespoons avocado oil
Italian seasoning
salt
Instructions
Mix the vegetables together. Heat the butter and oil in a large skillet that has a lid. Add the vegetables and cook 10 minutes. Sprinkle with Italian seasoning and salt. Cover and cook until tender but not mushy.