Lasagna Spaghetti Squash Boats
This recipe was inspired by my son Craig's love of spaghetti squash. Spaghetti squash is a winter squash that smells like pumpkin when you open it and are scraping the seeds out. But unlike all the other winter squash, when you cook it the flesh can be loosened with a fork and it comes out in strings.
Not all varieties of spaghetti squash are the same. If you get a spaghetti squash where the strings are mushy and clumped, try one from a different farm. Look for ones that are very smooth and shiny and yellow white. And make sure you don't over bake them as that can make them mushy too. The new 'stripetti' squash, half delicata and half spaghetti, don't have nice strings.
You can use any pasta sauce you want but my son Richard's favorite pasta sauce is Trader Joe's Organic Marinara Sauce, which, when he told me about it, turned out to be the only one I'll ever use again. It's the new catsup. I want to put it on everything!
There are a lot of different recipes for this dish online to give you ideas for how you want to make it. I like cheese sauce on the bottom of my lasagna so I added the Alfredo sauce to my boats. You can also use ricotta cheese mixed with parmesan.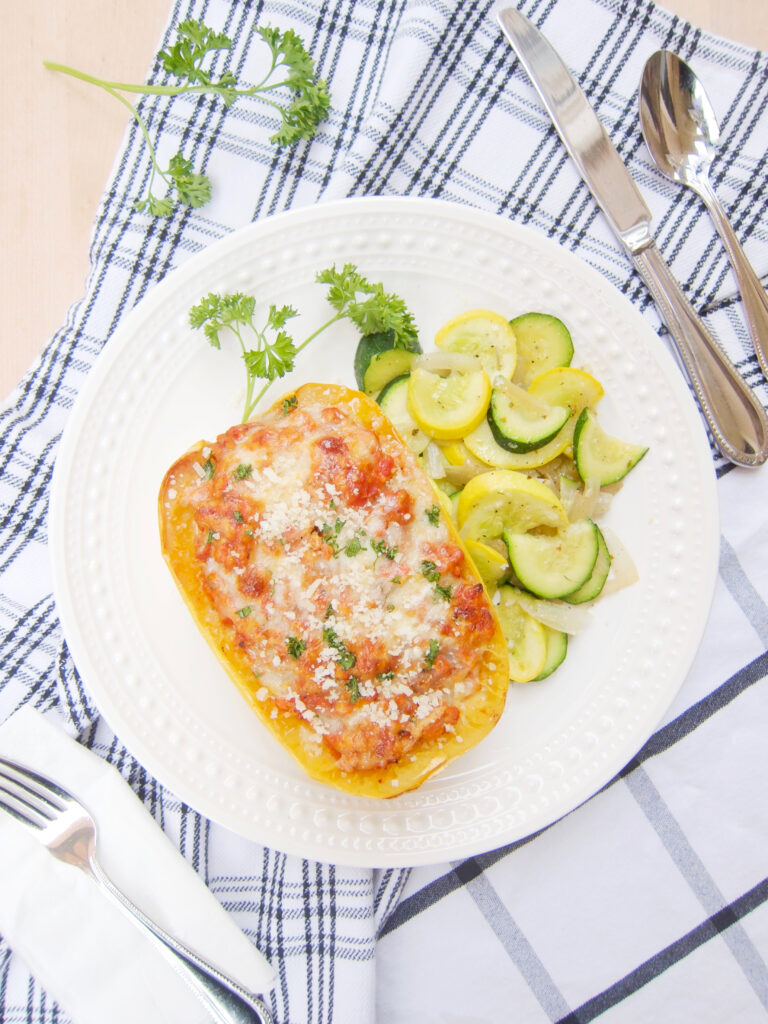 Lasagna Spaghetti Squash Boats
You will need:
Roasted Spaghetti Squash
Alfredo Sauce
meat sauce
mozzarella cheese
chopped parsley
Parmigiano-Reggiano cheese
Roasted Spaghetti Squash
Ingredients
small 2 to 2 1/2 pound spaghetti squash
avocado oil
salt
Instructions
Line a baking sheet with parchment.
Poke the tip of a knife around all sides of the stem to loosen and remove it leaving as much of the flesh of the squash intact as possible*. Then with the knife make marks on the squash as guidelines to cut the squash in half lengthwise. Scoop out the seeds. Rub with oil. Sprinkle with salt. Place cut side down on the parchment.
Bake in a 425° oven for about 45 minutes or until the flesh is all golden colored and very tender (You'll need to flip it over to check). Cool slightly. Using a fork, loosen the 'spaghetti' by pulling out the flesh of the squash around the sides and the bottom. It will come out in strands.
*If their are large holes from removing the stem and there isn't a good seal against the pan, they may take longer to cook.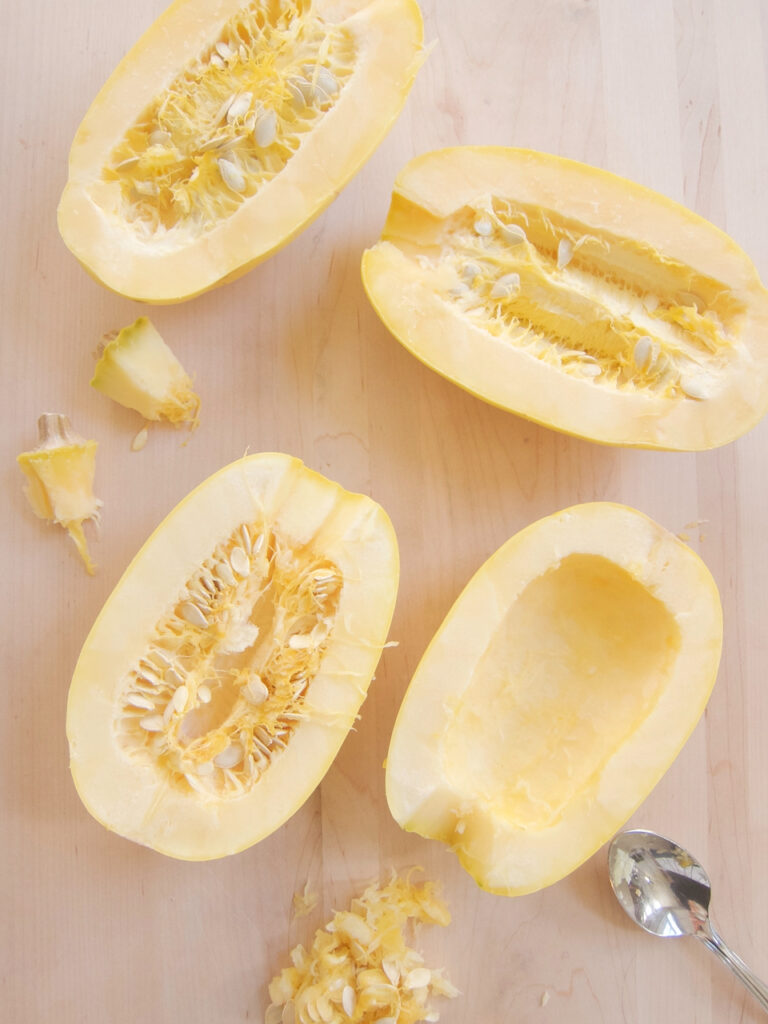 Meat Sauce
Ingredients
1 small onion, cut small
2 garlic cloves, minced
2 tablespoons avocado oil, divided
1 pound dark turkey or ground beef
3/4 teaspoon salt
1/3 teaspoon pepper
1 teaspoon Italian herds seasoning
2 cups Trader Joes' Organic Marinara Sauce
Instructions
Heat a large skillet and add 1 tablespoon of oil. Cook the onions until translucent, about 8 to 10 minutes. Add the other tablespoon of oil and the garlic and cook 1 minute. Add the meat, salt, pepper and seasoning. Cook, breaking up the meat into small pieces, until there is no more pink and the meat is completely cooked. Stir in the marinara sauce. Let simmer 15 minutes.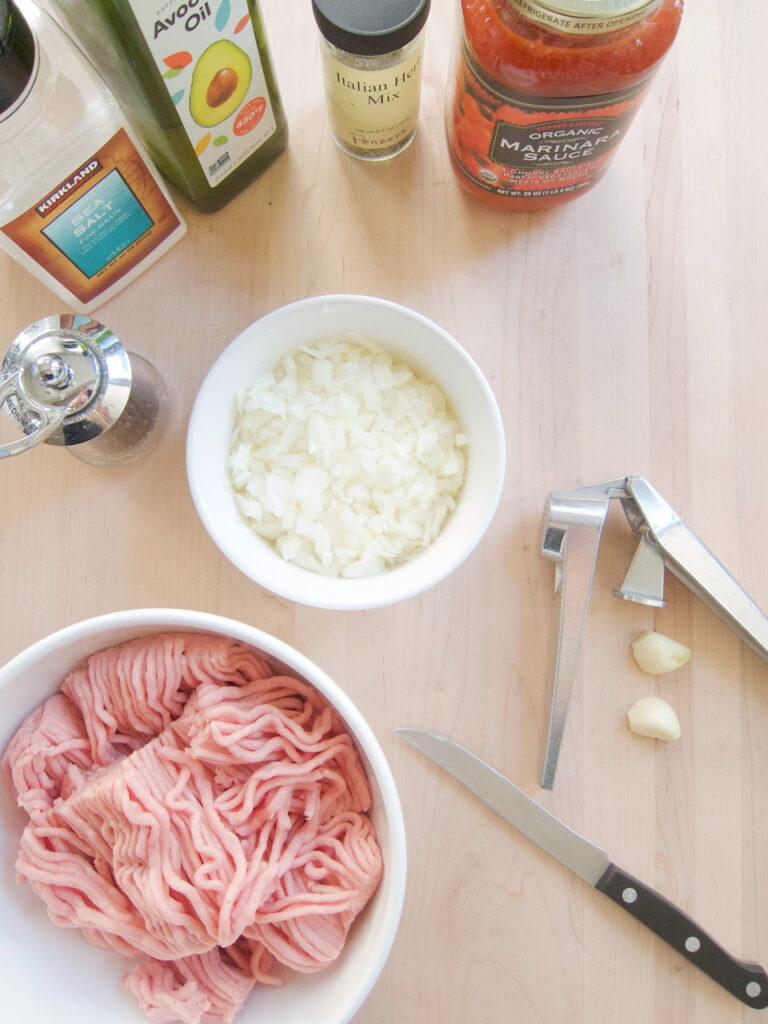 Alfredo Sauce
Ingredients
1/4 cup butter
3/4 cup heavy cream
salt
3/4 to 1 cup (depending if it's packed) 24 month aged Parmigiano-Reggiano cheese, grated
Instructions
Put butter and cream in a heavy white enamel sauce pan if you have one. Simmer on medium low for 2 minutes. Sprinkle with salt and simmer one minute. Slowly whisk in cheese letting it melt before adding more. Do not boil or sauce may separate.
Assembly
Spread half of the 'pasta' back in each of the boats. Pour a quarter (about 1/4 cup) of the Alfredo sauce even over the 'pasta'. Place the remaining half of the 'pasta' over the Alfredo sauce. Spoon the meat sauce over the 'pasta'. Sprinkle with some mozzarella and some parsley.
Bake in a 425° oven for 25 minutes or until very hot and the cheese is starting to brown. Serve with Italian Sautéed Summer Squash (recipe below) and a sprinkle of the Parmigiano-Reggiano cheese.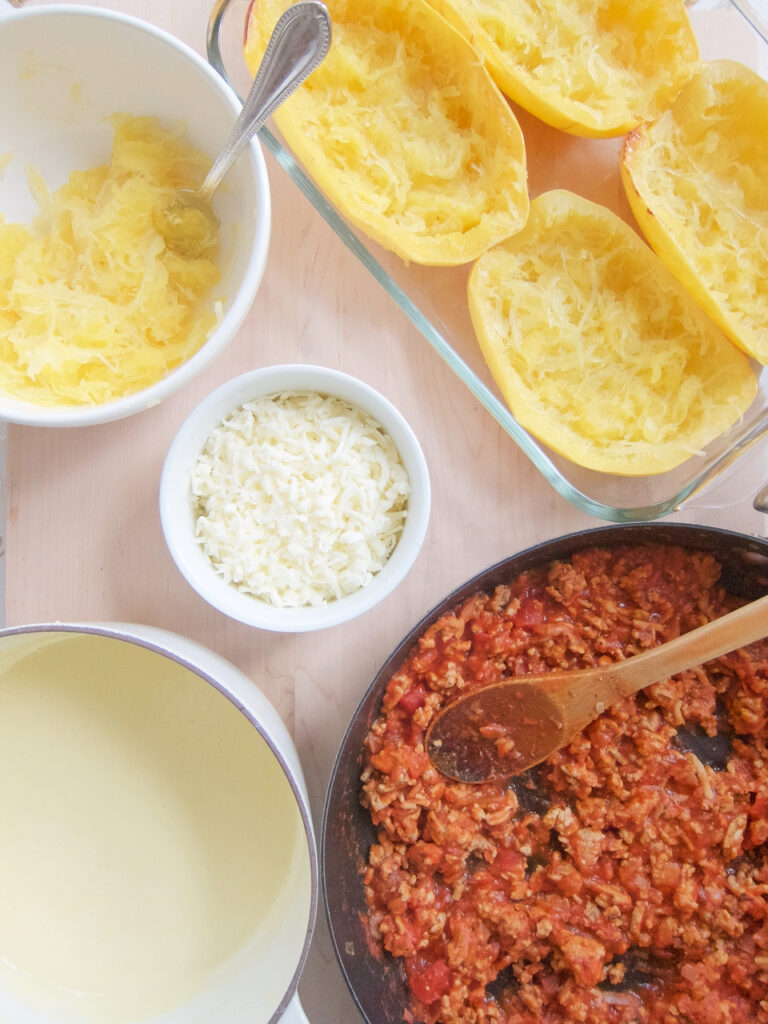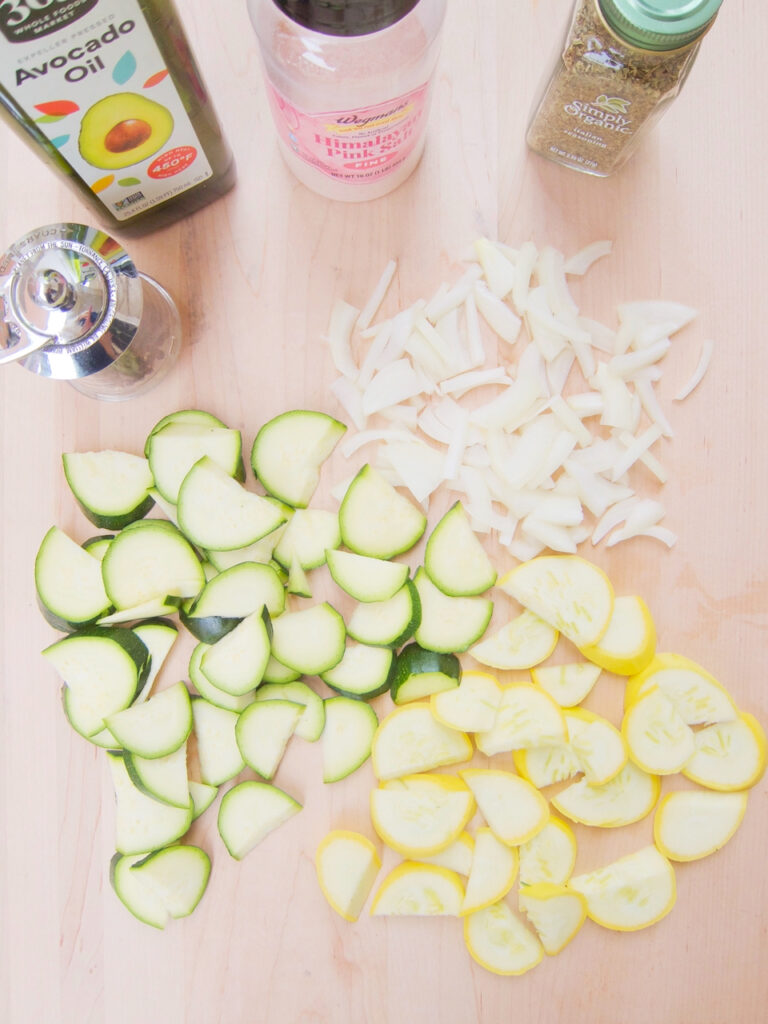 Italian Sautéed Summer Squash
You can add some fresh garlic or garlic powder if you want.
Ingredients
zucchini, sliced
yellow squash, sliced
onion, sliced
avocado oil
salt
pepper
Italian herbs seasoning
Instructions
Heat a large skillet. Add the oil. Toss in the vegetables and sprinkle them with salt, pepper and Italian herbs. Sauté for 8 to 12 minutes depending on how cooked you want yours.