Deep Dish Mediterranean Pizza
Deep Dish Mediterranean Pizza
Ingredients
1 – 1 1/2 packages* Trader Joe's fresh white pizza dough or homemade (see below)
1 10 ounce container Trader Joe's pizza sauce mixed with 1/4 cup tomato sauce**
12 ounces spinach, cooked and squeezed dry and cut
4-5 thin slices red onion, cut in pieces
1/2 cup feta cheese
3-4 cups grated mozzarella cheese
1 8 ounce package mushrooms, sliced
2 large cloves garlic
2 tablespoons olive oil
sliced tomatoes***
1/2 cup freshly grated asiago, Romano or parmesan cheese plus more for serving
Instructions
Follow directions on Trader Joe's dough package. Have a large round or large 18″ jelly roll pan ready by spreading olive oil a little up the sides and on the bottom of the pan and sprinkling with a little corn meal. Pre bake dough at 400 degrees for 15 minutes. Sauté mushrooms and garlic in oil. Remove pizza dough from oven and build pizza in order of listed ingredients:
Spread the sauce leaving 1/2 inch around the edges.
Place cut pieces of spinach evenly around.
Place onion pieces evenly around.
Sprinkle with feta cheese.
Cover with mozzarella cheese.
Sprinkle with sautéed mushrooms.
Place tomatoes as desired.
Sprinkle with asiago cheese.
Bake pizza for 25-35 minutes (Trader Joe's Crust). Sprinkle with more asiago, Romano or parmesan before serving.
*Use one package for thinner crust.
**You can use 2 tablespoons of tomato paste mixed with 2 tablespoons water.
***If you prefer peeled tomatoes, place in boiling water for 10 – 15 seconds to loosen skin.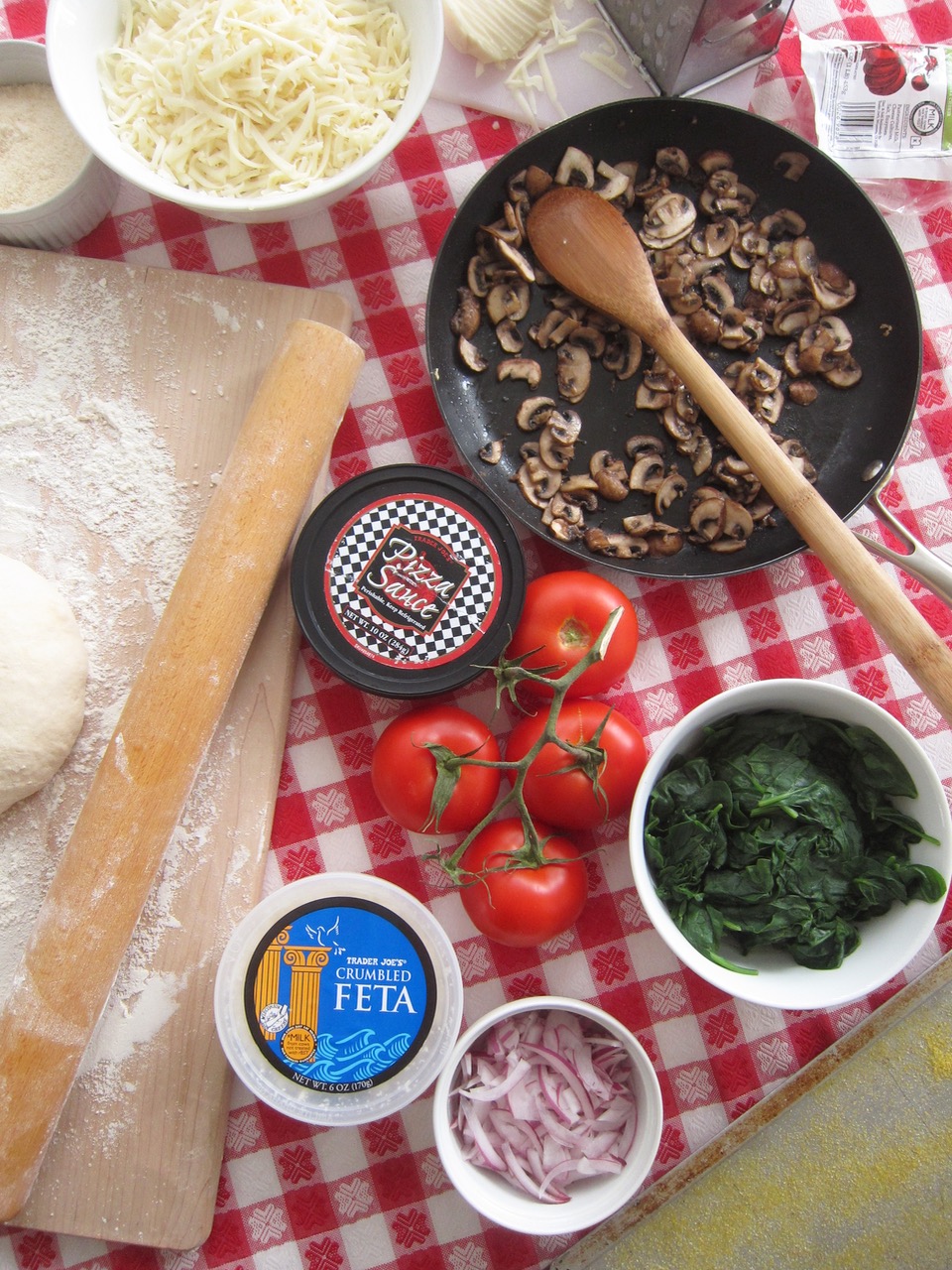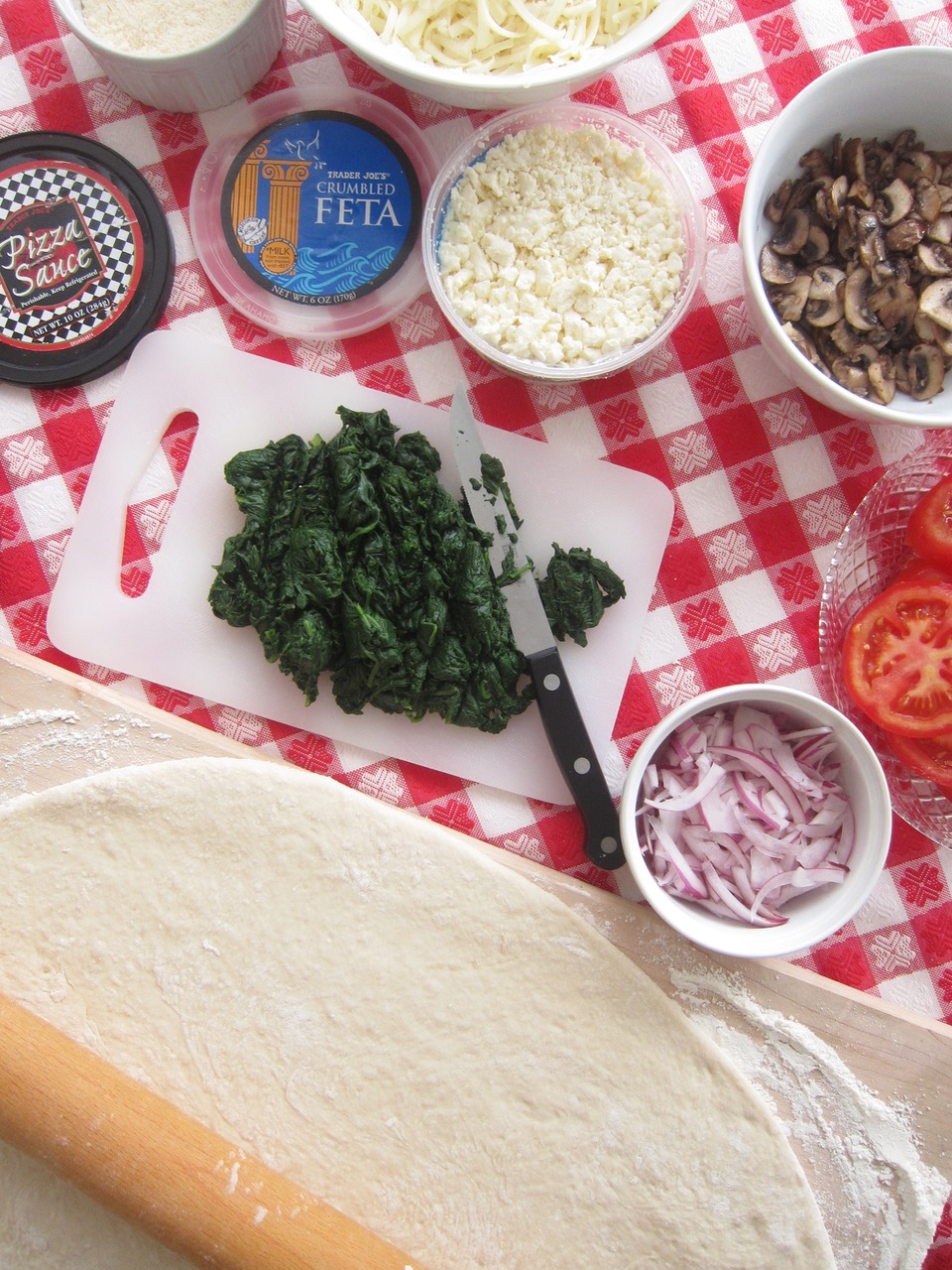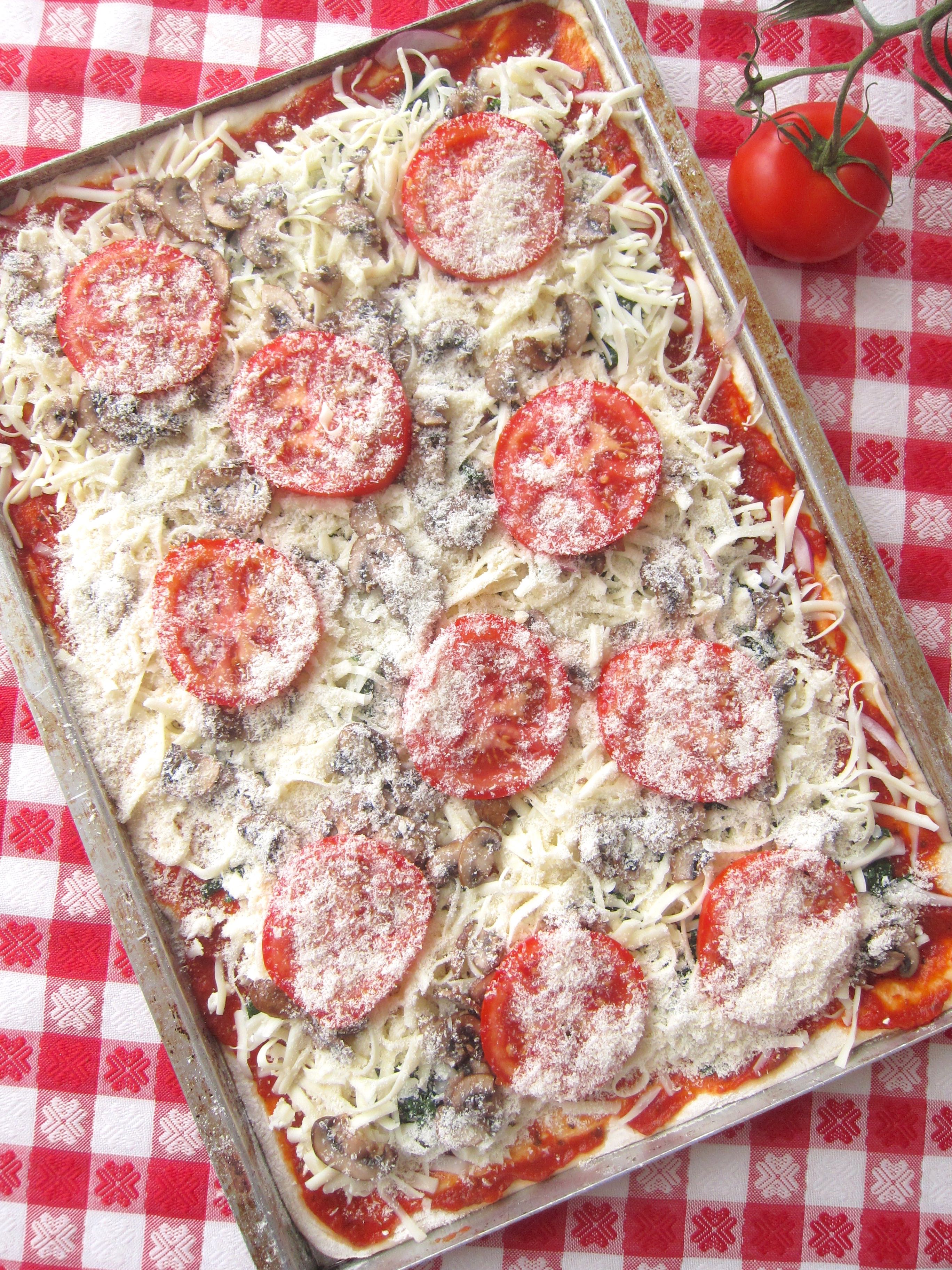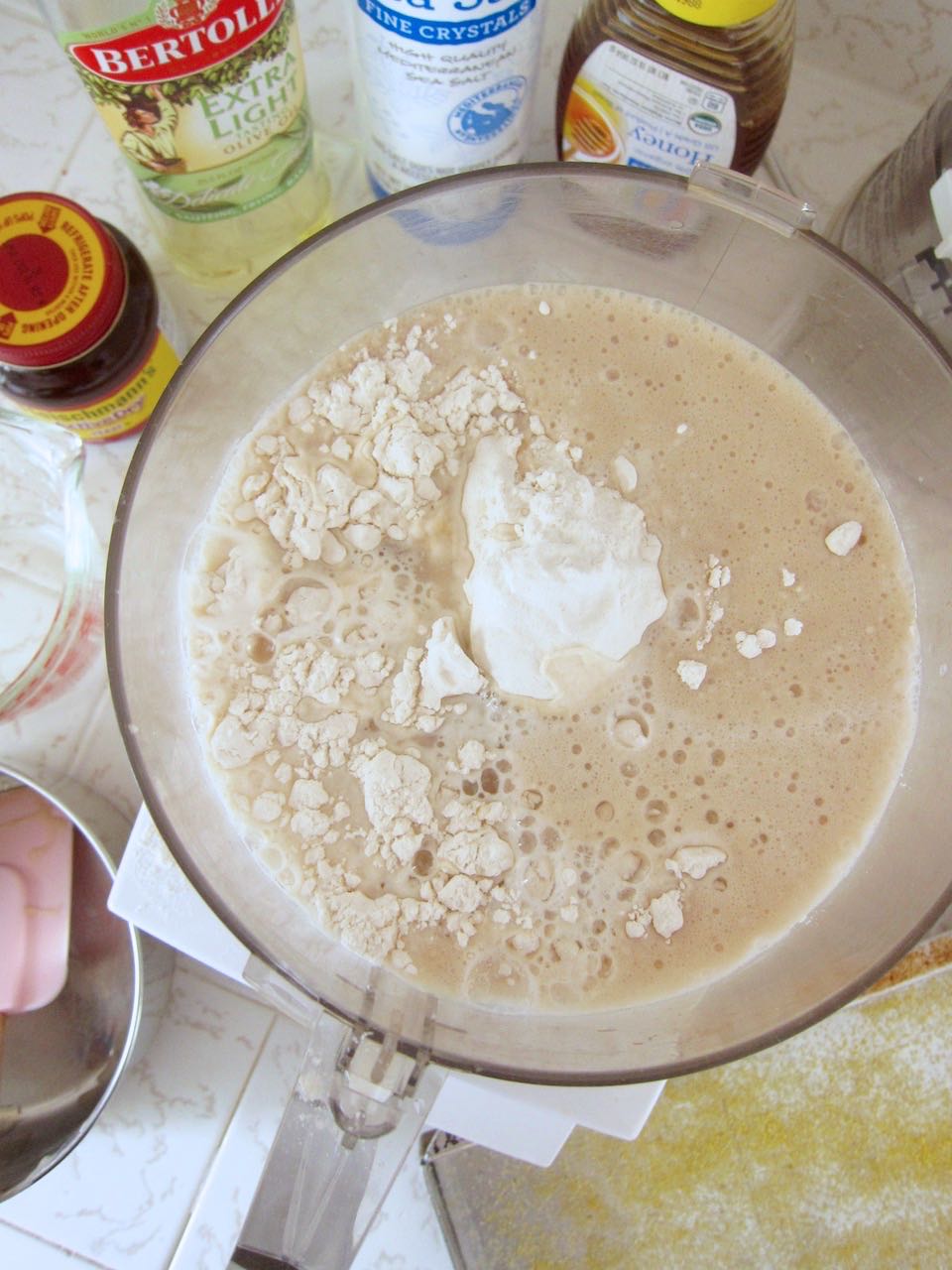 Pizza Dough
(This is enough for a deep dish pizza made in a large round or an 18″ jelly roll pan. Use less amounts for a thinner crust.)
Ingredients
4 teaspoons yeast
2 teaspoons honey
1/2 cup water, slightly warm
14 ounces (approx. 2 1/2 -3/4 cups) flour
1 1/2 teaspoons salt
2 tablespoon olive oil plus oil for brushing top
2/3 cup additional water

Instructions

Proof yeast in sugar and water. Place flour, salt and olive oil in food processor. Add the yeast mixture and 1/3 cup water and process. Continue to process about 15 turns. Turn out onto floured board. Let rest 5 minutes. Roll out to the size of the pan. Place in the pan and brush with oil. No pre baking this dough. Spread with sauce, then the toppings. Bake in a 400 degree oven for 15- 20 minutes.