Fresh Strawberry and Pear Salad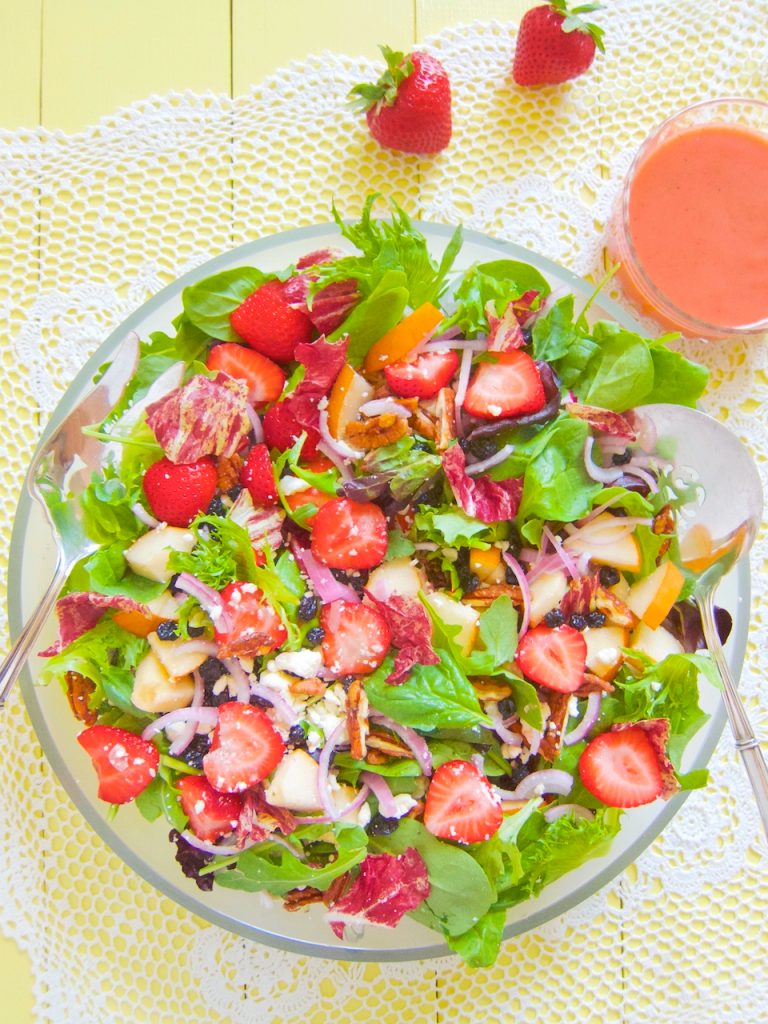 Fresh Strawberry and Pear Salad
Salad
Ingredients
50/50 spinach and mixed spring lettuce
sliced strawberries
sliced pears
dried blueberries
slivered red onion*
pecans or candied pecans (recipe below), broken
goat cheese, gorgonzola, blue cheese, feta cheese or cottage cheese
Strawberry Vinaigrette (recipe below)
Instructions
Arrange salad ingredients on a plate and serve with the dressing.
*You can soak the onions for 10 minutes or pickle them for 15 minutes to temper the bite of the raw onion and possibly make them easier to digest if you have problems with raw onions.
Strawberry Vinaigrette
Ingredients
2 strawberries
3 tablespoons red wine vinegar or other sweet vinegar*
1 1/2 tablespoons clover or any light flavored honey
1/2 cup colorless oil like grapeseed or avocado (the dressing comes out orange if you use olive oil)
1/2 teaspoon salt
1/4 teaspoon pepper
Instructions
Place all dressing ingredients in food processor and process until smooth.
*Balsamic and apple cider vinegar are both sweet vinegars.
Candied Pecans
Ingredients
2 cups pecans
1/4 cup maple syrup
1/8 teaspoon salt
Instructions
Toast the pecans in a 350° oven for 10 minutes. Heat maple syrup in a skillet until bubbly. Use medium to high heat high enough to create a candy but not too high or the sugars will burn. Add nuts and salt and cook until dry, about 5 minutes. Three minutes will make them glazed and in about 5 minutes you should begin to see crystals and the nuts will separate and be candied. Transfer to a plate and let cool. Store in the refrigerator.