Taco Bar
Ingredients
1 pound ground beef or ground turkey
1 package taco seasoning mix or Homemade Taco Seasoning (below)
water
1/4 cup Pace Picante Sauce Mild or 2 tablespoons double tomato paste in tube
romaine or iceberg lettuce, thinly sliced
cheddar cheese, grated
tomatoes, diced
avocados, sliced
green onions, sliced
cilantro, rinsed and stems removed
sour cream
refried or black beans
spanish rice
corn tortillas*
1/3 cup avocado or light olive* oil
Instructions
For the packaged taco seasoning, follow the directions on the back of the package. Stir in the picante sauce. For the Homemade Taco Seasoning, follow the directions below using tomato paste instead of picante sauce.
Heat oil in a skillet over medium heat and using tongs fry tortillas on each side for a few seconds to soften. Lay them on paper towels on a plate, putting a towel in-between each layer of tortillas.
Assembly
Put cheese, tomatoes, avocados, green onions, cilantro and sour cream in serving dishes. Place the tortillas, meat, beans and rice in warm casseroles or on a heating tray if you have one.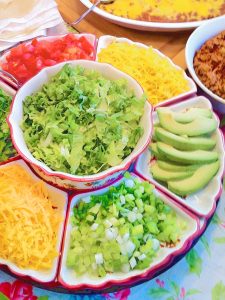 *Trader Joe's Trader Grotto's Sicilian (cold pressed) Extra Virgin Olive Oil is a blend of three olives from Sicily, packaged in Italy in a beautiful bottle. It's light and delicious. Store it in the dark and use up within a month.
Black Beans
Ingredients
2 cans black beans, drained and rinsed
3/4 cup onion, finely diced
2 tablespoons anaheim pepper finely diced
1 garlic clove, minced
2 teaspoons olive oil
2 tablespoons fresh cilantro, minced
1/2 teaspoon cumin
1/2 teaspoon salt
3/4 cup water
2 teaspoons double tomato paste from a tube
Instructions
Place beans in a small casserole or pot. Saute onion, anaheim pepper and garlic in oil for 3 minutes. Add cilantro, cumin, water and tomato paste. Let simmer 5 minutes. Stir into beans. Heat on stove or in oven until hot.
Spanish Rice
Ingredients
3/4 cup long grain brown rice
2 teaspoons butter
1/3 – 1/2 fresh jalapeño, diced**
3 green onions
1 small garlic, minced
1/4 teaspoon cumin
1/4 teaspoon paprika
pinch of salt
1 1/2 cups chicken broth
2 teaspoons tomato paste
Instructions
Preheat oven to 350 degrees. Rinse rice and dry on paper towels. Spread on a cookie, set in the oven and turn oven off. Let dry in oven for 30 minutes. Cut the white part only of the green onions and put with the chopped jalapeño and garlic. Chop green onion tops and set in a dish in the refrigerator. Melt butter in a saucepan with tight fitting lid on medium heat. Add rice and stir to coat all the kernels (this will keep the rice kernels from sticking to each other.) Add the green onion whites, jalapeño and garlic. Sauté for 5 minutes. Add the cumin, paprika and salt and sauté 30 seconds. Add the chicken broth and tomato paste. Stir until blended. Bring to boil, reduce heat, cover and cook for 35 minutes. Do not disturb lid. Remove from heat, keeping tightly covered and lest rest for 10 minutes. Fluff rice with a fork. Sprinkle with reserved green tops.
*You can use shells in a package or to make soft tacos, fry each side for a few seconds in grape seed or coconut oil and drain on paper towels.
**This is a small but very hot pepper (some hotter than others). The older the pepper gets on its way to turning red, the hotter it will be. The hottest part of the pepper is the membrane. If you don't want any heat, slice out as much of the light green part of the inside of the pepper as you can. If you have sensitive hands, you may want to wear kitchen gloves to clean and cut a hot pepper.
Homemade Taco Seasoning
Recipe from https://www.familyfreshmeals.com/2013/05/diy-homemade-taco-seasoning.html
This is the amount for 1 pound of meat.
1 tablespoon chili powder
1 1/2 teaspoons cumin
1 teaspoon salt
1 teaspoon pepper
1/2 teaspoon oregano
1/2 teaspoon paprika
1/2 teaspoon garlic powder
1/4 teaspoon onion powder
Instructions
Mix all ingredients together. Brown the beef, add the seasoning and cook 1 minute. Add 3/4 cup water and 2 tablespoons double tomato paste in tube. Simmer 10 to 15 minutes until liquid is almost gone.