This soup is delicious served over a bed of brown rice.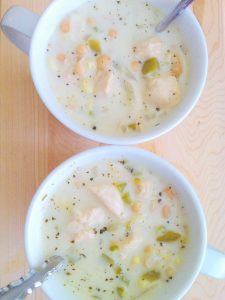 White Corn Chili
Ingredients
1 pound chicken tenders, cut into 1/2 inch pieces
1 onion, chopped
2 garlic cloves, chopped or minced
1 tablespoon avocado oil or light olive oil
1 teaspoon cumin
1 teaspoon oregano
32 ounces Swanson's Organic Free Range Chicken Broth
2 15 1/2 ounce cans white beans
1 4 ounce can Ortega Chopped Green Chilies, mild (or a fresh Anaheim chili, broiled to remove skin)
1 green pepper, chopped
1 teaspoon salt
1/2 teaspoon pepper
3/4 cup fresh white corn
1 cup milk
1/2 cup sour cream
Instructions
Saute onion and garlic for 1 minute. Add chicken pieces and cook until pink is almost gone. Add cumin and oregano and cook 1 minute. Add broth, beans, chilies, chopped green pepper, salt and pepper. Simmer for 25 minutes. Add corn and cook 5 more minutes. Remove from heat, cool 10 and add milk and sour cream.
If you want to make it spicy, add a hotter pepper.