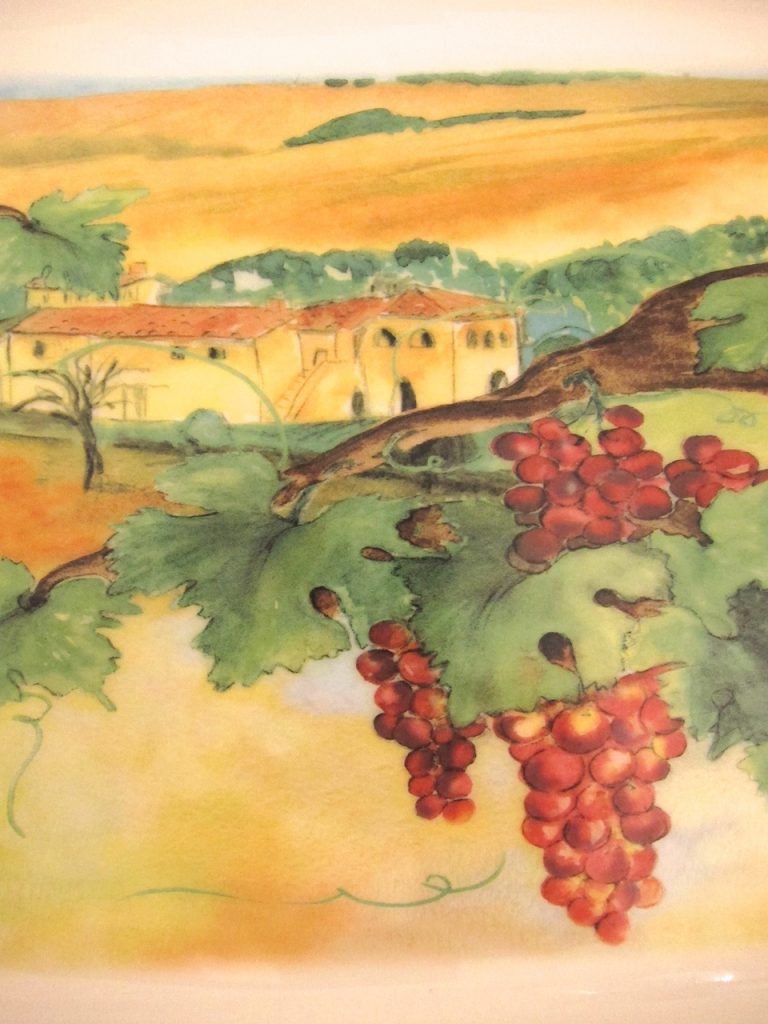 My first taste of this Greek and Middle Eastern dish was when I was eleven years old at the home of an Armenian family. They had grape vines in their back yard growing over the fence surrounding their swimming pool, and they made the yoghurt from scratch. Doing things from scratch was how it was done. Dinner was made by many loving hands and you could taste the care and love that went into making the food. Now I have to put yoghurt on everything that has Middle Eastern seasoning.
Gathering the ingredients is part of the fun. If you have a local Middle Eastern grocery store, this will make it easy to find the jarred leaves and also their yoghurt is mild rather than tangy which is similar to homemade and you may like it better. You can also use parboiled long grain brown rice instead of white. I haven't make the pilaf with brown rice but I'm sure that would be good too. I would recommend Basmati which is lighter.
This recipe including the wonderful rice pilaf was passed from the family to my mother who used it in her cooking classes. And she taught it to me.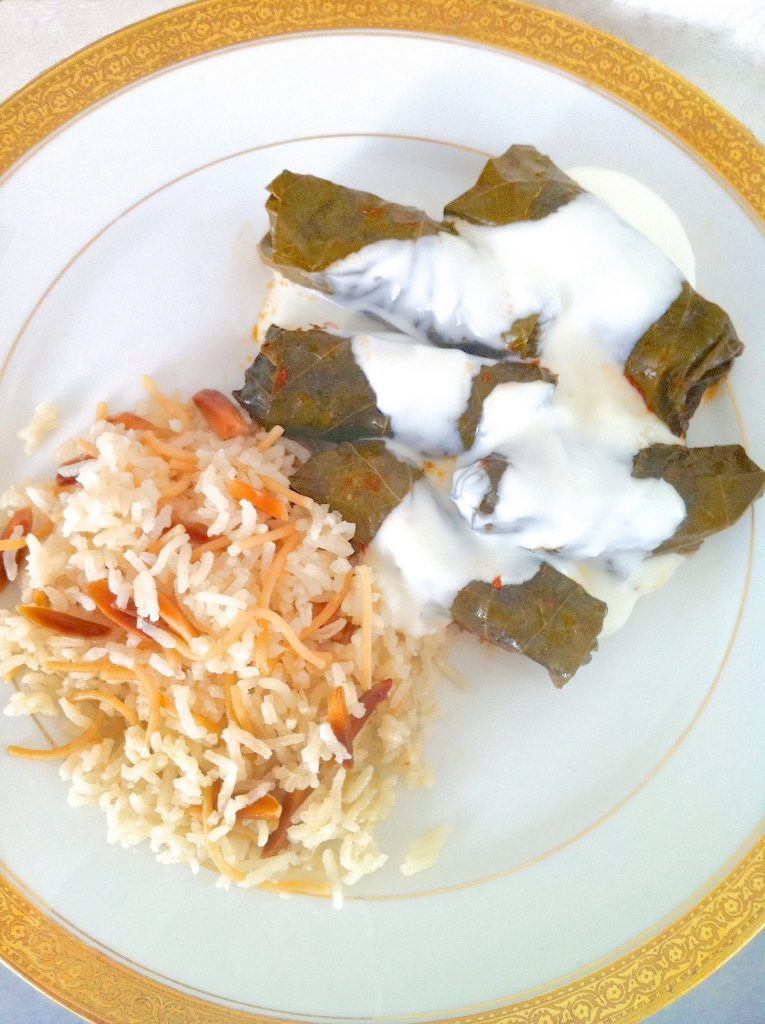 Dolmas With Rice Pilaf
Ingredients
2 cups onion, chopped small*
2 tablespoons olive oil
2 large garlic cloves, chopped fine
3/4 cup parsley, minced fine in processor
1/3 cup fresh mint, minced fine in processor
2 pounds ground lamb
1/2 cup raw long grain white rice
3 teaspoons salt
1/2 teaspoon pepper
1 8 ounce can tomato sauce
1 1/2 cup water
1 1 pound jar grape leaves, rinsed and stems trimmed off
Instructions
Saute onions and garlic in 2 tablespoons olive oil for 15 minutes, add parsley and mint and cool. Mix rice, salt, pepper into lamb with a large fork. Add onion mixture. Shape 2 tablespoons of the meat mixture into a log and place an inch from the bottom of the leaf. Fold sides over mixture, then the bottom, and roll up to the tip of the leaf. Begin making a layer of dolmas at the bottom of a 5 quart pan by lining them up one after the other forming an outside circle, then another circle close up against the first one. Then fill the center, keeping them tightly packed. Repeat with a second layer. Pour tomato sauce over dolmas, then add the water. Bring to boil, reduce heat, cover (if you have a heavy plate that fits in your pan, lay it on the top to hold the dolmas tight, then the lid) and simmer 1 hour. Serve with plain yogurt and rice pilaf.
*Put chopped onions in processor and process using several 1 second pulses and stopping before any liquid is released making them slushy.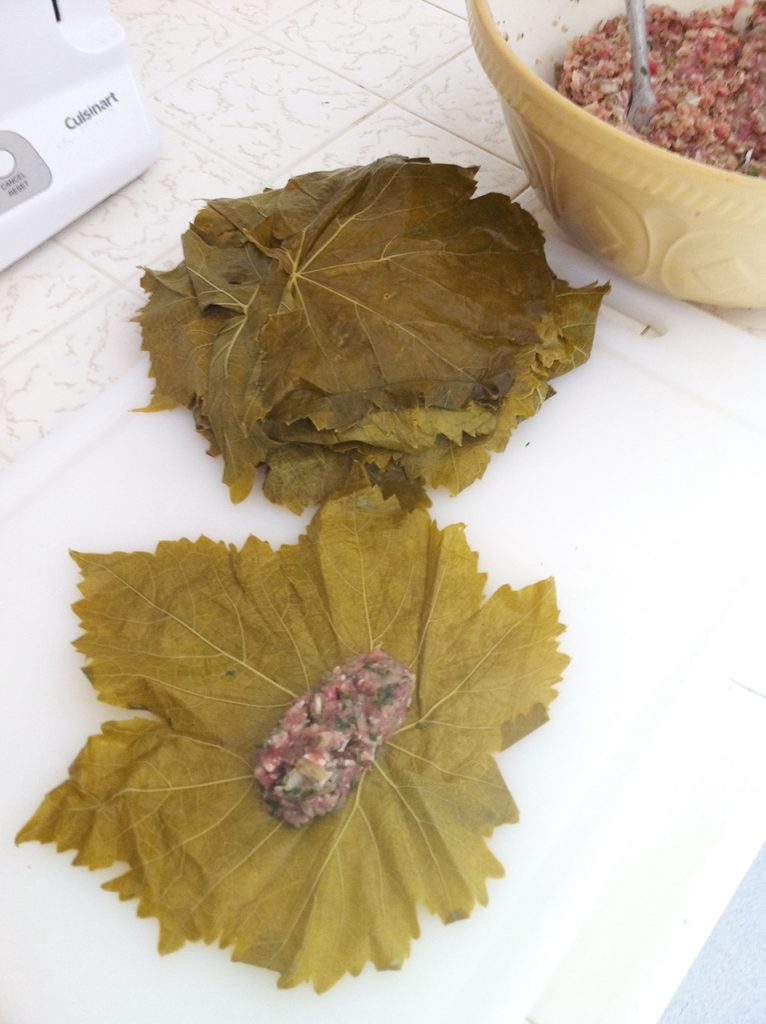 Rice Pilaf
Ingredients
1/3 cup vermicelli pasta, broken in 1″ pieces
1/2 cup butter
2 cups white long grain rice
1 can Swanson's Chicken Broth
1 2/3 cup water
1/2 cup slivered almonds, toasted
Instructions
Saute raw vermicelli in butter until golden brown. Add rice, broth and water and bring to a boil. Turn heat to low, cover and cook until rice is done. Transfer to serving plate and garnish with almonds.