Stuffed Shells Florentine
Stuffed Shells Florentine
Filling
Ingredients
12-16 jumbo pasta shells
16 ounces ricotta cheese
12 ounces spinach, steamed, squeezed dry and chopped
1 egg
1/3 cup Parmigiana Reggiano cheese
1/2 teaspoon salt
1/8 teaspoon nutmeg
1/2 teaspoon oregano
1/4 teaspoon pepper
Instructions
Cook pasta shells according to directions, drain. In a bowl combine ricotta, spinach, parmesan, salt, nutmeg, pepper, oregano and parsley. Fill shells with ricotta mixture.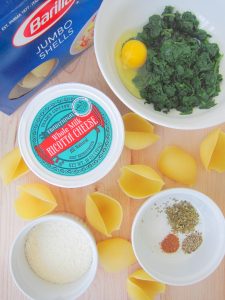 Sauce
Ingredients
1 lb Trader Joe's Sweet Italian Chicken Sausage (casings removed)
1 28 oz can diced tomatoes
1 28 oz can tomato sauce*
1 tablespoon tomato paste in a tube
1/2 cup minced onion
1/4 cup minced celery
2 tablespoons minced carrot
1/3 cup Cinzano Rosso Vermouth
3-4 cloves garlic, minced
1/2 teaspoon basil
1/2 teaspoon oregano
1 teaspoon Italian seasoning
2 tablespoon fresh parsley, minced
2 teaspoons of honey (optional)
Instructions
Cook meat in 1 tablespoon olive oil and set aside. Discard drippings. Add 2 T olive oil to pan and stir in onions, garlic, carrots and celery and cook until tender. Pour in Vermouth and reduce in half. Add tomato paste and stir to thin it out. Add seasoning and stir 1 minute. Add tomatoes and tomato sauce. Bring to boil, reduce heat and cook 1 hour. Add sausage and simmer 30 minutes.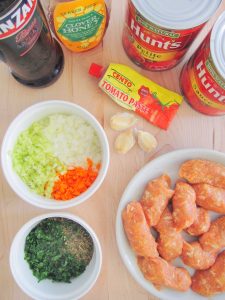 Topping
Ingredients
1/2 cup mozzarella cheese, grated
8 mushrooms, sliced
1 clove garlic
Instructions
Saute mushrooms and garlic in olive oil until liquid is gone and mushrooms have turned and nice brown color.
Assembly
Put half of sauce in the bottom of a 9 by 11 casserole. Place shells over sauce and spoon 3 tablespoons sauce over each shell (you will have sauce leftover for another dish). Cover with foil and bake 350 for 35-40 min. Remove from oven, uncover and sprinkle with mozzarella and mushrooms. Return to oven a few minutes to melt cheese.
*Read the ingredients on tomatoes, tomato sauce and tomato paste cans. Some of them have salt and sugar and others don't, and you might need to adjust your recipe accordingly. Add honey if you would like your sauce sweeter.