Maklube or Maqluba which translates as "upside down" is a traditional Middle Eastern dish made with a choice of meats, either lamb, beef or chicken, either ground or in chucks, white or brown rice and various vegetables such as sweet peppers, potatoes, cauliflower and eggplant. The ingredients are layered in a pot and cooked, then cooled slightly before a large plate or platter is placed on top of the pot and the dish is flipped upside down on to the platter and served. The dish was introduced to me by a Syrian friend's mother who was visiting the country. She used ground lamb and eggplant. The eggplant was first dried then fried in oil. The meat was seasoned and browned, the rice was cooked, and the pine nuts where toasted. Everything was then layered in a bowl shaped casserole and baked in the oven rather than cooked on the stove in a pot. I didn't think to ask for the recipe but I was able to go home and make it successfully from the few things she mentioned. It's wonderful! It was served with raw green onions to which I have added a mint and parley salad and a yoghurt sauce.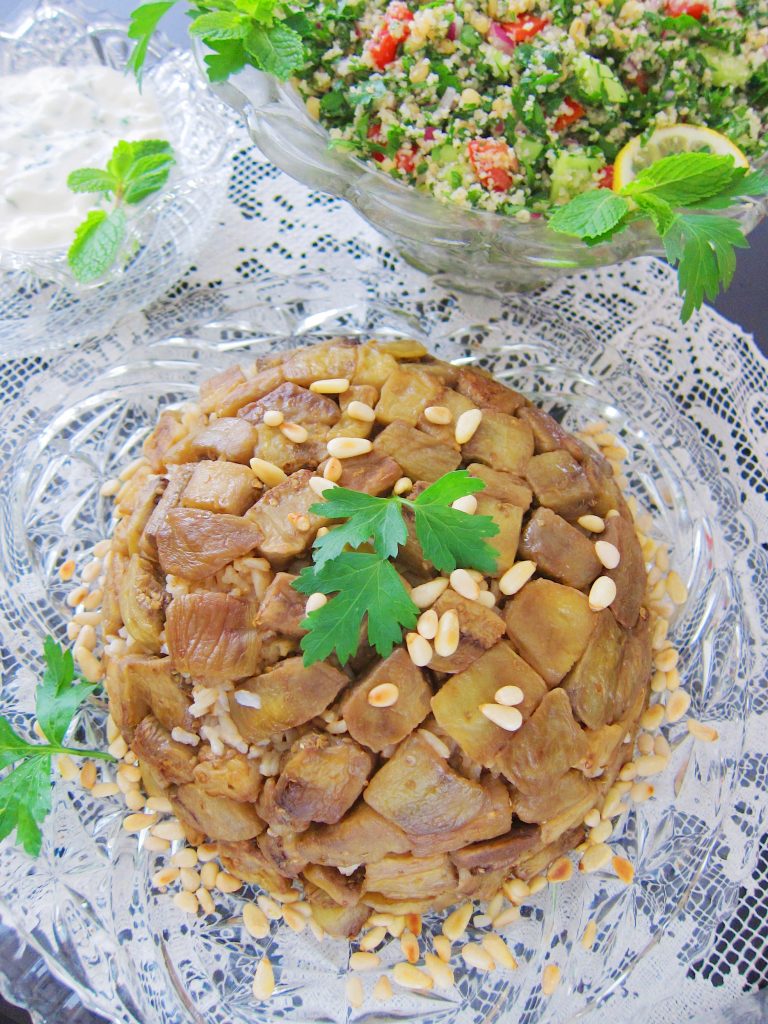 Malube
Ingredients
2 eggplants, peeled, and sliced into half inch slices, then cut into 1 1/2 to 2 inch pieces
2 tablespoons butter
4 tablespoons olive oil
3/4 lb ground lamb
1 tablespoon olive oil
8 oz mushrooms, cut in half and sliced
1/2 onion, chopped
1 clove garlic, minced
1/2 teaspoon curry
1/2 teaspoon cinnamon
1/4 teaspoon coriander
1/2 teaspoon salt
1/4 teaspoon pepper
1/3 cup water
1 cup brown basmati rice
2 1/2 cup water
1/2 teaspoon salt
1/2 cup pine nuts
1 teaspoon olive oil
Instructions
Place eggplant in a colander set on a plate, sprinkle with salt, toss and let stand for 30 minutes. Using medium heat melt butter and oil in one large or if you don't have a large pan, divide the butter and oil and put 1 tablespoon butter and 2 tablespoons of oil in two skillets. Then put half the eggplant in each pan and stir the pieces around to coat them on all sides. Slowly saute the eggplant, adding more oil if needed, moving the pieces around the pan and turning them over until all the pieces are brown. Eggplant absorbs oil like a sponge but if you cook it slowly you will be okay. The eggplant will get sweeter the browner it gets. Let cool. Cook rice in water with the 1/2 teaspoon salt for 45 minutes or until water is absorbed. Remove from heat and let stand, covered, for 5 minutes. Cook meat, drain and set aside in a bowl. Wipe out pan and heat 1 tablespoon of olive oil. Cook mushrooms, onions and garlic stirring constantly especially towards the end so it brows but doesn't burn. It will reduce to about 1 cup. Add reserved meat to the reduced mushroom, onion mixture and sprinkle with curry, cinnamon, coriander, salt and pepper. Add 1/3 cup water and simmer 10 minutes. Cook the pine nuts in a pan with 1 teaspoon olive oil until they are light brown, stirring constantly so they don't burn (which they can do very quickly). Set aside.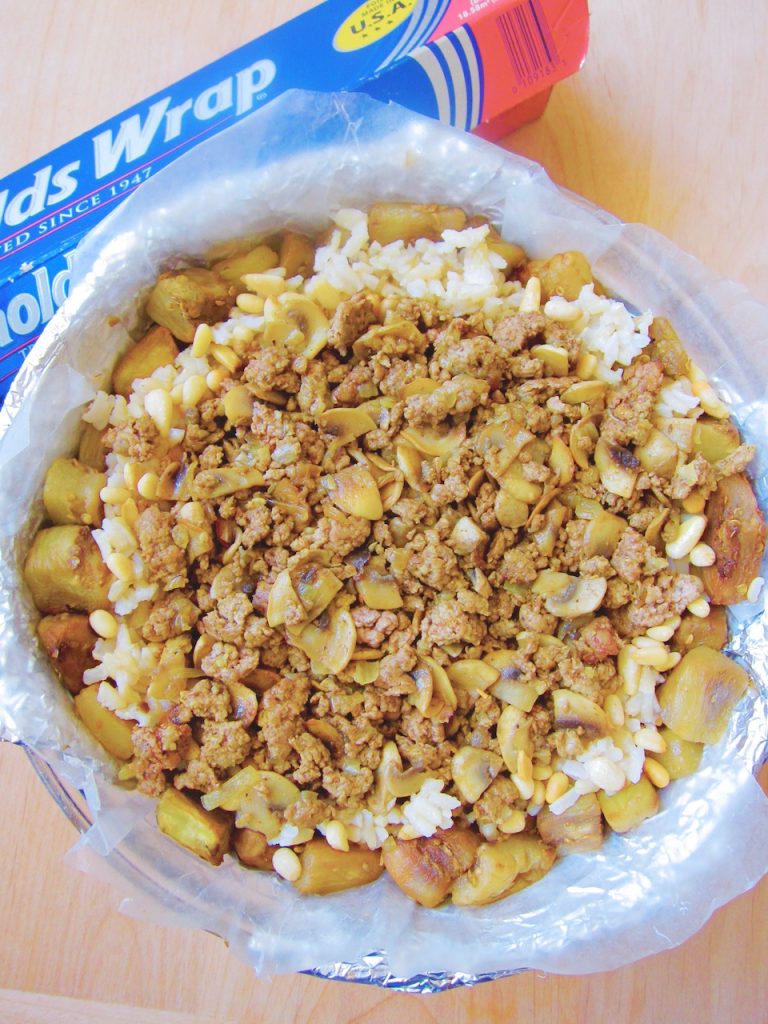 Line a 2.5 qt bowl you can bake in with a piece of foil, molding it to the sides. (It will be just a little short on two sides.) Take a piece of waxed paper and do the same thing. Remove the linings, oil the bowl and set the foil back, oil the foil and set the waxed paper back, then oil the waxed paper. Starting at the bottom and going up the sides, place the eggplant pieces next to each other. Next make a layer of rice covering the eggplants. Sprinkle with the nuts and fill with the meat mixture. Cover with waxed paper and foil and bake in a 350 degree oven for 1 hour. Remove foil and wax paper cover and place a large serving dish over bowl. Invert. Use rubber gloved to lift hot bowl. Remove foil and wax paper. Serve with tzatziki sauce and tabbouleh.
Tzatziki Sauce
Ingredients
1 cup drained plain whole milk yoghurt or lebni
2 Persian cucumbers or 8″ of an English cucumber peeled, seeded, sliced and halved
1 tablespoon olive oil
2 tablespoons lemon juice
1/4 teaspoon each salt and pepper
2 tablespoon chopped fresh mint or 1 teaspoon dried mint
1 clove garlic, minced
Instructions
Let the yogurt drain through cheesecloth for 8 hours to reduce water. (You can do this by laying a piece of cheesecloth on a steam basket in a pan, or across the bottom of a double boiler with holes, spoon yoghurt on to cheesecloth, cover and refrigerate. I prefer this to using stained Greek yogurt that can be bitter.) Mix all ingredients together and chill for 1 hour.