Copycat Rainforest Cafe Lettuce Wraps and Thai Chicken Salad
If you ever had Rainforest Cafe's wonderful appetizer of lettuce wraps, it was no doubt as memorable as it was to me. It was one of those dishes you had to come home and try to figure out how to make (I was writing down all the ingredients in my head as I was eating it so when I got home I could get it down on paper. It didn't take long to come up with this copy of their famous dish, which unfortunately (and mysteriously) has been discontinued being served at their restaurants. It may have been too labor intensive. There is a lot going on especially getting the lettuce leaves separated without tearing them.
It's a beautiful dish for making company feel special.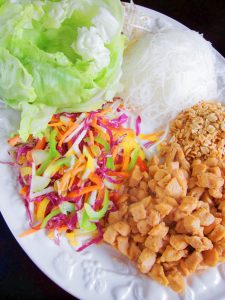 Rainforest Cafe Lettuce Wraps
Teriyaki Chicken
Ingredients
1 1/2 pound chicken breasts, cut into 1/2 inch pieces
1/2 cup Trader Joe's San Soyaki sauce (or soyless Coconut Secret Teriyaki Sauce)
Instructions
Marinade chicken pieces in sauce for 10 minutes. Saute for 5 minutes or until completely cooked.
Rainbow Slaw
Ingredients
1 cup red cabbage, finely sliced
1/2 each red, yellow and green bell peppers, finely sliced
1/2 English cucumber, peeled, quartered and sliced or 2 Persian cucumbers, halved and sliced
1/2 cup jicama, slivered
1/2 cup carrots, slivered
1/2 cup golden raisins
1/4 cup green onions, thinly sliced
Instructions
Place all slaw ingredients in a bowl. Pour dressing over them and mix until everything is coated.
Dressing
Ingredients
1/4 cup grape seed or light olive oil*
1/4 cup brown rice vinegar
2 tablespoons clover honey
3/4 teaspoon salt
1/4 teaspoon pepper
1 clove garlic, minced
1 teaspoon sesame oil
Instructions
Measure all dressing ingredients into a jar and shake until well blended.
Assembly
Mix dressing with slaw. Arrange the chicken pieces and slaw on a large platter along with:
chopped toasted peanuts
bean sprouts
rice sticks, softened or fried (after softening, cut them so they aren't too long) (Leave this ingredient out for low carb diets.)
separated iceberg lettuce leaves
*Trader Joe's Trader Grotto's Sicilian (cold pressed) Extra Virgin Olive Oil is a blend of three olives from Sicily, packaged in Italy in a beautiful bottle. It's light and delicious. Store it in the dark and use up within a month.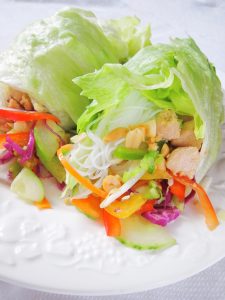 Thai Chicken Salad
Use the same slaw ingredients substituting diced fresh mango for the golden raisins. Lay lettuce leaves around a bowl and spoon slaw on to the lettuce. Drizzle with dressing and top with diced avocado, toasted peanuts halves and softened or fried rice sticks.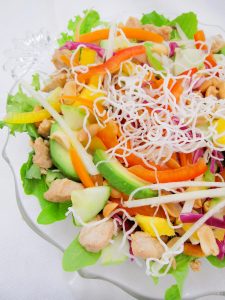 Coconut Secret has come out with a teriyaki sauce. But I am keeping this recipe here for making a teriyaki sauce using Coconut Secret Coconut Aminos.
Soyless Teriyaki Sauce
Ingredients
1/3 cup mirin (sweet rice wine, not the seasoning)
1/2 cup Coconut Secret Coconut Aminos
2 teaspoons rice vinegar
1/2 teaspoon sesame oil
2 tablespoons honey
3 garlic cloves
1 teaspoon ginger
1 teaspoon onion powder
1 pinch red pepper flakes
Instructions
Bring the wine to a boil, reduce heat and simmer for 10 minutes. Add remaining ingredients and simmer 5 more minutes.