This is a mild chili recipe. It can be just a basic no fuss meat and beans chili or you can add the recommended vegetables and some pasta to jazz it up a bit.
It's also great served with grated cheddar cheese, sour cream, cilantro and diced avocado on top.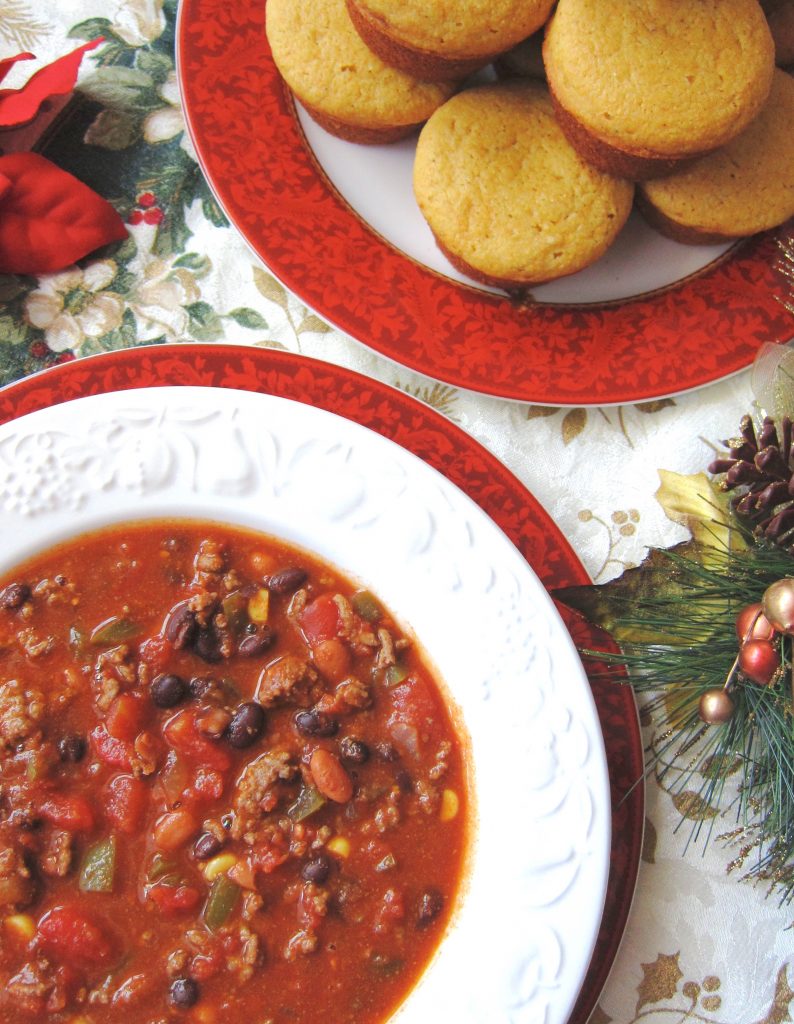 Crock Pot Chili
Ingredients
1-1 1/2 pounds ground beef or turkey
1 large onion, chopped fine
1 tablespoon avocado oil or light olive oil
2 cloves garlic, minced, or garlic salt
1 15 ounce can black or kidney beans, rinsed
1 15 ounce can pinto beans, rinsed
1 28 ounce can mini diced tomatoes
salt to taste
1/2 teaspoon oregano
1 teaspoon cumin
1/2 package McCormick Original or Mild Chili Seasoning mix
1/2 cup green bell pepper, finely diced (optional)
1/4 cup cilantro or parsley, finely minced (optional)
kernels from 1 ear of fresh corn (optional)
cooked pasta (optional)
Instructions
Heat oil in skillet. Cook onions 5 minutes. Add meat, break it up into small pieces and sprinkle with garlic salt. Cook until pink is gone and drain off fat it needed. Place cooked meat mixture in a crock pot. Add the beans, tomatoes (green pepper and minced parsley if using) and seasonings and cook on high for 3 hours. Add corn and or cooked pasta if desired 15 minutes before it's done.
(Quick version: Heat oil in a dutch oven and cook onions 5 minutes. Add meat and garlic or sprinkle with garlic salt. Add remaining ingredients and bring to boil. Reduce heat to medium-low and cook for 1 hour.)