Garden Salad Bar
Salad Bar
arugula
red leaf lettuce
baby spinach leaves
carrots, sliced into coins
celery, sliced
broccoli florets
cauliflower florets
steamed diced beets
red pepper, cut into pieces
red or green cabbage, sliced very thin
cooked brown or black rice (opt.)
cooked buckwheat pasta (opt.)
zucchini, sliced
cucumber, sliced
mushrooms, sliced
avocado, diced
grape tomatoes
chopped parsley
hemp seeds
chia seeds
Dressing 1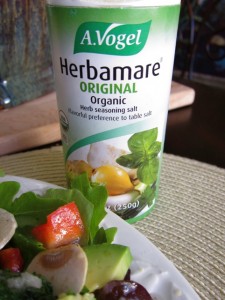 Ingredients
grape seed oil or light olive oil
balsamic vinegar
Herbamare seasoning salt (Mother's Market)
Instructions
Drizzle desired amount of olive oil and vinegar. Sprinkle with Herbamare.
Dressing 2
Ingredients
3 tablespoons Coconut Secret Raw Coconut Vinegar (Whole Foods)
1/2 cup grape seed oil or light olive oil
1/2 teaspoon salt
1/3 teaspoon pepper
1 clove garlic, minced
1 teaspoon clover honey
Instructions
Place all ingredients in a jar and shake.
Assembly
Have all ingredients cleaned and ready in the refrigerator  and make yourself a different salad everyday.